You've most likely heard of a home backup generator. You may have even conjured up an image of those burly, fuel-feasting generators that you would see around the side of someone's house. These days, however, they come in all different types and sizes, and there are alternatives that are a lot less intimidating and a lot easier to handle.

We'll take a look at what a backup generator for a home is, and how they work and we'll also give you some great tips and suggestions for some of the best generators for home backup power out there.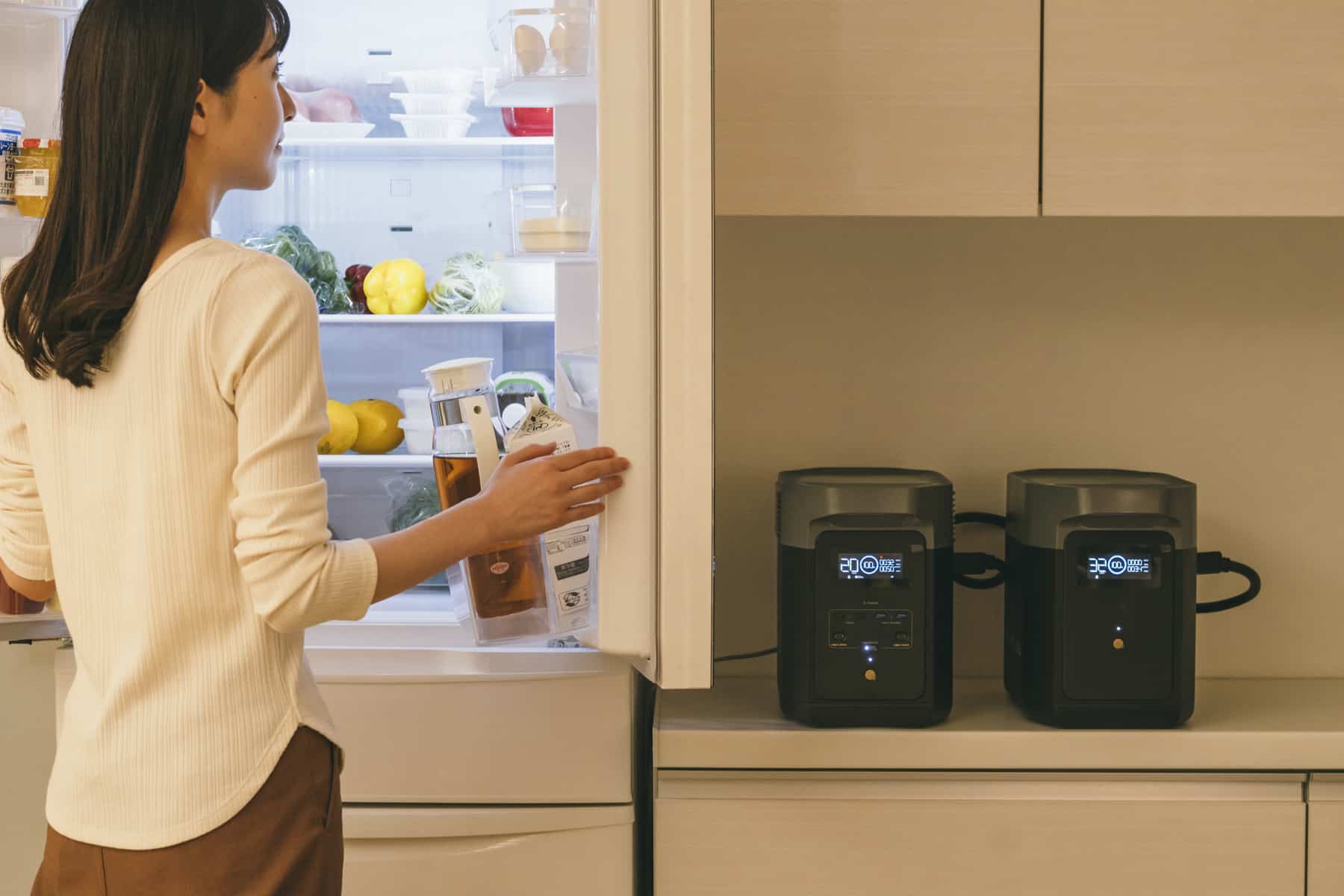 What is a Backup Generator for the Home?
A backup generator, or home standby generator, is a system that is usually installed permanently outside the home. It switches on automatically whenever there's a power cut, even when you're out of the house. One can run for long periods using a fuel supply from your home, using either natural gas or liquid propane.
How Does a Standby Generator Work?
When a blackout happens, a standby generator will automatically switch on and use a transfer switch to swap over energy from your utility to the backup generator. By using fuel, the generator can produce electricity for the home. Once the blackout subsides, the backup generator will switch back the home power supply from the generator to the home utility, returning to standby mode.
7 Reasons Why You Might Need an Alternative to a Back Up Generator
A solar generator is a fantastic alternative to a gas generator. Here are some reasons why it's a good idea to consider a solar generator option instead.
Sustainability
The only way to power up a static backup generator is via a home gas supply. EcoFlow is changing the game by teaming up solar panels with portable power stations. Get clean, green energy from the sun that is easily accessible. This is especially poignant in 2022 with gas shortages and price spikes across the globe.
Finding Space can be an Issue
Not everyone has space for a home standby generator. Some people live in condos with barely any outdoor space on their balcony. Luckily, with an EcoFlow solar power generator for home use, you can store it indoors and open up your solar panels ready to collect that sought-after solar energy.
Flexibility
Perhaps you're looking for a backup generator that you can use indoors. Maybe you're wanting one more compact that you can put on a kitchen countertop. Or maybe you would like the option to take it with you for weekend breaks away. EcoFlow has a range of solar generators in different sizes and capacities to suit your needs. With old-school generators, this just isn't possible.
Easy to Use
Standby generators can be intimidating and difficult to set up. Thankfully, EcoFlow's plug-in-and-go solar generators are simple to use and don't require any professional wiring. You can literally just plug in as you would at your wall socket and use your appliance indoors or out.
Cut Back on Energy Bills, Stay Secure
With a standby generator, gas bills have to be considered. When there are shortages, prices can skyrocket. In extreme emergencies, fuel might even be hard to come by. EcoFlow solar generators on the other hand can be powered by the sun, giving you another source to rely on. It also helps you to lower energy bills.
Expandable Capacity
The capacity of a traditional backup generator for home can't be expanded. What you buy is what you get. You then rely on how much fuel to guzzle. On the the hand, all EcoFlow solar generators can be expanded with the EcoFlow Ecosystem for a fully equipped home setup. That's extra batteries, extra solar panels, or even add-on portable AC units in the form of EcoFlow Wave.
Portability
While standby back up generators are static, EcoFlow solar generators can be carried around wherever needed. You can even pack one away in the trunk of your car to take with you off-grid.
Learn more about the differences between solar generators vs gas generators and which one might be best for you.
What if there's no sun?
While it's called a solar generator, you don't have to rely on the sun to charge it. EcoFlow Solar Generators can be charged by a ton of methods. Plain old wall outlets work fine and fast, your car outlet while on the go, or even with a traditional gas generator when you're all out of other options.
Why a Solar Generator is the Best Alternative
A solar generator for home use is more flexible and the most eco-friendly way to provide power to your home whenever there's a blackout. If your area is prone to power cuts due to weather extremes, frequent roadworks, or animal interactions, you'll be safe in the knowledge that your own collected power – whether from a solar or ac outlet – is stored away in a system ready to use.
Besides, you're also doing your bit for the planet by getting your solar supply from the sun and cutting back on your fossil fuel usage.
Must read – A Deep Dive into Buying a Solar Generator for Your House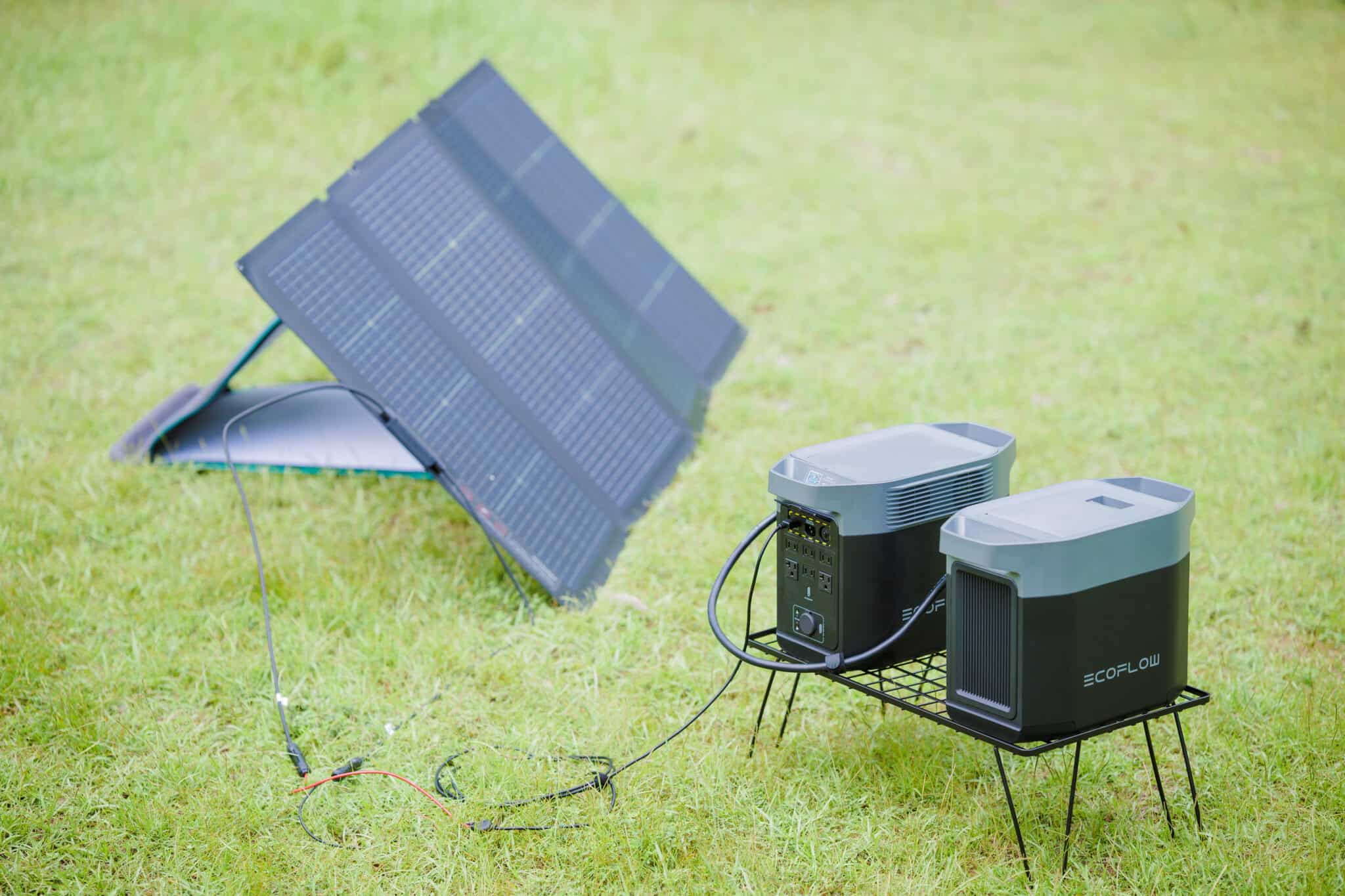 Solar Generator vs Traditional Back Up Generator Comparison
Outlined are a few pros and cons of solar generators vs gas generators in this table below:
Solar Generators
Backup Home Generators
Pros:
– Long battery life (10+ years in latest models)
– Control from EcoFlow app, and away from home via WiFi
– Uses renewable energy
– Helps reduce energy bills
– Use indoors or outdoors
– Diverse, can be used for multiple situations.
– Portable, even larger models are wheeled.
– Safe to use
– Easy to use
– Reliable
Pros:
– Long Lasting
– Automatically switches on to generate power
– Reliable
– Can use natural gas rather than propane fuel. Some offer both

Cons:
– Sunlight is not always present to collect
– Large upfront cost
Cons:
– Causes pollution
– Noisy
– Needs maintenance
– Can be expensive to run
– Can be messy to refuel if manually refueling
– Large upfront cost
– Stationary outdoors

Best Solar Generators for Home Backup
Listed are some of EcoFlow's best solar generators for home backup. There's a size and capacity to suit everyone.
DELTA 2 + 220W Portable Solar Panel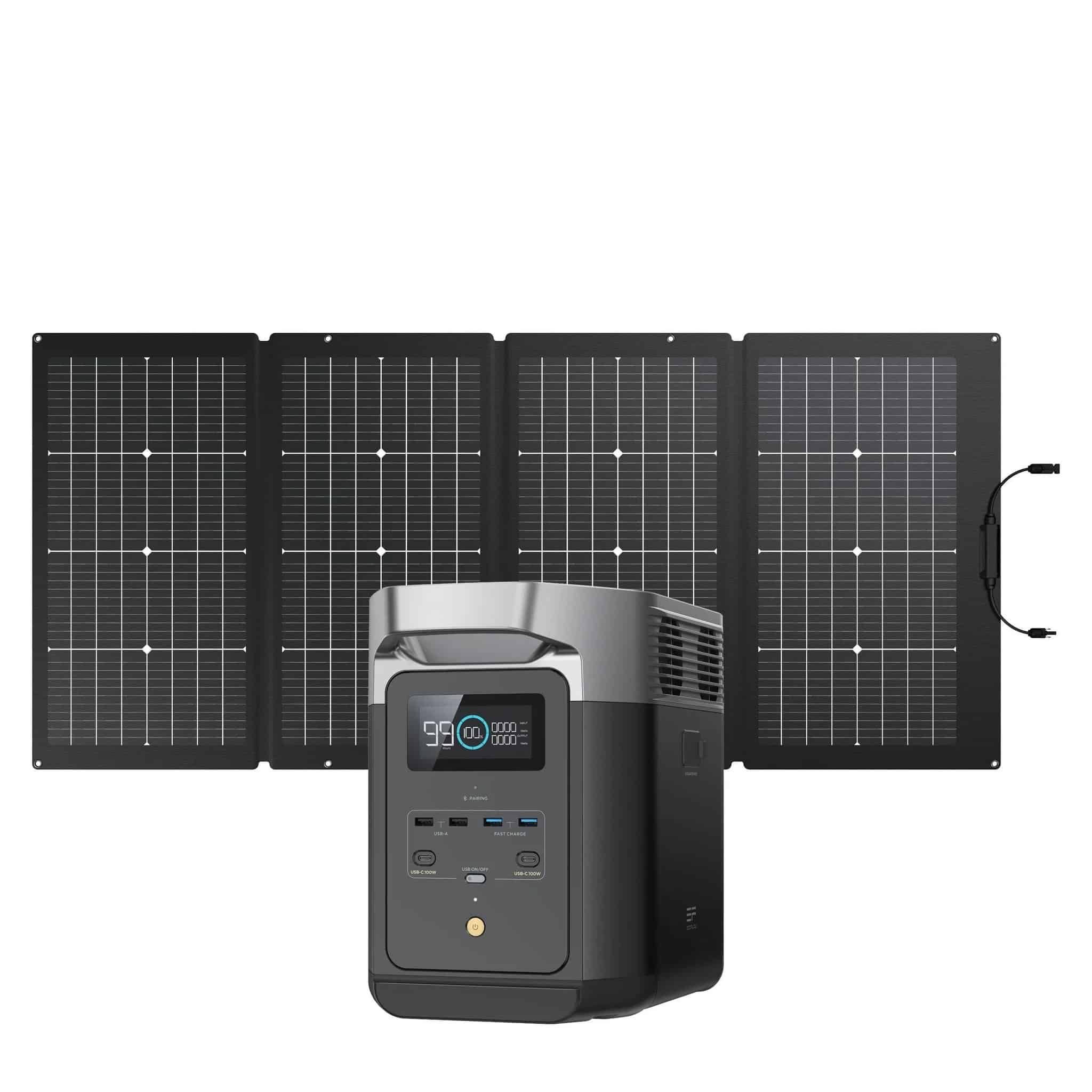 First on the list is the latest release from EcoFlow, EcoFlow DELTA 2 + a 220W portable solar panel. DELTA 2 is a fine-tuned upgrade from the original DELTA. DELTA 2 has a larger output, swifter charging, a battery that lasts 6x longer, and a larger solar panel input. What's more, DELTA 2 can now be controlled via the EcoFlow app so you have a clear oversight of your power usage.
If you're after a solar-powered generator for your home, you can plug in up to 500W of solar panels to charge DELTA 2 in as quick as 3 hours. In short, it's the best all-rounder.
What Can DELTA 2 Power?
Up to 15 devices. Power small devices like lights, a laptop or a phone for hours on end, or even larger appliances such as a microwave, TV, or washing machine for a few hours.
DELTA 2 can prevent overloading from appliances up to 2200W thanks to built-in X-Boost technology.
Specs
Battery Capacity: 1024Wh (Expandable to 3kWh)
Charge: 0-80% in 50 mins (via wall outlet).
Solar Input: 500W
Battery Type: LFP (LiFePO4 battery for up to 10 years of use)
Weight: 27 lbs (12kg)
DELTA Max + 400W Portable Solar Panel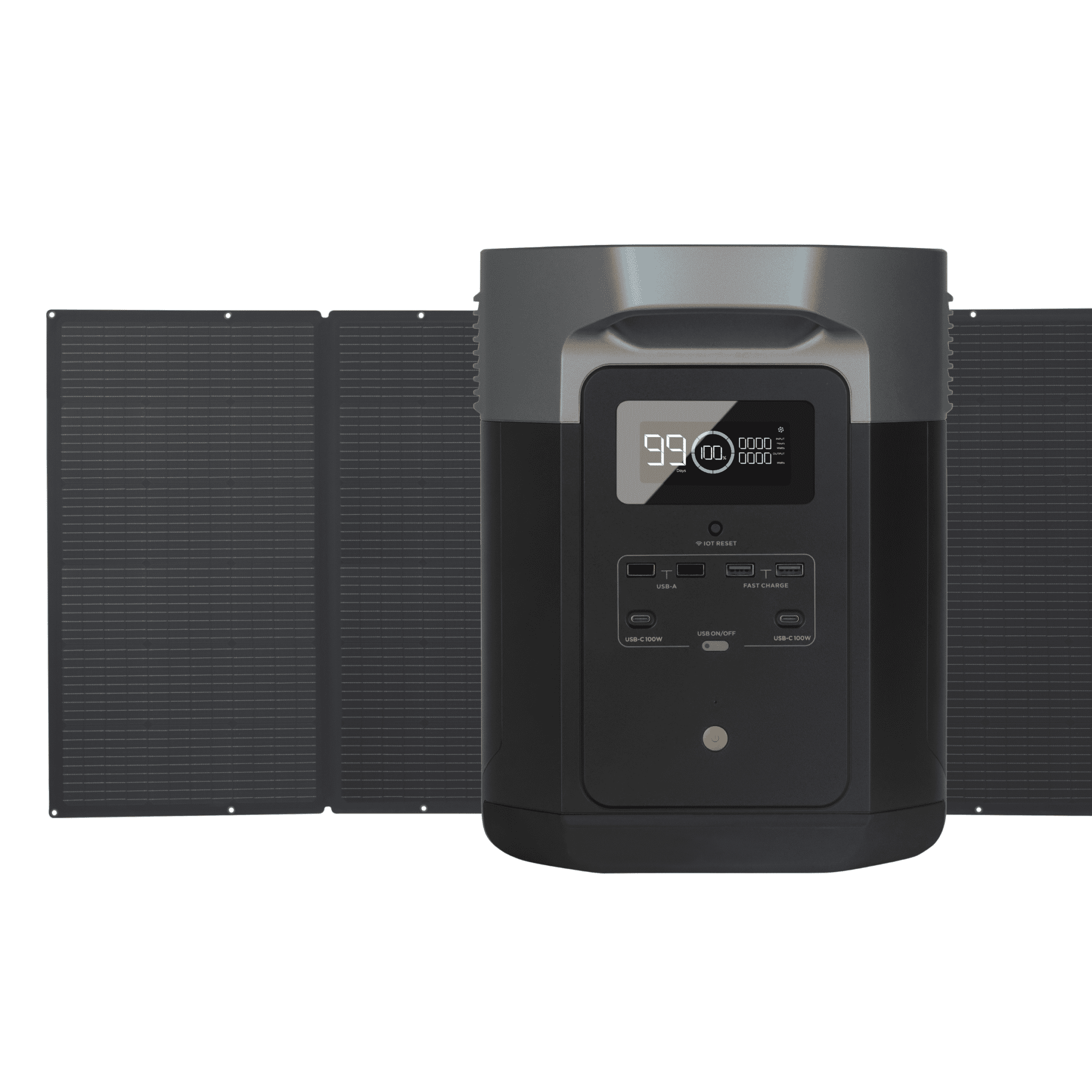 Secondly, DELTA Max + 400W portable solar panel is one of the best solar generators for home back up. One up from DELTA 2, it's almost double the capacity at an incredible 2kWh. Connect up to 2 400W EcoFlow solar panels to get 800W solar charging speeds. What makes all EcoFlow solar generators a cut above other brands is that they have a built-in smart MPPT algorithm which automatically detects the solar voltage and current in real-time for much more efficiency. Additionally, DELTA Max like DELTA 2 can be controlled via the EcoFlow app from afar.
What can DELTA Max Power?
Power energy-sapping appliances such as a refrigerator, air fryer, or dryer, or charge multiple smaller devices such as a camera, phone, or laptop.
With X-Boost technology, DELTA Max can easily handle devices up to 3400W. That makes it a larger option to DELTA 2 for more heavy duty users.
Specs
Battery Capacity: 2016Wh (Expandable to 6kWh)
Charge: 0-80% in 65 mins (via wall outlet)
Solar Input: 800W
Battery Type: NCM
Weight: 48 lbs (21.7kg)
DELTA Pro + 400W Portable Solar Panel
Thirdly, if you're going all out on a heavy-duty battery generator for your home, you'll want the gold-standard DELTA Pro + 400W Portable Solar Panel. Supporting an impressive 3.6kWh capacity which can be expanded up to a huge 25kWh, DELTA Pro is perfect for extended blackouts and extreme situations. It's built with a luggage-like handle and wheels making it easy to transport despite its weight.
Connect a hefty 1600W of solar panels for a green, off-grid solution for your home. What's more, you can link it to EcoFlow's Smart Home Panel to power up to 10 home circuits, both regularly and during emergencies, making it a true alternative to home backup generators.
What can DELTA Pro Power?
Pretty much anything in your home. Power up an air con, hairdryer, dryer, fridge, and smaller devices like a gaming laptop, vacuum, and much more.
Specs
Battery Capacity: 3600Wh (Expandable to 10-25kWh depending on set up)
Charge: MultiCharge 6500W
Solar Input: 1600W
Battery Type: LFP (up to 10 years of regular use)
Weight: 99 lbs (45kg)
EcoFlow Smart Generator (Dual Fuel)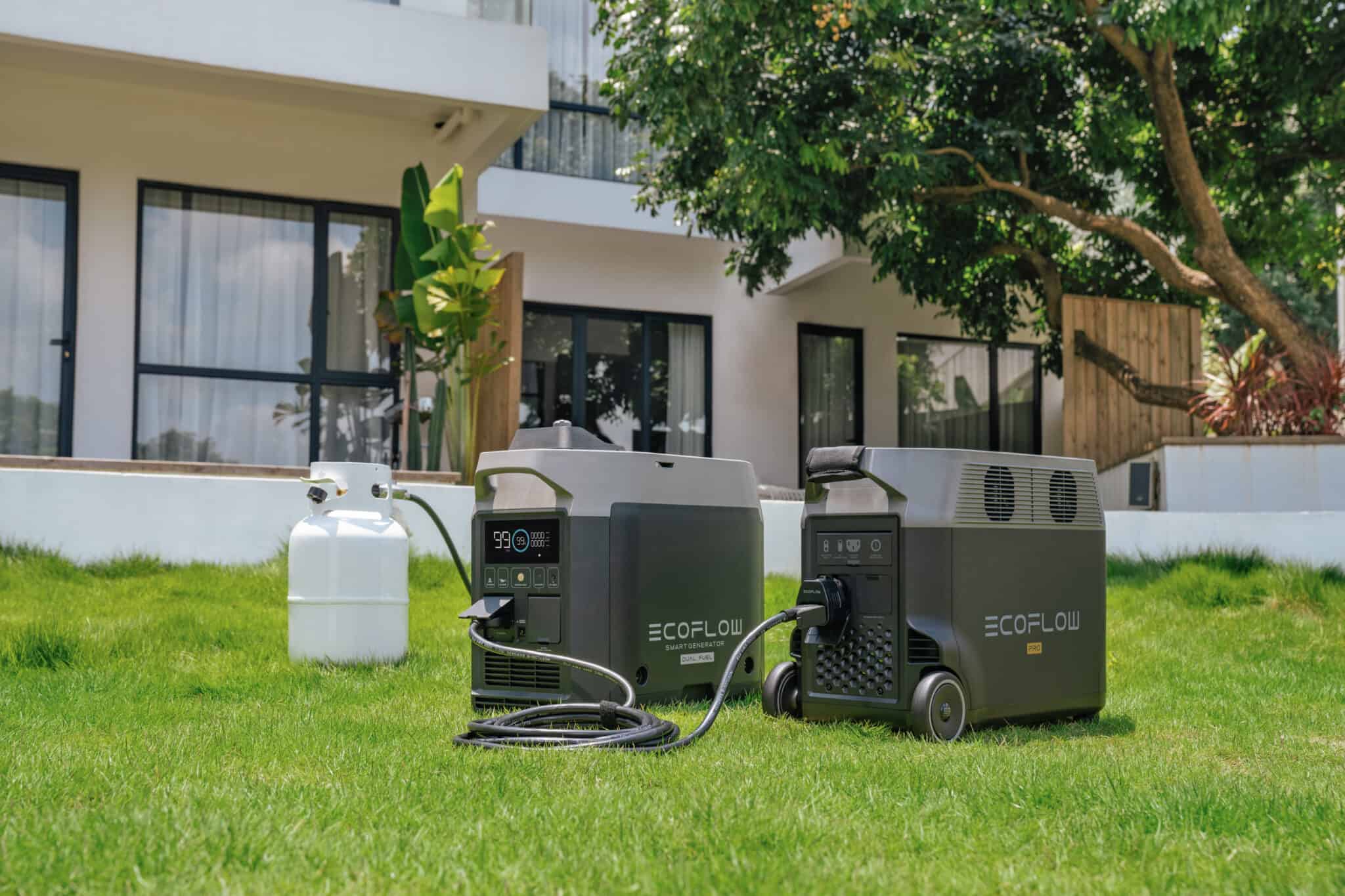 Lastly, in the instance of an extreme blackout and your last resort is to seek fossil fuel, the EcoFlow Smart Generator (Dual Fuel) is a resourceful and greener alternative to a static gas generator. It works as a solid backup in addition to your solar generator to give you power in abundance. Choose LPG (Propane) or gas to deliver efficient results with fewer emissions than any other brand.
As part of the EcoFlow Ecosystem, Smart Generator (Duel Fuel) is compatible with both DELTA Max, DELTA Pro and DELTA 2. Set the Smart Generator to charge your solar generator automatically once power levels drop. It also charges with direct DC current, saving you fuel and charge time when compared to other brands requiring conversion, resulting in efficiency losses.

You can also monitor the Smart Generator from afar using the EcoFlow app which has a handy carbon monoxide alert to help you safeguard your space. There's a whole lot more to say about this latest innovation but in short, it's a great accessory for emergencies in addition to your EcoFlow Solar Generator.
To Round Off
With more sustainable options on the market today, there's never been a better time to pick up a solar generator for your home backup. While traditional backup generators are reliable, they also have a few downsides to them in which solar generators for a house thrive.
EcoFlow has the solution to guide you in your solar journey and improve your carbon footprint. When extended blackouts hit, the Smart Generator (Dual Fuel) aids in safeguarding your home power and uses a lot less fuel and emissions than traditional standby gas generators.