Stepping into the serenity of nature doesn't have to mean disconnecting from modern conveniences.
With a quiet solar or propane generator, you can enjoy the best of both worlds during camping trips.
EcoFlow's solar generators offer reliable off-grid power and virtually silent operation, ensuring your comfort and the peace of the great outdoors.
Smart Generator Dual Fuel runs on gasoline and/or propane with much lower noise output than traditional gas or diesel portable generators.
Check out three of EcoFlow's best quiet generators that are perfect for camping.
EcoFlow's Best Quiet Generators for Camping
Best for Overnight Camp-Outs: RIVER 2 + 110W Solar Panel
Best for Extended Camping Trips: RIVER 2 Pro + 220W Solar Panel
Best for RV Camping Trips: Smart Generator (Dual Fuel)
For short, overnight camping trips, you probably need just enough power to charge your portable electronic devices like smartphones and laptops.
If your primary concerns are basic comforts like campsite lights and keeping your devices charged, the RIVER 2 + 110W Portable Solar Panel provides more than enough power without any weight or bulk you don't need.
Need more power come morning? Connect the 110W Portable Solar Panel and charge from 0-100% in about three hours of direct sunlight. You can use the generator while it recharges for uninterrupted power.
If it's essential to pack light, the RIVER 2 + 100W Solar Panel is the perfect small generator for a short camping trip.
Specifications
Storage Capacity: 256Wh
Net weight: 7.7 lbs (3.5 kg)
Dimensions: 9.6 x 8.5 x 5.7 in (245 x 214 x 142 mm)
AC output: 300W (X-Boost 600W)
AC input: 360W Max
Solar input: 8A Max,11-30V 110W
Car input: 12V/24V, 8A
Cycle life: 80%+ capacity after 3000 cycles
Noise Level: Up to 62 dB
Pros
Powers up to 99% of consumer electronics
Affordable
No fuel required
Recharge quickly using solar
Use the portable power station while charging
Portable, small, and easy to carry
Cons
Insufficient AC output for high-wattage appliances
When powering your appliances for several days is the top priority, look to the EcoFlow RIVER 2 Pro + 220W Portable Solar Panel for extended camping trips. With 768Wh capacity and an AC output of 800W (1600W on X-Boost), you can power virtually anything you need to turn your camping trip into a glamping trip.
Power up a grill, inflate your air mattress or hook up an outdoor projector for movie night.
RIVER 2 Pro powers up to 80% of high-wattage appliances, so you don't have to choose between the great outdoors and the comforts of home.
Specifications
Capacity: 768Wh
Net weight: around 17.2 lbs (7.8 kg)
Dimensions: 10.6 x 10.2 x 8.9 in (270 x 260 x 226 mm)
AC output: 800W (X-Boost 1600W)
AC input: 940W
Solar input: 13A Max, 220W, 11-50V
Car input: 12V/24V, 8A
Cycle life: 80%+ capacity after 3000 cycles
Pros
High AC output and electricity storage capacity
Recharge in 70 minutes with AC or 4 hours with solar
Power most appliances used for camping
Whisper quiet operation
Cons
Most expensive RIVER 2 option
Least compact RIVER 2 series solar generator
Concerned that you won't be able to generate sufficient power with solar due to the high energy needs of RV camping?
EcoFlow's Smart Generator (Dual Fuel) offers multiple ways to power up.
Designed to integrate seamlessly with EcoFlow's powerful DELTA series, Smart Generator operates as a standalone unit or a last line of defense if you don't produce enough electricity from solar.
Powered by gasoline and/or propane, Smart Generator is a cleaner, quieter option than traditional gas or diesel generators — especially when running on propane (LPG).
With a standard LPG tank, expect about 20 kWh of electricity — enough to keep RV appliances and systems powered for up to a week.
If you pair the Smart Generator Dual Fuel with a DELTA 2 Max or DELTA Pro and solar panels, you needn't fear running out of power — even on extended RV tips.
Specifications
Rated Power (LPG): 1600W (1700 Peak)
Rated Power (Gas): 1800W (1900 Peak)
Net weight: around 67.2 lbs (30.5 kg)
Dimensions: 23.5×11.8×18.7 in/597x300x475mm
DC Output Voltage: 42-58.8 V
DC Current: 32A
Fuel Tank Capacity: 4.0L/1.05 gal
Noise Level: 56-67 dB (full load)
Pros
Two fuel options — propane and gasoline
Seamless integration with DELTA series solar generators
Generate up to 5.4kWh with a full tank of gas or 20kWh with a standard LPG cylinder
Cons
Not as quiet as solar generators
Not suitable for indoor use
What Does Quiet Mean in Terms of Decibels?
When it comes to generators, the term "quiet" is often used to describe their noise level.
But what exactly does "quiet" mean when measured in decibels?
Below, we'll cover tips for maintaining peace and quiet in your environment while still being able to reap the benefits a generator provides.
(Source: Hearing Health Foundation)
Decibels (dB) are units used to measure sound intensity. The higher the dB level, the higher the sound.
For camping, choosing a quiet generator that produces 60 dB of noise or less is recommended to ensure a peaceful and undisturbed environment for you and your neighbors.
Here are examples of different noise levels measured by decibels to help give you a better understanding.
Extremely Loud, Painful Without Protection
The sounds of gunshots or fireworks are painfully loud to the ears without hearing protection, such as earplugs or headphones. This decibel range is around 140 dBs.
Uncomfortably Loud
Jet planes taking off nearby (around 120 dB) can be uncomfortably loud, though it probably won't cause pain if you don't protect your ears.
Very Loud
As things get quieter, we move into the 90-115 dBA range. Here, you'll hear the sound of car horns at around 110 dB, a chainsaw at about 100 dB, and other power tools or a running lawn mower at about 90 dB.
Loud
Louder than normal, but not uncomfortable or painful. Examples include your alarm clock in the morning at 80 dBA or a noisy restaurant at 85 dBA. Stay away from generators that produce 85 dBs of operating noise or above. Many traditional gasoline or diesel generators run in this range, making them less than ideal for camping.
Moderate
Moderate noise is what you'll most commonly hear in daily life. Examples include a normal conversation with another person (60 dB) or the sound of a moderate rainstorm on your roof (50 dB). A generator that operates in this range shouldn't disturb you or your neighbors.
Soft
Soft sounds are hard to hear without effort. A whisper is just 30 dBA. Average household noise is about 40 dBA. Solar generators — especially smaller models like RIVER 2 — are the only generators that operate in this range.
You might even forget you have one running.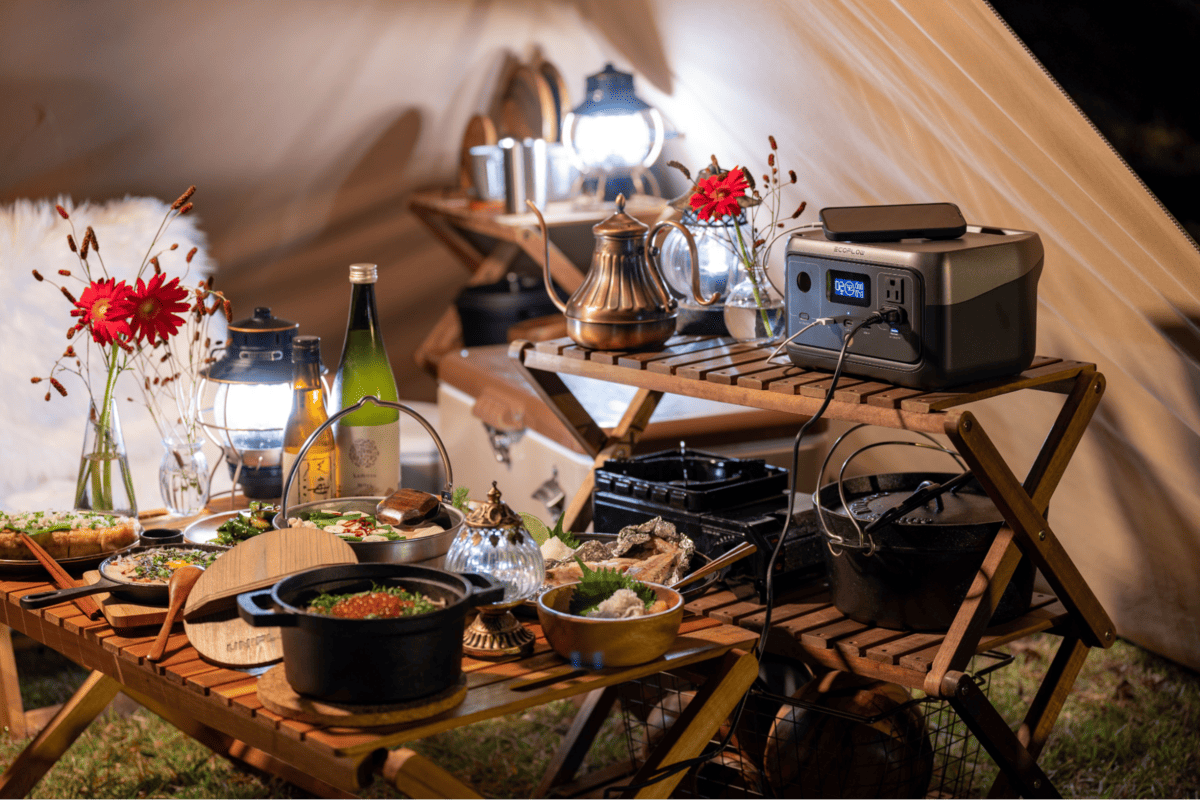 What to Consider When Choosing a Quiet Generator for Camping
When looking for a quiet generator to take camping, there are several critical factors to consider beyond how loud it is. These include:
Portability
Camping and backpacking often involve moving from place to place. Having a portable generator is essential. Look for lightweight and compact options that are easy to transport by hand. Even high AC output portable power stations can include features that aid portability, including wheels or easy-carry handles.
AC Output and Storage Requirements
Consider what you will be using your generator for while camping. Will it only need to power small devices like a phone or laptop? Or do you require enough AC output for larger appliances like a camping fridge or coffee maker? Ensure the generator you choose can meet your AC output and storage capacity requirements to provide the electricity you need.
Fuel Type
Traditional portable generators typically run on gasoline, diesel, or propane. Solar generators offer a cleaner and quieter solution — you can even use one inside your tent.
Solar generators for camping are so affordable now that they should always be your first choice. If you want a fossil fuel powered backup, consider the Smart Generator Dual Fuel and use propane (LPG)/
Price
Consider your budget when choosing a quiet generator for camping. While you may be willing to spend more for a more silent option, ensure it meets all your other needs and won't break the bank. Factor in ongoing fuel costs or additional solar panels if applicable.
Frequently Asked Questions
What is the Most Silent Generator for Camping?
The quietest generators you can find for camping operate using portable PV panels and solar power. EcoFlow's RIVER 2 series offers sufficient AC output and storage for almost any camping trip. RIVER 2 solar generators operate in the quiet-moderate noise range with a maximum operating volume of around 60 dBs when charging or discharging at full wattage.
Final Thoughts
A quiet generator can make all the difference in creating a peaceful and enjoyable experience for you and your fellow campers.
In addition to carefully considering the decibel level of your generator options, consider all the factors mentioned above to find a high-quality option that will last for years.
EcoFlow's solar generators are a robust yet peaceful off-grid power solution for any campsite.