Are you considering a battery generator for your home but don't like the idea of owning a gas generator? Do you dread refueling the one you already have to then listen to its loud gnashing engine? Maybe you're interested in a solar solution for your home that is portable and easy to stow away for when it's not needed.
We'll dive into what a solar generator for the home is, the pros and cons of owning a solar-powered generator and at the end, we'll give you some of our best choices for your home power backup.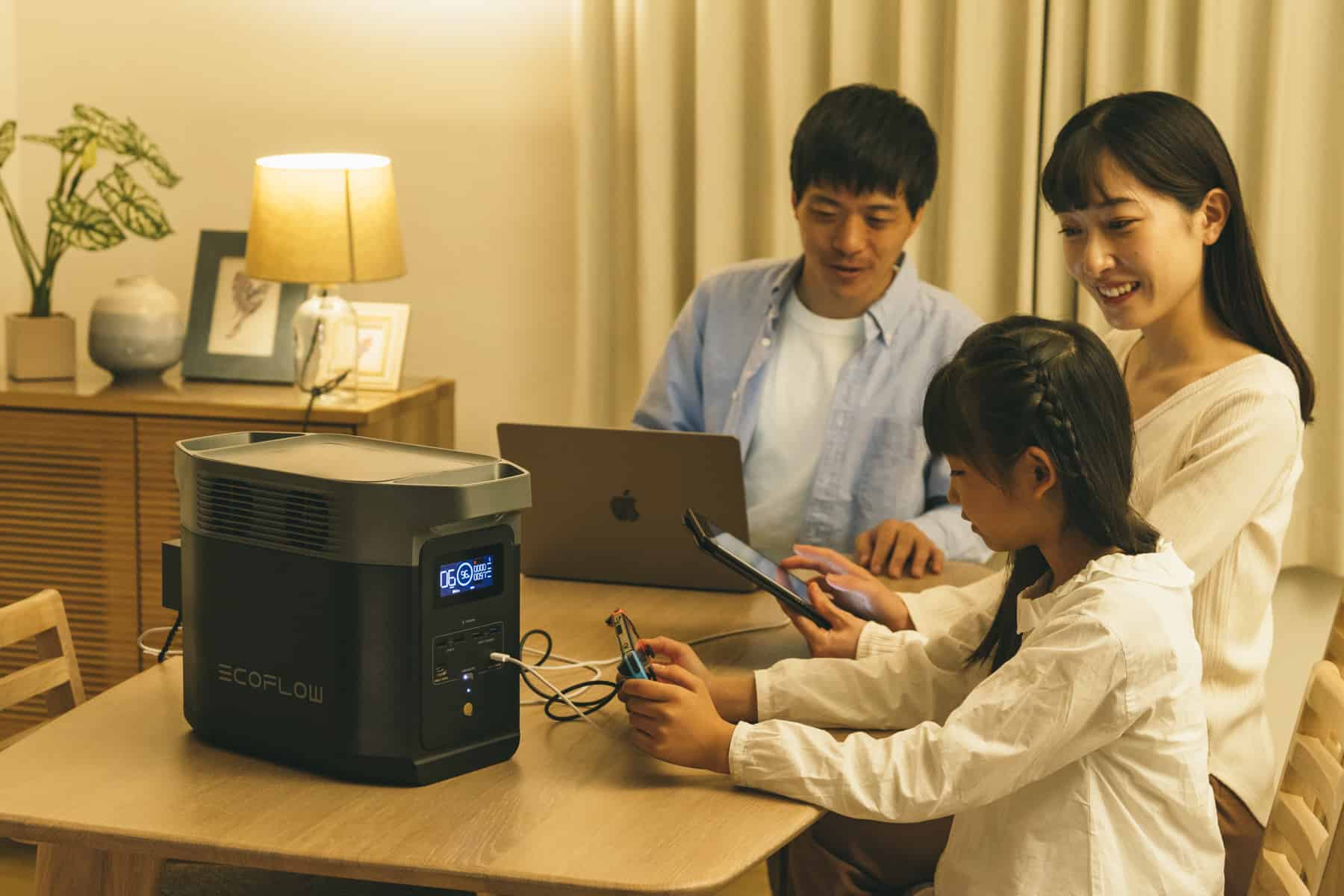 What is a Solar Generator?
A solar generator is a battery storage system that is usually portable and comes with solar panels. It provides backup power in the event of a power outage for your home. It's also commonly used to charge devices while on the go, such as camping or boondocking. It's essentially storage for your power that also contains an inverter, plug outlets, and a controller. They can be charged in many different ways, with solar panels, a wall outlet, and even a car charging port. A solar generator for home use comes in many different wattages, capacities, etc. to suit the individual.
How Does a Solar Generator Work?
One thing you should know is that a solar generator for a house doesn't need an electrician for installation. As it's portable, it can be tucked away and carried out when an emergency home backup is needed.
Solar generators collect the energy that a solar panel converts from sunlight into (DC) current electricity. The charge then goes through a controller which helps to regulate the power input. This helps store the DC electricity in the battery safely. When it's needed, the inverter converts the DC charge into AC electricity. This is the power that most appliances use. Et voila. A solar power system right at your fingertips.
What is a Solar Generator for Houses Good For?
Depending on how you want to use your solar-powered generator for home use, there are a couple of different applications.
One of which is for general home usage, which involves you getting the most out of your harvested solar power throughout the day. This helps you to slash your electricity bills, keeps you partially or fully independent of the main grid, and ensures you're doing your bit for the planet.
The other use is predominately for emergency use. If you have a power outage plan in place and know the appliances you'll need to charge up the most, a solar generator with the correct capacity will be your saving grace.
Are Solar Generators for Home Use Worth It?
To put simply, yes. While they can be a big cost, they're a worthy investment in the long run. If you live in an area that's susceptible to power cuts due to extreme weather, frequent roadworks, or animal interferences you'll find comfort knowing that your own salvaged power is stored away in a box and ready to use whenever you need it.
Another silver lining to bear in mind is that you're also lowering your carbon footprint by using less power from the main grid, which is mainly fossil-fuel powered, by collecting it for free from the sun.
Pros and Cons of Solar Powered Generators for Home Use
We've weighed up the advantages and disadvantages of a solar battery generator for the home so you can make more of an informed choice.
Pros
Cons
– Eco-friendly
– Quiet & odorless meaning no more petrol fuel and annoying noise.
– Easy to use, just plug in and go.
– Safe to use
– Portable
– Versatile: can be used for many situations such as home back-up, general home use, campings, picnics, outdoor cinema, etc.
– Long-lasting. Units can have a lifespan of 10+ years.
– The upfront cost.
– Can be slow to recharge if only using solar. Low-wattage solar panels paired with high-capacity batteries take longer to collect electricity.
– Reliance on sunlight if only using solar.

Why Investing in a Solar Generator in 2022 is more Essential than Ever
There's never been a better time to invest in a solar generator for you and your household. We'll take a look at the top reasons for doing so.
Rising Blackouts
Blackouts are on the rise and are increasingly disrupting households all over the world. In the U.S. alone, electricity customers experienced eight hours of power interruptions in 2020. And that number will increase in the near future. Unpredictable and extreme weather, sudden spikes in power demands, animal interactions, fallen trees on overhead power lines and build-up of ice are all contributing factors to blackouts. It's important to consider a backup solution for your home because it's difficult to predict when such issues will arise.
Global Warming
One glaring factor that lends itself to the problem of rising blackouts due to extreme weathers is global warming. To give an example, rising ocean temperatures cause tropical storms to worsen, and eventually cause devastating hurricanes. Scientists have studied that since the 1980s, the frequency of storms and hurricanes has increased. In 2020, a record-breaking 30 tropical storms and 13 hurricanes, 6 of which were major, shook the Atlantic. Extreme weather cost the U.S billions of dollars in damage in 2020 alone.
If you compare a gas-guzzling generator and the main grid to a solar generator for the home, the latter fully replaces fossil fuel burning with sustainable solar energy. This helps to curb greenhouse gas emissions and bypasses localized pollution.
Learn more here about whether solar generators help to fight climate change.
Slash Your Bills
Since the Inflation Reduction Act of 2022 came into law on August 16th in the U.S., there is now a huge incentive amongst electricity customers to consider solar as a solution to power up their homes, and in turn, reduce energy bills. The bill includes investments in climate protection with aids to support customers with tax credits to offset energy costs, tax credits that seek to reduce carbon emissions, and investments for clean energy production.
Increasing energy bills in the U.S. are provoking customers to purchase solar solutions for their home power. BloombergNEF data shows that households will add three times more solar solutions this year in 2022 than commercial electricity customers, and that number is set to continue through to 2030. BNEF analyst Pol Lezcano writes, "Despite supply chain challenges and higher costs, 2022 will be an absolute record year for residential solar in the US".
Best Solar Generators for Home Backup
To prepare for home back up it's important to have a plan. Calculating your average home energy usage per day will help you to pick the best solar generator for your home. Some energy providers let you log into their app so you can keep an eye on your power usage. Or alternatively, you can calculate the hourly usage of your appliances (in watts) into kWh using this nifty online energy calculator.
In the meantime, we'll give you a breakdown of some of our top picks so you can safeguard your home power.
DELTA 2 + 220W Solar Panel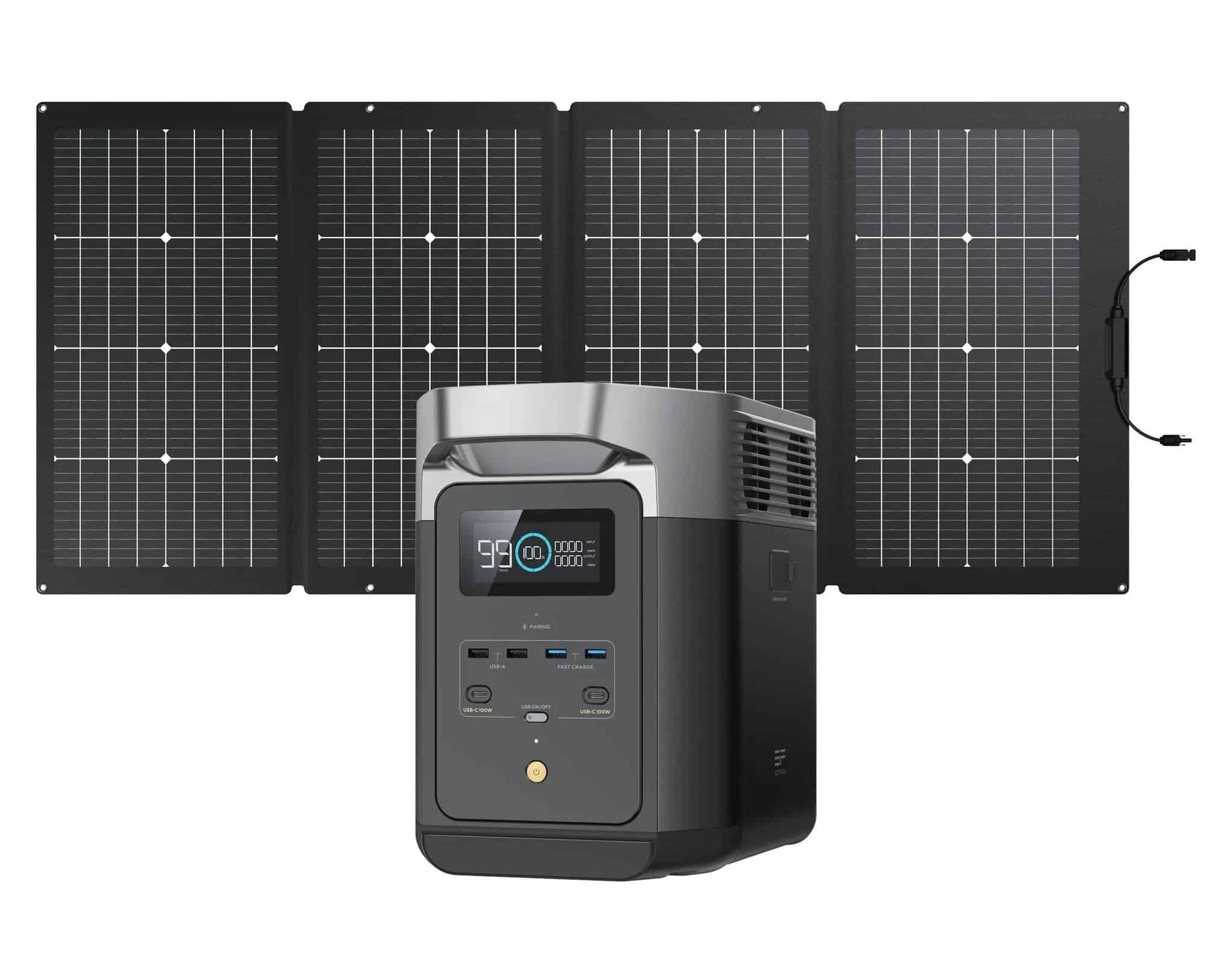 If you're after a small battery generator for yourself or a family of 2/3 in a small home or apartment, the new DELTA 2 would be an ideal option. Power small devices like a laptop, TV, or fan for hours on end, or even larger appliances for when you need them.
DELTA 2 is a fine-tuned upgrade from the original and is the all-rounder. The differences between the specs are that DELTA 2 has a large output, faster charging, a battery that lasts 6x longer, and a bigger solar panel input. Not the mention that the DELTA 2 can now be controlled via the EcoFlow app.
If you're looking for a solar generator for your home, with this one you can plug in up to 500W of solar panels to charge in as quick as 3 hours.
Specs
Battery Capacity: 1024Wh
Charge: 0-80% in 50 mins (via wall outlet).
Solar Input: 500W
Battery Type: LFP (LiFePO4 battery)
Weight: 27 lbs (12kg)
DELTA Max + 400W Solar Panel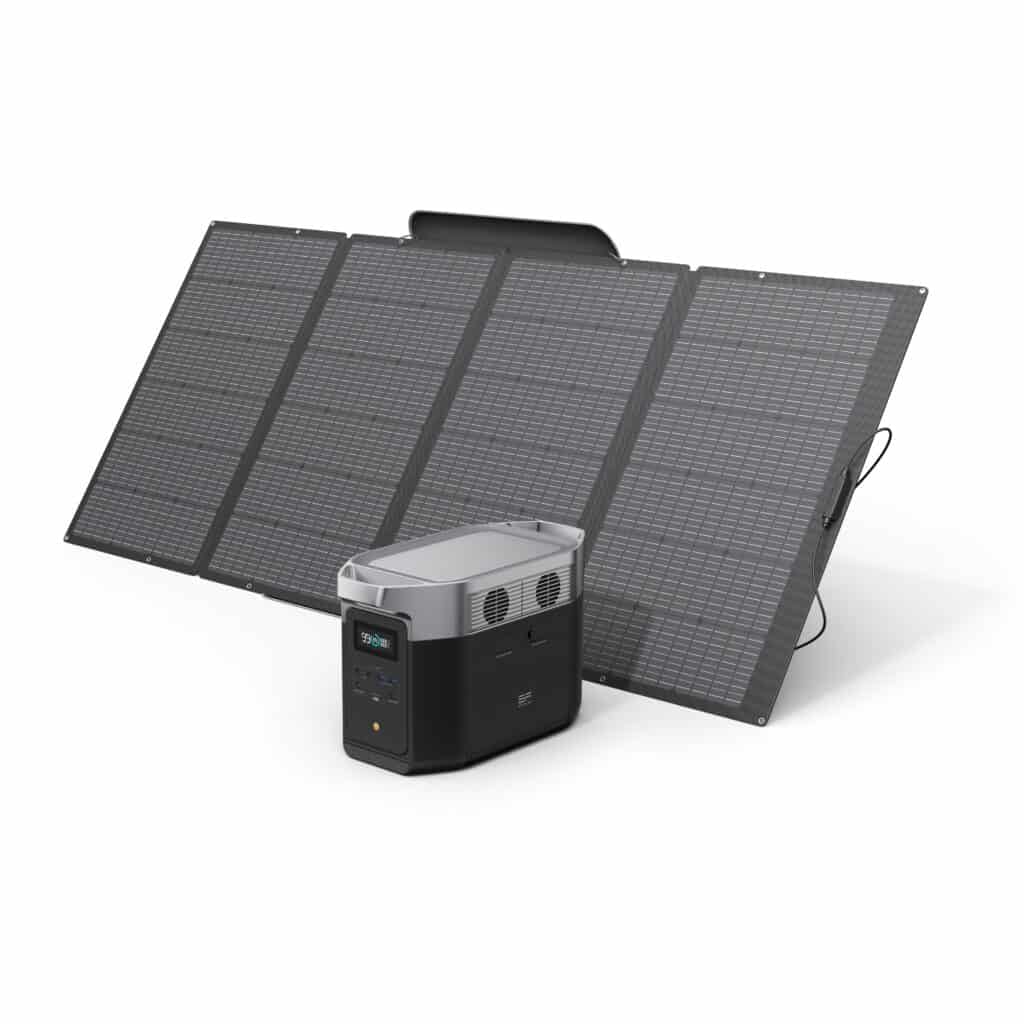 The next size up from DELTA 2 is DELTA Max with almost twice the capacity. It's perfect for a family of 3 with a small to medium-sized home. Power heavy-duty appliances of up to 3400W like a dryer or a refrigerator with built-in X-Boost technology.
Connect 2x 400W solar panels for 800W of rapid solar charging speeds.
Specs
Battery Capacity: 2016Wh
Charge: 0-80% in 65 mins (via wall outlet)
Solar Input: 800W
Battery Type: NCM
Weight: 48 lbs (21.7kg)
DELTA Pro + 400W Solar Panel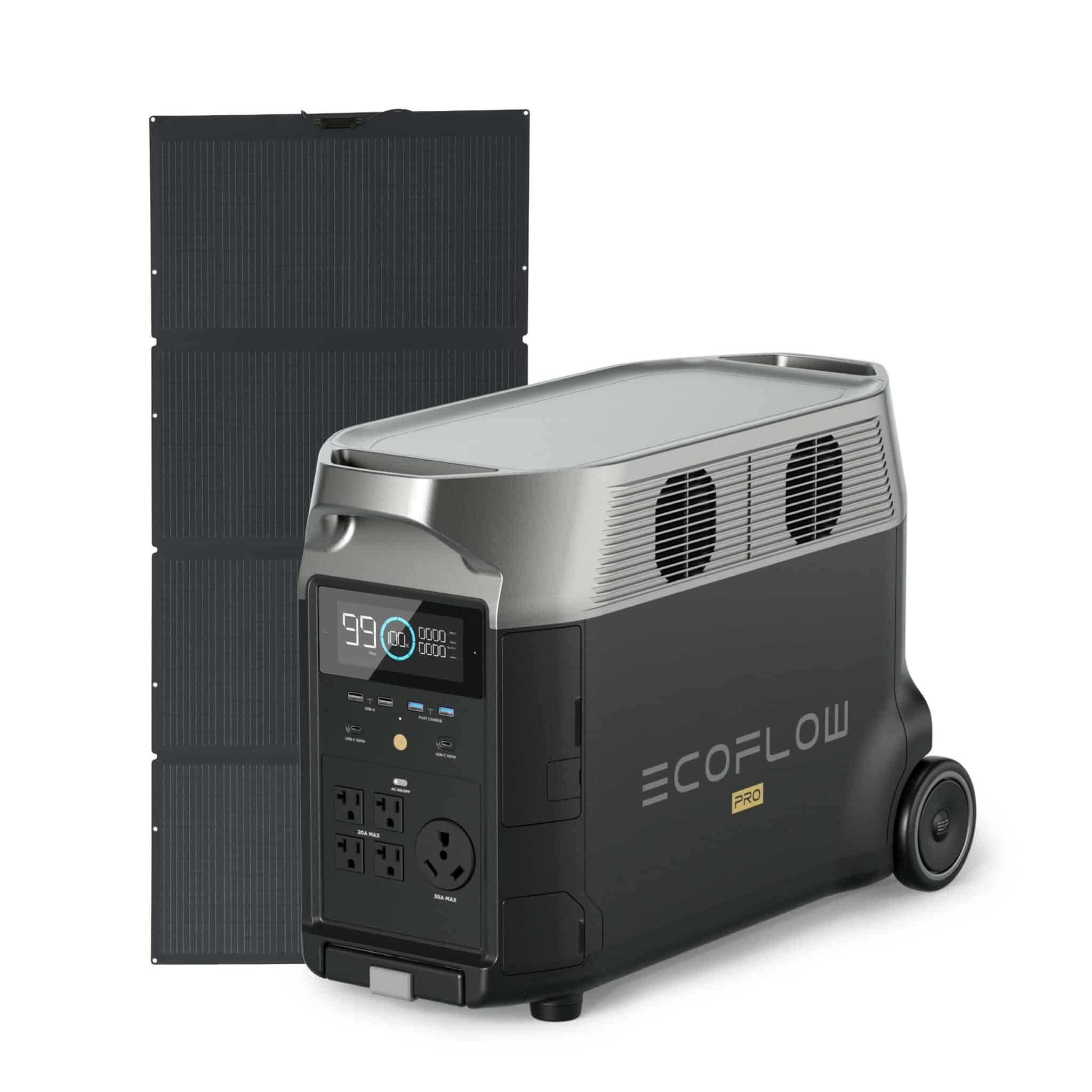 Power up pretty much anything in the home or garage with the gold-standard DELTA Pro. It's ideal for a family-sized home that requires multiple heavy-duty appliances to be charged at the same time. This tank can withstand a ton. Think AC units, power tools, and dryers that devour watts quickly.

Add up to a massive 1600W of solar panels for an off-grid solar solution.
Specs
Battery Capacity: 3600Wh
Charge: MultiCharge 6500W
Solar Input: 1600W
Battery Type: LFP
Weight: 99 lbs (45kg)
The Takeaway
With blackouts and inflation on the rise, as well as the threat of global warming, there's never been a better time than now to consider taking your home power into your own hands.

For a truly mess-free, almost soundless, and seamless experience with the addition of solar inputs, a battery-powered solar generator remains a strong choice for your home in 2022.