Looking for a generator to power up your appliances and devices in the home? Is your choice a toss-up between a solar generator and a gas generator? Read on for a closer look at each of these types of generators, how they work, the differences between the two, and some fantastic options for you to consider.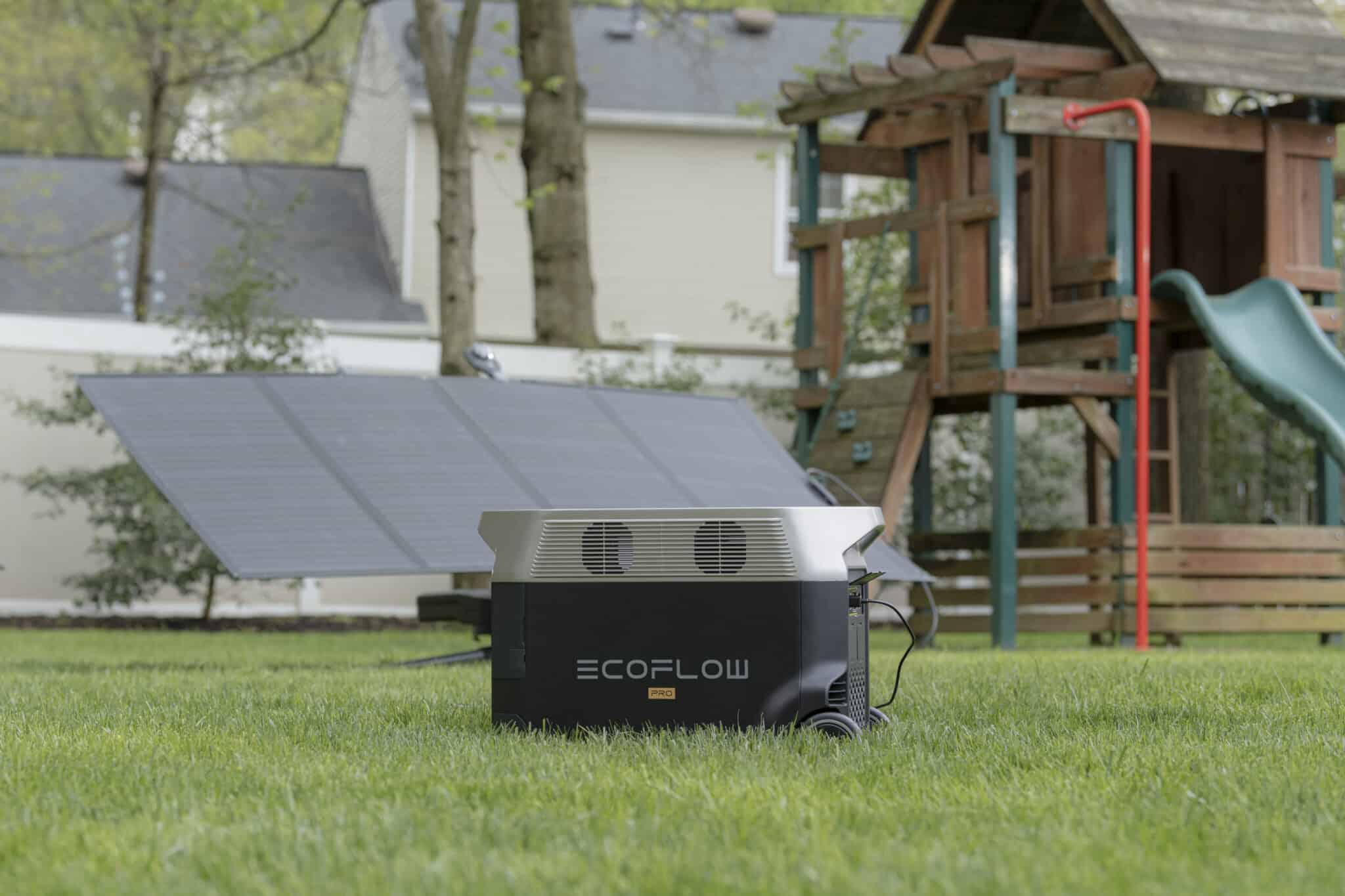 What is a Solar Generator?
A solar-powered generator for the home is a battery system that uses collected solar power to charge appliances. It's essentially a portable power station that utilizes solar instead of fossil fuels.
Solar energy is stowed away in the battery ready to be used when needed, turning DC electricity into AC power. A solar generator for the home will have multiple outputs to charge many devices simultaneously.
People have many uses for their solar generators, some of the most common uses are for camping, boondocking, home backup in the event of a blackout, and for general home or garage use.
Learn more here about buying a solar generator for your home
What is a Gas Generator?
A gas generator for the home is a system that burns gas or propane to help generate electricity. It's traditionally used for home back-up in the instance of a blackout or more unconventionally, as a primary source of power if a home is too far away from the main grid source. Additionally, a portable gas generator works in the same vein as a heavy-duty outdoor one but will have a small capacity.
How Does a Solar Generator Work?
A solar generator collects energy using portable solar panels. It turns this energy into DC electricity. The power input is then regulated using a controller which is important for keeping the power stored safely. Whenever power is needed, an inverter converts the electricity into AC power, which is required for most appliances.
What's great is that solar generators don't need the professional skills of an electrician to install them in your home, they're portable and can fit easily in your cupboard. They can be used safely indoors too.
How Does a Gas Generator Work?
A gas generator uses fuel to convert mechanical energy into electrical energy. A small gas generator for a house can be operated automatically or manually. If the gas-powered generator is used automatically, it will identify when there is a power cut and will run without the need to press a button, often called a backup generator. It then signals with a load transfer switch to swap the electricity from the home utility box to the generator. And vice versa when the utility power returns and only then will it switch off. The same can also be achieve with and EPS function on a solar generator, as found in EcoFlow models.
What are the Key Differences Between the Two?
There are a few notable differences between both solar and gas generators, which we've covered below:
Noise
Everyone wants to minimize their localized noise pollution, and choosing a quiet generator will give everyone a bit of peace. A gas generator tends to be loud, and the bigger the machine the louder it gets. A solar power generator is much quieter.
Fuel
Gas generators use either gas or fossil fuels whereas a solar generator utilizes the light of the sun, among many other charging methods.
Outdoors vs Indoors
Most likely you'll want to keep a gas generator outside because, well, fumes. With a solar generator, you can carry it inside without worrying about localized pollution affecting your health.
Mess
Refueling a gas generator is messy. With a solar generator, the only mess you have to worry about is whether you've accidentally tangled up the wire cable. Anyone can use them with ease, and without the need for any technical knowledge.
Portability
Both types of generators are portable depending on their size. All EcoFlow solar generators are designed to be portable too. The difference is that EcoFlow solar generators can be far more portable. A good example being the River 2, small enough to fit in a large backpack and light enough to carry with one hand. Even larger models such as DELTA Pro can be wheeled with ease.
Safety
While both generators for the home are safe to use, it's more likely a solar-powered battery generator is a safer option than one that uses gas. Think of it this way – would you bring a gas generator into your living room space, RV or tent?
Pros and Cons of Solar Generator vs Gas Generator
Solar Generator
Gas Generator
– Ideal for power cuts when there's sunlight or a full charge has been planned in advance. Can also be charged at a local charging station.
– Less noise
– Less mess
– No need to use fossil fuels
– Uses solar energy
– Saves you money on your bills
– Safe to use indoors or outdoors
– Safe to use in a tent, RV, and around terrain such as woodlands.
– Portable
– Can be charged multiple ways.

– Ideal for power cuts when there's no power or sunlight
– Noisy
– Messy
– Uses fossil fuels or natural gas
– Cost of fuel builds up over time
– Only safe for outdoor use or away from living space
– portable
– Not safe to use in a tent or RV

Best Solar Generators for Your Home
If you're after the best solar generator for home use or backup, you'll be wanting one tailored to your daily needs and lifestyle.
Depending on the size of your house, your family, and the number of appliances you plan to power up, there is a portable solar generator for everyone.
DELTA 2 + 220W Solar Panel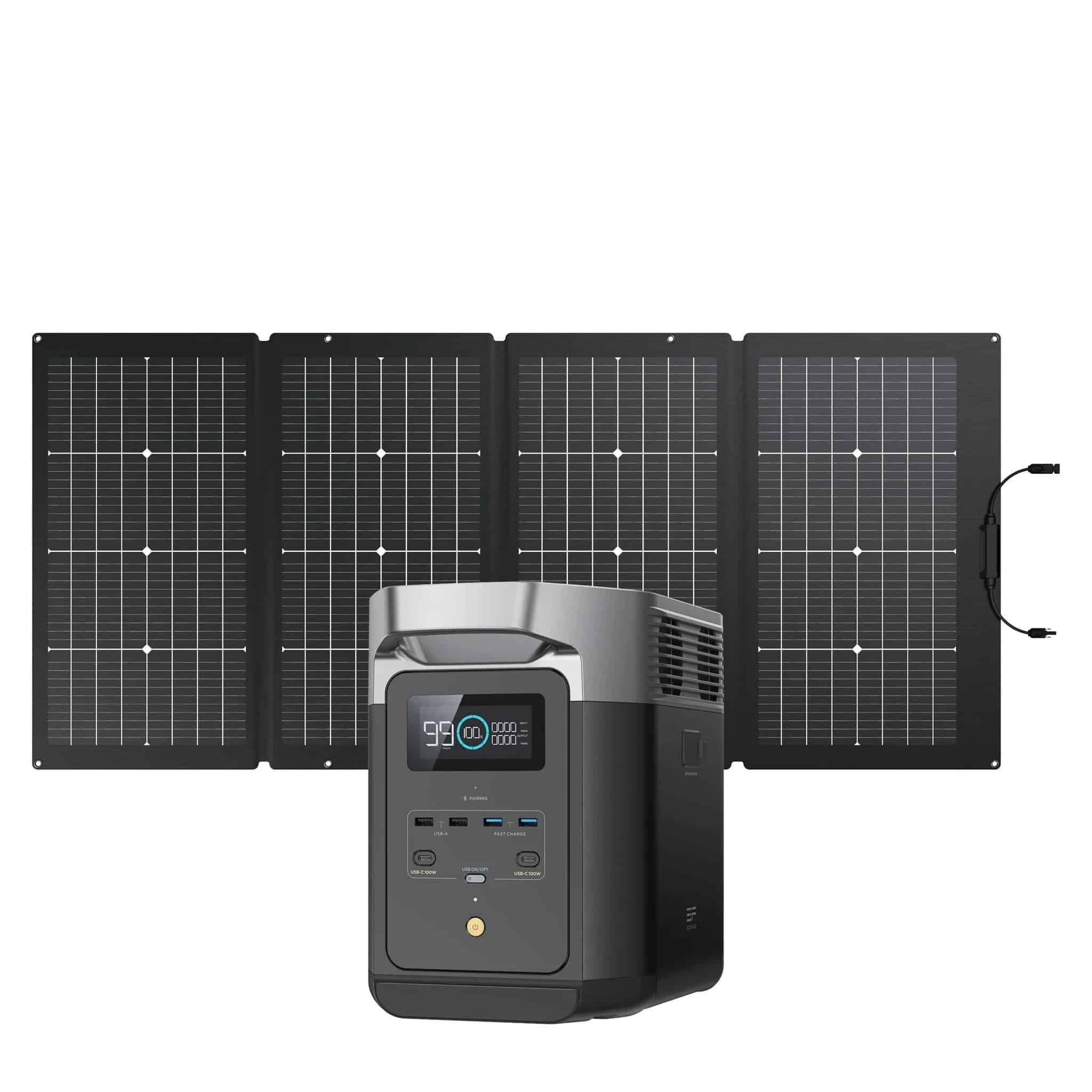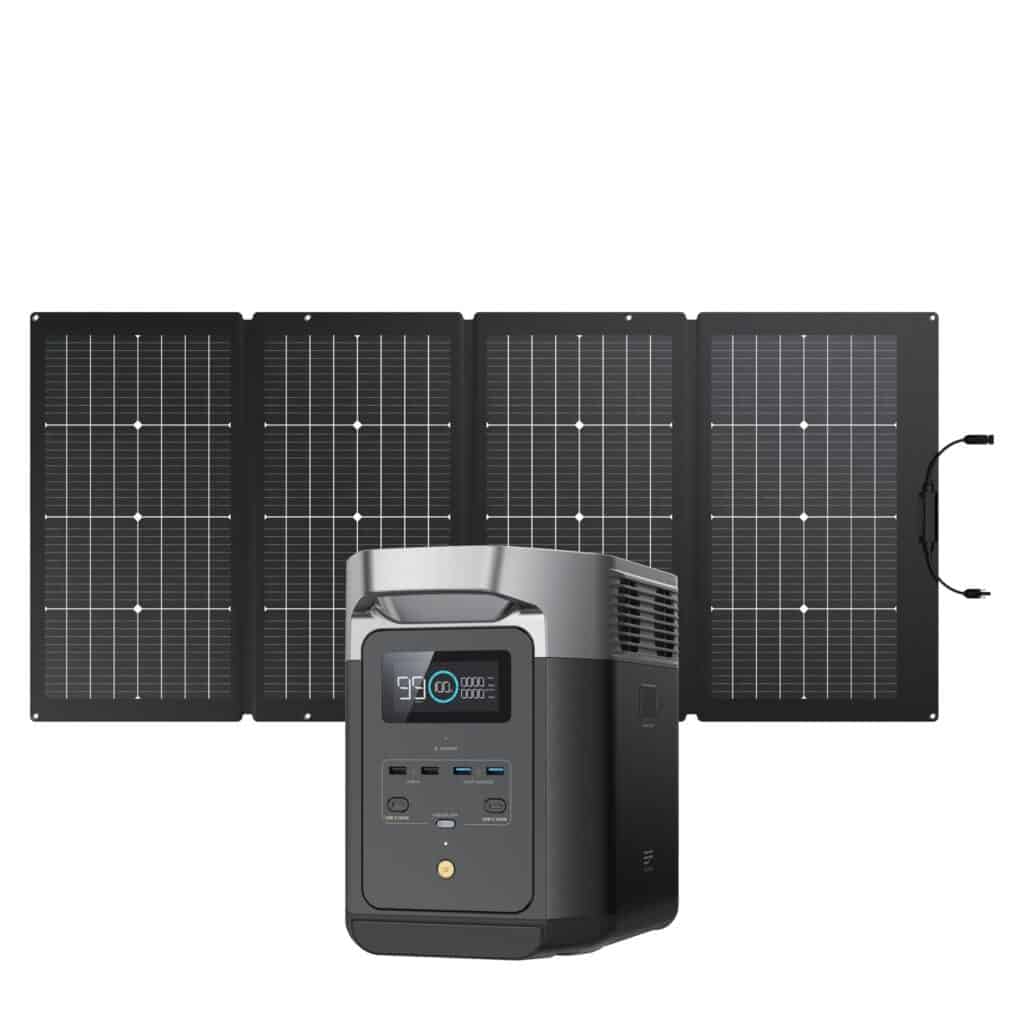 The DELTA 2 + 220W solar panel bundle is a solid choice for those that want all the smaller and larger essentials powered up without breaking the bank. It's an ideal solar power generator for home use and home backup. And as a bonus, you can take it with you for day trips to a park for a picnic or weekend trips off-grid camping or RV-ing.
Plug in up to 500W solar panels to collect clean, green energy from the sun that is ready to use whenever you need it. Expand your capacity to 2048Wh with an add-on DELTA 2 Extra Battery, or to 3040Wh with the DELTA Max Battery.

DELTA 2 is a solid choice for those that like efficiency in smaller packages. It's simple to use and mighty powerful, and can power up even heavy-duty appliances. Charge up phones, laptops, a lamp, and even an electric hotplate simultaneously.
Specs
Capacity:1024Wh
Life Cycles: 3000+ Cycles
Output: 1800W (Surge 2700W)
AC Input: 1200W Max
Solar Input: 500W
River 2 Pro + 220W Solar Panel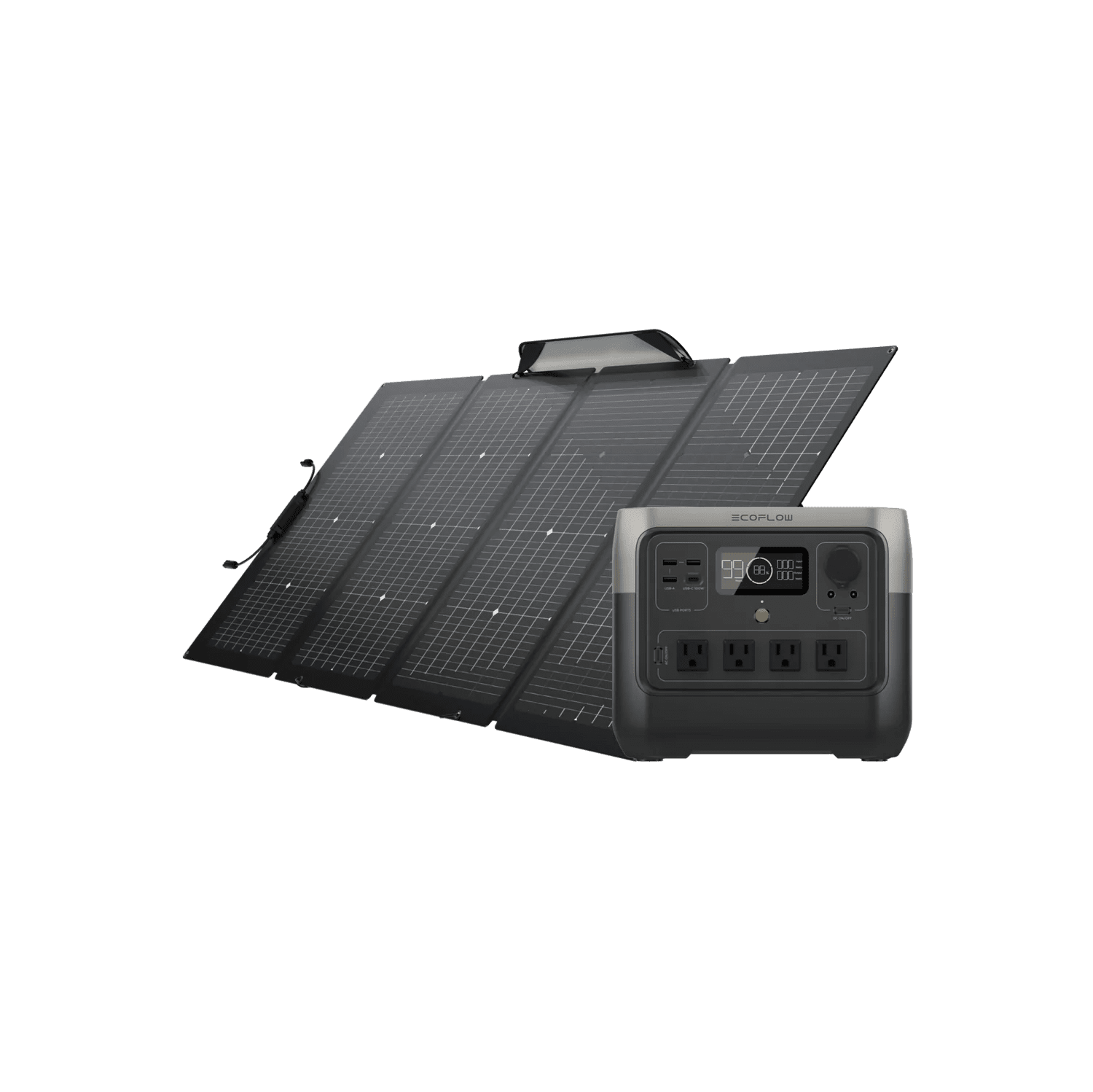 If you're after a solar generator for home use that powers up smaller essentials then the River 2 Pro + 220W solar panel will be your optimal choice. Power up a coffee machine, kettle, lights, and charge your camera, laptop, and phone.
Like it's DELTA 2 cousin, it's great for people that are just starting out on their solar power journey.Enjoy a quick charge in just 70 minutes using a wall outlet. Or, you can plug in a 220W solar panel for a full charge in 4 hours.
Specs
Capacity:768Wh
Life Cycles: 3000+ Cycles
Output: 800W
AC Input: 940W Max
Solar Input: 220W
DELTA Pro + 400W Solar Panel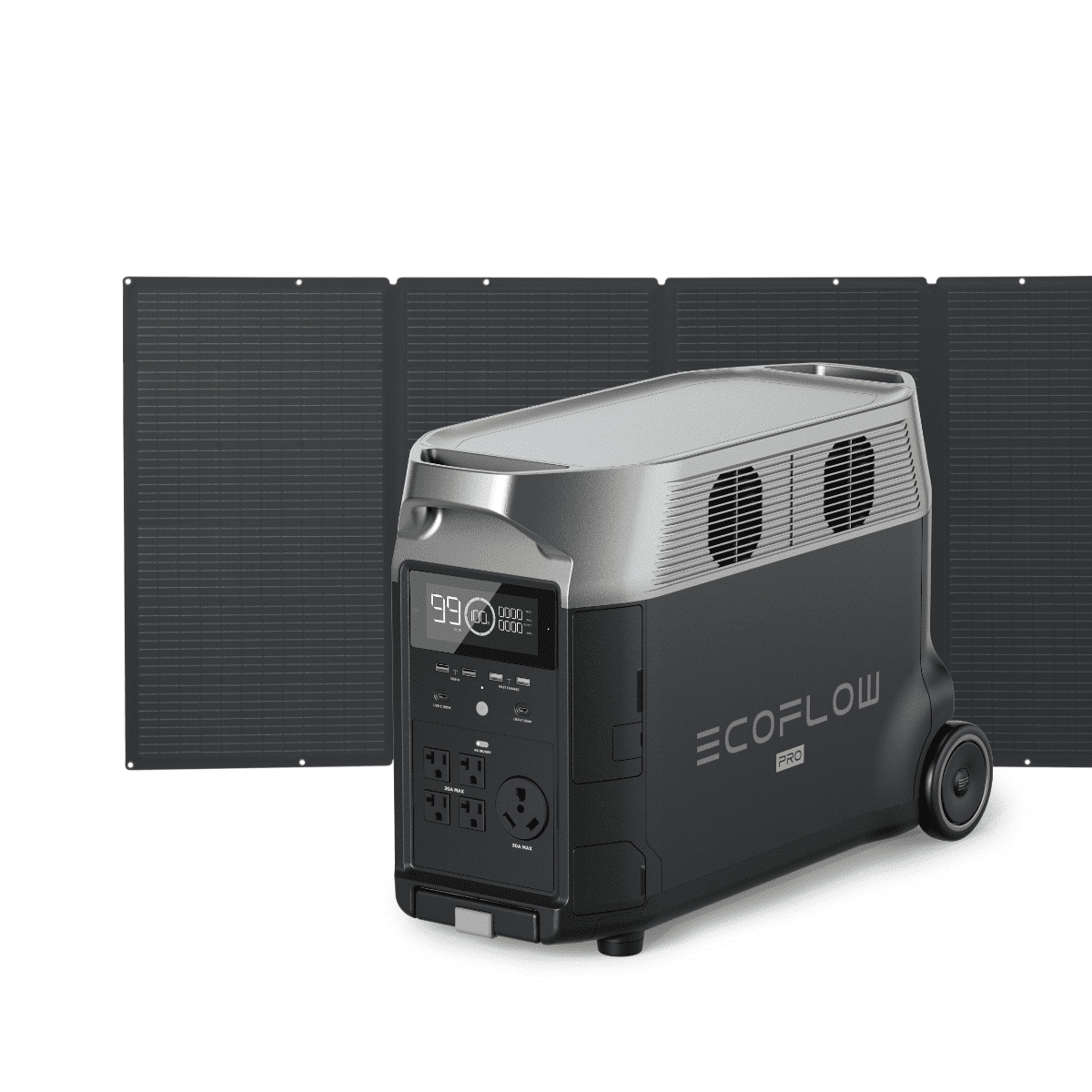 We've added our award-winning DELTA Pro + 400W solar panel here because it's one of our best solar generators for home backup with the largest capacity.

DELTA Pro remains a strong choice for those that need a reliable, heavy-duty backup solution that requires powering up even the thirstiest of appliances. Power up a washing machine, refrigerator, air con, hairdryer, and more. To keep up with the power demand, DELTA Pro comes with a massive solar input of 1600W. Because you deserve the peace of mind.
Specs
Capacity:3600Wh
Life Cycles: 3000+ Cycles
Output: 3600W (Surge 2700W)
AC Input: 1800W Max
Solar Input: 1600W
To Summarize
It's never been a better time for accessible solar power for the home. As we move towards greener solutions in a world where global warming is becoming more and more of a threat and blackouts have become the new norm, it's important to consider a sustainable solution for your family. EcoFlow solar generators come in a range of capacities beyond what we've covered here to suit your home lifestyle, and what's more, they're so simple to use, it would be a crime not to add one to your cart!