Blackouts and brownouts are on the rise. There it's crucial to learn the difference and know what to do in a blackout vs brownout. Year on year our dependence on electricity has been on the rise. We rely on electricity from dawn until dusk to keep our homes, businesses, and favorite devices connected and powered. According to the EIA, U.S electricity customers experienced eight hours of power interruptions in 2022 with this number set to increase. Your utility company does everything it can to prevent power outages. But there are unexpected and uncontrollable events like weather and demand spikes that cause power outages.
What Is the Difference Between a Blackout and a Brownout?
A blackout is a planned or unplanned power outage resulting in a temporary but total loss of electricity transmitted to end users through the utility grid.
A brownout is a more frequent but often unnoticed occurrence where the voltage level supplied through the grid temporarily dips. Depending on the duration of a brownout and the decrease in volts delivered to homes and businesses, you may not notice it occurring. However, even minor fluctuations in voltage can cause significant damage to sensitive electronics — such as desktop computers and data servers.
Unplanned blackouts typically only last a few hours but can last for days or even weeks. Even short blackouts lead to widespread disruption. Extended blackouts can be considered a disaster. The Texas power crisis of 2021 lasted over two weeks and was responsible for hundreds of deaths.
Unplanned blackouts — like the one in Texas — are often caused by extreme weather events, such as a severe winter storm or heat wave. Other potential causes include aging utility infrastructure and electricity demand exceeding supply.
Planned blackouts — often called rotating outages, rolling blackouts or load-shedding — occur when a utility intentionally shuts down power in specific areas of the grid to protect the integrity of the overall infrastructure. Utility customers are typically warned in advance of a rolling blackout and they occur for a scheduled period — often two to eight hours. Rotating outages usually take place when demand for electricity exceeds supply or system capacity and are designed to prevent more widespread blackouts or catastrophic failure of the grid.
What is a Blackout?
By definition, a blackout occurs when there is an unexpected interruption of power. There's no way of predicting how long a blackout will last. It could be a matter of minutes, hours, or even days depending on the cause. A blackout can occur for a variety of reasons, here's a list of what can cause a blackout:
Unpredictable weather patterns like lightning strikes, storms, or natural disasters
A spike in power demand, pushing the grid past its limit
Power lines or transformers being damaged
Fallen tree branches on power lines
Ice build-up on power lines
In recent times, one of the worst blackouts was the 'Texas deep freeze' in 2021. But you can learn more about that here.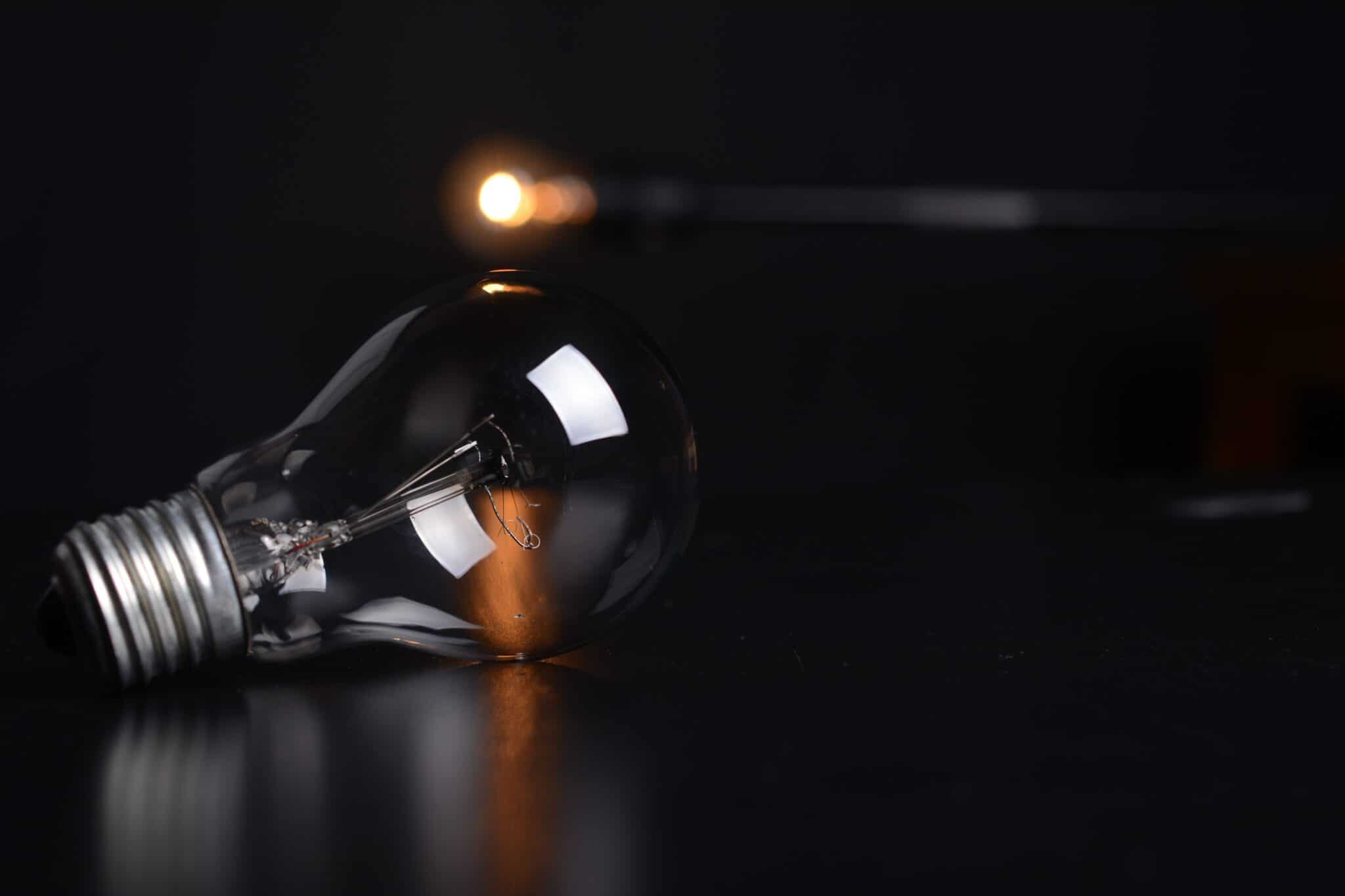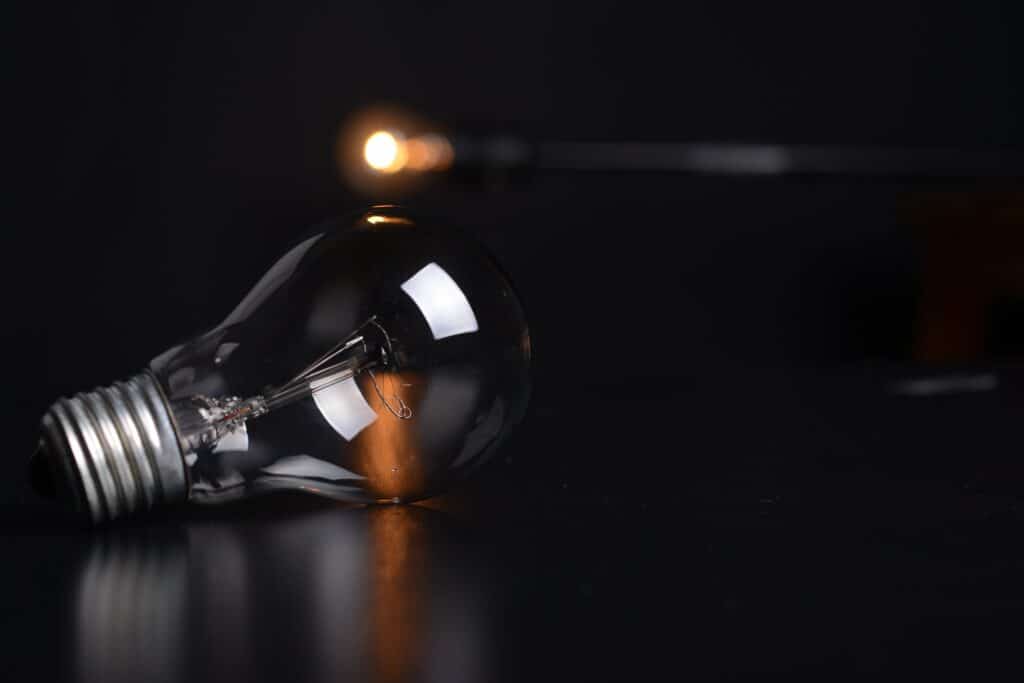 What is a Brownout?
Perhaps less commonly known is a 'brownout'. But what causes a brownout? In a nutshell, a brownout is caused by partial disruption of mains power. The biggest difference between a blackout and a brownout is that a blackout is an unexpected, complete shutdown of electricity.
Brownouts are a temporary interlude planned by your utility provider. Throughout a brownout, electricity is still provided to your home, but at reduced voltage levels. Typically, your utility provider will reduce voltage by 10-25%.
So why do utility providers plan a brownout? Your utility provider will plan a brownout to prevent a blackout. Utility companies do this when they know a demand spike is coming. They'll migrate electricity, to avoid putting too much pressure on the grid.
Another difference between brownouts and blackouts is that brownouts are short-term. Your utility company will know when it will start and when it will finish.
While you can still use your appliances and devices during a brownout, it's not advisable. Due to fluctuating voltage, your appliances could get fried. It's best to unplug them or have an alternative power supply, like an EcoFlow DELTA series portable generator, for the duration of the brownout.
What is a rolling Blackout?
Another situation you could experience is a 'rolling blackout'. Like a brownout, this is a controlled blackout planned by your utility provider. This helps to prevent the grid from being overloaded due to a demand spike. The distinct difference is that during a rolling blackout the power is completely switched off. However, the power is usually only shut off for an hour or two.
Most states are affected by rolling blackouts. However, California tops the list. During wildfire season, rolling blackouts are a regular occurrence. They are used to help manage peak demand and reduce the risk of wildfires.
But for a digestible guide on how to prepare for a rolling blackout, you can find out here.
How can an EcoFlow DELTA portable power station help with a blackout or brownout?
One way to safeguard against a blackout or a brownout is to create a home backup system to reduce your reliance on the grid. This is where the EcoFlow DELTA series solar generators come in handy.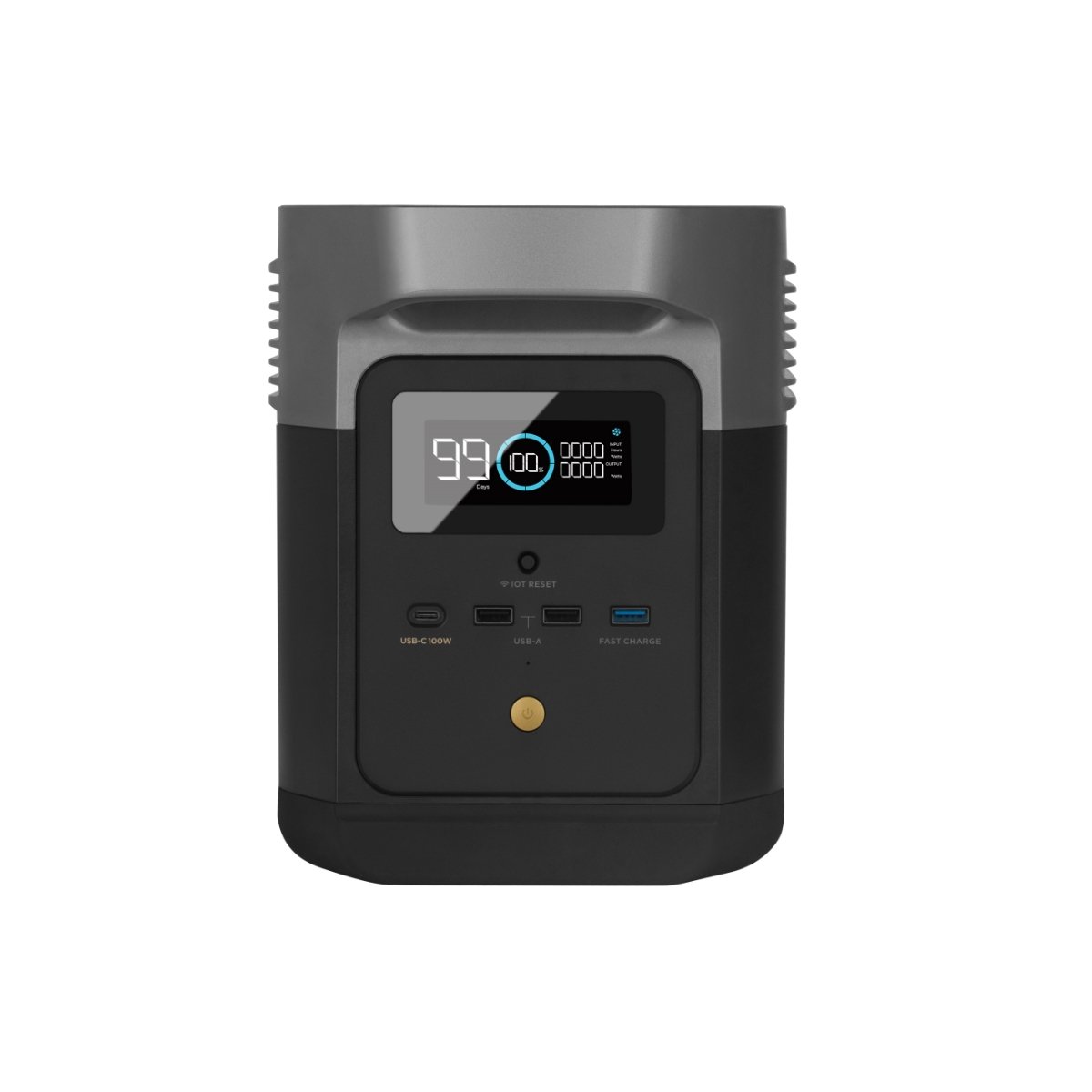 DELTA mini
Capacity
882Wh
Phone (11W)
62 Charges
Laptop 60W
12 Charges
Mini Fridge
12 Hours
Blender (500W)
1.5 Hours
Coffee Machine (1000W)
0.7 Hours
Air Fryer (1500W)
0.5 Hours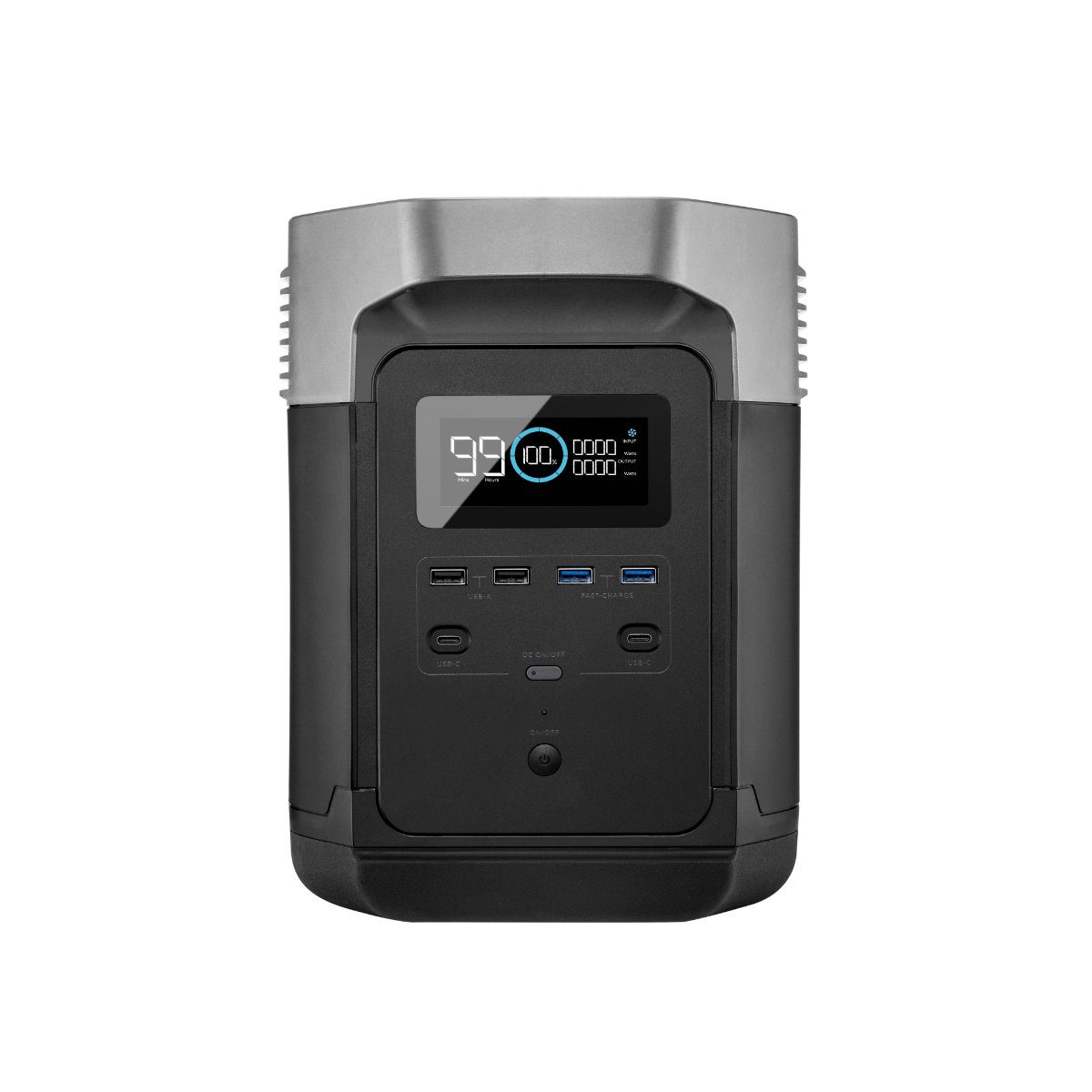 DELTA
Capacity 1260Wh
Phone (11W)
104 Charges
Laptop 60W
19 Charges
Mini Fridge
19 Hours
Blender (500W)
2.1 Hours
Coffee Machine (1000W)
1.1 Hours
Air Fryer (1500W)
0.7 Hours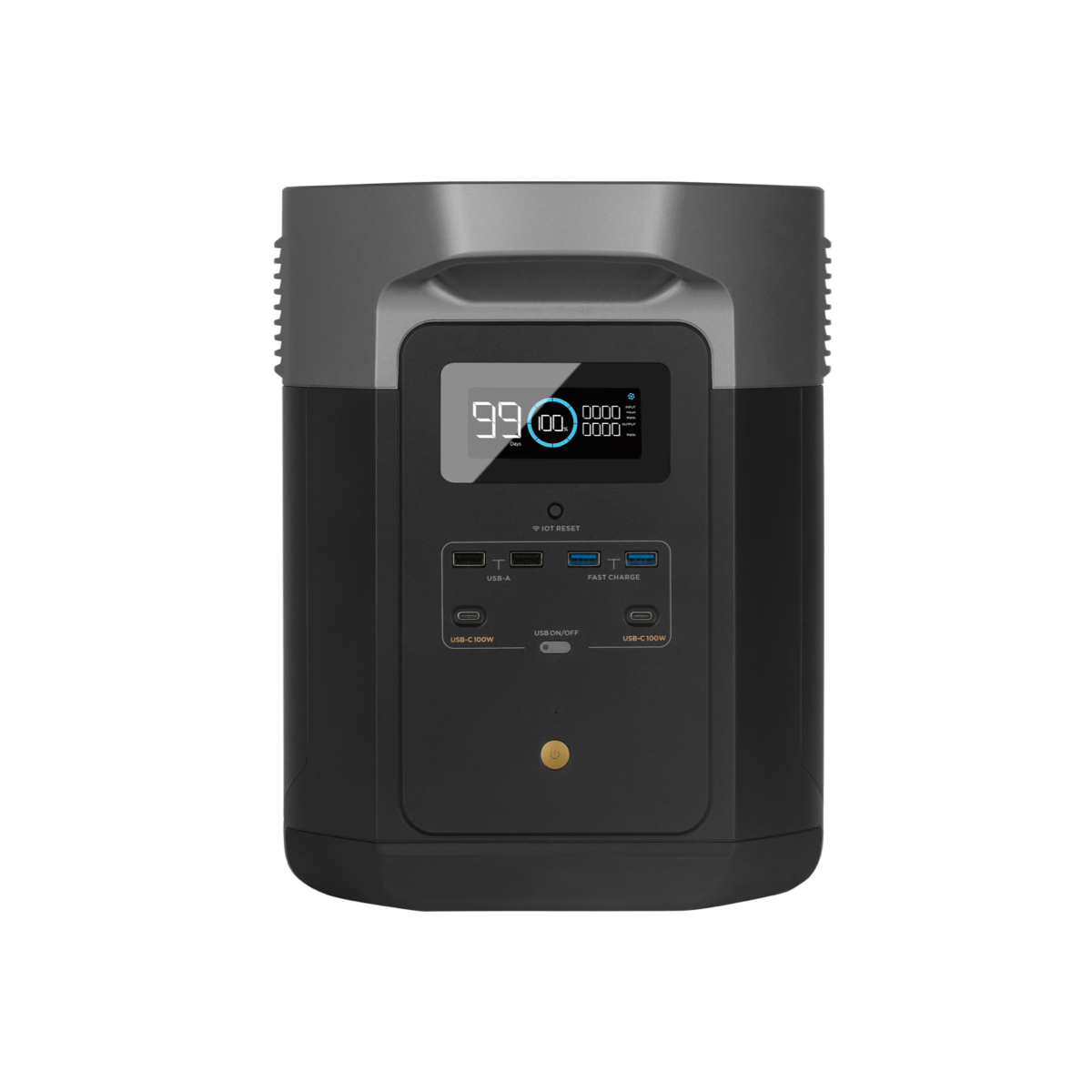 DELTA Max
Capacity 2016Wh
Phone (11W)
175 Charges
Laptop 60W
32 Charges
Mini Fridge
33 Hours
Blender (500W)
3.5 Hours
Coffee Machine (1000W)
1.9 Hours
Air Fryer (1500W)
1.2 Hours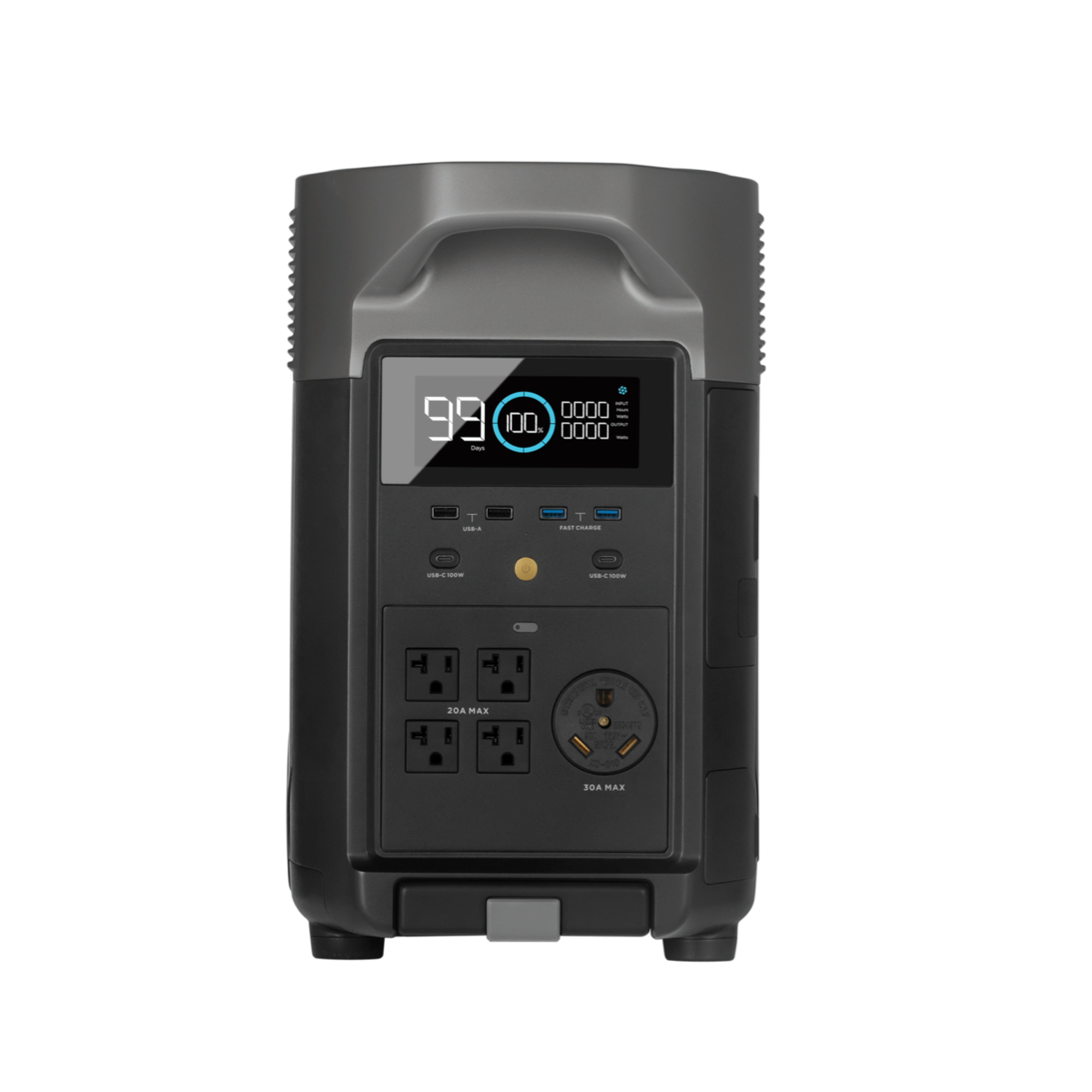 DELTA Pro
Capacity 3600Wh
Phone (11W)
313 Charges
Laptop 60W
57 Charges
Mini Fridge
57 Hours
Blender (500W)
6.5 Hours
Coffee Machine (1000W)
3.3 Hours
Air Fryer (1500W)
2.2 Hours
AC Output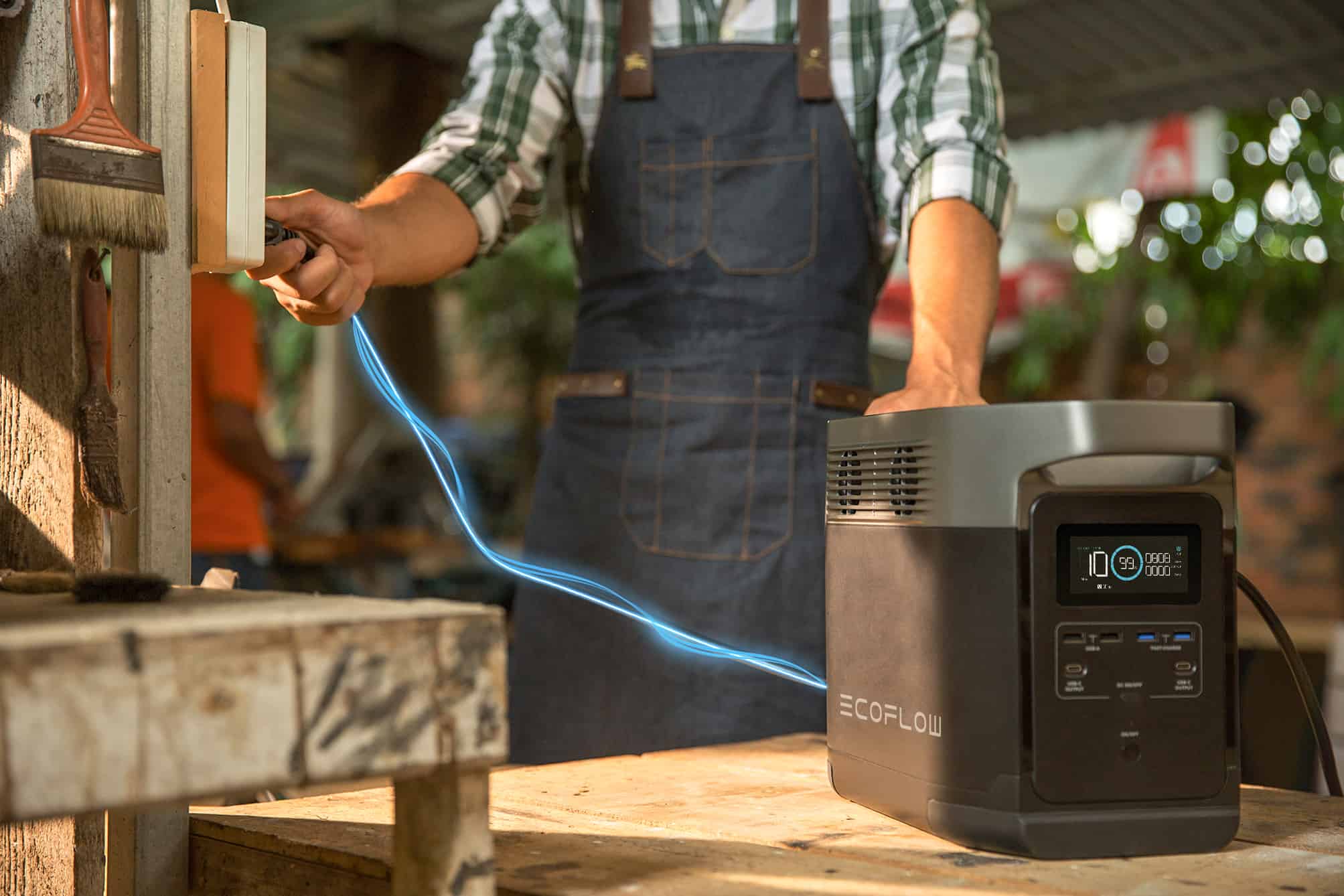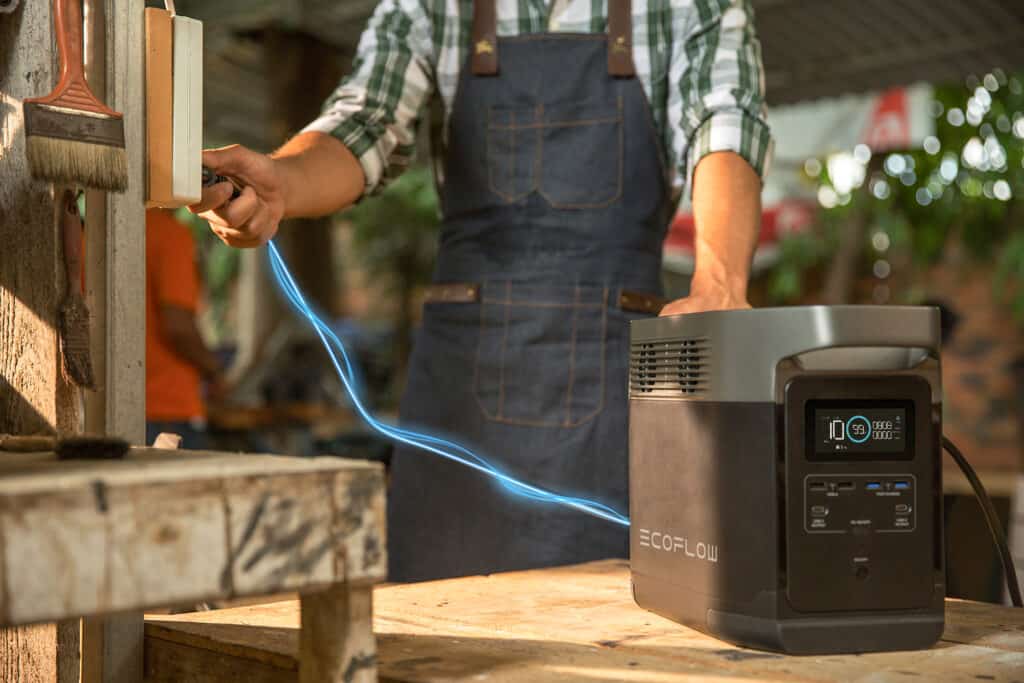 You'll need a portable power station with a high AC output to help you start up the essentials. All the DELTA series models come with more than enough power. They stretch from 1400W with DELTA mini to 3600W with the DELTA Pro. To give you context, heavy-duty appliances like fridges need anywhere between 840W – 1200W to start up. This makes any DELTA series model a great option for blackouts or brownouts. What's more, DELTA series units are all fitted with X-Boost technology, which extends the output if you need a bit more power.
Capacity
Secondly, you'll need something that has enough capacity to cover the run time of your home appliances. All DELTA models have a relatively large capacity for their size and can run the majority of essential household appliances. However, with DELTA Max and DELTA Pro having expandable capacities, they are perfect for running the bigger stuff. You'll be able to run AC units, electric dryers, or freezers in the event of a blackout or brownout. But you can find out more about which DELTA portable power station has the right capacity for you here.
Charging
Finally, you'll want to make sure you have a portable power station with a plethora of charging options at your disposal. With any EcoFlow DELTA Series model, this is exactly what you'll have. If you're an avid planner, EcoFlow's DELTA series portable power stations are great as they can charge and store the grid's power extremely quickly. In a matter of 65 minutes, any DELTA model can receive an 80% charge. Particularly useful if you know a brownout has been issued by your utility provider.
Renewable Energy Sources
I guess you're wondering what charging options you have in the event of a blackout? Well thanks to each DELTA model's solar compatibility, you can easily attach solar panels. This gives you more charging convenience, particularly if you don't know how long a blackout will last. Each DELTA model has a different solar input depending on its size, stretching from 300W to 1600W solar input. You can check out a DELTA Series comparison to see which solar input suits you here. 
However, if you're on a budget and you don't want to go down the solar panel route, it's always possible to charge a DELTA model elsewhere. As blackouts are localized, take your unit and charge it at a friend's place a few blocks away. Alternatively, if you have a DELTA Pro, take it to an EV charging station and add juice that way. In around 90 minutes, you'll be at 100%, a great tool in the event of a rolling blackout.
Final thoughts
With our dependence on electricity growing and the pressure on the grid being pushed to its limits, blackouts and brownouts aren't going away anytime soon. This coupled with the growth of unpredictable weather patterns, there's never been a better time to prepare. The question is, which portable power station do you choose? Well, it completely depends on your household needs. If it's power and capacity you're after for the ultimate home backup, DELTA Max and DELTA Pro are great options. But if you're in a state where blackouts and brownouts are less common, DELTA or DELTA Mini could be more for you.
DELTA SERIES