With an aging power network and increasingly unpredictable weather events, coping with life off-grid is becoming a matter of necessity rather than choice. Add to that the skyrocketing costs of fossil fuels, and you've got the circumstances for a perfect storm.
Sourcing the right solar generator can keep your life working in a power outage and provide a more affordable way to power your home.
Solar generators supply vital energy for camping trips, backup for medical devices, and even home appliances in remote areas for truly off-grid living.
But not all solar generators are suitable for all circumstances. The power needs of a solo camper going off-grid in the woods for a week will be different from a family of four that needs a reliable emergency power supply.
Here are the seven best solar generators for off-grid living, whatever your reason is for doing it.
Perfectly portable, the EcoFlow DELTA mini is the go-to generator for any location when there is no handy wall outlet. It could be at home or on a camping trip in the great outdoors. It can run a television continuously for six hours or a fridge for five hours.
You can power up to 12 different devices with a comprehensive selection of DC, USB, and wall-style outlets.
X Stream technology means the DELTA mini charges in 1.6 hours, up to four times faster than other portable power stations. You can also charge the DELTA mini from 160W solar panels or a 12V car adaptor.
Specifications
Charging time: 1.6 hours when charging from the wall, 3-6 hours from two 160W solar panels
Solar charging: Up to 2 x 160W solar panels
Pros
Premium portability – Lightweight at only 10.7kg and ideal for numerous indoor and outdoor applications
Versatile outlets – A range of outlets make this generator suitable for many appliances and devices
Easy charge – use a wall outlet, solar panels, or 12V car adaptor
Cons
Smallest capacity in DELTA series – This generator would struggle to keep all the household appliances on power for a family home facing an extended power outage.
The EcoFlow DELTA has exceptional power output plus ground-breaking technology. It can charge from 0%-80% within one hour, faster than any other battery generator on the market.
Power 11 devices simultaneously for reliable home energy during an emergency outage or to support a planned off-road trip or holiday. The DELTA effortlessly powers a television for eight hours straight or a fridge for six hours.
EcoFlow 110W solar panels will fully charge the DELTA if you are going off-grid or need another power source.
Specifications
Charging time: From 0%-80% within 1 hour
Solar charging: 1 x 110W solar panel
Pros
Fast charge time – Obtain 80% of a full charge within one hour
Multi-device – Powers 11 devices simultaneously
Supports heavy-duty appliances – DELTA delivers consistent support for essential power-draining appliances like fridges
Cons
No app control – No remote control or status monitoring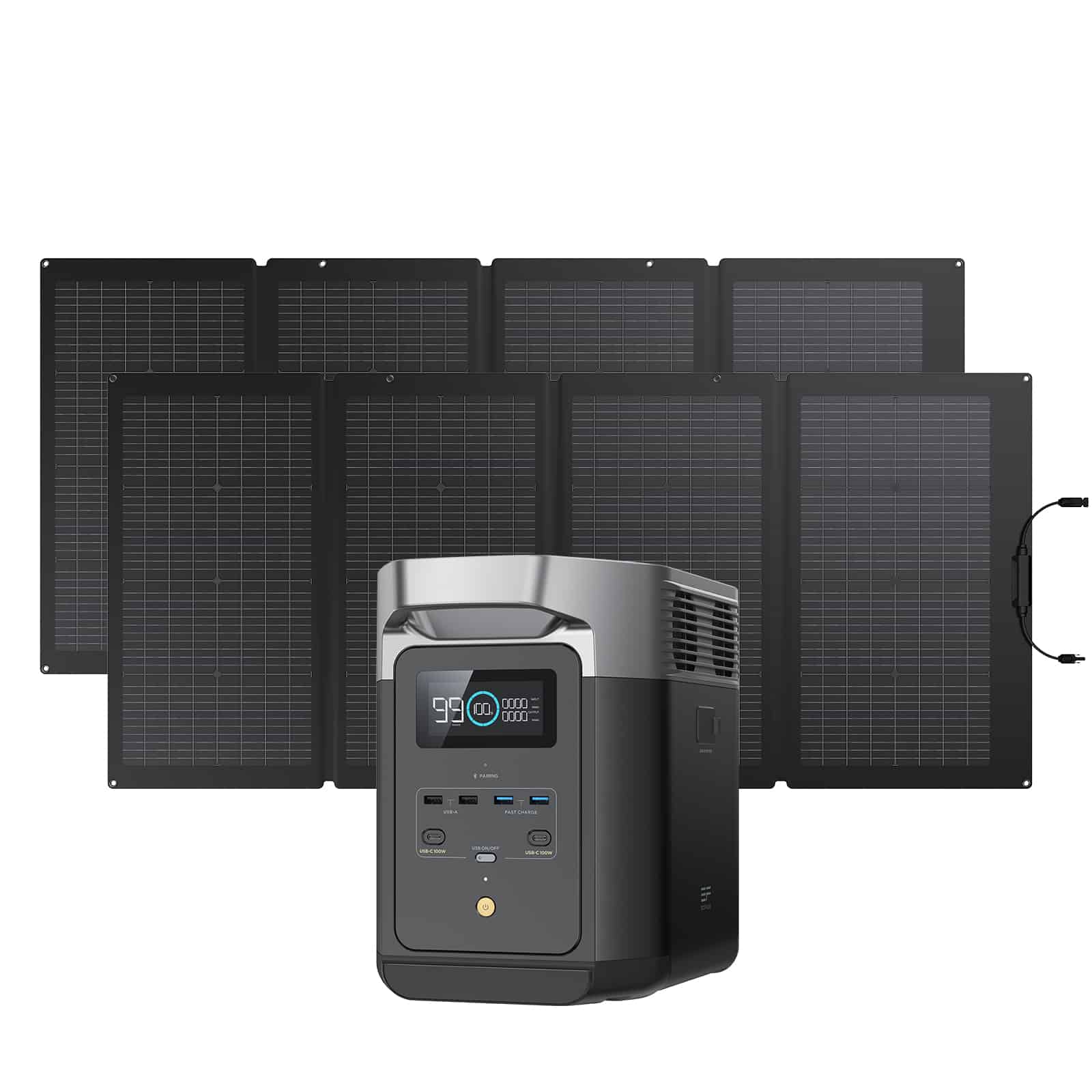 EcoFlow's DELTA 2 is the latest addition to the DELTA Series, and it's an upgrade on the original DELTA in every way.
With cutting-edge LifePO4 (LFP) battery chemistry, DELTA 2 is built to last. With a lifespan of 3,000 cycles (full discharge/recharge) before diminishing to +/-80% storage capacity, the DELTA 2 will provide you with reliable off-grid electricity for many years to come.
It's also expandable. Out of the box, DELTA 2 offers a storage capacity of 1024WH, but you can double that by adding a DELTA 2 Smart Extra Battery. Or you can supersize your off-grid electricity by adding a DELTA Max Smart Extra Battery, tripling your DELTA 2's capacity to 3kWh.
Thanks to LiFePO4 battery and chemistry and EcoFlow's proprietary X-Stream tech, the DELTA 2 can charge from 0-80% in 50 minutes or 100% in 80 minutes using AC electricity.
With 2 x 220W Bifacial Portable Solar Panels — or 1 x 400W Rigid or Portable Solar Panel, the DELTA 2 can fully recharge using clean, renewable solar power in 3-6 hours (depending on environmental conditions).
When it comes to AC output, DELTA 2 is a beast. With 1800W of running watts (Surge 2700W), the DELTA 2 can operate over 90% of home appliances and power up to 13 devices at once.
With its expandable capacity and affordable price, DELTA 2 is the perfect entry-level solar generator for full-time off-grid living.
Specifications
Output: 1800W (Surge 2700W)
Charging time: 0%-80% in 50 mins, or 0-100% in 80 minutes with AC input. 3-6 Hours using 2 x 220W or 1 x 400W solar panels.
Pros
Expandable – If your off-grid electricity requirements increase, DELTA 2 can grow with you. Double or triple your electricity storage capacity by adding a DELTA 2 or DELTA Max Smart Extra Battery.
Powerful – Enough AC output to power over 90% of home appliances or charge up to 13 devices simultaneously.
Durable – With a cycle life of 3000 discharges/recharges to 80+% capacity, the DELTA 2 can last you 10 years or more.
Cons
Not suitable for whole home backup – The DELTA 2 is a workhorse, but it can't back up or run your whole house.
Stay powered in any situation with the EcoFlow DELTA Max. It boasts a substantial 2016Wh capacity, which you can expand up to 6000Wh with additional smart batteries. This solar generator handles hefty home appliances like televisions and microwaves easily, thanks to unique X-Boost technology.
Fast dual charging means the DELTA Max delivers charging speeds of up to 3600W and can reach 80% charge from a wall outlet in just one hour.
The DELTA Max also works with EcoFlow's range of solar panels for the environmentally conscious who truly want to live off the grid. Use the two 400W solar panels to achieve an impressive 800w solar charging speed.
Specifications
Capacity: 2016 Wh (up to 6000WH with smart batteries)
Charging time: Wall charging 1.8 hours
Solar charging: Up to 2 x 400W solar panels
Pros
Impressive output – Keeps a whole household on power for several hours with X-Boost technology
Easy power boost – Add Smart batteries to increase capacity
Charge with solar panels – Capture green solar energy at impressive charging speeds
Cons
Not portable – This is a heavyweight unit
Designed with portability in mind, this is an outstanding solar generator for festivals and camping trips. It's great for any outdoor adventure where outlets are in short supply. It's lightweight and compact enough to fit in your backpack for even extended hikes without weighing you down.
The River 2 offers incredible power and capacity for its size. It can support essential consumer electronics wherever you are. Enjoy a full charge in just one hour using AC electricity. Partner the EcoFlow River 2 with a 110W solar panel, and you can recharge on the move.
Specifications
Charging time: 60 minutes
Solar charging: 1 x 110W solar panel
Pros
Versatile – Compatible with third-party solar panels
Easy carry solar panel protection case – Perfectly portable, this handy case also doubles as a kickstand
Cons
Not the most powerful – For a busy household, the capacity may not be sufficient; look for larger capacity generators to power appliances for longer
Enjoy the ultimate in portability and power for any outdoor location or trip. The rapid charging feature means you can reach full charge within an hour using a standard plug socket. Your generator will always be ready when you need it.
A 160W solar panel provides a sustainable recharge in around 4 hours even when the light conditions are dim, perfect for a camping trip or sustainable living at home.
The River 2 Max has ports and plugs to power nine devices simultaneously with a carport, USB-C, USB-A, and AC/DC outlets. This generator can handle appliances up to 1000W with X-Boost, which covers most regular household devices and equipment.
Specifications
Charging time: 60 minutes to reach full charge
Pros
Versatile – Multiple outlets handle all types of household appliances and devices, including equipment rated up to 1000W.
Sustainable solar recharge – Use a 160w solar panel to gain a sustainable recharge in just 4 hours
Cons
Would struggle with extended outages – There are bigger generators that offer a longer run time for extended power outages or heavy-duty appliances off-grid
The EcoFlow River 2 Pro is a reliable source for users who need a long-running power solution. It's the ultimate solution for extended power outages at home or going off-grid in remote locations. Lightweight, this compact unit weighs only 17.2 lbs and is one of the best portable power supply options available.
Take advantage of getting a full charge via AC outlet in just 1 hour. Delivering higher output with X-Boost, the River 2 Pro can power up to 80% of devices and appliances up to 1600W.
It's perfect for long downtimes, camping trips, and outdoor activities where you need to power more devices. A mix of outlets supports every type of appliance for the ultimate versatility for domestic and professional situations.
Specifications
Charging time: 60 minutes to reach a full charge
Solar charging: 220W solar panels
Pros
Lightweight – Weighing in at only 17.2lbs, this generator is easily portable and delivers optimal capacity and performance for its size.
X-Boost Power – Powering devices up to 1600W, that's most tools and appliances with impressive run times.
Cons
No UPS – Doesn't offer Uninterrupted Power Supply as there is a lapse from grid power to the battery of 30 milliseconds, which can upset sensitive appliances and medical devices. However, most of the time you won't even know the power was down.
How to Choose the Best Solar Generator for Off-Grid Living
In 2020, the average person experienced eight hours of power disruptions. It may not seem consequential until you consider that number will only go up given the country's aging infrastructure and other disruptive events like natural disasters. The grid can't supply a reliable, unfailing source of power. A solar generator can help when off-grid living becomes more than a novelty but a necessity.
Here's how to choose the right one.
Appliance Energy Use
Capacity is crucial in making the right choice of generator. If your solar generator is just for power outages and your household needs are modest, then a small unit will do.
If you want to keep a large family home functioning in a severe weather event that could last several days, you will require a much more powerful solar generator.
Check out how many watts will be required to power your appliances, as they vary. Look at the capacity of each generator for the appliances you want to support and the run time. Some appliances like fridges or air conditioning systems are much heavier on power than others.
Charging
Ease of charge and speed of charge are two essential considerations.
Emergencies call for a rapid recharge time. Some solar generators are impressive, often recharging in just over one hour, but this is from a wall outlet that is no good during a power outage or camping trip.
A slower charge from a couple of solar panels might suit your needs if you are on an outdoor vacation or taking a van trip. If your generator is designed for the great outdoors, check whether it will charge with a 12V car adaptor.
Ease of Assembly and Usage
Most off-grid solar generator systems require additional accessories to get everything up and running to your satisfaction. At Ecoflow, we've always made ease of assembly and usage a priority — but now we've made it even easier!
If you're the kind of person who wants a solution that works right out of the box and doesn't want to fully customize your off-grid solar system, check out our new Power Kits! They make off-grid living a breeze — at a highly competitive bundled price.
Portability
Planning to take a van trip, go camping or enjoy an off-grid holiday? Portability is a crucial dRiver 2 in your purchasing decision, plus the ability to add extra capacity if needed.
Many people only think about portability when it comes to van trips or camping. However, portability can be critical in the home if you want to move the generator around the property during different times of the day and night.
You might want to power kitchen appliances during the day and then move the generator upstairs to support a medical device overnight. More powerful units will be heavier and not always suitable for some people to lift easily.
A portable and compact unit is also easier to store discreetly when not in use.
Additional Power
You can boost some solar generators with an additional battery pack which can double the system's power but is detachable to ensure that the unit remains lightweight and portable.
Adding an extra battery is also a cost-effective way to boost power while retaining flexibility.
UPS stands for Uninterrupted Power Supply. This feature is crucial if you are using a solar generator for backup for a medical device. Some units do not offer UPS. Even though the drop may be just milliseconds, this can be enough to upset a sensitive appliance or disrupt medical equipment.
Budget
When it comes to solar generators, the old mantra of 'you get what you pay for' certainly does ring true. However, there is no point in spending money on unnecessary output if you don't need it.
Generally, the higher the wattage, the higher the price. However, some exceptional budget-friendly solar generators on the market still offer plenty of power and durability for a competitive price tag.
Conclusion
Solar generators are a popular choice compared to fossil-fuel-driven equivalents as they offer a quiet, fume-free green alternative both inside the home and at off-grid outdoor locations.Solar generators offer flexible and sustainable power choices if you want seamless power during an outage or are heading into the great outdoors on a wild adventure. Shop EcoFlow today for an extensive range of solar generators to power your life.1024