Stepping into nature may seem like a simple concept. You grab a tent, pack a cooler, and head into the great outdoors. While this is all great and well, you need a reliable way to communicate with those back home or contact help in the case of an emergency.
The solution? Invest in a portable solar generator that will keep your essentials charged.
Solar generators are an excellent alternative to gas-powered models because of their low running costs and zero fumes. These portable power stations do more than just charge your phone — you can use them to power appliances like an electric stove or a TV. The most impressive part is that they operate entirely on solar power.
Which solar generator is right for you? It depends on your needs and preferences. We'll go over everything you need to know to make an informed shopping decision.
What Is a Solar Generator?
A solar generator operates alongside solar panels to provide essential power for devices, appliances, and anything else that requires electricity. They are just as useful for camping trips as for power outages. And, because they draw their power from the sun, they offer an eco-friendly approach to generating energy.
The generator will convert sunlight through solar panels into direct current (DC) electricity, which will then pass through the charge controller. Finally, it stores the solar energy inside the battery until it's ready to be used.
These portable power stations are great for camping in many ways. Besides being environmentally friendly, they also don't produce noxious fumes, are quieter than gas-powered generators, and are easy to transport.
5 Best Solar Generators for Camping Reviewed
EcoFlow offers two series of solar generators: River 2 and DELTA. The River 2 Series is perfect for backyard and RV camping enthusiasts, while the DELTA series is a reliable choice for extended, off-grid adventures.
Here are the five best solar generators for camping reviewed!
1. River 2: Best for Overnight Camping Trips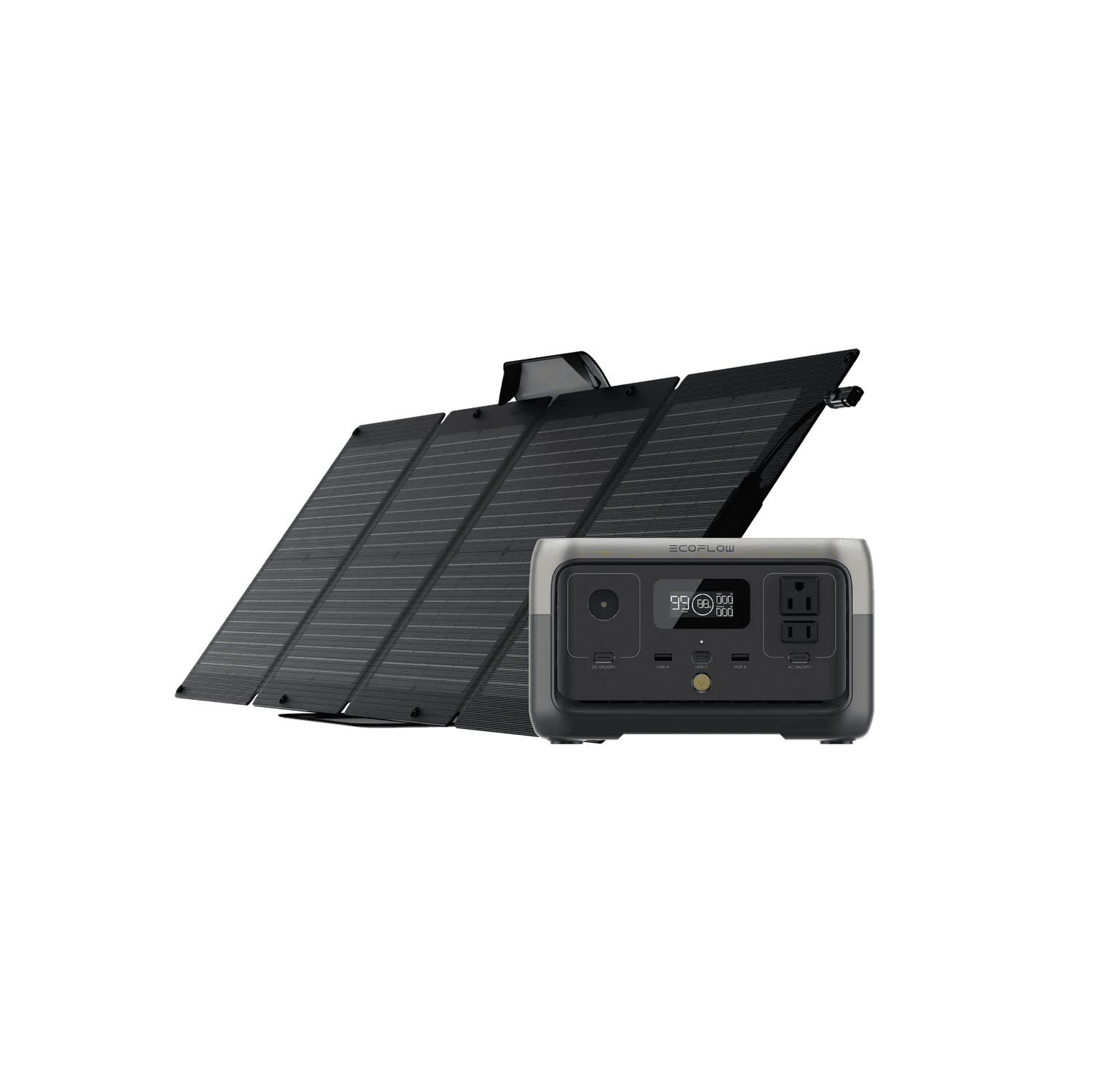 Let's kick off with the EcoFlow River 2—the perfect companion for overnight camping trips.
You don't need extreme power if you're only camping for a night. This power station is packed with 256Wh, making it strong enough to run a light if needed!
It offers more than enough power for an overnight camping trip, but if you need to recharge, expect a solar panel charging time of 3 hours. It can be used while charging.
Camping enthusiasts only traveling for a night or two don't need a massive setup. The River 2 weighs 7.7 lbs (3.5 kg) with a dimension of 9.6 x 8.5 x 5.7 in (245 x 214 x 142 mm). It's very compact and portable, making it perfect for on-the-go adventures.
Specifications
Capacity: 256 Wh
Weight: 7.7 lbs (3.5 kg)
Dimensions: 9.6 x 8.5 x 5.7 in (245 x 214 x 142 mm)
Battery Type: LiFePO4
Battery Life Cycle: 3000 cycles to 80+% capacity
Solar Panel Charging Time: 3 hours
Pros
Lightweight and compact for easy carrying
X-Boost fast charging mode included
Cons
Not ideal for extended camping trips
Verdict: The EcoFlow River 2 is the best power station for overnight camping trips. It's compatible with many home appliances, making it very likely to power up whatever gadgets you have on hand.
Add the EcoFlow River 2 to your camping gear today!
2. River 2 Max: Best for Weekend Camping Trips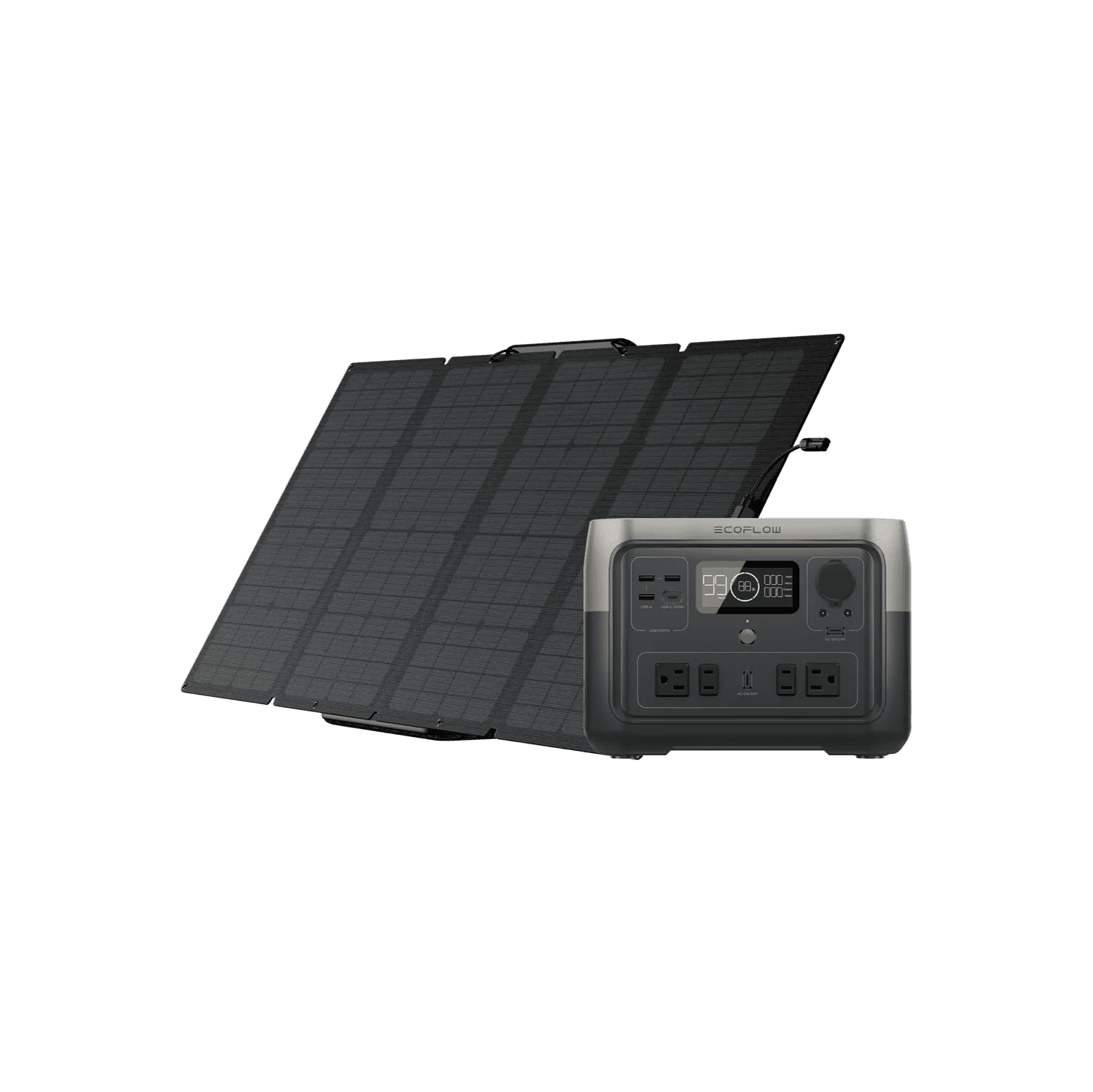 Need a solar generator that lasts the entire weekend? Consider the River 2 Max. It has an impressive capacity of 512 Wh — enough energy to charge your smartphone 50 times or run a television for about 10 hours.
If you're traveling as a family or in a large group, you'll be pleased to find that the River 2 Max can charge multiple devices simultaneously. It means the kids can watch television while you make breakfast and have power for essential appliances like a camping fridge and oven.
Not sure if it's time for a recharge? You can easily monitor power levels through the easy-to-use EcoFlow smartphone app. See the energy usage, how much energy each appliance pulls, the remaining charge, and more!
Specifications
Capacity: 512 Wh
Weight: 13.4 lbs (6.1kg)
Dimensions: 10.6 x 10.2 x 7.7 in (270 x 260 x 196mm)
Battery Type: LiFePO4
Battery Life Cycle: 3000 cycles to 80% capacity
Solar Panel Charging Time: 4 hours
Pros
512 Wh capacity enough to charge camping appliances
X-Boost fast charging
Powers up 80% of essential appliances
Cons
The LED light bar is bright
Verdict: The EcoFlow River 2 Max is the best power station for weekend camping trips. It has a large capacity of 512 Wh with a fast solar panel charging time of 4 hours.
Try the EcoFlow River 2 Max for yourself today!
3. River 2 Pro: Best for Extended Camping Trips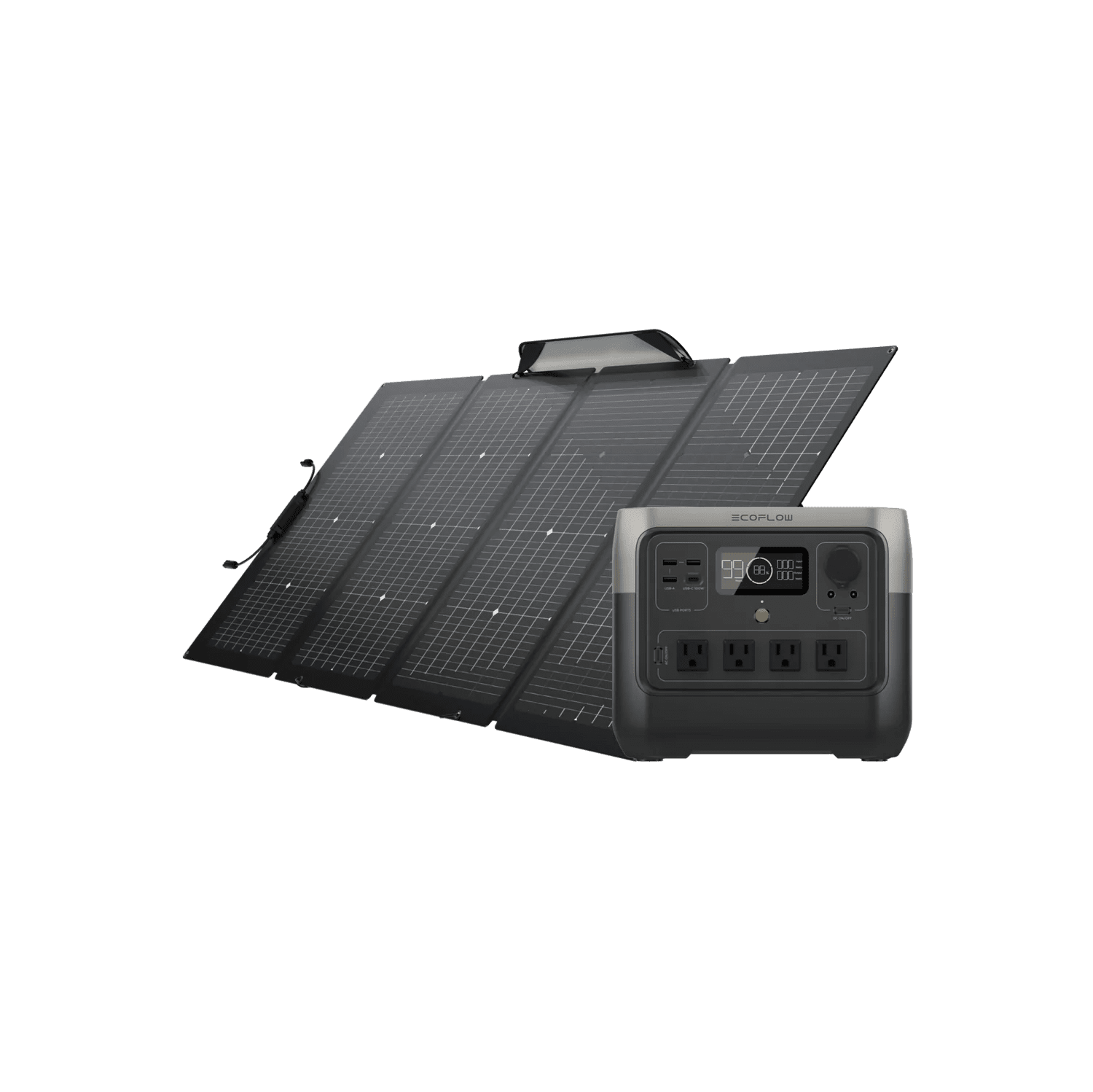 The River 2 Pro is the generator of choice for extended camping trips. It has a capacity of 768 Wh while maintaining a light weight of 17.2 pounds. And, when it's time to charge up your batteries, you can expect a 70-minute solar panel charging time.
To give you an idea, here are a few of the many devices it can run:
A hair dryer
Microwave
Electric kettle
Specifications
Capacity: 768 Wh
Weight: 17.2 lbs (7.8 kg )
Dimensions: 10.6 x 10.2 x 8.9 in (270 x 260 x 226 mm)
Battery Type: LiFePO4
Battery Life Cycle: 3000 cycles to 80+% capacity
Solar Panel Charging Time: 70 minutes
Pros
Lightweight but provides robust power
Large capacity
X-Boost Technology
Cons
Charging time may run a bit long
Verdict: The River 2 Pro is the most robust solar generator in the River 2 collection. Despite its power, you'll love how lightweight this generator is, making it easy to transport. You can't go wrong with the River 2 Pro, a quality option designed for users needing a longer runtime.
Order the River 2 Pro today and see what all the hype is about!
4. DELTA Max: Best for RV Enthusiasts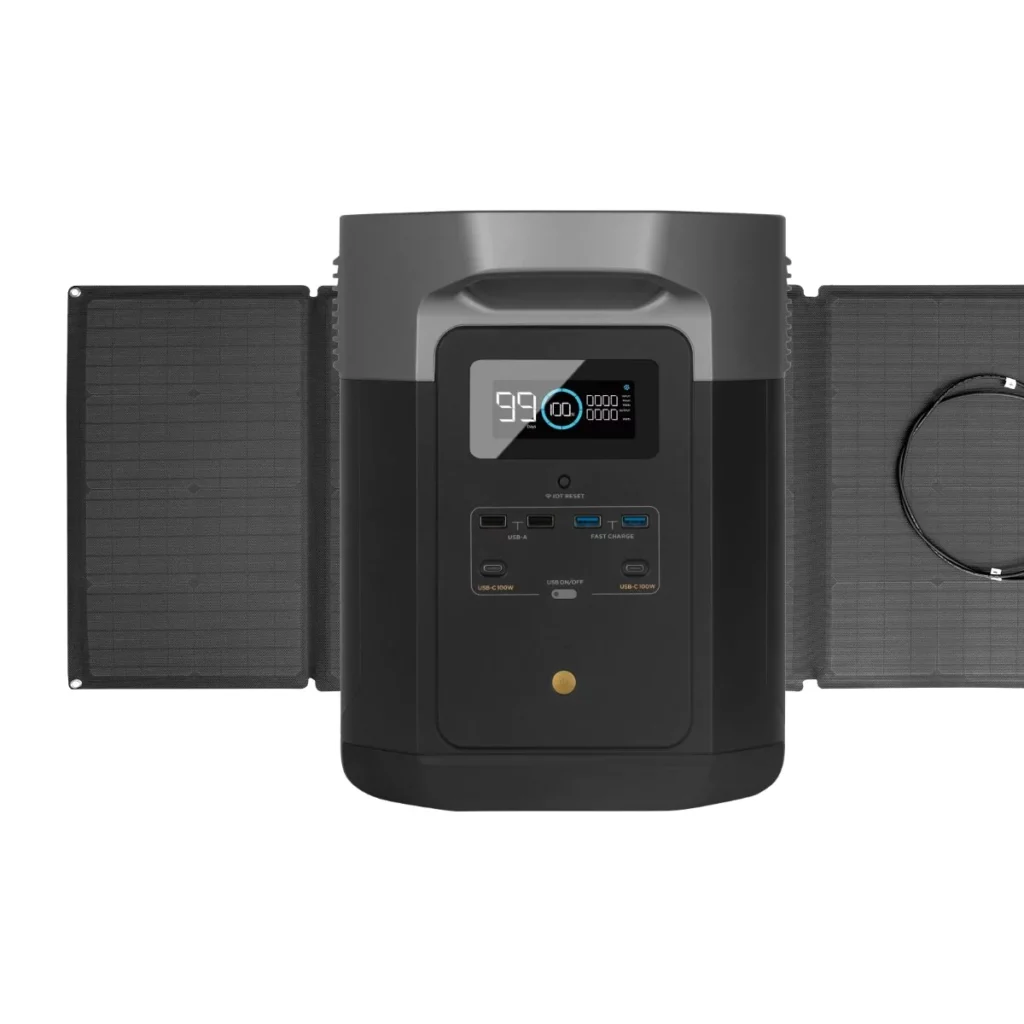 The EcoFlow DELTA offers several ways to stay connected regardless of where you are. You can charge it directly through an AC wall outlet (or solar panels) if you're at home. If you're camping, you can use your car or the two 2x400W solar panels that are included. 
However, this solar generator doesn't need recharging too often since a single unit packs a 2,000 Wh capacity that's expandable up to 6,000 Wh. It means you can keep your RV running 24/7. When it is time to recharge, expect rapid dual charging, which takes it from 0% to 80% in 65 minutes.
The X-Boost technology handles devices up to 3400W without a problem, including heavy-duty appliances like your fridge or dryer. To monitor everything from charging levels or energy pulled by each appliance, download the EcoFlow app. It offers a more convenient way to ensure everything is sailing smoothly.
Specifications
Capacity: 2,000 Wh
Weight: 48 lbs (22 kg)
Dimensions: 19.6 x 9.5 x 12 in (49.7 x 24.2 x 30.5 cm)
Battery Type: Lithium-ion
Battery Life Cycle: 800 cycles to 80%+ capacity
Solar Panel Charging Time: 3.2 to 6.3 hours
Pros
Ultra-fast charging
Powers multiple devices
Dual charging
Expandable capacity
Cons
Less suitable for backpacking, better for RV campers
Verdict: The DELTA Max powers 99% of home devices. Plus, with EcoFlow's X-Boost technology, it'll power heavy-duty appliances up to 3400W, letting you connect to larger appliances like your fridge, dryer, and more.
Try the DELTA Max for yourself today!
5. DELTA Pro: Best for Off-Grid Adventures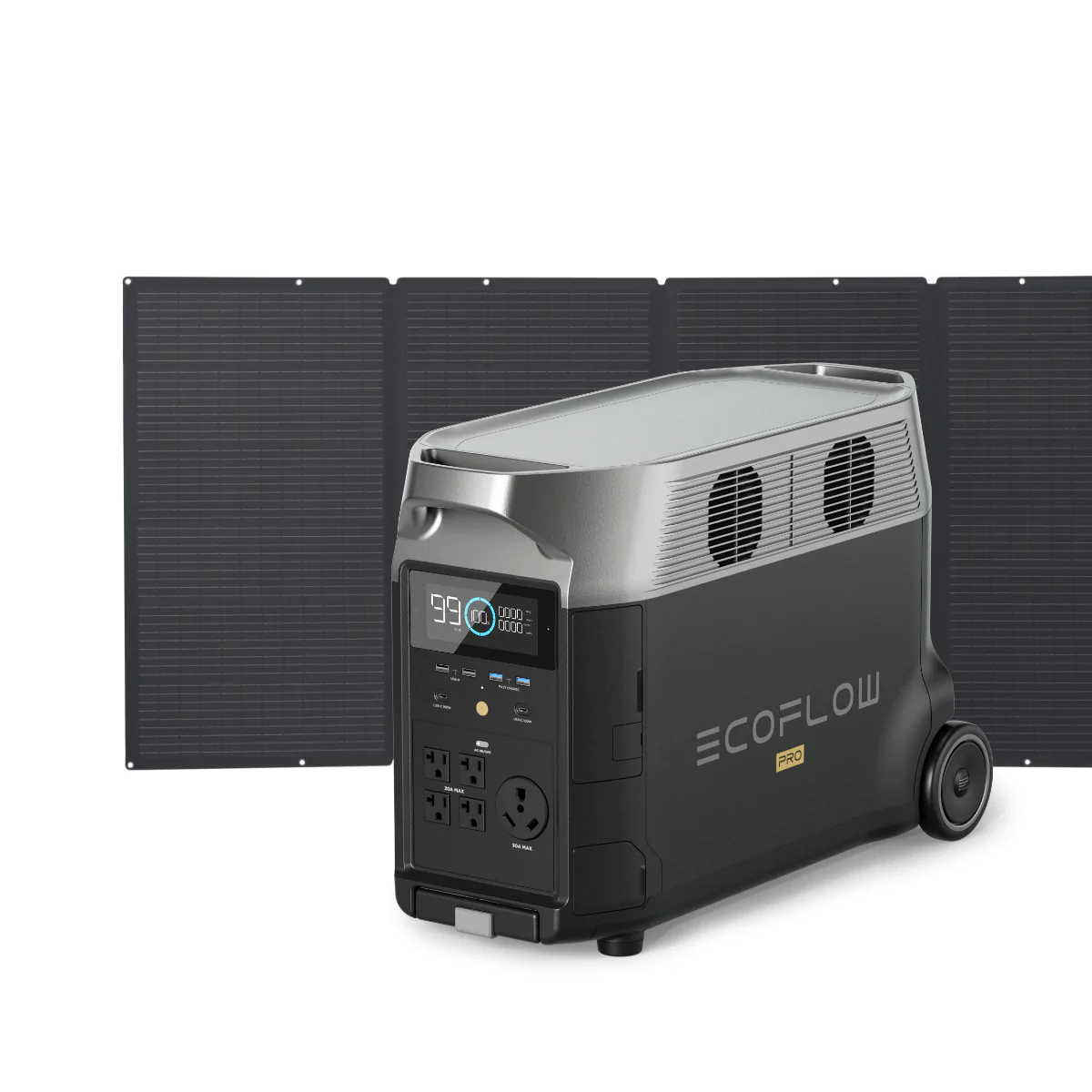 Staying off the grid may seem like a simple concept until you realize everything you need to prepare. The DELTA Pro makes it easy to check the most important thing off your list: a reliable power source.
Keeping your entire off-grid campsite is made possible with this solar generator. It's packed with 3,600 Wh, which you can expand to 25,000 Wh by chaining it to the extra EcoFlow batteries.
It can run high-voltage devices like air compressors or electric grills. Plus, the EcoFlow app makes it easy to manage and monitor energy levels, remaining charge times, and more.
Are there any drawbacks to the DELTA Pro? We'll be the first to admit that at 99 pounds, it's heavy. However, the built-in wheels make it easy to lug around.
Specifications
Capacity: 3600+ Wh
Weight: 99 lbs (45 kg)
Dimensions: 25 x 11.2 x 16.4 inches (63.5 x 28.5 x 41.6 cm)
Battery Type: LFP
Battery Life Cycle: 3500 cycles to 80%+ capacity
Solar Panel Charging Time: 4-8 hours
Pros
Enormous capacity (up to 25K Wh)
Powers 18 devices simultaneously
Safe for indoor or outdoor use
Long battery life cycle (3500 cycles)
Cons
Heavy and not suited for long-distance or bumpy hauling by hand
Verdict: If you want to get off the grid, the DELTA Pro won't fall short in terms of reliability, durability, and convenience. Offering up to 25K Wh, users can power up all their necessary devices and appliances. It's safe for indoor or outdoor use and has a long battery life of 3500 cycles. You can't go wrong with the DELTA Pro if your goal is to get completely off-grid.
Experience the DELTA Pro for yourself today!
What to Consider When Buying a Solar Generator for Camping
To make the best buying decision possible, you need to understand what to look for in a solar generator. Here are a few things to consider before you purchase your next portable power station for camping.
Charging Ports
How many devices will you need to plug in? Nowadays, we own multiple devices—phones, laptops, tablets, etc. The number of outlets and ports required will most likely multiply if you have children.
Make a list of the number of devices you'll need to charge at once and get a generator with at least the minimum amount of power and outlets.
Charging Times
Before camping, you should always charge solar generators and their batteries. However, you'll likely need to charge on the go for extended trips. The recharge time will give you an idea of which generator you need.
When it comes to solar panels, the weather will impact how fast they charge since you'll need direct sunlight for the best results. You can also use EcoFlow solar generators while they charge. 
Browse through the best options for camping above to give yourself an idea of charging times.
Battery Capacity
The measurement for the capacity of solar generators is watts. This figure will tell you the amount of time your small appliances can stay connected or the number of times you can fully charge a device. It will also give you an idea of how often you will have to recharge your solar-powered generator.
The nice thing about EcoFlow generators is you can manage them directly from the EcoFlow app. You'll see how much energy an appliance pulls and how much longer until it recharges. Also, remember that you can purchase extra batteries for added capacity.
Battery Type
Solar-powered generators for camping will typically use lead-acid or lithium-ion batteries. Generators that use lead batteries will generally be less expensive but last less than lithium-ion batteries. Lithium-ion batteries are also lighter, making them ideal for camping trips.
The Benefits of Using a Solar Generator for Camping
Camping is often associated with turning off devices and enjoying the great outdoors. While this is true, having a solar generator on deck makes sense for many people. For example, if you plan on camping for several days, you'll need a way to charge your cell phone in case of an emergency.
And, unless you've got a campfire guru, you'll need some electricity when the campfire goes out. You can also use a solar generator to power up a fan, charge batteries, or run a small refrigerator.
When you invest in the best solar generators for camping, you can enjoy numerous benefits:
Simple to Use. Solar generators are easy to use, even if you've never used one before. Once set up, all that's left to do is power it on and connect your devices.
Zero Fumes. This one is for all our eco-conscious people out there! Solar generators get their energy from the sun, giving users clean, renewable energy. This means no fumes, ever!
Minimal Noise. You've likely heard how loud gas generators can be. Noise isn't an issue with solar power. You'll sleep soundly throughout the night while it operates.
Safety. Since no fuel is involved, solar generators are much safer to use than their counterparts. You won't need to carry around any flammable liquids to power it.
Portable. Worried about pushing around a heavy generator? Solar generators for camping are portable, easy to transport, and very lightweight. They weigh a fraction of what a fuel generator weighs.
Durable. Solar generators are an investment that can last you between 25 to 35 years. For avid campers or RV enthusiasts, owning one is a no-brainer.
Frequently Asked Questions
What's the Best Solar Generator Capacity for Camping?
The capacity you need depends on the number of devices you plan to charge at a time. If it's only 1 to 2, you could easily get by with a lower capacity generator like the River 2. For 15+ devices, you'll need a large capacity like the one offered by the DELTA Pro.
Are Solar Generators Good for Camping?
Not only are solar generators great for camping, but they're some of the best options available. They're portable, lightweight, easy to operate, and run off solar energy, making them highly reliable.
Do Solar Generators Work on Cloudy Days?
Yes, solar generators will operate and charge just fine in cloudy weather. However, try to charge your panels when the sun is shining bright for the best results!  
Final Thoughts
Which EcoFlow solar generator is right for you? The answer depends on how much power you're looking for and how long a trip you plan to take. For overnight camping trips, the River will suffice. For extended trips, you'll get the power you need from the River Max. Or, if you need off-grid energy, look no further than the DELTA Pro. With this guide, you should now have the knowledge necessary to make an informed buying decision. Shop EcoFlow solar generators today — and happy camping!