You may have come across the original DELTA Max or even own one. With 2kWh capacity and generous output, DELTA Max was considered a balance between a home backup solution and boondocking power. So, since DELTA Max ticked many of the boxes, is it worth upgrading to its newest incarnation?
EcoFlow DELTA 2 Max is our most recent upgrade in the portable power station family. Read on to learn more:
Battery Chemistry: NCM – LFP
So let's tackle, arguably, DELTA 2 Max's most significant upgrade; replacing NCM battery chemistry with the newer and longer-lasting LFP. Newer usually means an improvement, but when it comes down to brass tacks, is there a big difference between NCM and LFP battery chemistry?
Well, yes, there is. DELTA Max uses NCM cells, limiting its cycle life to around 800. DELTA 2 Max, with its LFP chemistry, has more than 3000 cycles. 3000 sounds impressive, but so what? These 'cycles' refer to how many times you can charge and fully discharge your power station. With 3000+ cycles, DELTA 2 Max essentially has a 10-year lifespan. That's using DELTA 2 Max almost every single day for a decade. DELTA Max, with a lifespan of 800 cycles, will undoubtedly give you several years of power.
Once DELTA Max and DELTA 2 Max have exceeded their 800 and 3000 cycles, respectively, their capacities will drop to 80%. So you can still keep using them past the 800/3000 cycle life, but DELTA 2 Max literally gives you YEARS more power.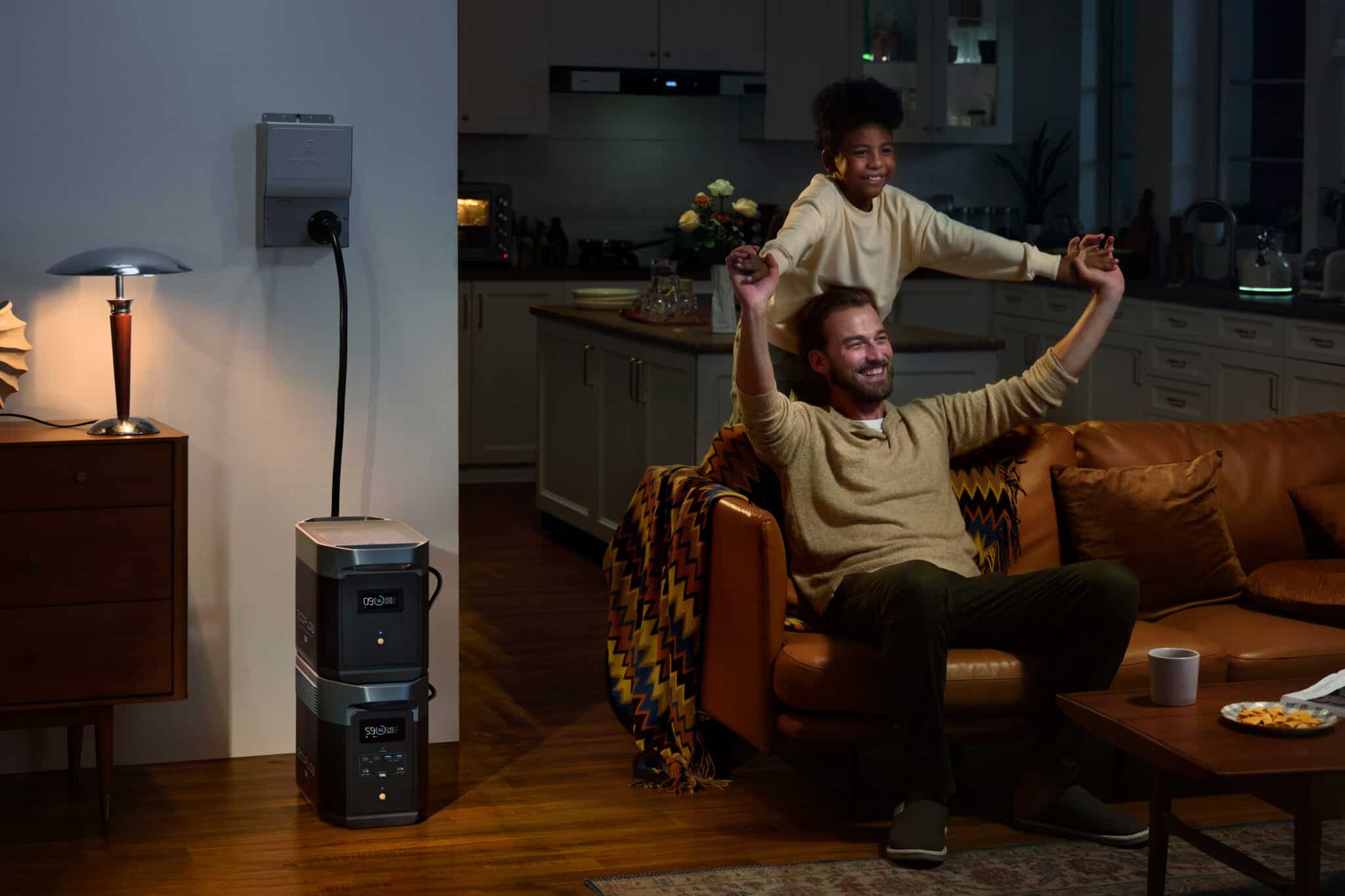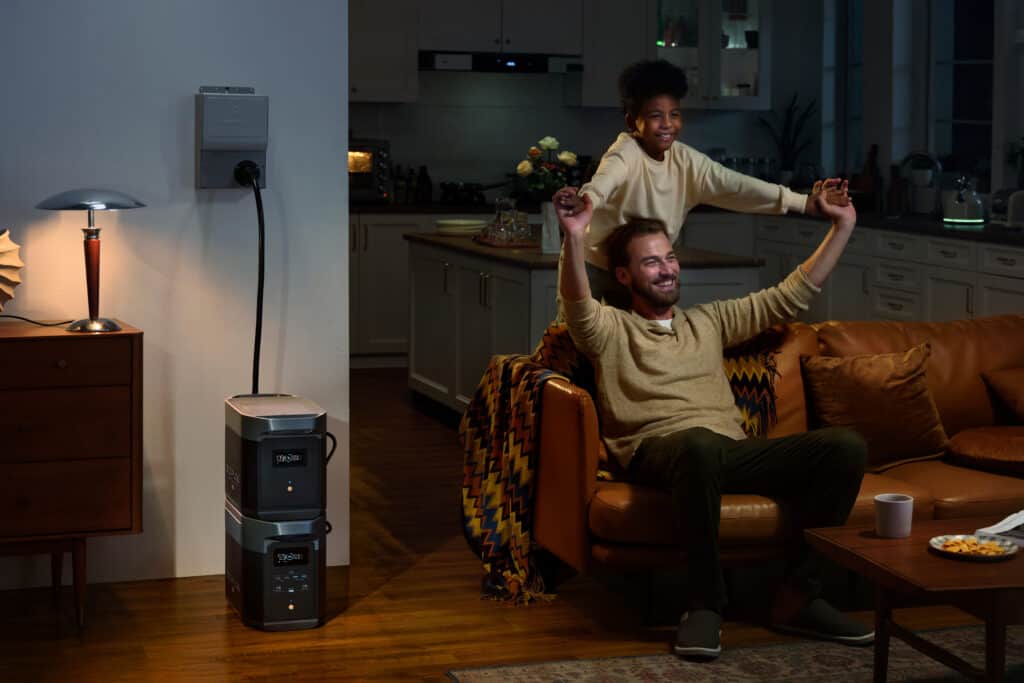 It's more than just about cycle life. NCM battery chemistry is less stable than LFP, meaning it's more likely to overheat or experience thermal runaway. Which is indeed as bad as it sounds.
Since excessive heat production is improbable with an LFP battery, they're a safer option for home battery backups. Because of this, DELTA 2 Max is a solid option for backup power, including connecting it and its Extra Batteries to a transfer switch.
Charging Speeds: Charge in Only an Hour
The next biggie is the hugely improved charging speed of DELTA 2 Max. DELTA Max wasn't bad, charging to 80% in just over an hour, but DELTA 2 Max shaves 20 minutes off that time with dual AC+solar charging. In just over an hour, DELTA 2 Max can fully charge using a combined AC and solar input of 2400W. That's pretty impressive when you consider the fastest charging from other brands with the same size unit is double that.
Solar Input: Up to 1000W
Since DELTA 2 Max now has two solar input ports, we've also increased the solar input to 1000W. That means you can plug in several panel variations, including 2 × 400W solar panels for an 800W input, 4 × 220W solar panels for 880W or even use third-party solar panels. At full wack, with 1000W solar input, DELTA 2 Max can charge in as fast as 2.3 hours!
Lightweight
One of the nice things about DELTA 2 Max is that even though it has top-of-the-range battery tech, it's pretty lightweight for its size. In fact, LFP batteries tend to be on the heavy side, as well as bigger physically, compared with other batteries. Luckily, DELTA 2 Max doesn't have this problem, weighing only slightly more than its NCM sister, DELTA Max. While DELTA 2 Max is perfect for home backup due to its capacity, its light weight means you can easily take it camping or use it in your RV.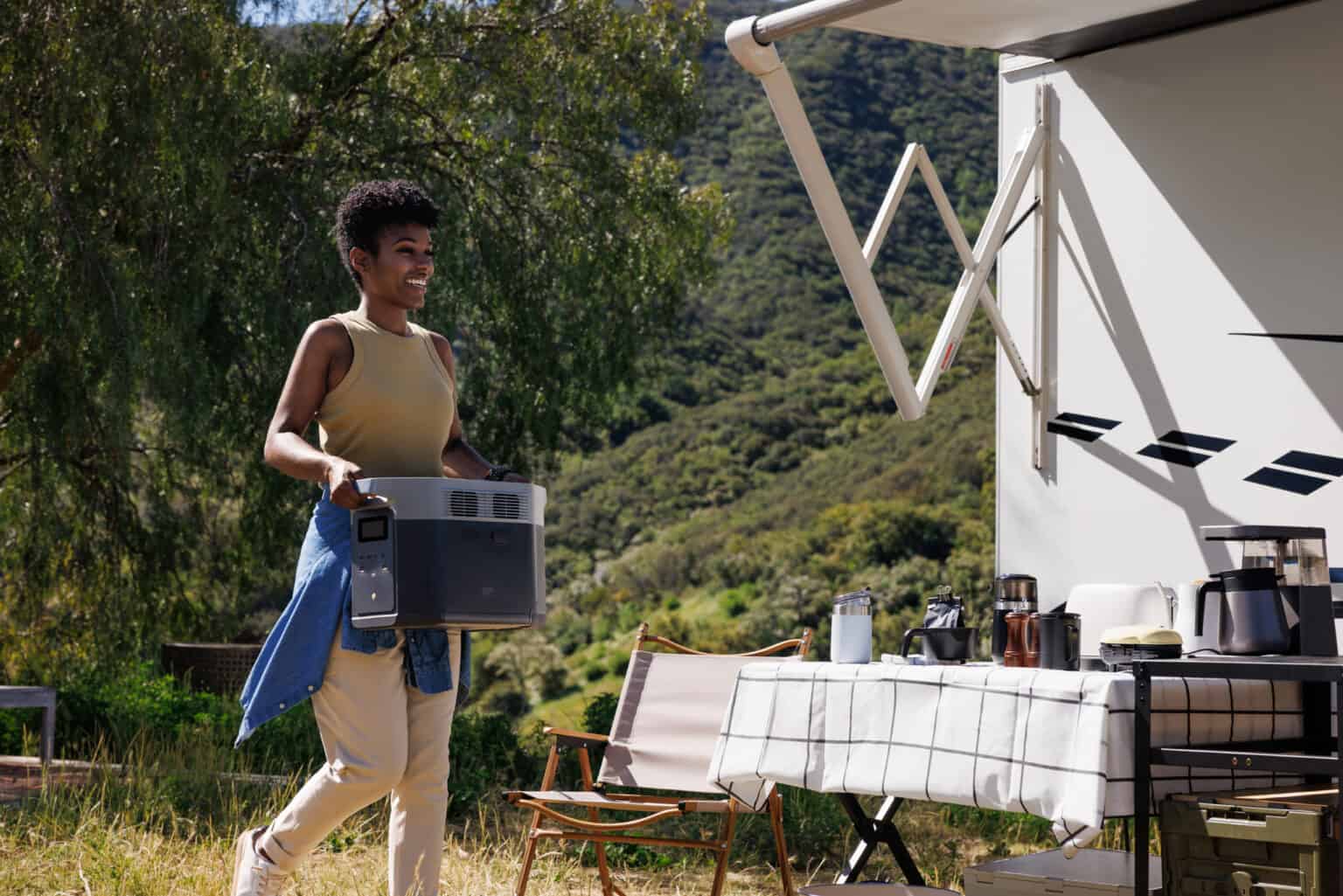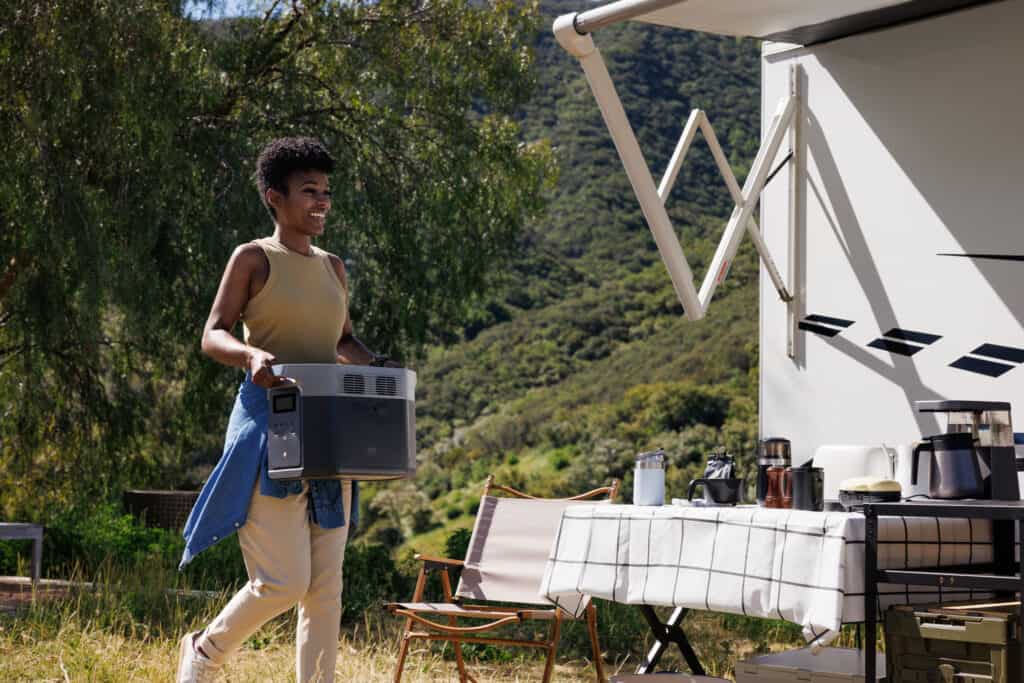 App Upgrade: For More Control
The EcoFlow app offers a convenient way to track charging levels and energy storage as well as check for updates or maintenance. For DELTA 2 Max, there have been several upgrades that make using the app even more helpful.
Set Automations
Turn On/Off AC Always On Mode
Customize Energy Use
Low Battery Notification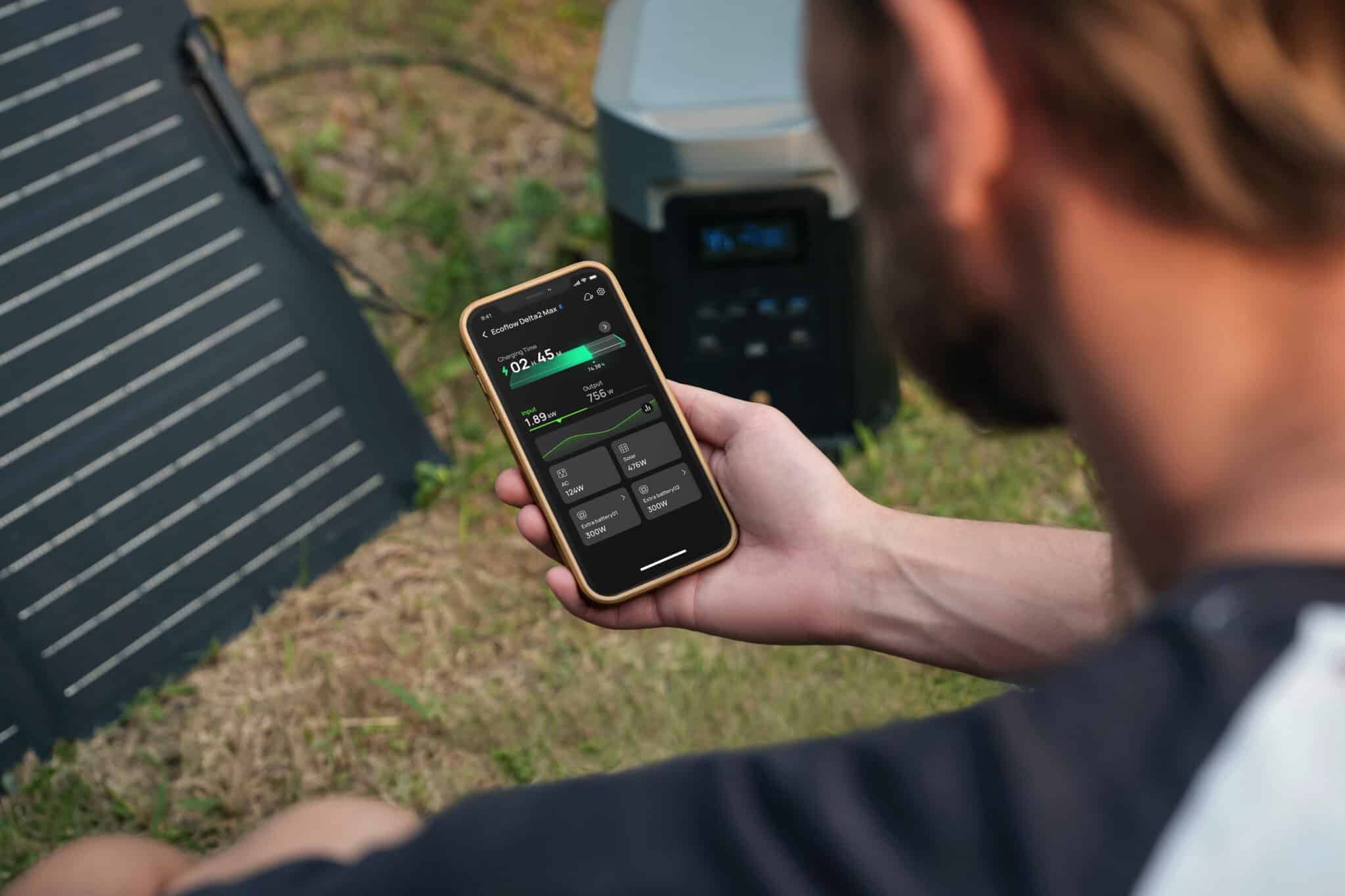 One of the best app additions is the ability to set up automated charging and working times. You can set this feature to reoccur every day without having to lift a finger. We've also added AC Always On Mode, which allows you to keep your AC outlets on. You'll also have more control over your energy, with more customization than ever before. To reduce your energy bills, prioritize solar energy when dual charging. Or, want to recharge faster, switch the focus to AC charging.
Noise: Quieter Than the Countryside
This might not seem like a big deal, but when you consider how loud a gas generator can be (up to 100 dB!), the almost non-existent hum of DELTA 2 Max makes a heck of a difference to your environment. Whether you're using it at home or outdoors, you're no longer disturbing the peace in order to have power. At only 30 dB, DELTA 2 Max volume easily blends in with the sounds of the countryside.
Expanding Capacity: Up to 6kWh
While expanding battery capacity isn't a new feature for the DELTA Max family, DELTA 2 Max is able to use batteries from other units, including its smaller 1kWh cousin, DELTA 2 and sister unit, DELTA Max. Great news if you have these Smart Batteries already!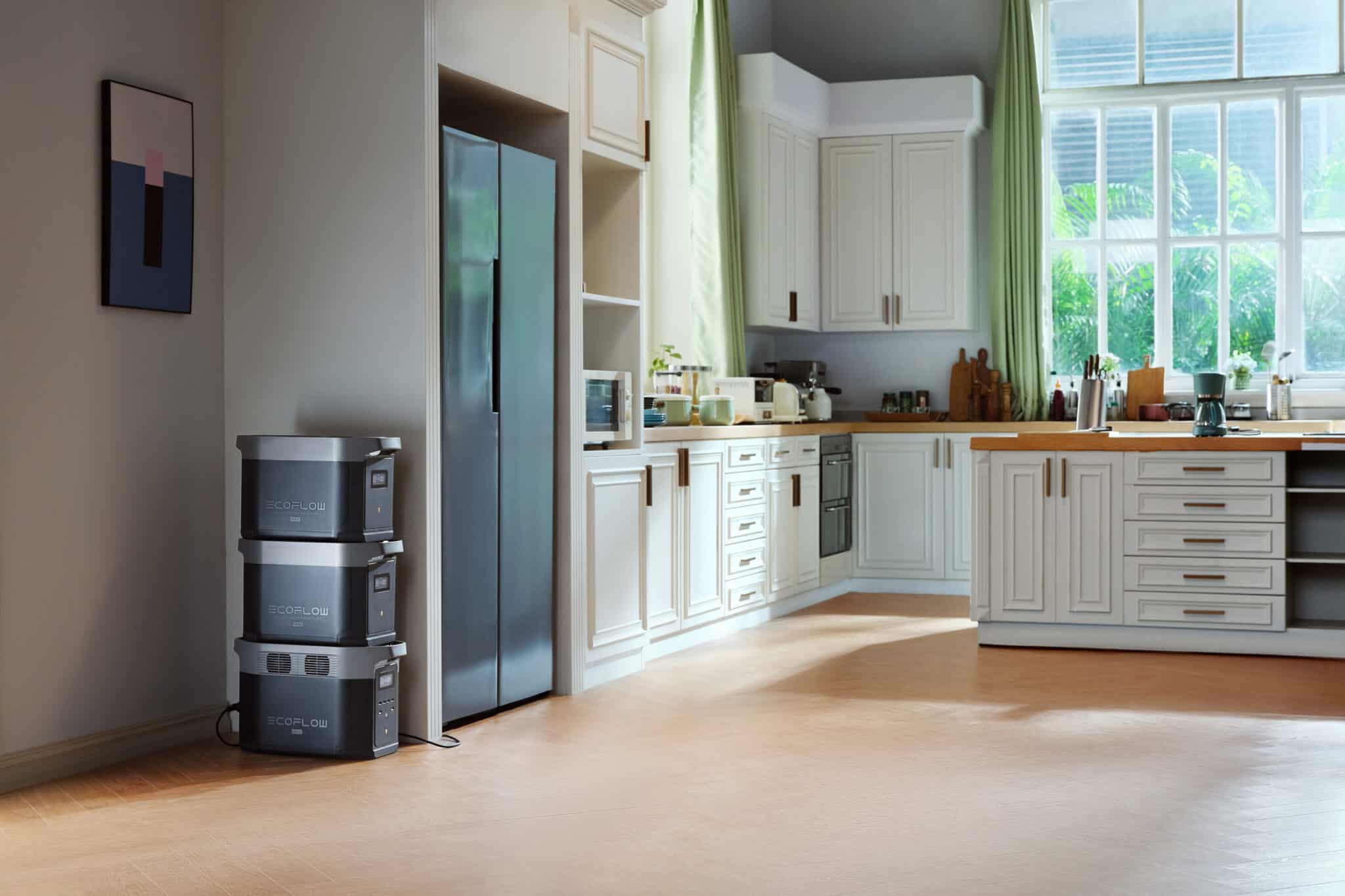 Here's a quick comparison, so you can check out the differences between DELTA 2 Max and DELTA Max.
DELTA Max & DELTA 2 Max Comparison Chart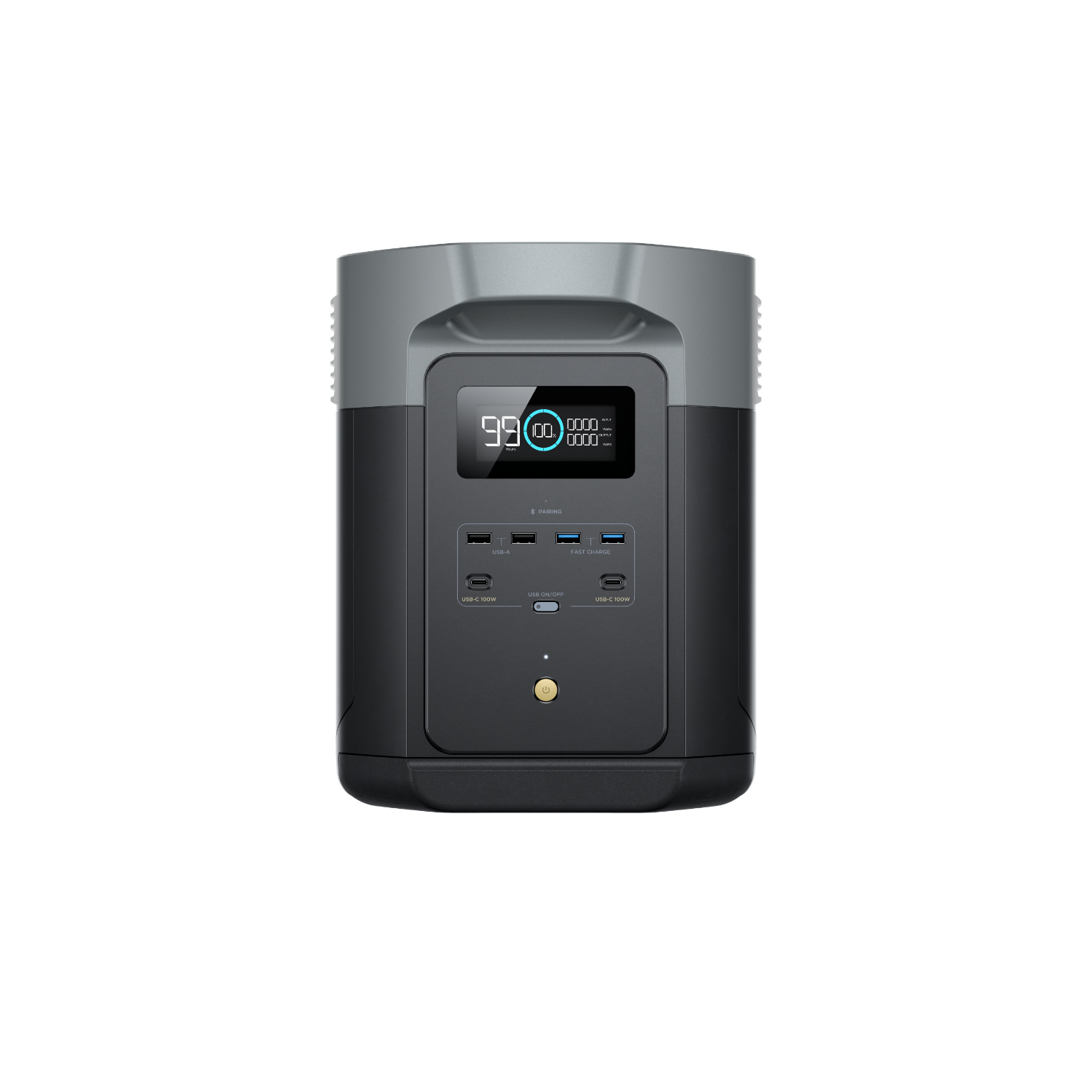 DELTA 2 Max
Capacity
2048Wh
Expandability
Up to 6144Wh
LFP Battery
3000+ Cycles
Weighs
50 lb
Output
Up to 3400W
100% AC Charged
1.5 Hour
Fully Dual Charged
1 Hour (63 Min)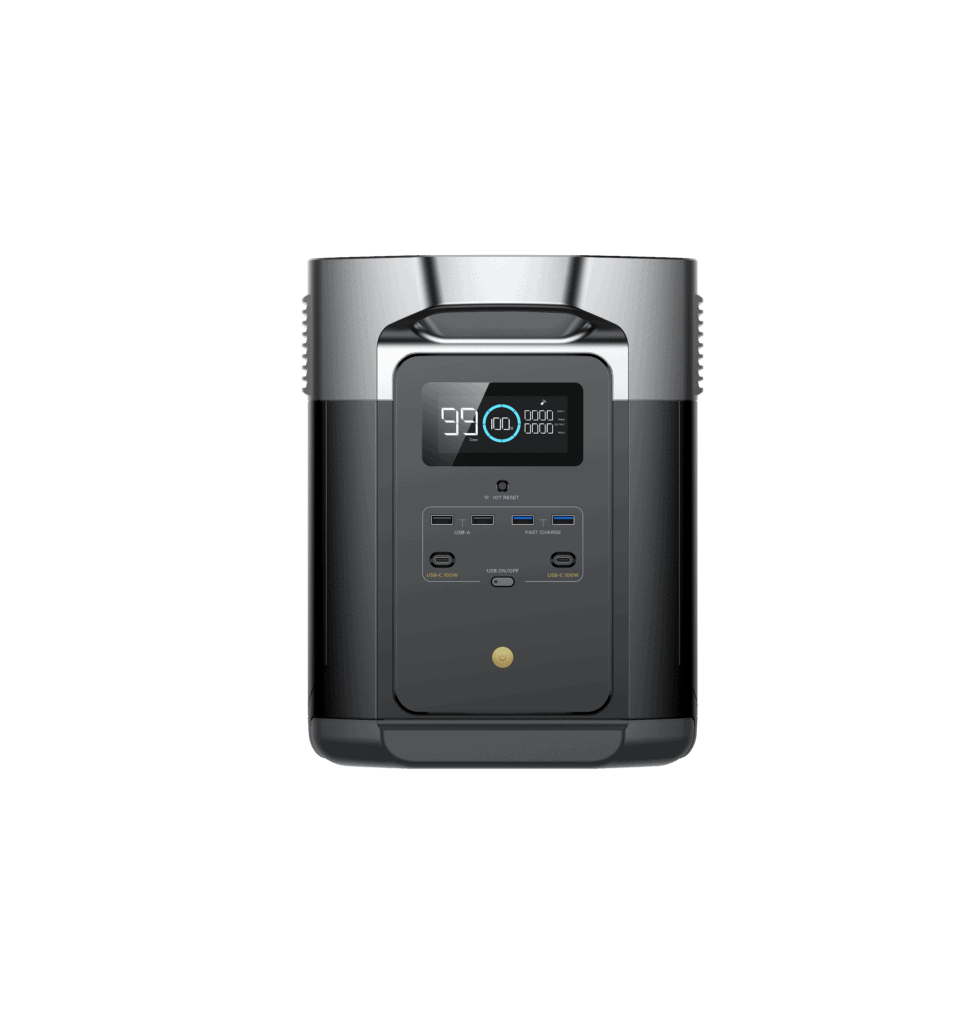 DELTA Max
Capacity
2016Wh
Expandability
Up to 6048Wh
NCM Battery
800+ Cycles
Weighs
48 lb
Output
Up to 3400W
100% AC Charged
1.8 Hour
Fully Dual Charged
1.6 Hours
With its LFP battery chemistry alone, DELTA 2 Max is certainly worth the upgrade. And with a whole host of improvements, with the charging speeds being the biggie, DELTA 2 Max is a must-have for battery newbies, offering the perfect balance of reliable home backup power with convenient off-grid electricity for recreation or DIY.