It doesn't matter if you're a seasoned Burner or attending the festival held in Black Rock City at summer's end for the first time — Burning Man is sure to be the highlight of your year.
You've saved up your money, days off, and enthusiasm for the dazzling dance parties and artistic extravaganzas in the dark.
But to make your Burning Man experience a showstopping feat, you'll need a lot of energy.
If you're planning to attend this year's Burning Man, there are two words to consider: solar generator.
You'll be out in the desert for up to nine days, so you might as well make use of the sun.
How else will you charge your smartphone and laptop, cook food, and see in the dark?
Portable solar generators leave no carbon footprint and are sleek and easy to use.
Find out which solar generators will give you the most bang for your buck — and get ready for the festival with the best solar generators for Burning Man 2022.
3 Best Solar Generators for Burning Man in 2022
From portable, mini generators for your smart devices to larger backup systems for your RV and waterproof solutions, check out the best solar generators for Burning Man below:
1. EcoFlow DELTA Mini + 110W Solar Panel (882Wh)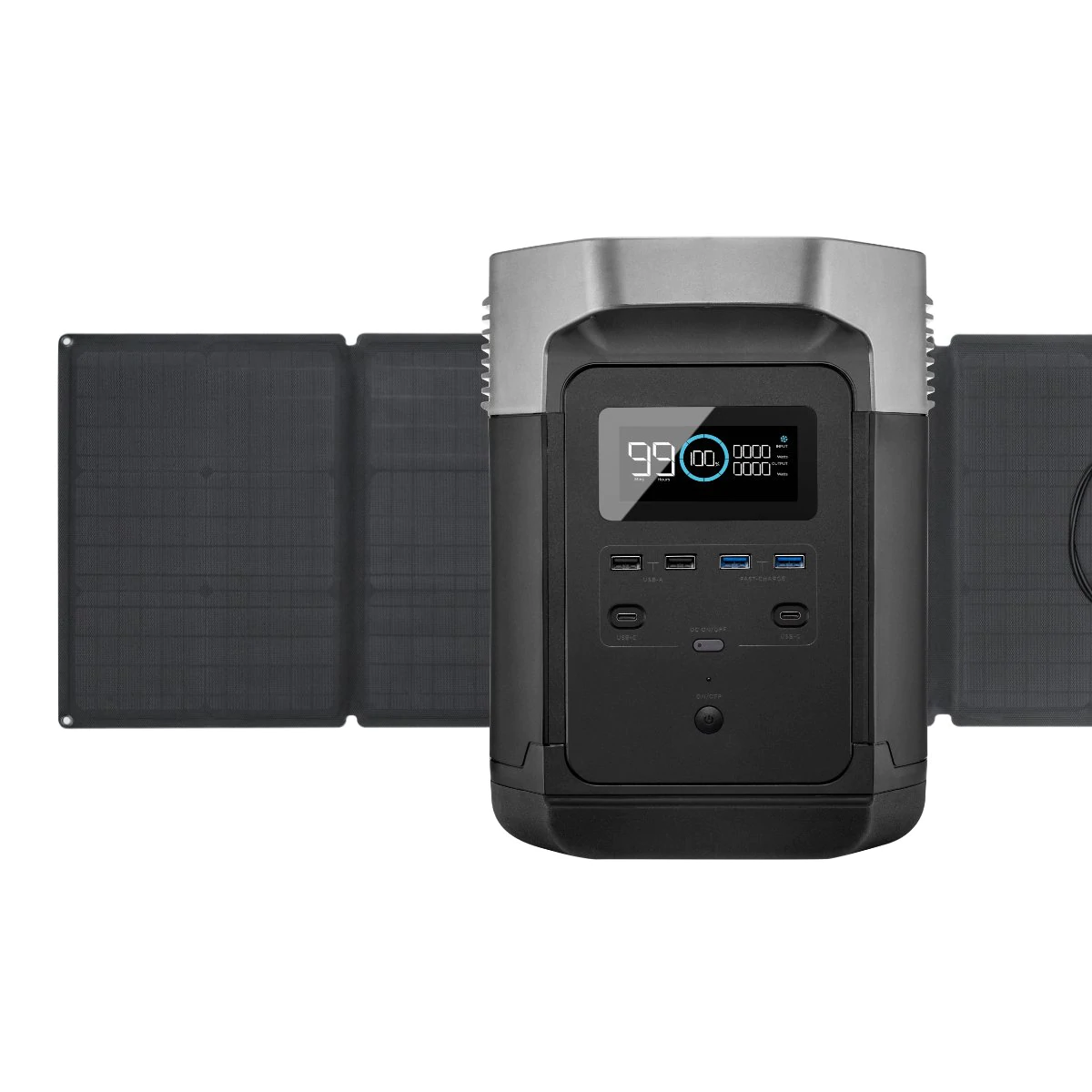 If you're going to invest in a portable solar generator, EcoFlow is your best bet. The DELTA Mini is one of the smallest, most lightweight solar generators on the market.
At a little under 25 pounds, the DELTA mini is light and compact enough to pack with your camping gear and carry with you throughout the campgrounds at Burning Man.
Given its small size, the charge is impressive. It packs an 882Wh capacity, charging 90% of electronics, including a toaster oven, hairdryer, and much more. It's the perfect setup for keeping your personal sound system or fan running to keep you cool and charged up for the festival.
Recharging is easy, too. You can charge your DELTA Mini via an AC wall outlet, 12V Car Outlet — or, even better — use the solar panel. The 110W solar panel will come in handy at Burning Man, where you'll get plenty of sun.
Specifications
Weight: 23.6 lbs
Dimensions: 14.9 × 7.2 × 9.4 inches
Capacity: 882 Wh
Output: USB-A (x2), USB-C (x1), USB-A Fast Charge (x1), Car Power 12.6 V
Full Recharge: 1.6 hours
Pros
Compact and lightweight enough that it's easy to carry it around the festival
A reliable charge for powering smartphones, speakers, fans, and other festival items
Multiple charge outputs for different devices
Solar panels use the plentiful sun at the festival
Cons
Not suitable for large appliances like in an RV
2. EcoFlow DELTA Max + 160W Solar Panel (2016Wh)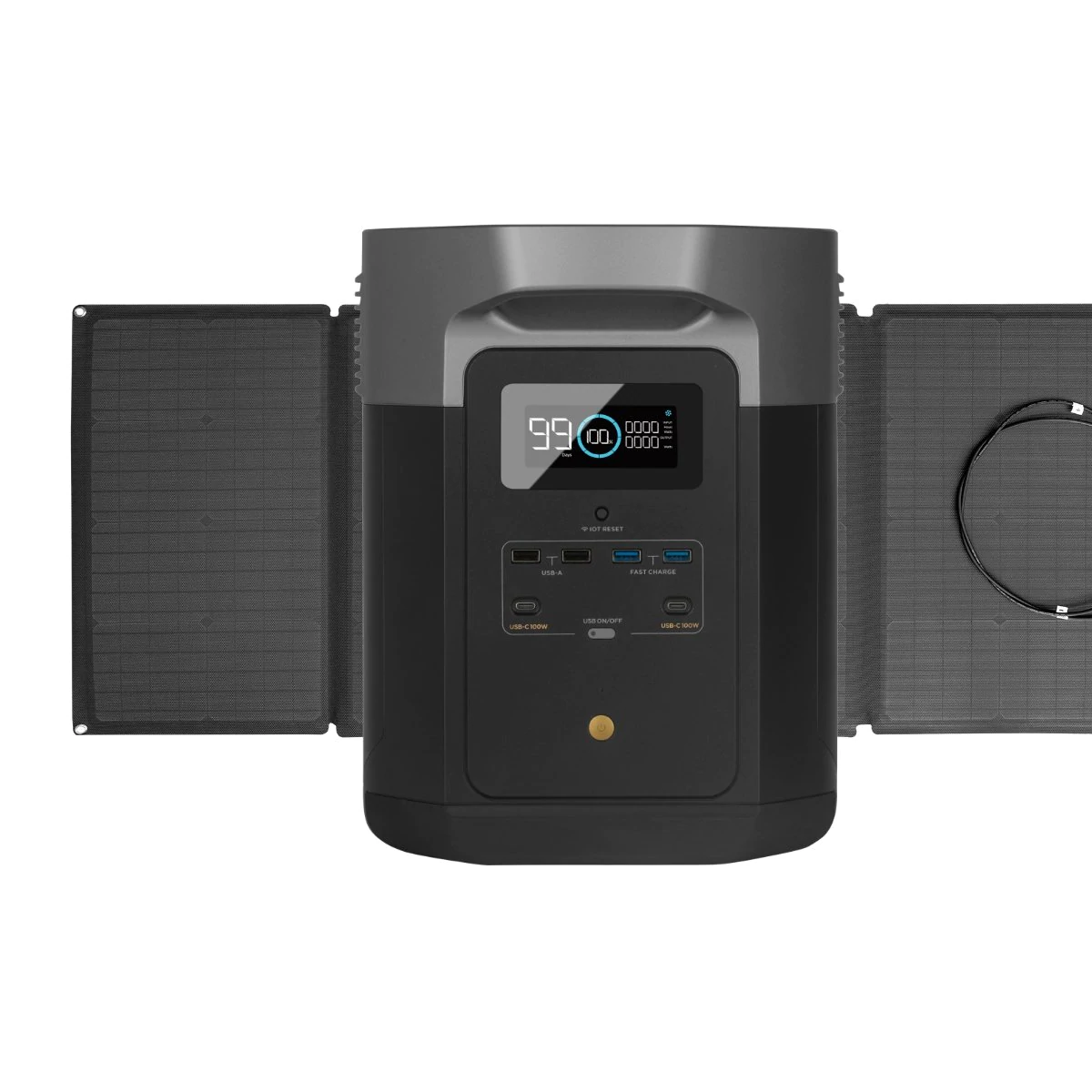 The EcoFlow DELTA Max is a beast of a solar generator. It can go from 0% to 85% charged within an hour and has up to 3400W power capacity.
This portable solar generator connects to two 400W solar panels to be a lean, green charging machine.
Even though the DELTA Max is the bulkiest and most powerful solar generator in the DELTA line, it's still portable, weighing only 48 pounds. You can easily transport it in your RV and keep your appliances powered for the whole festival.
The 2016 Wh capacity means you can charge multiple devices simultaneously. It packs a powerful punch and can keep home appliances like a mini-fridge or lights powered for hours on end.
According to the US Department of Energy, 173,000 terawatts of solar energy strike the Earth continuously.
When you're in the middle of the desert at Burning Man, it's a perfect energy source to harvest, and the DELTA Max lets you do just that.
Specifications
Weight: 48 lbs
Dimensions: 19.6 x 9.5 x 12 inches
Capacity: 2016 Wh
Output: USB-A (x2), DC (x2), USB-C (x2), USB-A Fast Charge (x2), Car Power 12.6 V
Full Recharge: 0-80% in 65 min.
Wi-Fi connection
AC and solar power
Pros
Enough power to keep appliances and larger devices charged
Lightweight for transporting in an RV or vehicle
Multiple charge outputs allow charging multiple devices simultaneously
Charges 99% of devices
2 x 400W combine to maximize charging speeds even on cloudy days
Cons
Not small enough to carry around by hand
Not water-resistant
3. EcoFlow River 2 + 110W Solar Panel (256Wh)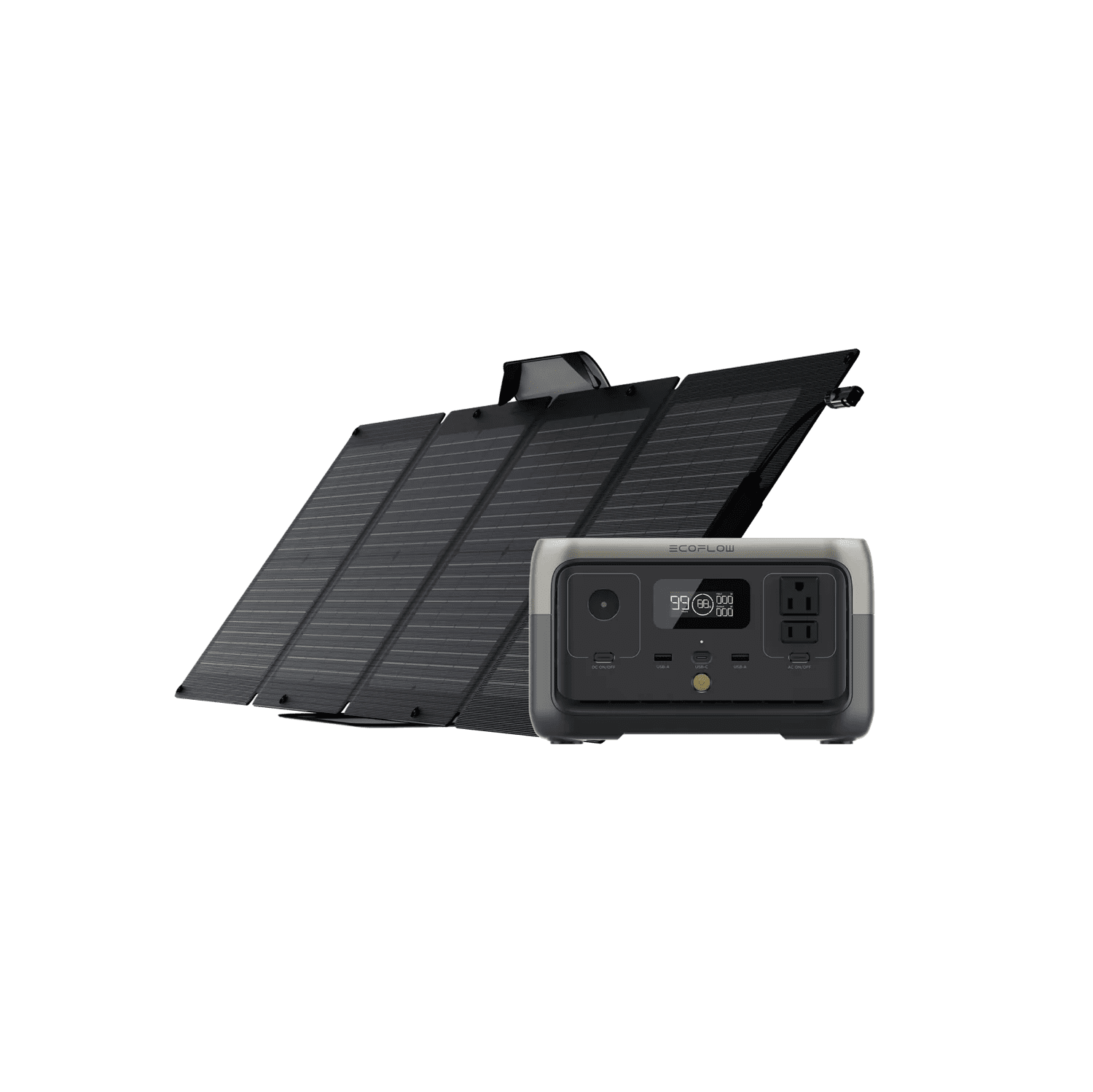 With two 300W AC outlets, a 256Wh capacity, and a 99% compatibility rate with consumer electronics, the EcoFlow River 2 with 110W solar panel is a fantastic pick.
The monocrystalline cells in solar panels make the River 2 generators charge faster than you can even imagine. You can charge up your phone 30 times even with the smallest solar generator of the series. It's the perfect option to fast charge your devices so that you can get back to having fun.
A major pro of this device is the portable and foldable kickstand panel, which is waterproof and durable. Despite Burning Man taking place in the middle of the desert, it's not unheard of for The Playa to get rained out. The kickstand panel protects against just those unexpected circumstances.
At this size, you can't power too many devices at once, just your phone, TV, or projector. Still, you can't go wrong with the River 2 for a compact source of power that you can take with you on the go.
Specifications
Weight: 7.7 lbs (3.5kg)
Dimensions: 9.6 x 8.5 x 5.7 in (245 x 214 x 142 mm)
Capacity: 256 Wh (600W on X-Boost mode)
AC Output: 2 outlets, 300W total
Full Recharge: 0-100% within 70 minutes
Pros
The most lightweight and compact generator
Great for going off-grid
Waterproof, portable, foldable kickstand panel
Affordable—less than the cost of a Burning Man ticket and vehicle pass
Cons
It doesn't charge as well inside as outside
FAQ
Is There Electricity at Burning Man?
There is no central electricity source at Burning Man, so it's best to bring your own. A portable solar generator uses the ample sun at the festival and offers an eco-friendly solution for powering your devices. 
Can I Run a Solar Generator at Burning Man?
You can run a solar generator just about anywhere you have access to the sun. A generator lets you harvest solar power for a renewable energy source to power virtually any electronic device.
Your Best Burning Man Experience
Burning Man should be about fun, sun, and artistic celebration.

Don't worry about your smartphone dying or how you're going to cook your dinner — set yourself up for uninterrupted power and fun with a solar generator.
At EcoFlow, we have multiple power solutions that harness the sun's energy. Shop today and get ready to party hard at Burning Man.