Making the switch to solar to power your home or off-grid adventures has enormous benefits.
You'll save money on electricity bills (or eliminate them altogether!)
Taking a portable power station or solar generator off-grid?
Say goodbye to the ongoing fuel costs, toxic emissions, and deafening noise of fossil fuel-powered generators.
Going solar is also one of the best ways to reduce your carbon footprint and contribute to the battle against climate change.
But transitioning to clean, renewable solar-generated electricity is not without challenges:
The upfront investment in solar panels or a portable power station can be substantial.
If you're concerned about the environment, the materials used to make solar power components — like lithium-ion batteries — can harm rather than help the planet — especially if they're not recycled or disposed of properly.
Want to kill two birds with one stone?
Read on!
Introducing the Official Ecoflow Refurbished Product Program
Starting in 2017, EcoFlow quickly established itself as an industry leader in off-grid backup power and solar energy solutions.
EcoFlow's portable power stations, solar panels, solar generators, Power Kits, and smart devices have won numerous design awards and beat out the competition in reviews on (list of reputable media sites)
EcoFlow's mission is to bring consumers cutting-edge solar and battery storage technology at a reasonable price and as sustainably as possible.
Now, with the launch of EcoFlow's Refurbished Product Program, you can save money on like-new home backup and solar power solutions…
And you can help the planet by keeping perfectly good, clean tech equipment out of landfills and operating reliably for years instead.
What Does Refurbished Mean?
Refurbished products are items that have been returned to the manufacturer and restored to near-perfect condition.
It's essential to note the distinction between "refurbished" and "manufacturer-refurbished" products.
Third-party resellers may advertise products as refurbished, but they lack the technology and resources to restore an item to like-new condition.
Manufacturer-refurbished products from reputable brands like EcoFlow will function as well as when they first left the factory floor.
How Does EcoFlow Refurbish Its Products?
Each reconditioned EcoFlow product goes through the same rigorous diagnostic testing — and hits the same benchmarks — as our new products do.
We identify and repair any faults, replace components if necessary, meticulously clean the unit (inside and out), and put the product through the industry's most stringent quality control procedures.
EcoFlow demands that its officially refurbished products function at the same industry-leading levels as if they were brand new.
When you buy an officially refurbished EcoFlow product, you get the same outstanding quality and performance at a significantly lower price.
Which Products Does Ecoflow Offer in Refurbished Condition?
EcoFlow currently offers refurbished solar generators, solar panels, portable power stations, and smart devices like the WAVE 2 portable air conditioner and BLADE robotic lawn mower.
Our mission is innovation and sustainability. As long as we keep developing and manufacturing new products, we'll work hard to keep them operational and out of landfills.
Be sure to bookmark EcoFlow Official Refurbished Products if you're hunting for a bargain item that isn't available reconditioned yet.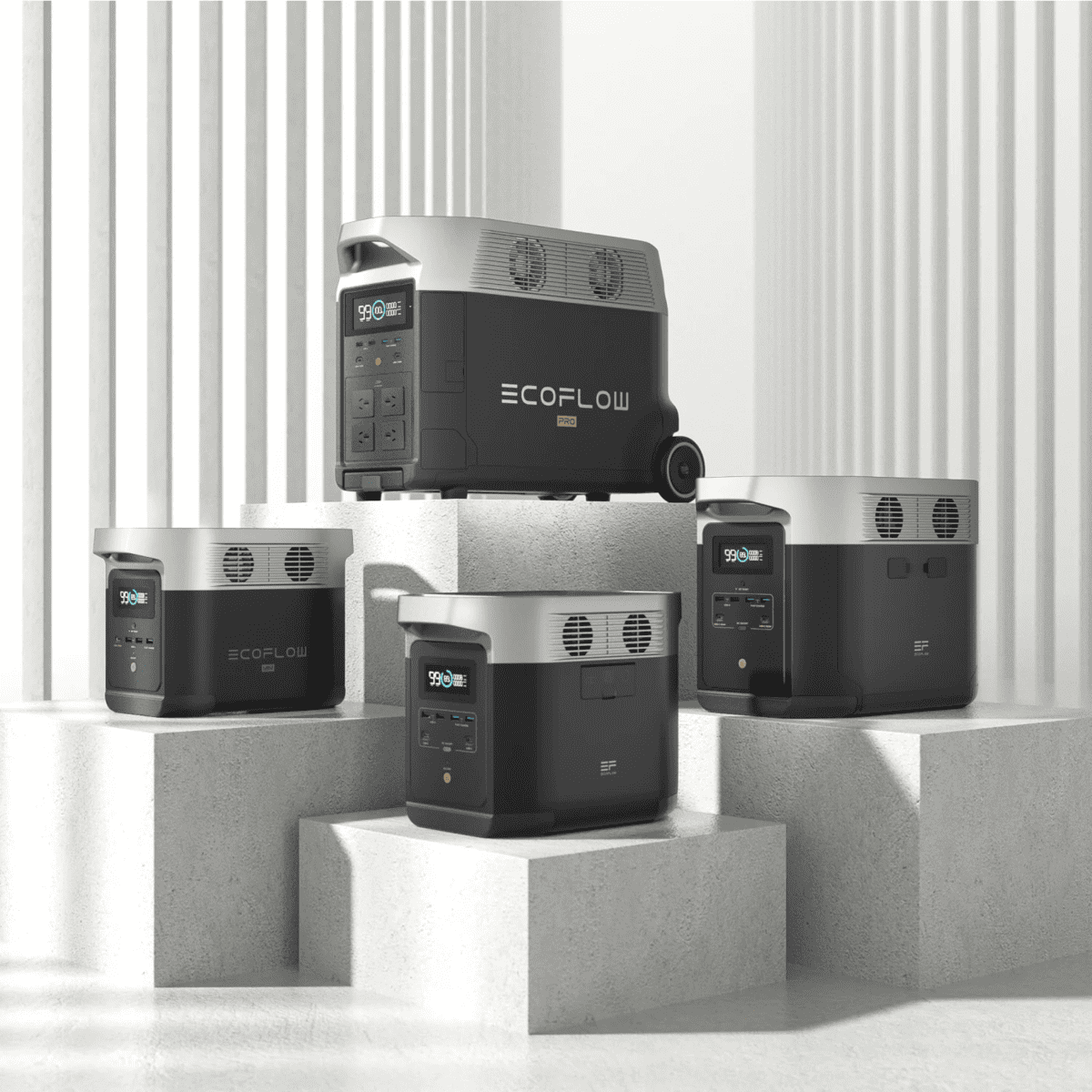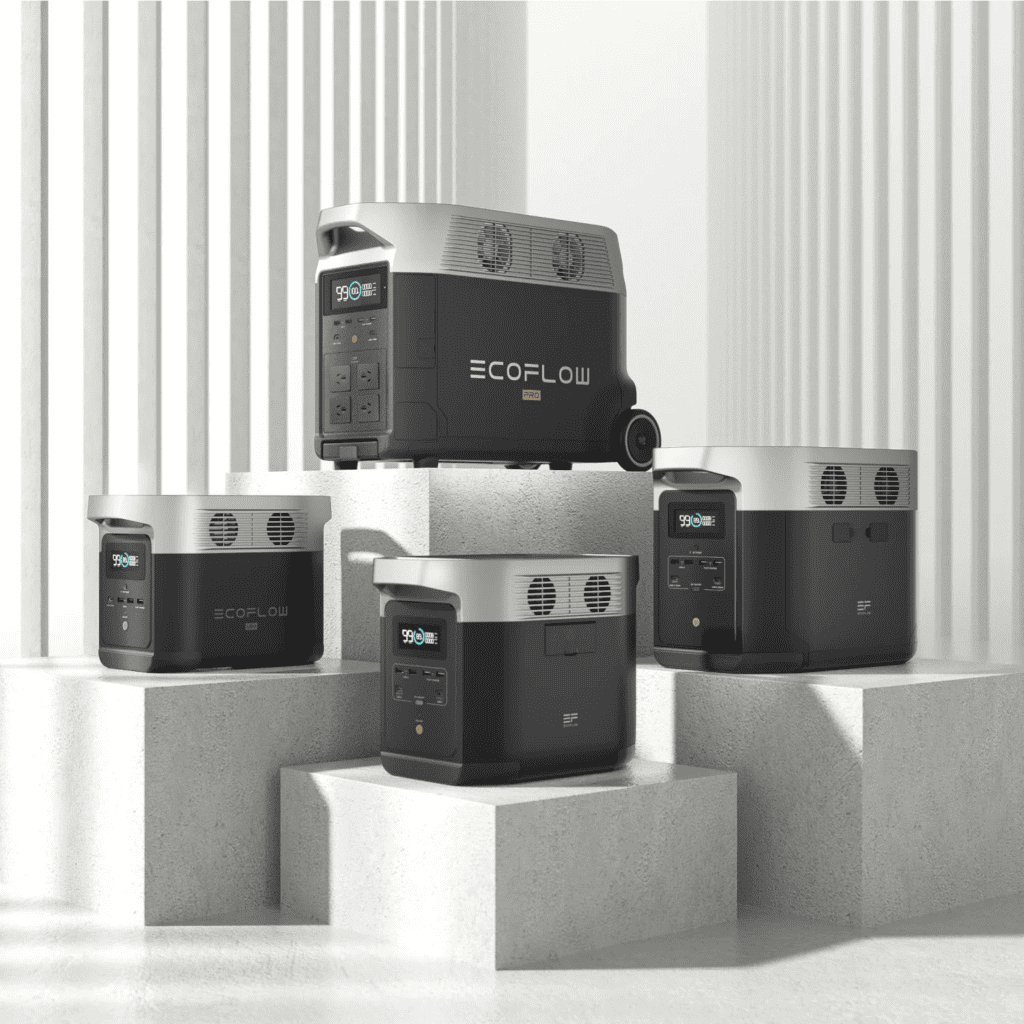 DELTA Series
DELTA Series portable power stations and solar generators —including our flagship DELTA Pro — are EcoFlow's most robust all-in-one off-grid electricity solutions.
Every EcoFlow portable power station offers solar charging capacity. All the balance of system components required to generate electricity from solar panels — including the inverter, charge controller, and solar battery — are built-in.
Just add solar panels!
You can also recharge your EcoFlow portable power station lightning fast with AC electricity or plug into a DC car adapter or USB-C power source.
You can even recharge your DELTA Pro at EV charging stations for power on the go!
From essential home power backup with DELTA 2 all the way up to living off-grid with DELTA Pro, a wide selection of DELTA series refurbished products — including Smart Extra Batteries for expandability — are available now.
RIVER 2 Series
RIVER 2 series refurbished solar generators and portable power stations are a game-changer for electrifying off-grid adventures at an affordable price.
Want to keep your essential personal devices charged on an extended backpacking or hiking trip? RIVER 2 will keep you powered up without weighing down.
If you need additional output and battery storage to run camping and RV appliances, RIVER 2 Max and RIVER 2 Pro are the best options out there. And reconditioned, they're even more affordable.
Remember, you can charge any DELTA or RIVER 2 portable power station using solar panels for fully off-grid electricity generation…
Guess what's coming up next?
Solar Panels
You can't generate electricity using the sun's energy without photovoltaic modules — and solar (PV) panels are by far the most popular choice.
But, not all solar panels are created equal.
EcoFlow's portable, rigid, and flexible solar panels give you three different options to customize your solar power array. All of EcoFlow's solar panels are plug-and-play with our portable power stations and Power Kits.
They're also compatible with most modern solar power systems from other manufacturers.
Both EcoFlow's portable and mountable PV panels are comprised of monocrystalline silicon solar cells. Utilizing the highest-quality lab-grown silicon gives our solar panels ~23% efficiency.
Higher efficiency means you can generate more electricity from available sunlight utilizing a smaller surface area than less efficient polycrystalline (10-15%) or thin-film PV panels (6-12%).
Additionally, EcoFlow solar panels are IP68 water and dustproof-rated. With their durable construction, EcoFlow's solar panels will produce renewable electricity for decades.
EcoFlow's portable solar panels come in a wide range of rated power outputs: 60W, 110W, 160W, 220W bifacial, and 400W — making it easy to customize your solar array.
For fixed installations, flexible solar panels are available in 100W, and rigid PV panels are available in 100W and 400W options. A solar array comprised of flexible and rigid solar panels allows you to maximize your available space — a perfect solution for RVs, vans, and residential installations where surface area is at a premium.
All of EcoFlow's solar panels are for sale refurbished (subject to availability).
Are Refurbished Solar Panels Worth It?
Solar panels are almost always a solid investment over the long term — whether you buy your PV panels new or manufacturer refurbished.
EcoFlow's solar panels typically last for 25 years or more, and the passage of time has minimal impact on efficiency.
Like all of EcoFlow's official refurbished products, our portable, rigid, and flexible solar panels are rigorously tested and reconditioned.
If you're looking to save up to 50% (or more) on the price of a new solar array — and enjoy the same performance with a full warranty — refurbished solar panels are more than worth it.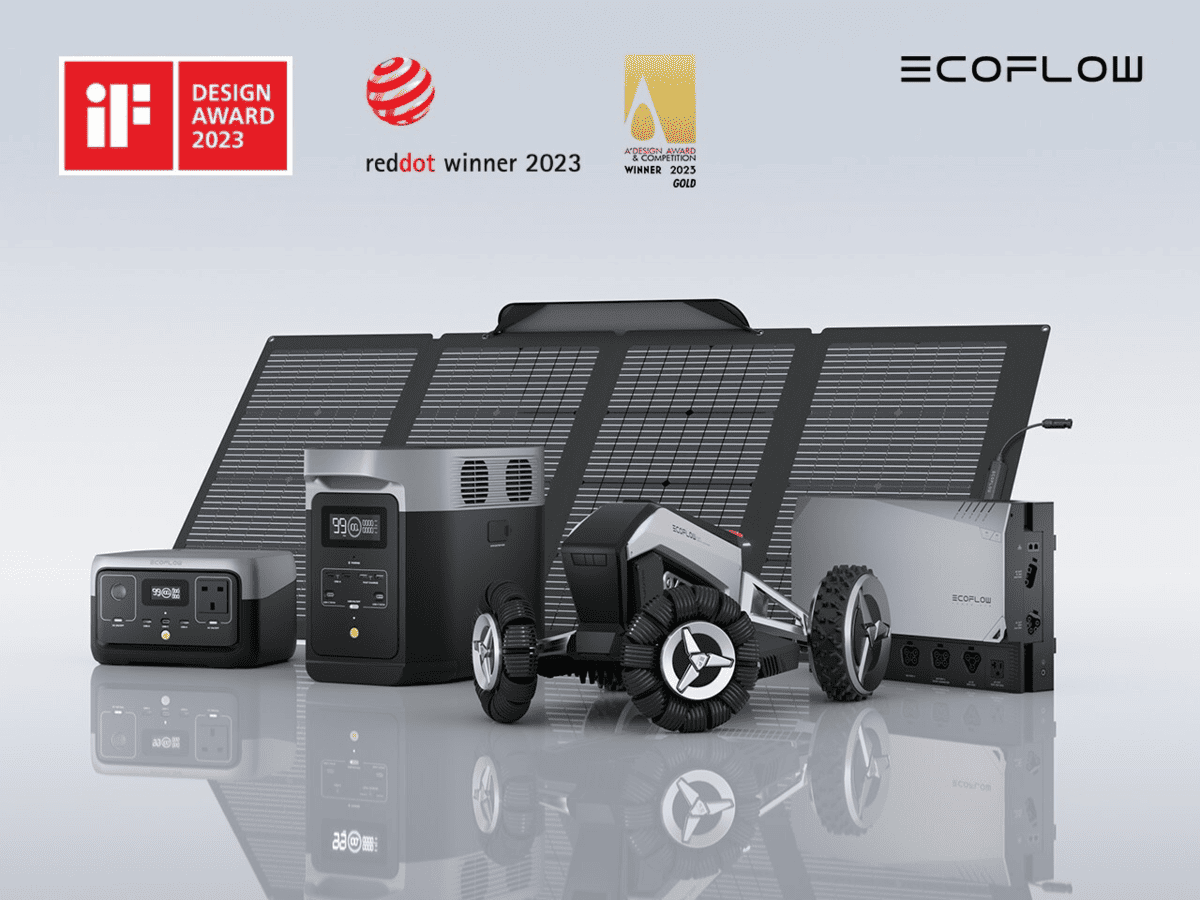 Smart Devices
Released in 2023, EcoFlow Smart Devices like the BLADE robotic lawnmower, GLACIER portable refrigerator, and WAVE 2 portable air conditioner took CES 2023 by storm and won numerous awards, including the prestigious Red Dot for Design.
Relatively new to the market, reconditioned Smart Devices tend to get snapped up fast…
But check back frequently. You may be able to save big on a Smart Device that can vastly improve your lifestyle.
What Are the Benefits of Choosing Ecoflow's Refurbished Products?
The financial benefits of buying a fully functional like-new product at up to 50% (or more) less than its retail list price are obvious. However, some benefits of purchasing a refurbished EcoFlow product might not be so apparent.
Here are some crucial factors to consider.
Basically Brand-New
By the time an official refurbished EcoFlow product goes on sale, it looks and functions as good as new. Each reconditioned product goes through the same rigorous testing and technical assessment as a device straight off the assembly line.
It's been meticulously cleaned inside and out. Any components that don't meet our exacting standards are rebuilt or replaced. Basically, our refurbished EcoFlow products are just like new.
Unbeatable Savings
What would you say if we told you that you could save up to $1,300 (or more) on a top-of-the-line off-grid power solution that functions just like new?
That's exactly what we're saying!
It doesn't matter whether you're looking to save on solar panels, portable power stations, or the latest Smart Devices — expect savings of 30 – 70% off the list price for EcoFlow products that are brand new.
Full Warranty
Whether an EcoFlow product is new or refurbished, we stand behind it 100%.
We're so confident in our stringent testing and reconditioning procedures that we offer the exact same warranty for a refurbished EcoFlow product you would get if you bought it new.
Eco-Friendly, EcoFlow
Switching part (or all) of your electricity consumption from on-grid to clean, renewable solar power is one of the most meaningful steps you can take as an individual to fight back against climate change and reduce your carbon footprint. About 60% of electricity generated in the US in 2022 came from burning fossil fuels.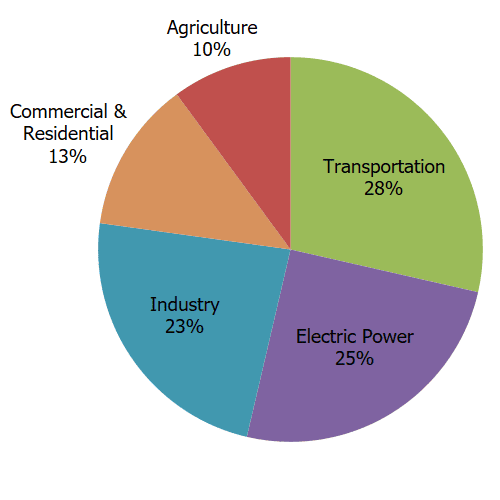 US Greenhouse Gas Emissions by Sector, 2021 (Source: EPA)
Switching to renewable energy sources instead of fossil fuels is essential to combat human-made global warming. Burning fossil fuels like coal and oil to produce electricity emits more greenhouse gases than any other industry except transportation — 25% in 2021.
The good news is, we're making progress! Residential solar installations and Electric Vehicle (EV) sales in 2023 are on pace to shatter records set in recent years. Progress towards a net-zero future is being made because of the wider adoption of solar and other clean energy technology.
However, there can be a downside to the shift towards EVs and residential solar power. Both technologies are highly dependent on batteries. For EVs and modern solar power systems, the batteries will likely be lithium-ion or a subtype of Li-ion like LiFePO4 (LFP).
Li-on and LFP batteries have many outstanding benefits compared to older battery chemistries. But if they go unrecycled or are disposed of improperly, the negative impact on the environment is significant.
Mining the critical materials in Li-ion batteries — like lithium, nickel, manganese, and cobalt — impacts the planet, as any extraction of natural resources does. LiFePO4 batteries — found in most EcoFlow portable power stations — eliminate the use of cobalt, which is of enormous humanitarian benefit. 70% of the world's cobalt comes from the Democratic Republic of Congo (DRC), where it's mined under horrific labor conditions.
More products using lithium-ion batteries being refurbished and returned to operation means fewer materials must be extracted from the Earth.
But the environmental impact of mining for clean energy technologies that rely on batteries pales beside what happens at the product's end of life. Recycling lithium-ion batteries can harvest many valuable materials, such as the metals used in its manufacture. However, many Li-ion batteries end up in landfills due to improper disposal.
Batteries that end up in a landfill instead of being recycled release toxins and heavy metals that can poison the soil and groundwater — and end up in our drinking water supplies. As little as 5% of lithium-ion batteries in the US are recycled. If this trend continues, it could be an environmental time bomb.
By buying a refurbished EcoFlow product, you can help make the transition to clean energy technology more sustainable.
Free Shipping and Support
All refurbished EcoFlow products offer free shipping within the continental US and extensive after-sales support. Customer satisfaction is our #1 priority — whether the product is new or reconditioned.
Frequently Asked Questions
Does EcoFlow Sell Refurbished Solar Generators?
Yes, EcoFlow sells refurbished solar generators through its Official Refurbishment Program. You can save up to 50% (or more) on solar generators that are basically brand new. EcoFlow reconditions solar generators and puts them through the same rigorous testing as new models to ensure they perform like-new. 
Does Ecoflow Sell Refurbished Portable Power Stations?
Yes. Portable power stations are just one of EcoFlow's off-grid power solutions available for sale through its Official Refurbished Products program. You can get massive savings on a PPS that looks and functions as good as new. EcoFlow even backs refurbished products with the same full warranty as if you bought them brand new. 
Does Ecoflow Sell Refurbished Solar Panels?
Yes, EcoFlow's industry-leading portable, rigid, and flexible solar panels are available for sale through the Official Refurbished Products program. With ~23% efficiency and wattage ranging from 60W – 400W, you can build your custom solar array with reconditioned PV panels for a fraction of the retail price.
Does EcoFlow Sell Refurbished Smart Devices?
Despite a 2023 release, EcoFlow's award-winning Smart Devices like the BLADE robotic lawn mower, GLACIER portable refrigerator, and WAVE 2 portable air conditioners are available refurbished in limited quantities. Take your Smart lifestyle to the next level — with a like-new device at a significantly reduced price.
Is Refurbished the Right Option for You?
Some people will settle for nothing less than brand new…
We get that — and we're grateful! If our products didn't sell at full retail price, we'd have no refurbished products to offer you.
But if you're on a tight budget and care more about performance than having a product straight off the assembly line, EcoFlow's Official Refurbished Products are an excellent option.
You can save up to $1,300 on selected products AND do your part to help keep clean energy technology more sustainable.
Sound good?
Check out Ecoflow's Official Refurbished Products today.
Don't see what you're looking for?
Bookmark the page — the selection changes every day!