Mini portable air conditioners are a hot commodity on the market today. With global heatwaves in 2022 hitting records, and with no sign of slowing, mini air conditioners can give some respite. They're ideal to take away with you wherever you need cool air on the go. Whether you have a small home or apartment, are camping off-grid in a tent, RV, car, or campervan, or running errands with your pet in the car, there are so many places to park a portable ac unit to make life a bit more breezy.
In this post, we'll give you all you need to know to grasp how a portable ac unit works and what specs one requires. With that, you'll be armed to tackle the next heatwave, or to stay comfy on your next outing.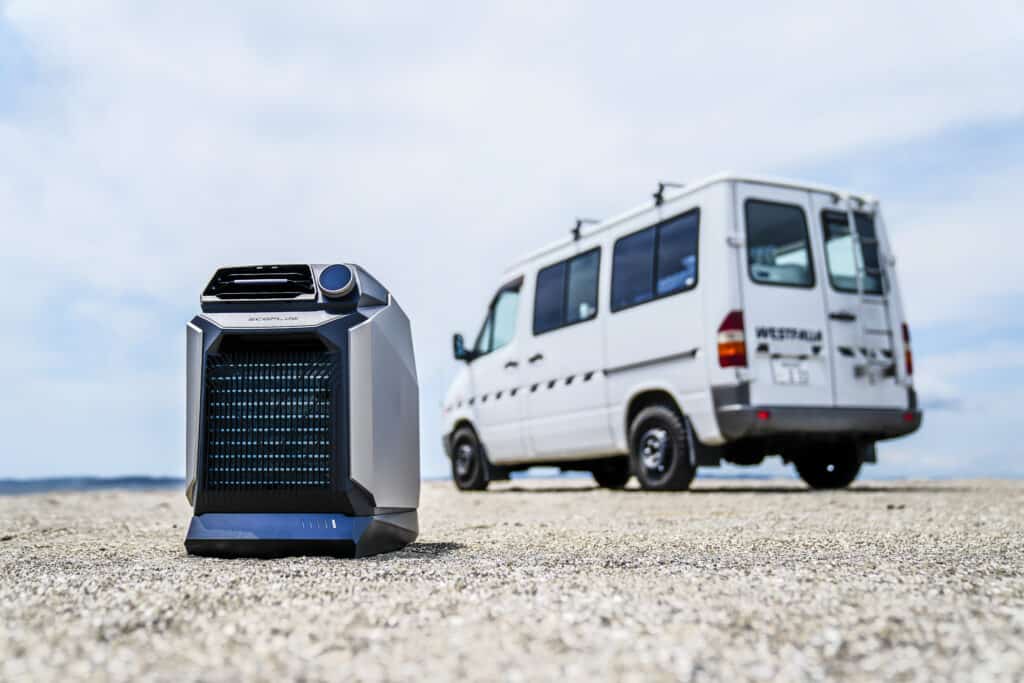 How do Mini Portable Air Conditioners Work?
Portable mini air conditioners are like regular air-con systems but are specifically designed to generate a cool breeze on a small scale. Unlike mounted or window air conditioners, they can be carried and taken anywhere within the home or off-grid where needed. They're usually battery-operated or DC/AC powered, with a fan or AC setting that generates indoor air into cool air while allowing excess heat to escape using a tube or vent.
Things to Consider Before Purchasing a Small Portable Air Conditioner
When shopping around for a portable ac unit, there are several factors to consider before you make a choice tailored to your needs. We'll take a more in-depth look at these to help you shop around for the best mini portable air conditioner.
1) Why Do I Need a Mini Portable Air Conditioner?
To kickstart, think about your and/or your family's lifestyle and how a small portable AC would fit into it. Here are some questions to get you thinking:
Do you have a small/medium space in mind that would benefit from some arctic air?
Are you a frequent camper who likes to keep you and your family/friends cool during the spring or summer months?
Are you living the van life dream in a camper or RV and need a personal AC?
Perhaps you want to lower your energy bills by ditching a wall-mounted air con in your small home or apartment for something more energy-conscious?
Once you've established your reasons for acquiring a mini portable air con unit, consider the other important aspects below:
2) What Size Portable Air Conditioner Should I Get?
Secondly, if you want portability in an ac unit, then you'll want one that doesn't take up heaps of space. Particularly if you want to store it in the trunk of a car, in a campervan, or on a countertop.
Let's take the EcoFlow Wave portable air conditioner as an example. The Wave is a mini powerhouse designed to fit almost anywhere. With a dimension of around 20x12x16 inches, it's small enough to easily fit in a 4-man tent, on a car seat or on an office desk. Not to mention, it's pretty small for its mighty powerful capabilities, of which we'll discuss further in this guide.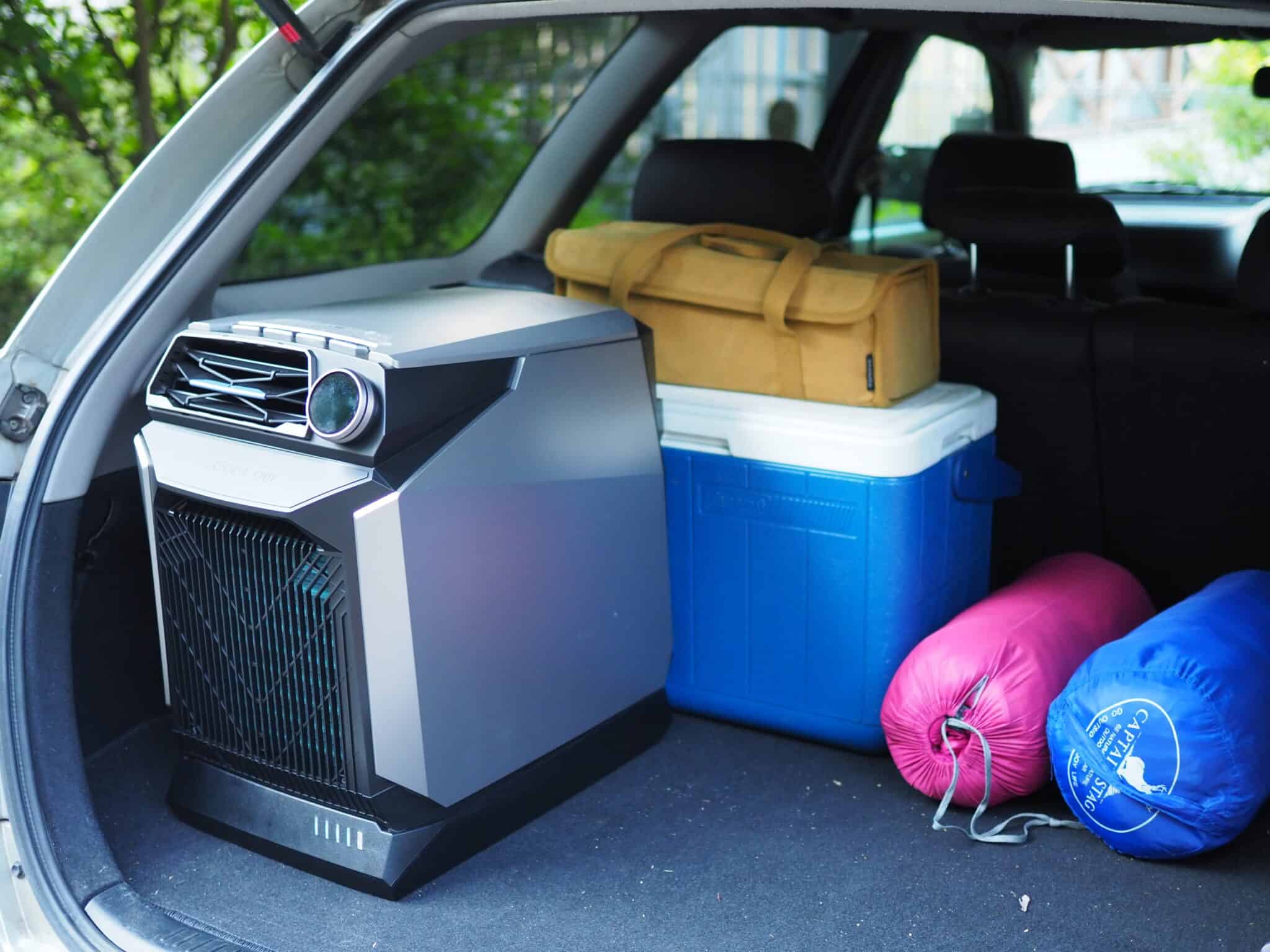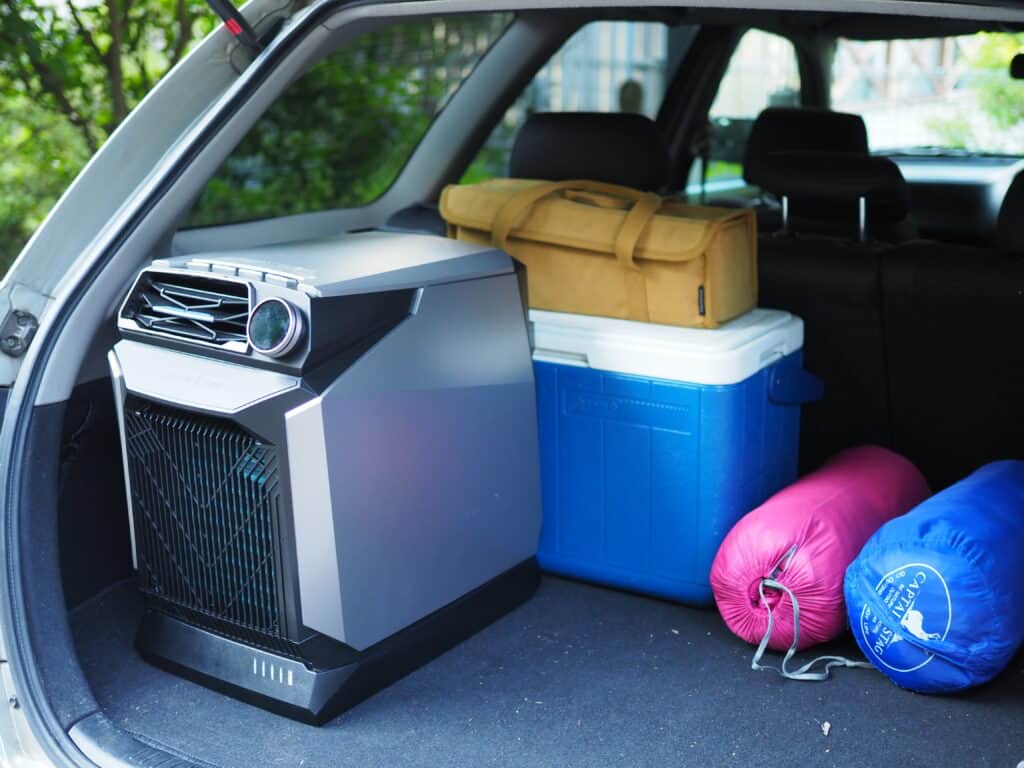 3) Weight
Thirdly, we can safely assume that you'll be wanting a small ac unit that is light enough to carry around.
It's handy to know that portable ACs tend to be heavier the higher the BTU (British Thermal Unit). Data from Appliance Analysts shows that portable air conditioners usually weigh between 53Ibs to 77Ibs.
When compared to other portable air conditioners with this cooling power, the EcoFlow Wave stands out as one of the lightest on the market at around 38Ibs (17kg).
Think about your capacity for lifting: can you carry a 3-4-year-old toddler? If the answer is yes, then you'll have no trouble picking up the Wave portable air conditioner!
4) Portability
Fourthly, it's essential to get a mini ac unit that you can easily transport from, say, your car to your campsite.
You'll have no issue carrying the Wave around due to its ergonomically designed carry handles positioned on either side of the unit for balanced weight distribution.
5) Cooling Capacity – Can a Mini AC Cool a Room?
Of course!
However, to make sure a mini air conditioner works effectively in your space you must choose the correct BTU capacity. It's good to note the average dimensions of your rooms or spaces before settling on the correct capacity.
The Wave has a 4,000BTU (British Thermal Unit) cooling capacity that chills an 86ft² (8m²) square feet of space from 84℉ to 75℉ (30℃ to 24℃). And that's just in a record 8 minutes.

For a unit this small, this truly makes the Wave a cut above the rest.
6) Is a Mini Portable Air Conditioner Energy-Efficient?
If you're a stickler for saving energy check out whether mini portable air conditioners come with energy-saving modes or green charging solutions.
One very sustainable solution is to utilize solar power. Nowadays it's totally doable to charge a mini portable air conditioner via the sun.
Yes, you read that right. Taking the EcoFlow Wave as a prime example, you can use up to 200W of solar panels to charge the Wave to full capacity in just 5 hours using clean, green energy. Even in the wilderness.
Additionally, the Wave also has a unique Eco Mode setting that can extend the power for up to 8 hours and increase or decrease cooling or alter runtimes.
7) Can I Charge a Portable AC Unit in Multiple Ways?
One consideration that often gets overlooked is whether there's an option to charge a mini portable air conditioner in a variety of ways.
After all, if you're wanting to take cool air with you off-grid then you'll need multiple charging methods. Charging ports are rarely available in the wilderness.
To safeguard you for when you're out in the sticks, the Wave has four different ways to charge. You can use a wall outlet, car charging port, solar panels, or even a portable power station like the EcoFlow DELTA Max or DELTA Pro units or their additional batteries.
8) Does a Portable Mini AC need Maintenance?
Often, air conditioners need maintenance. They collect water into a pan as they absorb humidity from a room by separating moisture from the air.
So if you're not keen on the fuss, it helps to find a mini portable air conditioner that doesn't pool up water or always need ventilation.

The Wave is designed to evaporate water due to the built-in heating tube. This means this mini air conditioner doesn't need a window. As long as the humidity is below 70%, there's no need to manually drain water and your room, RV or tent will stay dry for hours.
Alternatively, you can attach tubing to the back of the Wave for ventilation or link up a draining tube if the humidity is over 70%.
9) Do I need a Cooling Agent or Ice for a Portable Mini Air Conditioner?
Depending on the brand, you may need a cooling agent or ice to add to a portable air con before use.
However, the EcoFlow Wave doesn't require a cooling agent or ice, another maintenance chore off your list!
10) Intelligent Mode and Temperature Settings
Last, but not least important, is determining whether a mini portable air con has adjustable temperature settings and modes. Everyone has different temperature preferences and besides, some days may be hotter than others. That's why having a small portable ac unit that can offer different temperature gauges comes in handy.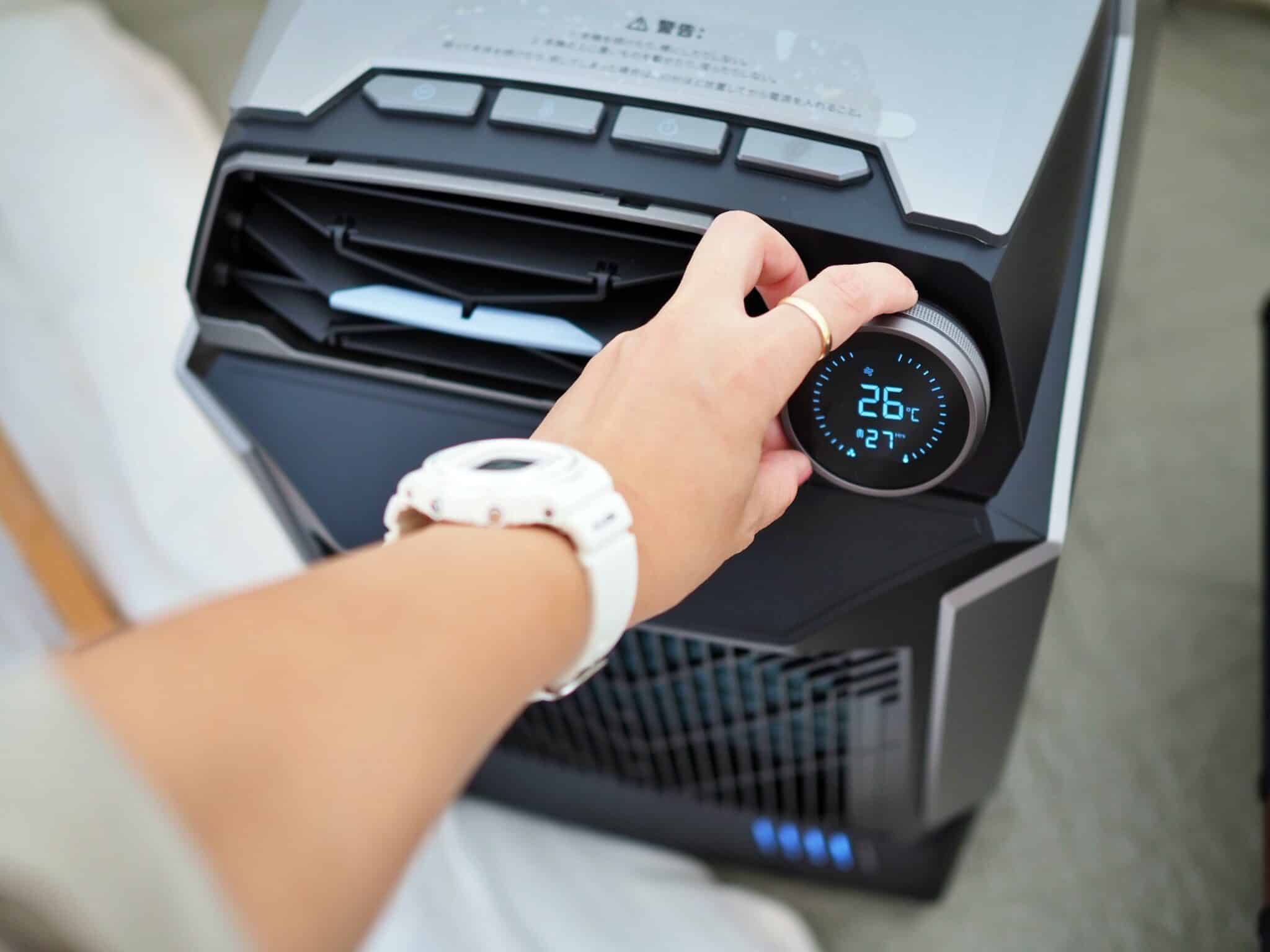 The EcoFlow Wave comes equipped with smart technology that allows you to customize your settings however you like.

It has four different modes to choose from:
Cooling Mode
Emits a powerful 4000BTU cooling using the inverter compressor.
Eco Mode
Eco Mode intelligently switches between fan and cooling settings to extend run times. Choose between low, medium, and high settings. The app will give you an estimated run time so you'll feel safe in the knowledge that you'll stay cool.
Timer Mode
You can set the Wave to run for a certain time before it automatically turns off after the timer ends.
Fan Mode
Fan mode keeps a cool air circulation without using as much energy.
It also has an intuitive dial so that you can set your preferred temperature.
To Wrap Up – What Should I Consider?
To wrap this all up, you should now have a clearer idea of what to consider before making your purchase.
With incredible performance that you can carry around, the Wave has many fantastic benefits packed into a small unit.
If you're after a small but mighty powerful ac unit that you can transport around with you; that requires little to no maintenance; that charges in multiple ways, and with customizable modes and temperatures then your best bet would be to check out the EcoFlow Wave here.
Get yourself a mini portable air conditioner that can do it all.