If you've ever been in an extended power outage, you know a reliable backup generator is invaluable. Still, purchasing a reliable generator represents a significant investment for most of us. Before determining whether that investment makes sense, you need to know the cost and what you get for your money.
Calculating the total cost of a solar generator that will meet your needs depends on numerous factors. For many people, the most significant considerations will come down to system size, setup, and price.
Here, we look at some of the best solar-powered generator options available and their costs to help you decide which one is right for you.
What Are the Benefits of Buying a Solar Generator?
A solar generator provides many significant benefits over traditional fossil fuel-powered generators. Not only can solar generators deliver sufficient power to meet your electricity needs, but they do so in an environmentally friendly way — without the ongoing operating costs of burning fuel.
Clean, Renewable Energy
The most obvious benefit of a solar generator is your ability to generate clean, renewable electricity using power from the sun. Unlike gas, diesel, and other fossil-fuel-powered generators, solar power systems don't emit toxic vapors or greenhouse gases into the air.
Unlike fuel-powered generators, there are no operating costs to generating electricity. Solar energy is renewable. You never need to worry about running out of fuel in an outage when you use renewable solar energy.
Low Maintenance
Traditional fossil-fuel generators are basically combustion engines — like the ones found in gas-powered cars. Whenever you work with an engine that generates mechanical energy and converts it into electricity, you must perform regular maintenance on the parts. Routine maintenance costs time and money — and eventually, mechanical parts wear out.
Solar generators, in contrast, require little to no maintenance. Once you're up and running, there's very little you need to do to keep your electricity flowing for years to come. If you're using roof-mounted rigid solar panels, cleaning them every six months to a year and keeping them free of debris and snow or ice build-up will help ensure they operate at maximum efficiency.
Lower Long-Term Costs
While solar generators typically cost more upfront than fossil-fuel generators, they can save you money in the long run. Solar energy generation allows you to power your home during peak times without paying for electricity from the grid.
You don't need to store or purchase fuel for a solar generator or pay for regular maintenance. In many cases, purchasing residential solar installations will qualify you for a significant tax rebate or other incentives.
Depending on your energy consumption, you can even go completely off-grid with solar and achieve energy independence. Here's a handy guide to determining the return on investment (ROI) for going solar — and how long your investment in clean, renewable solar power will take to pay off.
Permanent Residential Solar Installations
A permanent residential solar installation delivers electricity to your home around the clock, usually with a rooftop solar panel array.
Rooftop solar arrays operate best when you install them at the correct position and angle to maximize the peak sunlight hours in your location. You can even purchase solar trackers to automatically optimize the angle of your solar panels throughout the day.
Two main factors determining the size of the solar power system you need for your home are your average daily energy consumption and the average number of peak sunlight hours in your location.
It will also determine the overall costs you can expect to pay. According to 2023 data, residential rooftop solar power systems cost between $16,870 and $23,170 on average.
Other factors include:
When considering your upfront costs, you should weigh investment against the costs of purchasing electricity from your local utility provider. Generally, the electricity bills savings for a residential solar installation will pay for their initial cost in between nine and twelve years from when you install it.
If you plan to live in your home for longer than that, the cost-benefit analysis becomes very attractive. Even if you end up moving, a residential solar power system can significantly add to your home's value.
Portable Solar Generators
Portable solar generators serve as reliable home backup power solutions in a power outage and as convenient sources of electricity when traveling off-grid. As the name suggests, standalone solar generators are smaller and portable. Most are plug-and-play and eliminate the costs of professional installation.
The cost of portable solar generators typically ranges from around $500 for a RIVER 2 with 110W portable solar panel to $5,000 for a DELTA Pro with 400W rigid solar panel. The DELTA series of portable solar generators is highly expandable in terms of power output and storage capacity — and the number of solar panels you can use for solar charging.
With the DELTA Pro and 4 x 400W rigid solar panels, you can even power your entire home in the event of an extended blackout.
Portable solar generators consist of a portable power station with solar charging capabilities and solar panels. The solar panels capture the sun's energy, which is converted into AC electricity, regulated, and stored by the portable power station.
Power output and storage will vary by model. As a general rule, the more output and storage you have, the higher the price.
Here's a selection of portable solar generators as examples and their current prices.
The RIVER 2 Max with 160W portable solar panel from EcoFlow can generate up to 1.2 kWh of electricity daily. It can power 80% of essential appliances with 500W electricity output (1,000W surge power using X-Boost).
The RIVER 2 Max is a compact but robust solar generator that can power up from 0-100% in just four hours using the 160W solar panel. At only 13.2 lbs (5.98kg), you can easily carry the RIVER 2 Max and generate solar power virtually anywhere the sun shines.
If you want to charge up before you go off-grid, you can charge the RIVER 2 Max in just 60 minutes. Car adapter and USB-C charging are also available.
The current suggested retail price (SRP) for the RIVER 2 Max with 160W portable solar panel bundle is $918, but you can often get it for even less on sale.
The EcoFlow DELTA 2 with 220W bifacial portable solar panel provides expandable portable power and can generate up to 3 kWh of electricity daily. This DELTA 2 bundle can generate 1 kWh of electricity daily out of the box. Add an additional 220W bifacial portable solar panel or choose a 400W portable or rigid solar panel instead to recharge the DELTA 2 using just solar in approximately three hours.
The DELTA 2 can output 1800W of AC electricity (2700W surge power with X-Boost) and can power more than 90% of home appliances.
While it's much more robust than the RIVER 2, the DELTA 2 is still portable, weighing 27 lbs (12kg). The SRP for the DELTA 2 plus bifacial 220W solar panel is $1648, but frequent discounts can drop that price to $1,400 or less for limited times.
EcoFlow's modular Power Kits are a plug-and-play off-grid power solution for tiny homes and RVs. Power Kits come with everything you need to go entirely off-grid, even with a limited amount of space. Power Kits can output 3,600W of AC electricity (7200W surge power) and DC power of 13.6V/70A 1000W Max or 26.4V/60A. 1600W Max.
With a maximum solar charging input of 1600W, you can combine rigid, flexible, and portable solar panels to maximize your available space that receives sun.
Depending on your electricity storage needs, Power Kits come with stackable batteries in configurations starting at 2 kWh of electricity and topping out at 15 kWh. You can use the online Power Kit calculator to determine which option is right for you.
Power Kits start at around $5,000 for the 2kWh configuration and max out at around $15,000 for the base 15kWh setup. Solar panels aren't included in this price. Once you determine the best setup for you — with the help of an EcoFlow representative — you'll receive a custom quote for your off-grid Power Kit solution.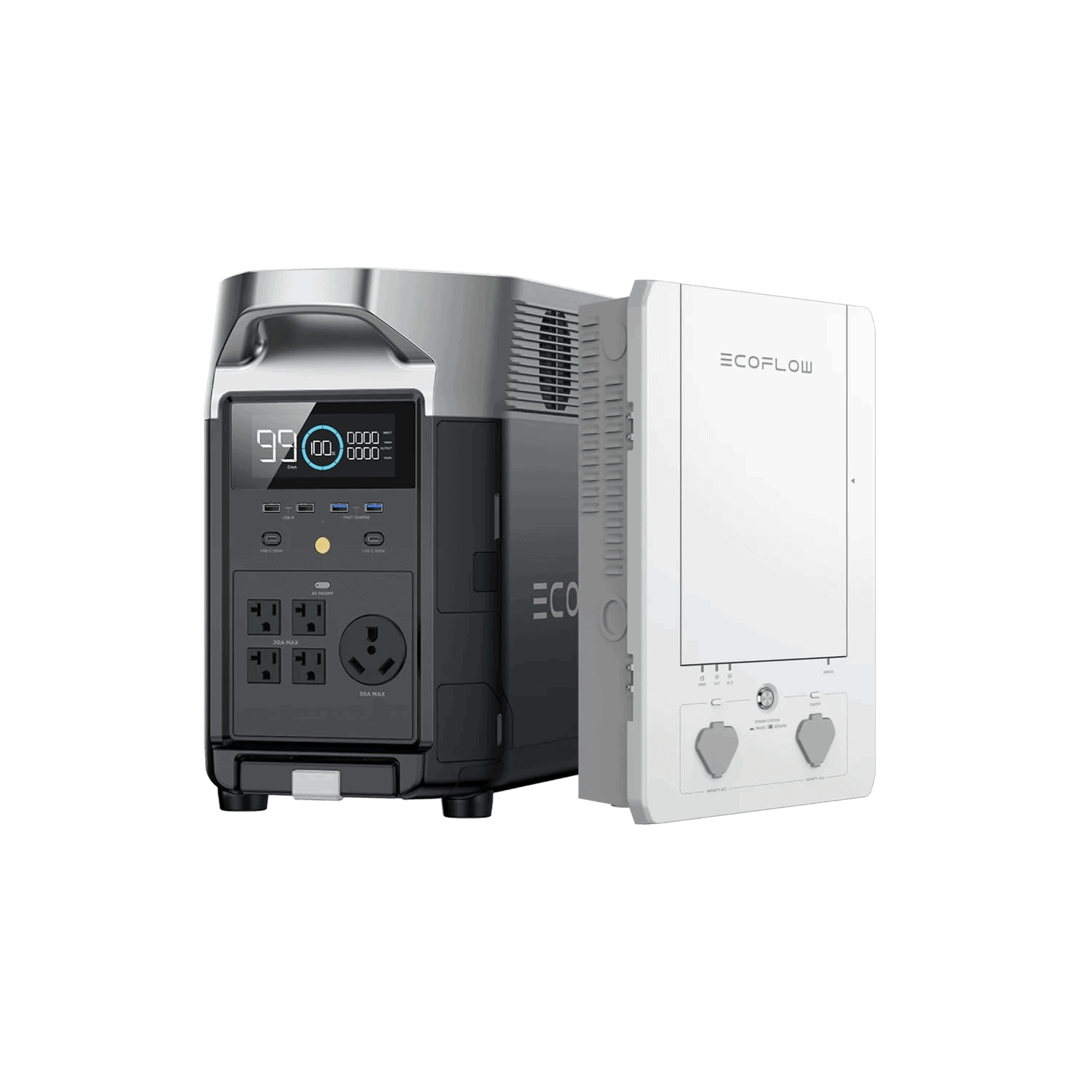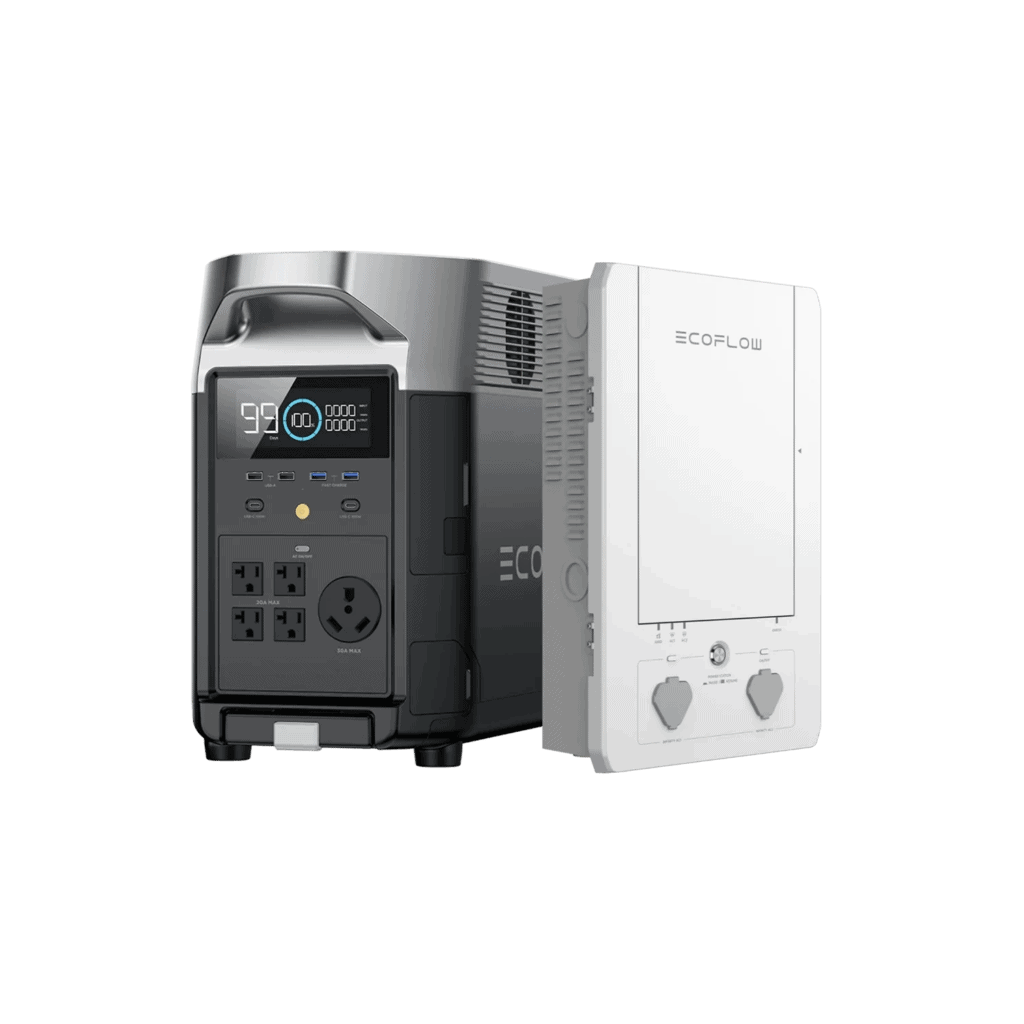 EcoFlow's smart home ecosystem has the DELTA Pro portable power station at its heart and utilizes various other seamlessly compatible components to create a whole home power backup power solution.
Depending on whether you opt for one DELTA Pro or 2 chained together with a Double Voltage Hub, you can achieve an electrical output of 3.6kW (7.2kW surge power) or 7.2kW/240V of simultaneous power.
Each DELTA Pro offers 1600W solar charging capacity, meaning you can combine up to four 400W rigid or portable solar panels. Depending on how much peak sunlight you receive — and how many solar panels you connect — you can fully recharge the DELTA Pro using only solar power in just 2.8 – 5.6 hours.
The Smart Home Ecosystem goes beyond just backup power. With the Smart Home Panel, you can directly connect your DELTA Pro portable power station(s), solar panels, Smart Extra Batteries, and Smart Generator Dual Fuel to your home's existing wiring.
The Smart Home Panel integrates seamlessly with your home circuit panel. Using the EcoFlow smartphone app, you can monitor and control your Smart Home Ecosystem from anywhere with internet access.
Not only does the Smart Home Ecosystem give you uninterrupted power in the event of a blackout, but it can also help reduce — or even eliminate — your electricity bills. By switching to your solar generator during on-peak electricity hours, you can save thousands of dollars on your electricity bills over time.
The Smart Home Ecosystem and whole house solar generator solution are also likely to qualify for numerous tax credits and incentives — including the Federal Solar Tax Credit, which can knock up to 30% off your initial purchase cost.
The base-level Smart Home Ecosystem, with DELTA Pro portable power station and Smart Home Panel, starts at about $5,000 SRP without solar panels. With so many options to add additional electricity storage and output capacity, an advanced whole home backup solution with 2 x DELTA Pros and 4 Smart Extra Batteries tops out at over $18,000 (without solar panels).
Bundles are often heavily discounted — up to thousands of dollars — so it's always a good deal to keep an eye out for bargains.
Frequently Asked Questions
How Much Does It Cost to Install a Solar Generator?
Installation costs for a permanent rooftop solar power system typically range from $9,200 to $28,000. By comparison, installation costs for portable solar generators are much lower and frequently nonexistent. If you connect your solar generator to your home electrical circuit panel, it's best to get a professional electrician to do the job. 
Are Solar Powered Generators Worth the Money?
Solar-powered generators are an investment — one that can pay off handsomely in the long run.
Whether outfitting your entire home with solar or purchasing a home backup power solution, the up-front costs can be high, particularly if you require professional installation.
However, over time, the system can pay for itself in cost savings against traditional electricity costs.
Further, you are doing your part to reduce dependence on fossil fuels and use clean, renewable energy sources to lower your carbon footprint and help save our planet. 
If you're ready to switch to solar, EcoFlow can help. Check out the EcoFlow site to learn more and get started with your switch to solar.