It's undeniable that the climate crisis is here. Thankfully, governments, citizens, and businesses are beginning to respond with urgency. Renewable energy technology is essential to creating a greener planet, and this tech becomes more commonplace (and less expensive) every day.
With more powerful and efficient innovations hitting the marketplace daily, harnessing solar energy is far more affordable and accessible than it once was. If you're trying to decide if you have room in your budget for home solar panels, here's what you need to know to make the right decision.
Cost of Home Solar Panels by Type
According to the Department of Energy, solar energy is the fastest-growing power source in the United States. And it's the most affordable, too! But while renewable solar energy is incredibly cost-effective and the best choice for the planet, purchasing photovoltaic panels still requires a considerable investment. To help you make the best choice, here are three common types of solar panels.
Monocrystalline
Monocrystalline panels are constructed from silicone as one crystal, meaning they have a continuous internal structure. As a highly resource-intensive manufacturing process, monocrystalline panels are often more expensive than their counterparts. That said, they also boast higher efficiency.
For a single panel, prices can range from $300 to $600, depending on the manufacturer and panel size.
Polycrystalline
Also called multi-crystalline panels, polycrystalline panels are silicon cells made up of multiple crystals. The multi-cell structure gives the panel a characteristic flaky appearance. Because of the manufacturing process, it's less resource-intensive than monocrystalline panels.
Astonishingly, polycrystalline solar panels can range from around $300 on the high end to under $100 on the low end. These figures are for meetings alone and don't include installation or any of the other components required to generate and store electricity for your home.
Thin-Film Solar Panels
Constructed with super thin layers of photovoltaic material on top of a substrate, thin-film solar panels use many materials, including copper, silicon, and cadmium. A significant perk of thin-film panels is their flexibility, making them easy to install on buildings and integrate into devices. That said, thin-film solar panels are typically less effective than monocrystalline and polycrystalline options.
Thin-film panels are comparable to monocrystalline solar panels, coming in at around $1 and $1.50 per watt.
4 Factors Affecting Solar Panel Cost
Solar energy boasts competitive prices compared to non-renewable sources. However, certain factors still influence the overall cost of purchasing and running a solar energy system for your home. Here are some common factors that affect the cost of switching to solar.
1. Installation Location
There is one key ingredient that all solar panels need to generate the most power: sunlight. For this reason, your physical location for a permanent solar installation significantly affects their overall efficacy and, therefore, overall cost reflected in how much money you save over using traditional on-grid electricity.
Some states, like those in the Pacific Northwest, are notoriously cloudy and overcast, while places like Arizona and Florida have sunshine most of the year. You'll get more bang for your buck from home solar panels if you live in a sunnier location.
Additionally, the direction solar installations face can impact their efficiency. If you're installing a fixed solar power system, the optimal positioning for the panels is true south to capture the most direct light. However, there are other factors to include in your calculations. It's best to consult with a professional if you're unsure which direction your panels should go to harvest the most sunlight and save you the most on your electric bill.
Alternatively, portable solar panels don't require fixed installation and can be maneuvered over the course of the day or the season to ensure optimal light capture.
2. Equipment Quality
No two products are made quite the same. The quality of equipment used by the manufacturer can influence the overall cost. While better-constructed panels may cost a bit more upfront, their extended durability may mean you'll get more use out of them over the years. It's also essential to check the efficiency. Cheaper solar panels tend to have a rated efficiency of under 20%, while industry leaders boast an efficiency of well over 20%.
Weigh these cost considerations as you make your decision.
3. Available Rebates and Credits
In the US, state and federal government agencies have gotten on board with the need to switch to clean, renewable energy and move towards a net-zero world. Substantial rewards such as tax credits and other incentives are readily available to consumers who install solar panels.
Government incentives mean that the initial investment in your home solar energy system can be significantly lower than the sticker price.
Check what incentives your city, state, and federal agencies offer for converting to solar as you calculate solar panel costs. Chances are, significant savings are available!
4. Electricity Usage
Finally, the amount of electricity you consume will affect the overall cost of your solar energy system. There is a direct correlation between the amount of electricity you need to generate, store, and consume and the initial cost of your home solar system, including the number and type of solar panels. Even if the upfront costs are higher, the savings accrue over time as you rely more fully on your solar power system to generate electricity.
You can save more on electricity costs if you intentionally minimize energy use in your home. Habits like unplugging appliances when not in use and only running AC when needed can go a long way.
Solar Panels for Whole-Home Power
If your goal is to power your whole home from self-generated solar energy, you'll probably need to invest in a large-scale, comprehensive system.
A whole-home system can cost a pretty penny upfront, especially when you factor in energy storage costs. That said, you can save substantially on utility bills over time.
The total cost will depend on factors like the size and location of your home and the type of appliances you want to run.
If you're ready to become fully energy-independent, the EcoFlow Smart Home Ecosystem puts that dream within reach.
The Smart Home Ecosystem is fully customizable. You can tailor the home solar panel and energy storage system to your unique needs and control it all using a user-friendly smart panel. Even more conveniently, the Smart Home Ecosystem integrates seamlessly with the EcoFlow App. You can monitor and control your Smart Home Ecosystem from anywhere with an internet connection.
The cost of your bespoke Smart Home Ecosystem depends on the components you select, but it makes total energy independence possible. Freedom from the grid is a smart investment that can pay off handsomely in the long term.
Portable Solar Panels
For those who want flexible access to power, portable solar panels may be just the thing. These panels do not require fixed installation, so it's easy to take them with you no matter where the road leads.
EcoFlow offers a variety of portable panels to meet your exact needs, with prices starting at under $150 for the EcoFlow 60W Portable Solar Panel.
Solar Power Systems for Home Backup
The unexpected happens. Make sure you're ready with a home backup solar power system.
DELTA Pro
The DELTA Pro is portable, lightweight, and fast charging, making it a great addition to your home emergency plan. It supports multiple charging inputs and can extend its storage capacity by adding extra batteries.
The Delta Pro Solar Panel is available for under $5000 and includes a 400W EcoFlow Portable Solar Panel.
Solar Power Systems for Off-Grid Adventures
Ready to hit the open road? Take your power system with you with these off-grid power systems.
The EcoFlow River is the fast-charging, lightweight, solar generator you need for your next off-grid adventure. Waterproof and durable, it's available for under $600 and includes a 110W Portable Solar Panel.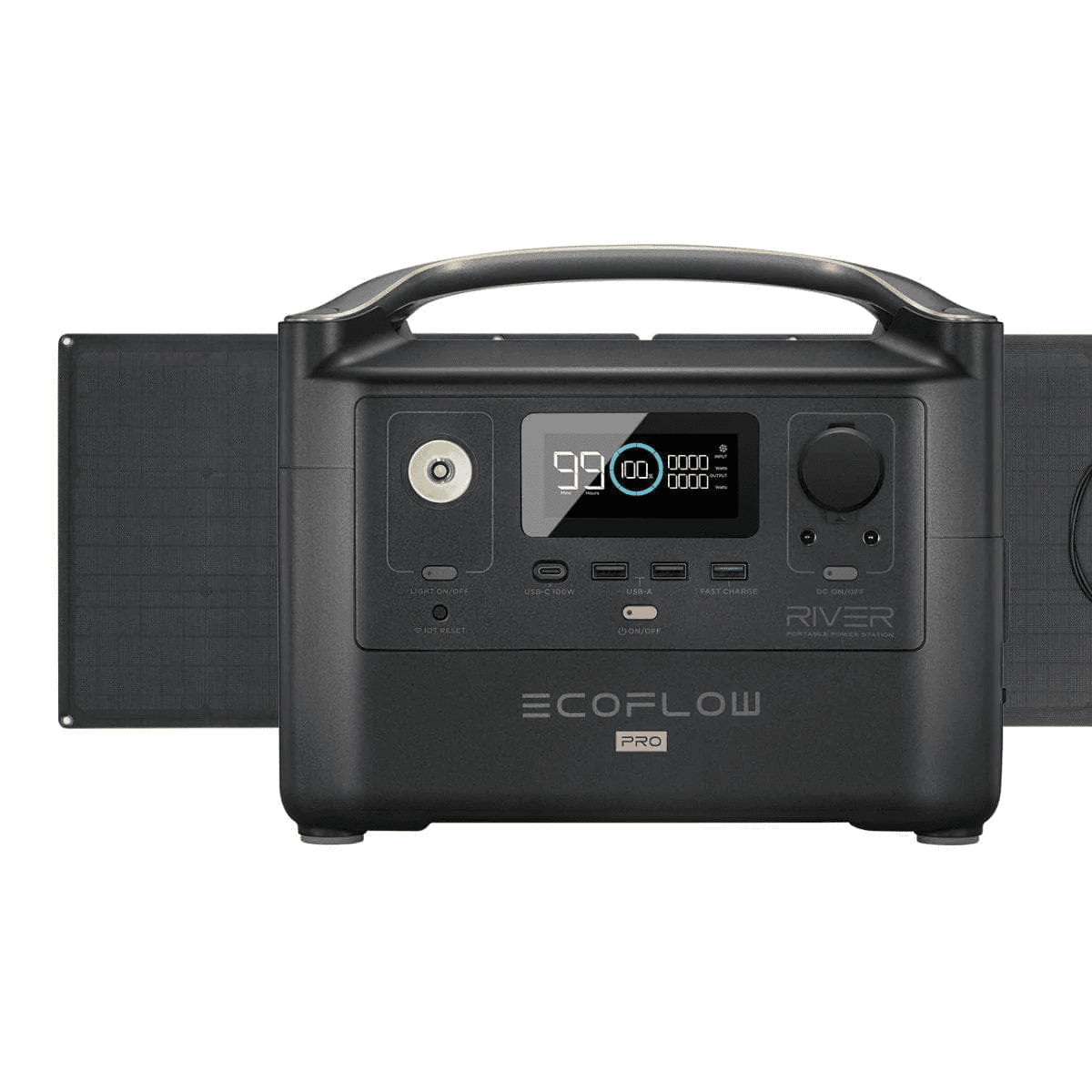 The River Pro offers all the benefits you love in the EcoFlow River power station with added capacity enough to power ten devices at once. It's available for around $800 and comes with a 160W Portable Solar Panel.
Bottom Line
Solar panels and solar power systems require some upfront investment. That said, there is something to fit within any budget, and the investment can pay off over tenfold in the long run.
Your pocketbook and the planet will thank you when you switch to solar. Start today!