The EcoFlow DELTA and DELTA 2 series offers industry-leading portable power stations for home backup, power outages, and outdoor adventures. This portable power station comparison breaks down performance by capacity, output, portability, solar capability, battery chemistry, and more, helping you quickly find the right product for you.
DELTA Series Overview
Product
Capacity
AC Output
Charging

DELTA mini
882Wh
1440W
900W
100%
1.6 Hour
DELTA
1260Wh
1800W
1200W
100%
1.6 Hr
DELTA 2
1-3kWh
2200W
1200W
100%
80 Min
DELTA Max
2-6kWh
Up to 3400W
2000W
100%
1.6 Hour

DELTA 2 Max
2-6kWh
Up to 3400W
2400W
100%
63 Min
DELTA Pro
3.6-21.6kWh
Up to 7200W
6500W
1.8 Hour
6 Tips for Choosing a DELTA series Portable Power Station
EcoFlow DELTA portable power stations come in all shapes and sizes, with plenty of features that give you power for pretty much any situation. Before we start comparing each unit, we've prepared a simple breakdown of 6 tips to consider when choosing a portable power station. Here's everything you need to know.
Capacity
First off on the list we have capacity. A portable power station with a large capacity gives you power for almost any situation. The larger the capacity, the more runtime you have, which means you can stay powered on for longer. Capacities start around 200Wh, and If you're looking for everyday power for everyday devices, a portable power station with a smaller capacity can get the job done. Or, if you're in the market for emergency power or home backup during outages, consider getting a portable power station with a big expandable capacity, like the EcoFlow DELTA Pro.
Output
More output means more power options. Get a portable power station with a high output so you can power your appliances like tea kettles, dryers, or even power tools. Almost all EcoFlow portable power stations come with X-Boost technology, which extends the output just in case you need to power the heavy-duty stuff.
Portability
Nobody wants to lug around a huge battery on road trips, off-grid adventures, or even at home. If you're looking for a portable power supply that's easy to transport, portability is a must. Smaller portable power stations like the EcoFlow DELTA mini or the EcoFlow DELTA 2 combine the best of both worlds, giving you a large capacity and a lightweight power supply for power on the go.
Fast Charging
When disaster strikes, having a portable power station that charges up quickly makes a world of difference. And even if there isn't a power outage, chances are you don't want to wait around for half a day to charge up. All EcoFlow portable power stations feature X-Stream fast charging, which lets you safely and rapidly charge quickly. Our EcoFlow DELTA Pro features ultra-fast charging methods by combining multiple charging options for a huge 6500W input, so even this large capacity unit can charge in less than 2 hours. Our newest range of power stations, including DELTA 2 Max and RIVER 2 Series, have incredibly fast charging speeds, allowing you to top up in only an hour.
Solar Charging
If you're looking for a renewable power supply for more charging convenience, portable power stations with solar charging options are a must. Most battery generators have solar charging integration, but some give you higher solar input, which means you can charge faster with clean solar generation.
Battery Chemistry
Whether you call it a portable power station or a solar generator, they're all fundamentally battery-powered devices. One other thing to look out for is the battery chemistry and battery management system that they use. EcoFlow portable power stations all come with a unique battery management system that regulates current, voltage, and temperate in real-time. The type of battery chemistry will depend on the application you use your battery for. For example, LFP batteries, such as those found in most EcoFlow power stations, are designed to give you the most battery life cycles for years on end.
That covers the most important things to consider when choosing a portable power station. Read on to compare EcoFlow DELTA series portable power stations.
EcoFlow DELTA Pro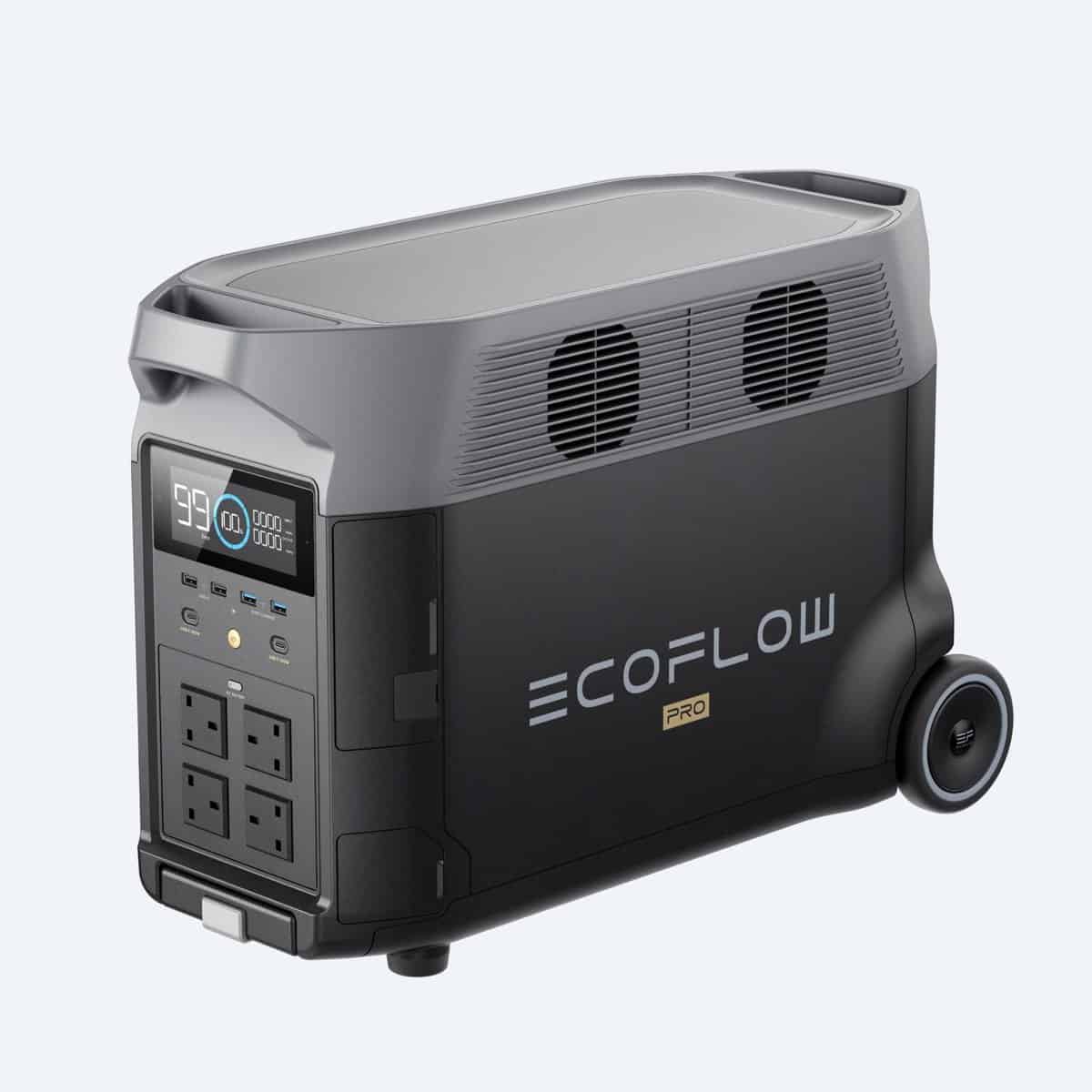 DELTA Pro is our big daddy of power, featuring our most advanced technology, massive output power, and capacity, all while still being portable.
Capacity: 3.6-25kWh Expandable Capacity
A huge 3.6-25kWh expandable capacity means you can power your home during extreme blackouts for days on end. A single DELTA Pro unit gives you 3.6kWh of capacity, which you can use for hours even powering heavy-duty appliances. And if that's not enough, you can expand your capacity up to a huge 25kWh. That's enough capacity to power you through almost anything.
Output: 3600-7200W Expandable AC Output
With a single DELTA Pro unit, you have access to a 3600W AC output, which expands up to 4500W with X-Boost. This massive AC output is ideal for powering window air conditioners, washing machines, and other heavy-duty devices. If you require even more output, you can connect two DELTA Pro units together with the EcoFlow Double Voltage Hub. That will give you 7200W, 240V, which is more than enough to power your electric heaters during a storm, dryers, and other heavy-duty devices.
And it doesn't stop there either. EcoFlow DELTA Pro can connect to your home circuits with the EcoFlow Smart Home Panel, giving you 7200W directly through your home circuits. In other words, that's all the AC output you'll ever need.
If you don't want to call in an electrician, you can still plug DELTA Pro into your home grid through a transfer switch, so you'll always be power-ready when an outage hits.
Portability: New Wheelable Design
DELTA Pro has an upgraded design compared to other DELTA series portable power stations. It features two wheels at the bottom of the unit and an extendable handle, so you can conveniently pull 3.6kWh of power around.
Fast Charging: 6500W MultiCharge
Yep, you read that right. The EcoFlow DELTA Pro offers a record-breaking 6500W MultiCharge feature that lets you charge up as quickly as 1.8 hours. Considering its 3.6kWh capacity, this is extremely fast charging.
Solar Charging: 1600W Solar Input & Rooftop Solar Integration
If you're looking for a solar generator to upgrade your home with cost-effective renewable energy, DELTA Pro ticks all the boxes. Not only does it give you an extra way to stay powered on, but it also helps you lower your daily energy bills. Get rooftop solar integration and up to 1600W solar input to charge DELTA Pro in as quickly as 2 hours. For off-grid power, you can also connect portable solar panels to DELTA Pro. And for an extra level of convenience, the 11-150V voltage range makes DELTA Pro compatible with 90% of third-party solar panels with solar panel connectors.
Battery Chemistry: LFP Battery
DELTA Pro sports an LFP battery, offering 6500+ cycles, which means you can continue to use it for years on end, even if you use it every day before it reaches 50% of its original capacity.
EcoFlow DELTA Pro: The Final Verdict
In addition to having the biggest capacity, output, and most advanced power options of all the DELTA series portable power stations, DELTA Pro also integrates with an entire ecosystem of products, including the EcoFlow Smart Generator, Extra Batteries, the Smart Home Panel, and more. Throw in 3400W EV station charging, 6500W MultiCharge, smart energy management, and much more.
EcoFlow DELTA 2 Max
Designed as an alternative to gas generators, DELTA 2 Max has a large capacity and generous output power, capable of dealing with most of your household appliances, making it ideal for home backup. Its upgraded battery and fast charging capabilities take DELTA 2 Max to the next level of portable power, offering clean, reliable home energy.
Capacity: 2-6kWh Expandable Capacity
DELTA 2 Max balances on the go power with home backup. A single 2kWh unit is perfect for an RV or off-grid cabin, but with 2 × Smart Extra Batteries, you can easily triple the capacity to 6kWh, offering days of power during an outage. Not only that, but DELTA 2 Max can connect to your home's transfer switch for partial home backup. It's plug-and-play, so you still have the freedom to unplug and take DELTA 2 Max on the go.
Output: 2400W AC Output
EcoFlow DELTA 2 Max has a generous output of 2400W, allowing it to power pretty much any of your household appliances. As with all our DELTA Series power stations, DELTA 2 Max features X-Boost, which provides up to 3400W to power some high-wattage appliances without overloading the unit.
Portability: Lightest 2400W LFP Battery on the Market
Since DELTA 2 Max straddles both off-grid and home power, it's lucky that it combines portability with top-of-the-line technology. Most LFP batteries are extremely heavy, but DELTA 2 Max weighs only 2 lb more than its NCM-toting sister, DELTA Max. While you won't be taking it to the park with you, DELTA 2 Max is still relatively easy to pick up with double-sided handles and a 50 lb weight.
Fast Charging: 1-Hour Dual Charging
One of the most significant upgrades to DELTA 2 Max is its dual charging option. DELTA Max was already pretty quick to charge, but now with a higher 2400W AC input combined with solar, DELTA 2 Max charges to 80% in only 63 minutes.
Solar Charging: 1000W Solar Input
With an additional solar input port, DELTA 2 Max allows up to 1000W of solar input. That's nothing to sniff at, especially if you're using 2 × 400W Solar Panels. You can charge in as fast as 3 hours in ideal weather conditions. If you're using third-party panels or your own home PV system, you might get a little closer to its fastest charging time of only 2.3 hours!
Battery Chemistry: LFP Battery
DELTA 2 Max includes LiFePO4 battery chemistry, which is extremely stable and long-lasting. DELTA 2 Max can withstand over 3000 battery cycles until it drops to 80% capacity, which is basically 10 years of everyday use. Plus, even when the capacity eventually drops, the battery performs just as well as before.
EcoFlow DELTA 2 Max: The Final Verdict
DELTA 2 Max sees some great upgrades from DELTA Max, a solid piece of kit to begin with. With LFP battery chemistry, improved charging, and new additions, such as new EcoFlow app controls, DELTA 2 Max is a sure-fire contender, no matter whether you're looking for home backup or RV power.
EcoFlow DELTA 2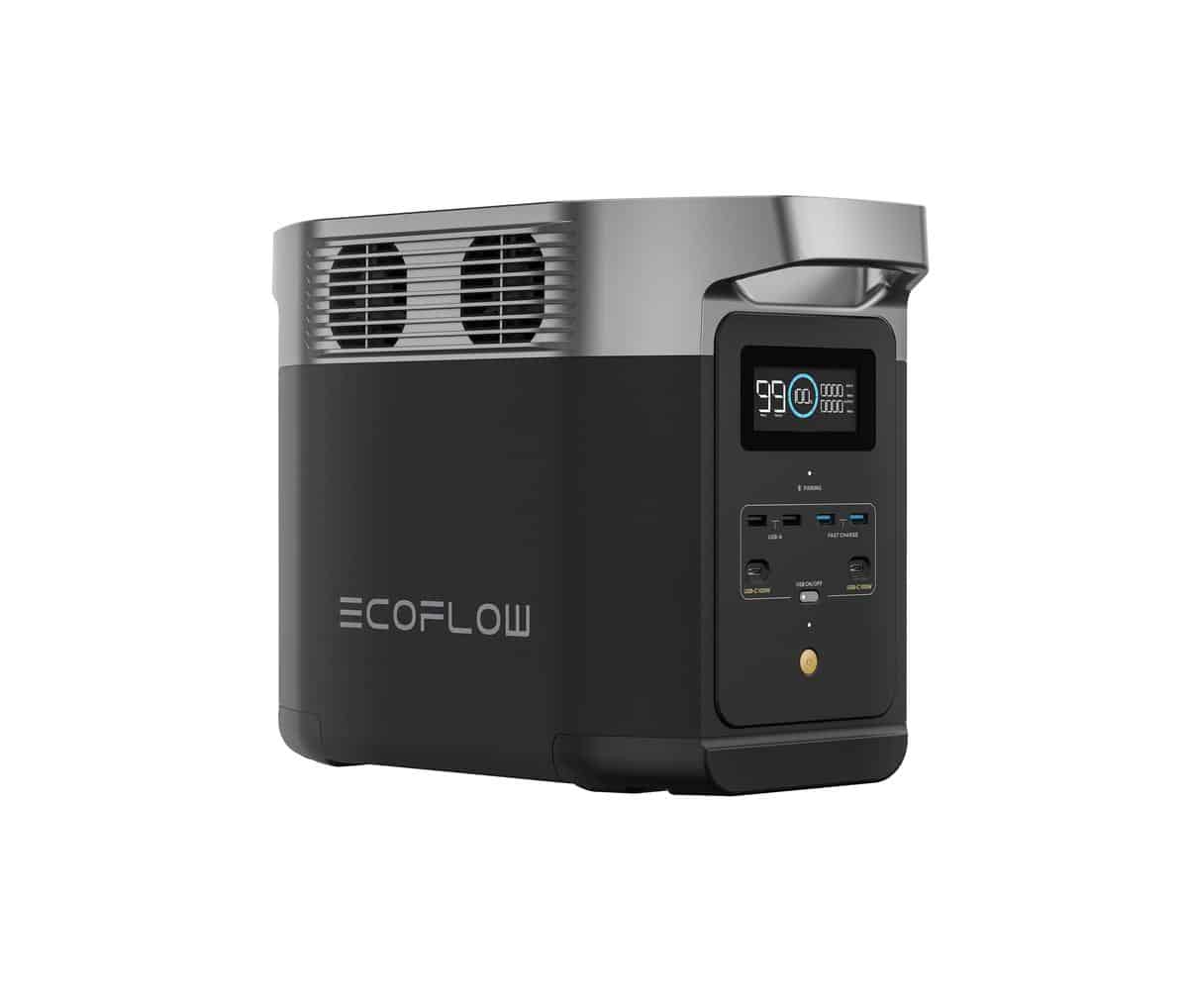 From our much-loved DELTA came DELTA 2. Faster, smarter, and more powerful, DELTA 2 is not just a battery; it offers a level of comfort and power security for the everyday user.
Capacity: 1-3kWh Expandable Capacity
Triple the capacity of DELTA 2 with Smart Extra Batteries. Add a DELTA 2 Extra Battery for 2kWh, or connect a DELTA Max Extra Battery to bump it up to 3kWh. You can even connect DELTA 2 to your home's power inlet box using a generator cable, so you can keep your essentials running during a short outage right from the mains.
Output: 1800W AC Output
DELTA 2's 1800W AC output offers plenty of power, running around 90% of home appliances. Plug in and run up to 15 devices at once with DELTA 2's myriad of outlets, including 6 × AC and 2 × DC sockets. Watch your favorite TV shows for the entire day (110W × 7.8 hours), then cook a meal using an air fryer (1500W). You can push the limits of DELTA 2 with X-Boost, proprietary tech that allows you to power some appliances with 2200W, so you can even run your electric heater.
Portability: Lightweight with Carry Handles
With double-sided carry handles, DELTA 2 can be held with one or two hands, making it easy to move and transport. Weighing only 27 lb, it's light and compact enough to take camping or throw in your car for an off-grid adventure.
Fast Charging: Charge in 50 Min
With its upgraded LFP battery, DELTA 2 can charge 80% in only 50 minutes using an AC wall outlet. Compared with other similar power stations, that's about 7× faster, with typical charging times ranging from 5-9 hours. Charging to 100% adds only an extra 30 minutes, so you can always be ready for unexpected outages or camping trips.
Solar Charging: 500W Input
DELTA 2 has a built-in MPPT (Maximum Power Point Tracking) algorithm designed to get the most of your solar panels. With an efficiency rating of 98%, solar charging DELTA 2 is quick, safe, and more efficient than other brands. Plug in two of our 220W Portable Solar Panels to charge up in only 2 hours.
Battery Chemistry: LFP Battery
DELTA 2 was our second battery to contain LFP chemistry, introducing mid-capacity portable power with top-spec hardware and software. With 3000+ cycles, DELTA 2 can run for years before its capacity drops to 80%. Even then, it keeps working hard, running all your devices with the same power and advanced features.
EcoFlow DELTA 2: The Final Verdict
The first of our DELTA 2 Series range, it's the perfect combination of capacity, output, and battery chemistry, providing both reliable home backup and portable off-grid power.
EcoFlow DELTA Series: Compare Specs
Capacity
AC Output
Weight
Battery

DELTA mini
Buy Now
882Wh
1440W
23.6 lb
NCM

DELTA
Buy Now
1260Wh
1800W
30.9 lb
NCM

DELTA 2
Buy Now
1-3kWh
2200W
27 lb
LFP

DELTA Max
Buy Now
2-6kWh
Up to 3400W
48 lb

NCM

DELTA 2 Max
Buy Now
2-6kWh
Up to 3400W
50 lb
LFP

DELTA Pro
Buy Now
3.6-21.6kWh
Up to 7200W
99 lb
LFP
Conclusion
The EcoFlow DELTA series offers the best portable power stations for home backup and emergencies. From lightweight options like the DELTA mini all the way to portable home batteries like the DELTA Pro, our industry-leading DELTA series portable power stations give you power for every type of situation.