Portable AC units are relatively affordable, easy to install, and can provide reliable cooling in areas where central air isn't an option.
For many homeowners, they're an appealing alternative to large air conditioners that require a lot of energy — and hike up the electricity bill.
Knowing which is right for you can be challenging with so many models and features available.
Here, we've compiled all the information you need to choose the best portable air conditioner for your home. Considering factors like size, power output, energy efficiency rating, noise level, and more, you can select the ideal unit for your needs and budget.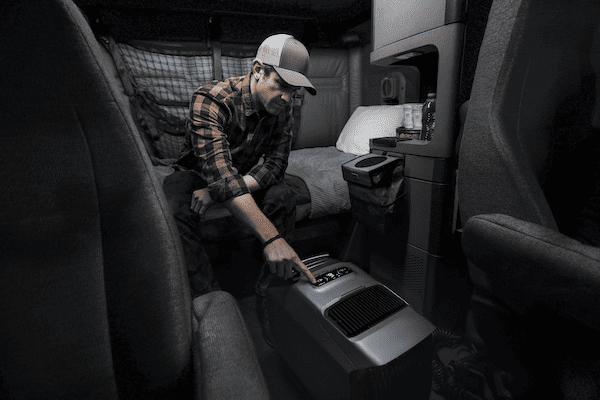 Why Should You Consider a Portable AC Unit for Your Home?
Portable AC units are an excellent choice for anyone who needs extra cooling in their home — whether you have central air that just isn't cutting it or don't have central AC installed. Portable ACs are relatively affordable and easy to install, and you can move them from room to room if needed.
Plus, portable units don't require permanent installation like window air conditioners. They're ideal for renters and those living in condos or apartments where you can't make permanent changes to the building structure. Landlords and HOAs may restrict or prohibit installing ACs, making a portable AC a lifesaver in hot temperatures.
Portable ACs are also easy to travel with, making them great for campers, RVs, trailers, and other mobile homes. With assembly-free portable AC units like the EcoFlow WAVE 2, you can cool the air around you no matter where you are — outside, in the car, or at your campsite — with no installation or setup required.
Using portable AC units can also use less energy, helping keep your electric bills down. A central AC unit can use up to 2.3 kWh per hour, while portable AC units may use just 1.176 kWh per hour. Switching to a portable AC unit can reduce your cooling bill substantially, depending on your state's average electricity prices.
Factors to Consider When Choosing a Portable Air Conditioner
If you've decided that a portable air conditioner is the best choice for your home, you've completed the first step in the buying process. Now comes the tough part: deciding which portable AC unit is best for you among the many designs, models, functions, features, sizes, and more.
The factors below can help you find a portable AC unit that satisfies your household needs. Compare different models based on your priorities to make an informed decision.
Here's everything you should consider to choose the best portable AC for your home.
Cooling Capacity and Power
The cooling capacity refers to the AC unit's BTU rating. The BTU (British Thermal Unit) rating indicates how much cooling power the air conditioner can produce in an hour, which affects how effectively it can cool your home.
Ideally, you should have at least 20 BTUs for each square foot of space you want to cool. For smaller spaces like tents or RVs, you might only need a few hundred BTUs, but for larger spaces, you'll want a portable AC that can pack more punch and keep things cool with a higher BTU rating.
The EcoFlow WAVE 2, for example, can cool your space quickly — dropping the temperature from a toasty 86°F (30°C) to a comfy 68°F (20°C) in just five minutes.
With 5100 BTUs of cooling capacity, that's a lightning-fast 18°F (10°C) temperature drop!
That amount of cooling power can easily keep a spacious bedroom or living room at the ideal temperature for you.
Size and Dimensions
The size of the portable AC unit you choose should depend on the size of your space. You want an AC that's not too big or too small for your room but just right. Remember that a larger air conditioner will cool faster but may be louder and less energy efficient than smaller models.
The size may also depend on what your home can accommodate. When measuring the size of your unit, make sure to check both the height and the width of the unit. EcoFlow Wave 2 has a design that measures 20.3 × 10.7 × 3.6 in (515 × 272 × 92 mm), making it perfect for tight spaces like smaller rooms or even RVs and vans.
Portability
You'll also want to consider size, dimensions, and weight if you plan to use your portable AC unit in more places than just your home. In this case, you also have to consider traveling with it in your car or RV.
Some "portable" ACs take up considerable space and add significant weight and bulk to your load. WAVE 2 is light enough to carry at 32.0 pounds (14.5 kg), but not all portable models will be as lightweight. Consider where you'll use it most often to decide if portability is a priority.
Placement
Another factor to consider is the placement. You can set some portable units on the floor, while others must be mounted or hung from a window. Your choice depends on what works best for your room and where you have space to accommodate it.
The EcoFlow WAVE 2 gives you versatility in placement. It can be used in a window, through a wall, or free-standing on the floor (or any flat surface). It's easy to install and use, no matter where you are.
Dual-Hose vs. Single-Hose System
The hose system your portable AC unit uses affects its overall efficiency. Single-hose systems draw in hot air from outside and cool it down using a condenser, while dual-hose systems use two separate hoses — one to exhaust the hot air outside and another to bring in cooler air from outdoors.
Dual-hose models are usually more expensive but work more efficiently, while single-hose models can be cheaper but use more energy to cool the same space.
The EcoFlow Wave 2 offers the best of both worlds. Its accessory-free design is adjustable, so you can attach optional single-hose or double-hose ducts, depending on where you are and your cooling needs.
Power Source
You'll also want to consider where your AC unit is getting its power. Some require AC plugs, while others may be able to run using other power sources.
The EcoFlow WAVE 2 offers multiple power options, including AC, solar, battery, and car charging. Add-on batteries like the DELTA 2 with 220W solar panel or the DELTA Pro with 400W solar panel allow you to run the WAVE 2 for more extended periods and take advantage of off-grid, free electricity using solar charging.
Noise Level
Consider the noise level of your portable AC unit when shopping for one. Portable air conditioner noise levels can range from quiet (around 50 dB, the level of a quiet refrigerator) to loud (around 70 dB, the noise level of a washing machine or dishwasher).
The EcoFlow WAVE 2 is designed to be quiet, with a noise level of only 44-56 dB while running — it's comparable to the sound of a library or a normal conversation. Turn it on Sleep Mode and enjoy a quiet 44 dB hum for a long, undisturbed night of rest.
Budget
Depending on the size and features you need, prices can range from a couple hundred to several thousand. That's why it's essential to consider your needs and priorities first before looking for AC units.
The EcoFlow WAVE 2 is an excellent choice for those on a budget who aren't willing to compromise on quality. Its high-efficiency cooling and user-friendly design make it an easy pick for any budget-conscious consumer while offering exceptional cooling power.
Frequently Asked Questions
What Are the 3 Most Important Factors for an AC Unit?
The three most important factors when shopping for a portable AC are the cooling capacity, portability, and power source. Get one powerful enough to cool your space while being portable enough to carry, and be sure its power source will last you all day and night.
Final Thoughts
When shopping for a portable air conditioner, you have options. Consider what you need and don't need to find the best one for your situation.
If your main priorities are robust cooling capacity and the versatility to use it in any space or situation, consider the EcoFlow WAVE 2. It offers exceptional cooling power and endless options to create the air conditioning experience you want every time.