With more and more people turning towards alternative ways of living, the fulltiming in an RV has never been more popular. It's a lifestyle that offers a wonderful sense of freedom and adventure that couldn't be further from the traditional brick-and-mortar stationery home.
However, while it can be easy to get carried away with the allure of it all, numerous challenges come with living full or part-time in an RV. Energy generation is one of the most significant hurdles.
Fortunately, recent developments in portable solar power systems mean there's never been a better time to shake things up and explore new ways of generating off-grid power.
Here's a handpicked list of the best four solar generators for RVs in 2022, with suggestions on choosing the best one for your off-grid energy needs.
As they say—go big or go home. For those with large electricity-sucking RVs, there can be only one place to start. The DELTA Pro is a true colossus that offers a remarkable 3.6kWh capacity to keep even the most luxury campers running smoothly and efficiently.
There are few other options on the market today that can match its 3600W output, while its charging speed of under 2 hours using an AC outlet is another huge benefit. Depending on the amount of sunlight you receive, the number of solar panels you deploy, and how much energy you consume while charging, you can fully recharge using only solar power in about a day.
Not surprisingly, considering its colossal capacity, the DELTA Pro isn't exactly small. It's still portable with wheels built in. But, if you're looking for something you can take on hiking trips, this is probably not the best option. However, if your RV uses a lot of power or you're a fulltimer, there's no better choice than the DELTA Pro.
The DELTA Pro's smaller yet still mighty younger brother, the DELTA Max, is another excellent solar generator for an RV. It's less than half the price of the DELTA Pro but handles most RV needs. The DELTA Max has a battery capacity of 2 kWh and 2400W output that you can take advantage of through six separate outlets.
The Max can charge from 0 to 80% in 65 minutes with AC electricity at an RV campground with shore power. It has an 800 W solar charging speed, making it a hugely versatile option for those who prefer life on the road and off the grid — not parked in the campground.
The DELTA Max is the perfect middle ground between the undisputed giant, the DELTA Pro, and smaller options better suited for more minimalistic van living.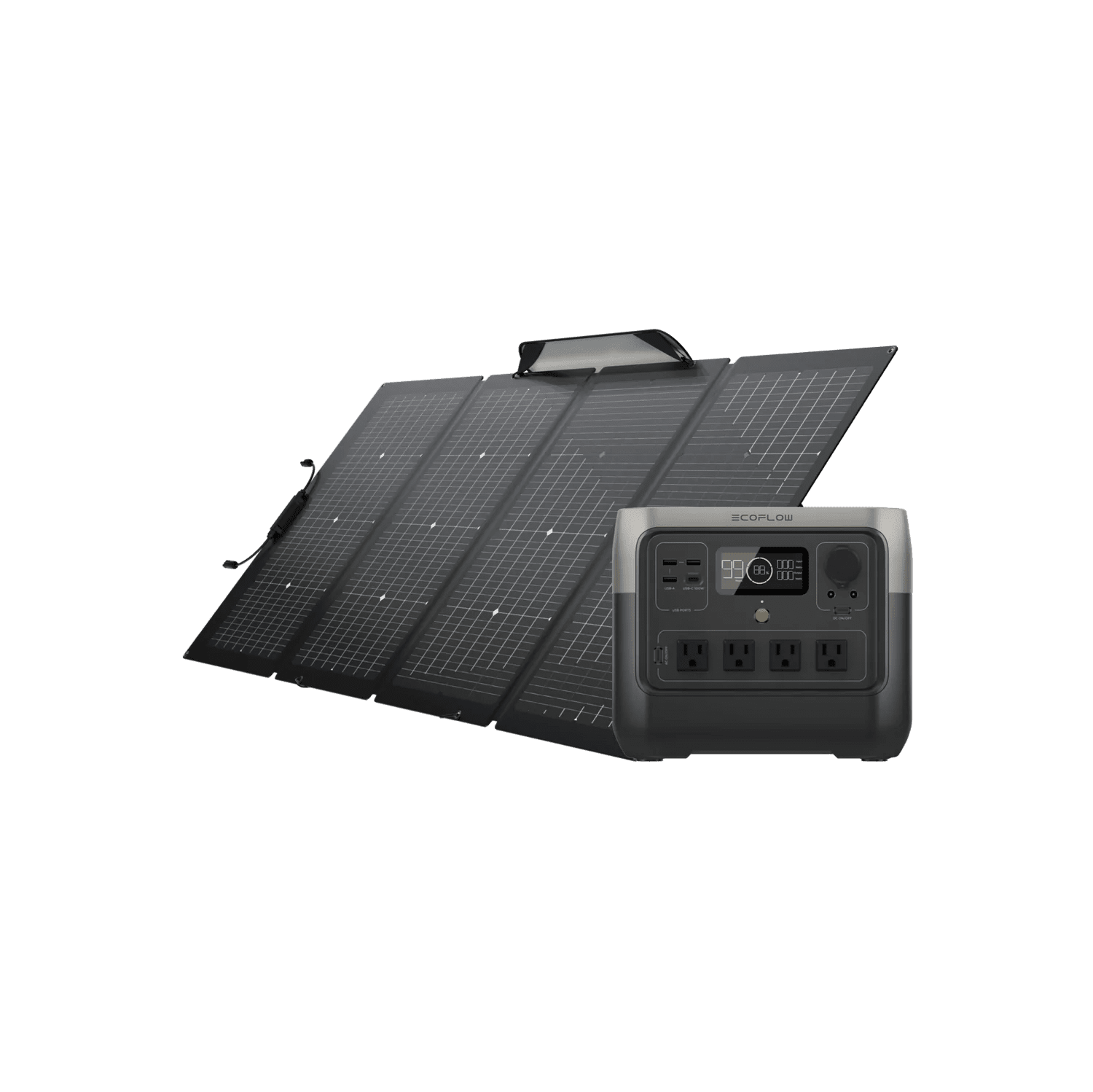 EcoFlow's River 2 Pro is the most powerful in the River 2 series, delivering a portable energy supply in a compact build. It's the best option for occasional RV users or users with more compact vans and less space.
The River 2 Pro is small and light enough to carry around comfortably at 17.2 lbs (7.8kg) and measures just 10.6 x 10.2 x 8.9 in (270 x 260 x 226 mm). It's a great solution if you love RV boondocking. You can easily carry it from the RV for an extended hike or an overnight camping trip.
But don't let its modest size deceive you. The River 2 Pro still churns out an impressive 800Wh amount of power with a battery capacity of 768Wh, more than enough to keep a modest van life going. You can fully charge it in just 1 hours with main electricity and a mere 4 hours using one of EcoFlow 220W Solar Panels.
The River 2 Pro might struggle to keep up with RVs with high energy consumption — it's not the right solar generator for a giant RV. But it's undoubtedly a viable option if portability is crucial and you're not looking to run major appliances for extended periods.
Our final option takes RV living and energy independence to the ultimate level. Individual solar generators, such as the three mentioned above, are all superb choices for energy generation. However, EcoFlow's Power Kits truly give you the freedom to embrace life on the open road full-time.
EcoFlow power kits are the world's first integrated, plug-and-play power solutions designed specifically for RV or tiny home living. They come with everything you need to turn that RV into a mobile solar-generating monster that allows you to go completely off-grid. The power kits vary in capacity, with the smallest at 2kWh and the largest at a gargantuan 15 kWh.
Power kits use an EcoFlow Power Hub that combines a DC-DC step-down converter, two MPPT solar charge controllers, an inverter charger, and one battery charger with MPPT.
For those looking to move from part-time van life to fulltime off-grid freedom, a power kit offers absolutely everything you need to achieve true energy independence without sacrificing any of the comforts that electricity can provide.
Why Would You Want a Solar Generator for Your RV?
You can rough it without electricity in your RV — but what kind of fun is that?
To truly get the most out of the RV lifestyle, an independent power source is essential.
When it comes to generating power on the road — rather than just storing it — you basically have two viable options. Noisy, greenhouse gas emitting fossil fuel generators, and clean, renewable solar power.
Gas and diesel generators are the traditional choice. However, many RVers have moved away from gas-guzzling generators because of rising fuel costs, which reached record highs in 2022. Fossil fuel generators are also very noisy and produce fumes, so you can't use them indoors.
Some choose a DIY solar system build because of the customization options and the perception that it's cheaper. However, the DIY option comes with numerous challenges, even for those with experience. It requires extensive knowledge of amps, voltages, and watts, not to mention a significant understanding of wiring and cross-compatibility issues. If you've got an unlimited supply of time (and patience!), a DIY solar kit could be a viable option.
If you'd prefer to enjoy life on the road rather than stare at wiring diagrams and watch endless YouTube tutorials, a plug-and-play solar generator is probably your best option.
Solar generators have become increasingly popular among van lifers for a good reason. A solar generator from a cutting-edge brand like EcoFlow helps you sidestep the shortcomings of gas generators and the inconvenience of complicated DIY builds.
You can set up a solar generator at a moment's notice. With portable solar panels, there's no need to drill holes in your RV's roof or for complex electrical knowledge.
Solar generators can give you complete freedom from the grid with an RV and help you become self-sufficient. Gas generators still require you to fuel up — at exorbitant — along with their many other disadvantages. Not least of which is their negative impact on the environment.
Even if you primarily park at campgrounds with shore power, an alternative energy supply you can take anywhere provides welcome coverage between camping locations.
Living off-grid comes with plenty of challenges. But having a solar generator can help you turn the dream into reality. Not only does it provide abundant clean energy free of charge after your initial investment, but solar generators are also durable and compact, giving you years of quiet, fume-free power without cramping your style. You can lead the kind of off-grid life you desire. Even that big-screen TV or outdoor projector is a viable option!
What to Look for When Choosing a Solar Generator for Your RV
Before making a solar generator purchase, there are numerous factors to consider. Here are the most crucial:
Battery Capacity
Battery capacity is always the best place to start when discussing solar generators, as it dramatically affects most people's choices.
When deciding on the battery capacity, it's essential to consider two key points: How much energy does your RV require? And how long do you anticipate being between charging points?
Let's start with the first. People use the terms RV or van broadly, but the differences between set-ups can be enormous. A large RV might use up to 20 kWh of electricity per day, which equals around 900 kWh per month, roughly the same as a mid-sized house.
On the other end of the spectrum, a small van, with a minimal energy need, might use as little as 3 kWh for a single 24-hour period.
There's no point in purchasing a generator incapable of meeting your energy needs. Calculate precisely how much electricity you require in your RV, then go from there.
Charging
Charging is another point to consider carefully. EcoFlow solar generators can be charged using solar panels, regular household AC power, a car adaptor, and electric vehicle (EV) charging stations. Solar power is the cheapest and cleanest energy source, but it also takes the most time to charge your generator to full capacity. Multiple charging options give you excellent flexibility, allowing you to charge a generator in a campground, EV station, or on the open road.
If you want to charge primarily using solar panels, you need to be realistic. An energy-guzzling RV running entirely on solar energy will likely require a solar power system like EcoFlow's Power Kits.
You can also look for add-ons like dual-fuel generators, which let you use multiple fuel sources — such as propane and gasoline — to recharge the solar generator and keep your devices running. It's a good backup during overcast days or for RV living in remote locations. Remember that even though a dual-fuel generator runs on comparatively clean propane, it will still produce fumes and can't be operated indoors.
Portability
Portability is determined by the size and weight of the solar generator and solar panels.
If you have a large RV, you have fewer options for your solar generator. Generally, the more energy storage and generation capacity you need, the bigger the generator. If you don't require a massive amount of electricity, you can choose between a generator from the EcoFlow DELTA series with plenty of energy or a more compact generator from the River 2 series with less energy capacity but more portability.
EcoFlow's most popular solar panels are portable. They come with a carrying case and built-in multidirectional stand so you can place them on the ground and quickly maximize the angle to capture the most sunlight during the day. 
Rigid solar panels are designed for permanent rooftop installations and offer you the opportunity to generate power even when you're on the move.
Lastly, flexible solar panels can be installed just about anywhere and integrate well with rigid solar panels to maximize solar energy capture on your RV.
Final Thoughts
There has never been a better time to outfit your RV with a state-of-the-art solar generator. Recent technological strides have significantly reduced the price of solar technology and the need for gas-guzzling generators that leave a massive carbon footprint. Today's solar generators are small but astonishingly powerful and reasonably priced as a long-term investment.
With more options than ever, finding the generator you need to power your RV lifestyle is within easy reach.