Planning an event can be a stressful experience — even if you're a professional. It can be overwhelming, from organizing guests to finding a suitable location. The last thing you need to add to that stress is anxiety over how you will keep the power flowing to everything you need. Thankfully, solar generators have come a long way. With the right generator at your event, you'll have no problem keeping your event going for as long as you need.
The tricky part, however, is knowing which solar generator is the right one for you. Not all generators are suitable for events, and ensuring you're clued up on the varying pros and cons is integral to making an informed purchase.
That's exactly what this guide is for — we'll take you through our top five picks of solar generators specifically for events. We'll also include a little buyer's guide at the end, so by the end, you'll feel completely prepared to make the best purchase to suit your needs.
5 Best Solar Generators for Events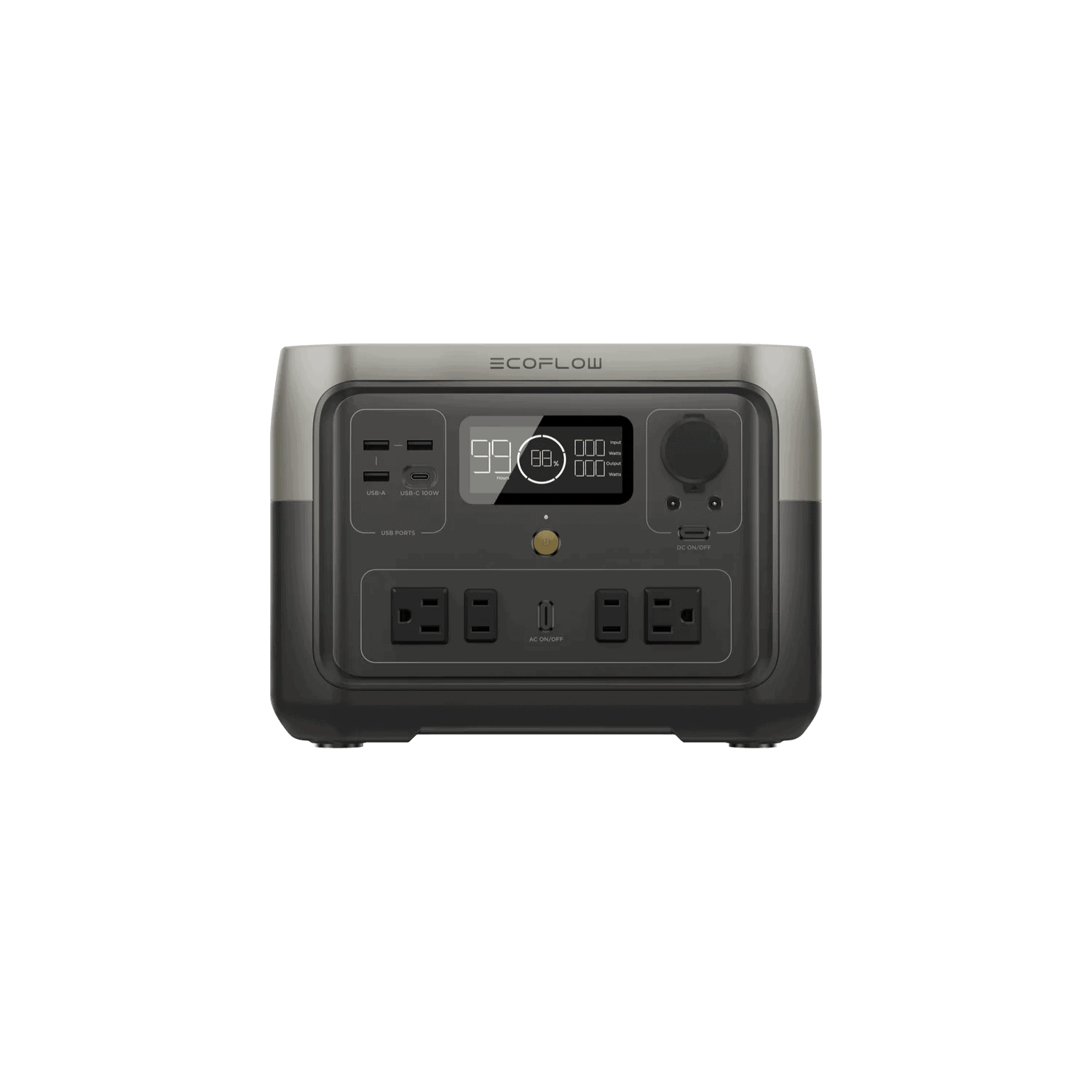 To kick off our list, we're going to start with the EcoFlow River 2 Max. This generator provides the lowest power capacity of any others on our list, but that doesn't mean you should write it off. The River 2 Max is a highly dependable device; it may just be all you need!
With a power capacity of 512Wh, it packs enough punch to keep essential appliances for a smaller event running. You can use it for intimate gatherings, like a small wedding or a family reunion.
Thanks to its smaller size, it's also highly portable, which makes it perfect for events held off the grid.
Specifications
Capacity: 512Wh
Weight: 13.4 lbs (6.1 kg)
Dimensions: 10.6 x 10.2 x 7.7 in (270 x 260 x 196mm)
AC Output: 500W
Car Power Output: 126W
Solar Charge Input: 220W
Cell Type: LiFePO4
Life Cycle: 3000 cycles to 100% capacity
Pros
Reaches full charge in an hour
Relatively compact size, perfect for events that don't have access to immediate power
Multiple USB ports are available to charge up to several devices at once
Suitable for powering speakers, microphones, laptops, TVs, and more
Cons
Limited to small-scale events or powering devices that don't exceed 512Wh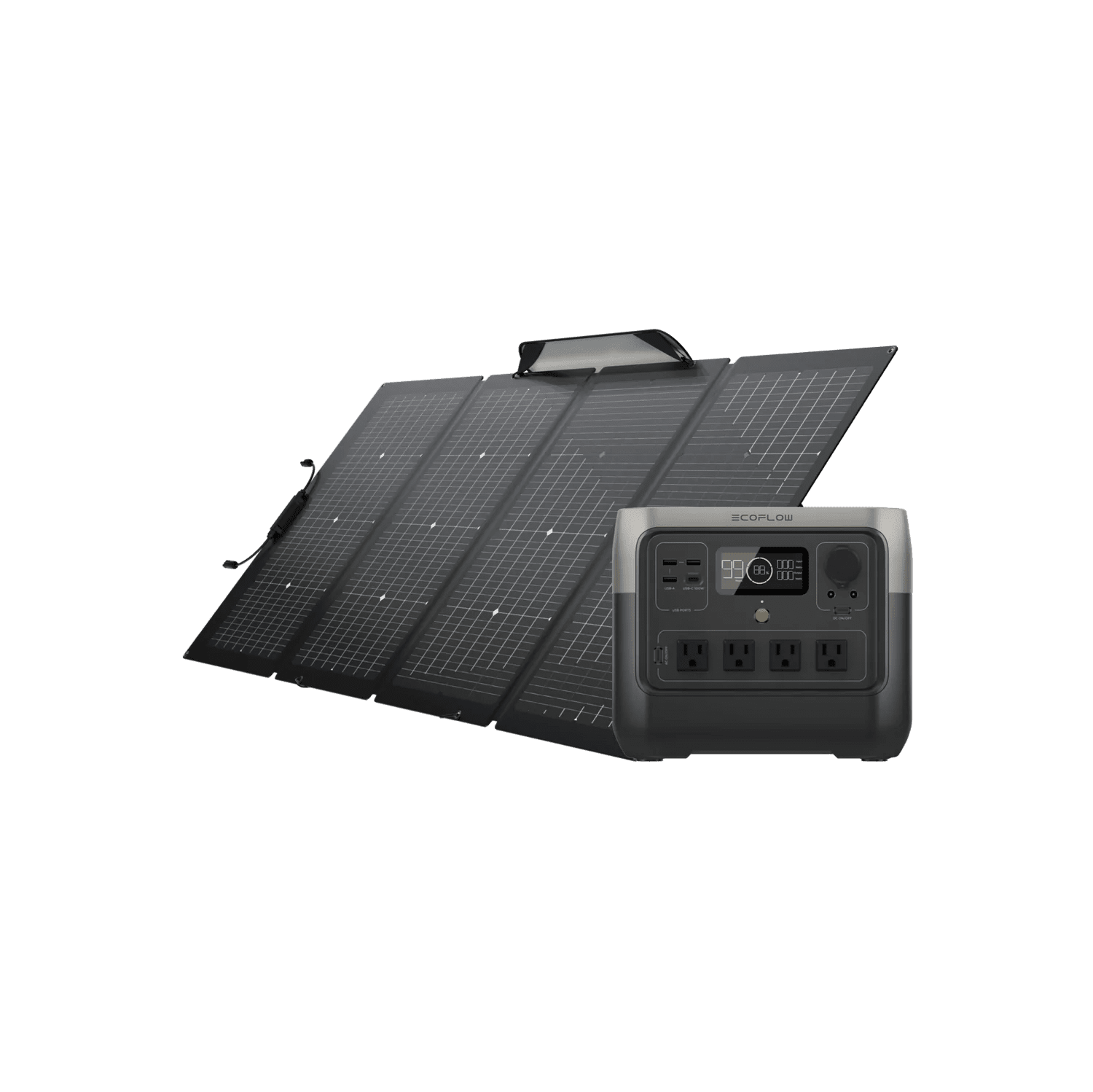 Moving slightly up the power scale, we have another release from EcoFlow in their River 2 range. This time we're looking at the Pro. It is similar to the River 2 Max in many ways. Namely, the Pro is still a highly portable generator. It weighs a bit more than the Max but achieves a higher power capacity. If you felt impressed by the Max but were concerned that it might not have enough juice to keep your event going, the Pro could be the answer.
Right out of the box, the Pro comes with a quick-start guide to get you up and running in no time. The AC output sits at 800W, providing numerous USB ports to connect and charge multiple appliances. It's also a durable device, so if you regularly hold events, you can expect the River 2 Pro to last for years of successful gatherings.
Specifications
Capacity: 768Wh
Weight: 17.2 lbs (7.8 kg )
Dimensions: 10.6 x 10.2 x 8.9 in (270 x 260 x 226 mm)
AC Output: 800W
Car Power Output: 126W Max
Solar Charge Input: 220W Max
Cell Type: LiFePO4
Life Cycle: 3000 cycles to 100% capacity
Pros
Easy to set up thanks to the accompanying quick-start guide
Reaches full charge within the hour
Impressive power capacity while remaining highly portable
Powerful enough for large appliances and tools
More power in a more compact frame
Cons
Currently only available for sale in the US contiguous states (not Alaska or Hawai'i)
If the River 2 generators don't pack enough power capacity to meet your needs, it may be time to change tack entirely. A higher energy capacity is where the DELTA range of generators shines. The DELTA range is exceptionally powerful, with even the 'basic' model boasting a substantial 1260Wh capacity and an AC output of 1800W. That's enough power to run an electric grill or air fryer for an hour—perfect for cookouts! It even provides a surge as high as 3300W. Those are impressive figures, and this is just the starting point.
Of course, given the significant power upgrade, there is also a leap in size. The DELTA generator is much heavier than any of the River 2 releases. It's almost double the weight of the River 2 Pro, sitting at 30.9lbs (14kg). Still, the weight doesn't need to be a deal-breaker. If you're running a larger event, portability isn't that big of an issue. Your priority should be having enough power to keep the party going, and that's precisely what DELTA can provide.
Specifications
Capacity: 1260Wh
Weight: 30.9lbs (14.0kg)
Dimensions: 15.7 x 8.3 x 10.6in (40 x 21 x 27cm)
AC Output: 1800W (Surge 3300W)
Car Power Output: 108.8W Max
Solar Charge Input: 400W Max
Cell Type: Lithium-ion
Life Cycle: 800 cycles to 80% capacity
Pros
High-capacity device with 1260Wh for running electric grills, air conditioners, and more
Reaches maximum re-charge in just ninety minutes
Six USB ports and a car-charging port lets you charge up to 13 devices at once
Suitable for large-scale events like cookouts, outdoor weddings, and more
Cons
Heavier weight means less portability
If you still feel like you need some extra power, the DELTA Max takes it to the next level. This generator packs a serious punch with a power capacity of 2400W and a surge of 5000W. It is designed with high-energy usage electronics in mind, precisely what you need when running an event. From large speakers to projectors, numerous lighting sources, and more — you need to keep the event going, and the DELTA Max provides the power to do just that.
At 48lbs (22kg), the DELTA Max is undoubtedly a large unit, but that's the price you have to pay for this level of power. It also possesses six AC power outlets and six USB ports for maximum connectivity. You can hook just about anything up to this generator, and it'll keep you going for longer.
It's highly durable, largely thanks to its size and weight, made from high-quality plastic and metal. There's also a handy carrying handle. Even though the weight restricts its portability somewhat, you can still move it relatively easily.
Specifications
Capacity: 2400W (Surge 5000W)
Weight: 48lbs (22.0kg)
Dimensions: 19.6 x 9.5 x 12in (49.7 x 24.2 x 30.5cm)
AC Output: 2400W (Surge 5000W)
Car Power Output: 126W Max
Solar Charge Input: 800W Max
Cell Type: Lithium-ion
Life Cycle: 800 cycles to 80% capacity
Pros
Exceptional power capacity of 2400Wh
Designed to keep high-demand electronics running for longer
The dual charging feature makes recharging the generator exceptionally fast for a device this size
Supplies power for outdoor performances, BBQs, tailgate parties, and more
Multiple charging options
Cons
Not water-resistant, so if it rains on your event, you'll want to move it to a dry area for safekeeping — or purchase the water-resistant DELTA Max case
Last on our list, and by far the most powerful, we have the DELTA Pro. This generator has the largest power capacity of any release from EcoFlow, with a total of 3600Wh that can extend to an exceptional 10.8kWh with assistance from a second battery. The DELTA Pro is the ultimate device for a professional event.
There are four 20A AC sockets, a single 30A AC socket across the panel, and six USB connectors. Along the side panels are two 12V DC5521 sockets and a 12V car outlet. In short, you'll have no problem keeping everything you need powered.
In terms of size, this generator is substantial. It weighs 99lbs (45kg), but two wheels at the back of the generator enable it to be moved like a heavy suitcase. This added mobility makes moving it around during preparation for your event so much easier. The device's size is a small price to pay for the power provided.
Specifications
Capacity: 3600Wh (Expandable to 10.8k Wh)
Weight: 99lbs (45.0kg)
Dimensions: 25 x 11.2 x 16.4in (63.5 x 28.5 x 41.6cm)
AC Output: 3600W (Surge 7200W)
Car Power Output: 126W Max
Solar Charge Input: 1200W Max
Cell Type: Lithium-ion
Life Cycle: 3500 cycles to 80% capacity
Pros
Super high power capacity makes it the best option for large, professional events
Able to connect to both WiFi and Bluetooth
A second battery increases power output
Additional solar panels can increase charging speeds
Cons
Significantly heavy
Takes longer to charge when making use of the second battery
What to Look for in a Solar Generator for Events
So, now we've taken you through our top five recommendations, let's talk about purchase criteria. Listed below are some key attributes we believe you need to consider before committing to a generator for events, small or large.
Power Capacity
The top criteria to pay attention to when purchasing a generator is the capacity, as it will entirely dictate what you can power and how long it can sustain your devices. It is measured in wattage. The higher the wattage, the more high-demand appliances your generator will be able to power for longer.
If you know you're going to need to power your event for an extended period, you should try to invest in a generator with a significant power capacity. We would recommend the DELTA range for this.
Functionality
There are limits to how much a solar generator can power at any given time, even if it possesses a significant power output. This is because of limited connectors, USB or otherwise. Before purchasing your solar generator, it's crucial to estimate how many appliances you need to keep running at any one time.
For some events, you can simply connect your generator to a centralized electrical panel. If this isn't an option for you, numerous outlets and USB connectors should be a priority.
Size and Weight
You need to think about how often you may need to move your generator and how easy that will be. As demonstrated with the DELTA Pro, even portable solar generators can get pretty heavy.
If you need to move your generators frequently throughout the event, it would be wise to use a smaller device. It may not pack as much power, but it will save you a lot of stress when the day comes.
Noise Level
Since they are constantly running and redistributing energy to your chosen devices, fossil-fuel-powered generators can get pretty loud. Depending on the event you're hosting, this could be very disruptive.
No one wants to have a fossil-fuel-powered generator overpowering their wedding vows or making your guest speaker contend with the whirring of a loud generator — not to mention the noxious fumes.
Solar generators avoid this problem altogether.
Battery Duration
Last on our list of criteria. You need to be aware of how long your generator will last. Sometimes, solar generators can provide a significant power output, but if they can't go the distance, they won't prove very useful to you.
You need to ask yourself two questions: 1) Do you require continuous power or just the occasional backup? 2) How long do you expect the event to last?
If you need continuous power for a larger appliance, like a projector or a large sound system, you'd do well to look for a model with a higher capacity. You can also extend the capacity with batteries to pack more power in one, like the DELTA Pro.
Conclusion
No matter what kind of occasion you are celebrating, staying connected and keeping everything up and running is of paramount importance. Depending on your power needs, any of our recommended generators are more than capable of helping you achieve that goal. Shop EcoFlow today for high-capacity, reliable generators that will keep your intimate gatherings and large-scale shows powered without fail.