Apartment owners and renters are becoming increasingly aware of how much energy they use and how much it costs. While it may seem that only homeowners can benefit from solar energy, that's not true.
If you live in an apartment, you can still receive the benefits of solar generators, including reduced utility costs and less reliance on the grid. With power outages becoming increasingly common across the nation, these compact solar generators and portable power stations are becoming necessary no matter where you live.
Solar generators can supply sufficient energy for your apartment's energy backup needs, and because they don't produce toxic emissions like fossil fuel generators, they can safely operate indoors.
Whether you're a landlord looking to install solar systems in your complex or a renter who wants an alternative to outlast the latest blackout, many great options are available.
Here, we cover the best solar generators for apartments and what to look for when making a purchase decision.
4 Best Solar Generators For Apartments
Below, you'll find the best solar generators available for apartments in 2022. We'll tell you its benefits and discuss the pros and cons of each. That way, you know exactly what you can expect from each product.
1. Ecoflow DELTA Pro + 400W Solar Panel
With its massive capacity of 3600 Wh, the Ecoflow DELTA Pro with a 400W portable solar panel is the most powerful solar generator for apartments. And if that's not enough to satisfy your power-hunger, you can expand it up to 25k Wh with Delta Pro Smart Batteries. This solar generator is perfect for handling appliances and devices such as your refrigerator, heater, lights, TV, and computer.
The DELTA Pro delivers the most innovative LFP battery technology, guaranteed for at least 6500 charge cycles. Ecoflow's X-Stream charging technology lets you charge the entire system from an AC wall outlet in just 1.8 hours!
The 400W solar panel has a foldable and portable design, letting you save space. Whether you live in a one-bedroom apartment or a 3-bedroom loft, you don't have to worry bout the DELTA Pro taking up valuable space. It will easily fit on any balcony, fire escape, or roof.
The unit features a multi-segment LCD screen displaying all the relevant statistics, such as input and output power, recharging time, activated sections, and other working states of the battery system. Pairing the generator with the EcoFlow app lets you monitor and control the entire system from your smartphone.
Specifications
Capacity: 3600Wh up to 25kWh
Weight: 99 lbs (45kg)
Dimensions: 25 x 11.2 x 16.4 inches (63.5 x 28.4 x 42 centimeters)
Battery Type: LFP
Battery Life Cycle: 6500 cycles to 80+ capacity
AC Outlet Charging Time: 1.8 hours
Solar Panel Charging Time: 4 to 8 hours
Pros
A large battery and inverter capacity supplies the entire apartment with energy
Bluetooth and WiFi connectivity enables remote control for your solar system
Fast recharging for areas with frequent outages
Cons
Quite heavy — not ideal for taking up and down the stairs if you expect to move it often
2. Ecoflow DELTA Max + 400W Solar Panel
The DELTA Max with the 400W solar panel is a robust solar generator at half the weight of the DELTA Pro.
At 2016Wh, it can charge a laptop over 60 times, power a full-sized refrigerator for nearly two days, and run a 32-inch LCD television for almost three days. This figure could potentially triple by expanding the capacity with an extra battery!
With its 3,600W dual charging capabilities and X-Boost technology, you can fully charge the DELTA Max quickly. Plugging it into an AC wall outlet can achieve a full charge in just 1.8 hours!
The EPS Mode will allow the DELTA Max to start up automatically if your primary power source fails. Whether you're concerned about natural disasters or occasional power outages, this is your solution for emergency preparedness.
Specifications
Capacity: 2016Wh up to 6000Wh
Weight: 48 lbs (21.8kg)
Dimensions: 19.6 x 9.5 x 12 inches (49.8 x 24.1 x 30.5 centimeters)
Battery Type: Lithium-ion
Battery Life Cycle: 800 cycles to 80%+ capacity
AC Outlet Charging Time: 1.8 hours
Solar Panel Charging Time: 3.2 to 6.3 hours
Pros
Plenty of available output options to charge all your home electronic devices
Strong power output and battery capacity that can run large appliances
Offers an emergency supply mode
Fast dual-charging capability
Cons
3. EcoFlow DELTA + 160W Solar Panel
If you're searching for a compact solar generator that can last you for many hours, then the EcoFlow DELTA with a 160W solar panel is what you need.
Despite its compact and lightweight design, the DELTA has an impressive 1,260Wh capacity. That's enough to charge portable electronics like laptops, tablets, and smartphones, along with providing power to more demanding electronic appliances like refrigerators, blenders, air conditioners, toasters, and oscillating fans.
In addition to the high-capacity battery, you get high-end features, including 13 output ports, a fast recharge rate, a crystal-clear LCD screen, a 12V DC carport, and AC power.
The DELTA can fast-charge from 0-80% within an hour when connected to a wall outlet. And with solar panels, you can expect a full charge within four to eight hours. These fast-charging times help you keep your generator powered, giving you the power you need when you need it.
On top of all that, DELTA weighs only 30.9lbs compared to similar units that weigh over 50lbs, so it can also be considered a highly portable solar generator.
Specifications
Capacity: 1260 Wh
Weight: 30.9 lbs (14kg)
Dimensions: 15.7 x 8.3 x 10.6 inches (40 x 21 x 27 centimeters)
Battery Type: Lithium-ion
Battery Life Cycle: 800 cycles to 80%+capacity
AC Outlet Charging Time: 1.6 hours
Solar Panel Charging Time: 4 to 8 hours
Pros
An efficient power inverter with excellent surge protection
Affordable price
1260Wh deep cycle battery means sufficient backup for outages
Backed by a 2-year warranty
Cons
The internal fan can be noisy since it's a small but powerful unit.
4. Ecoflow River 2 Pro + 220W Solar Panel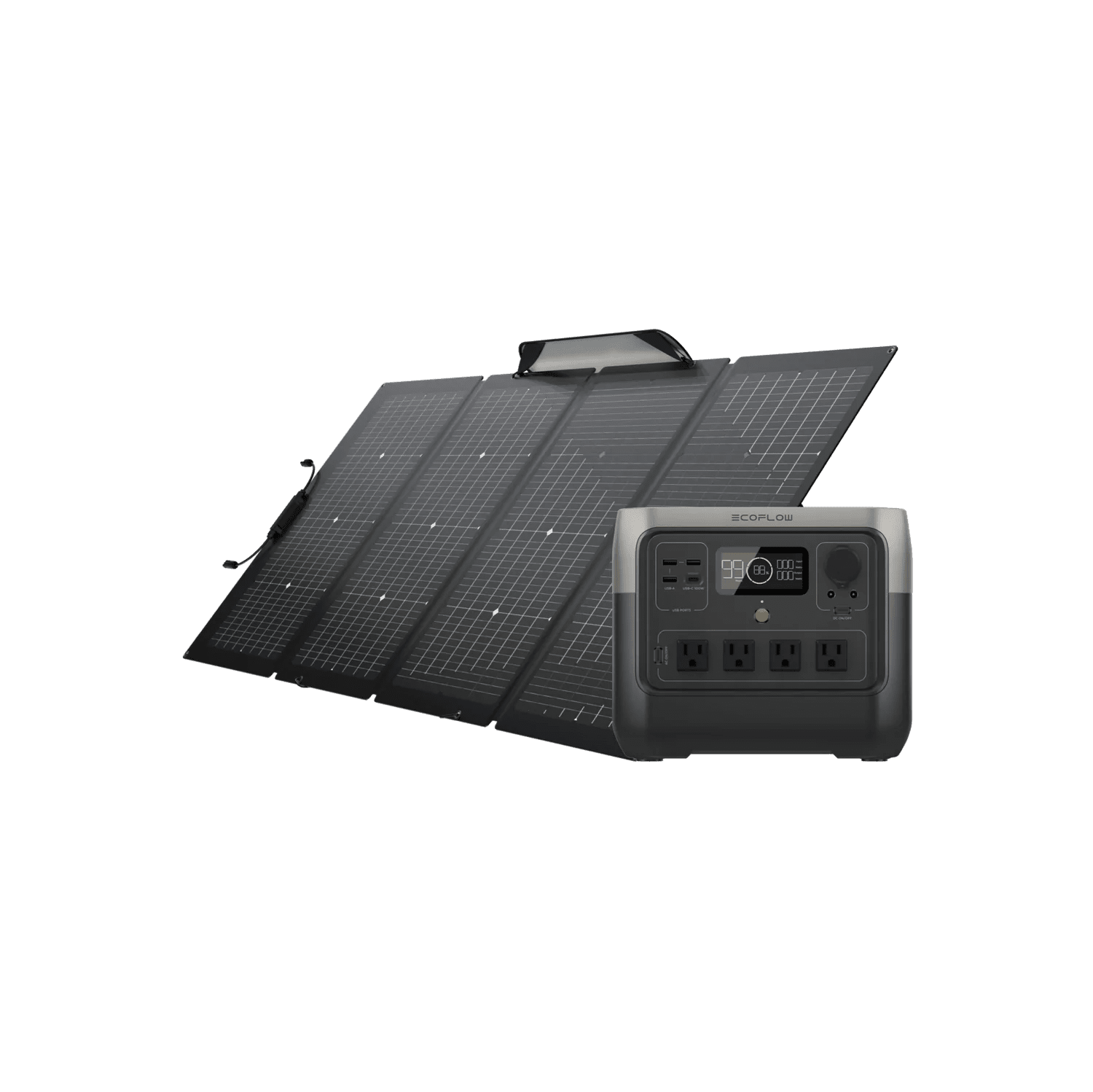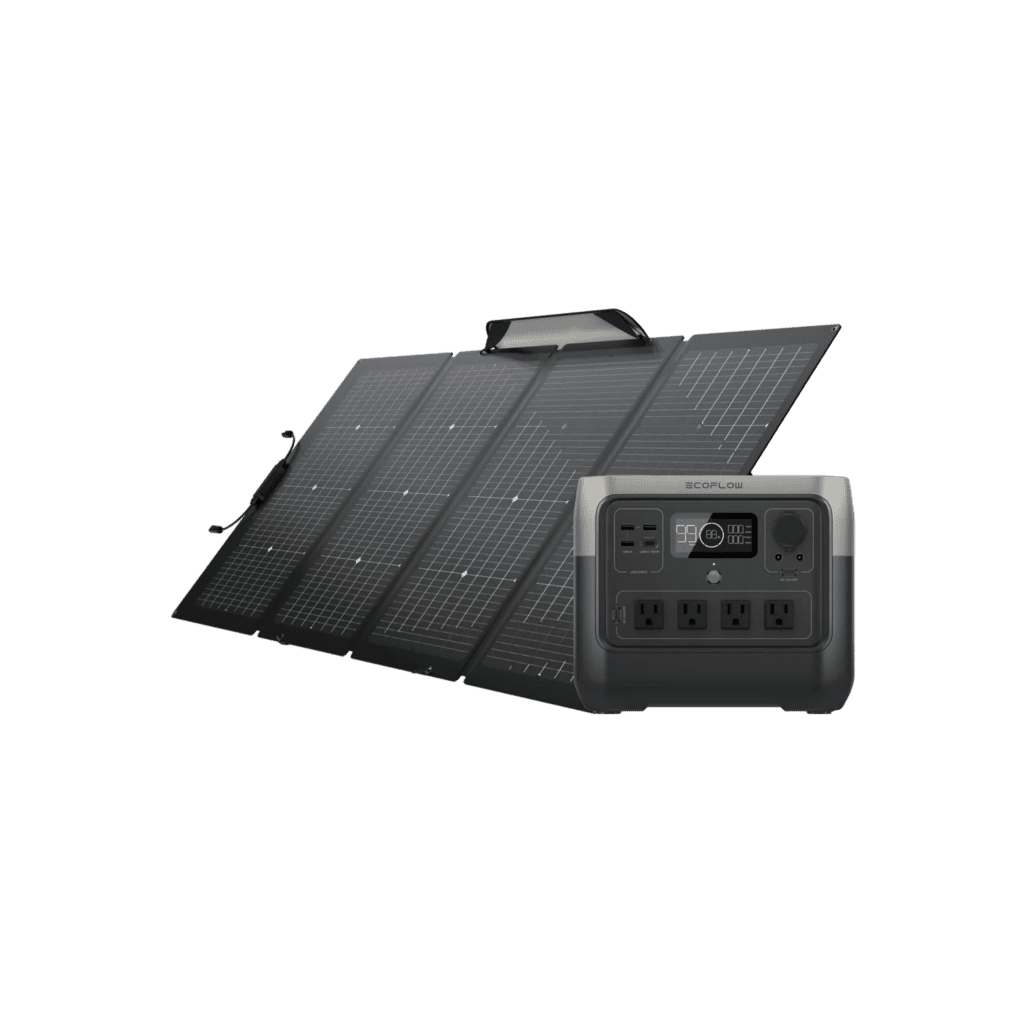 The EcoFlow River 2 Pro with a 220W solar panel offers portability and convenience without compromising power. It's the ideal solution for studios and one-bedroom apartments with limited space.
With a 768Wh capacity, it's still a robust device, capable of charging multiple devices at once. Use it to run your coffee machine, hair dryer, television, and refrigerator.
Recharge the power station from zero to 100% in just 70 minutes. Innovative technology also lets you fully recharge with a 220W foldable and portable solar panel in as fast as 3 hours. You can also monitor the charging status of the Ecoflow River 2 Pro solar generator via a dedicated phone app.
Specifications
Capacity: 768Wh
Weight: 17.2 lbs (7.8kg)
Dimensions: 10.6 x 10.2 x 8.9 in (270 x 260 x 226 mm)
Battery Type: LFP
Battery Life Cycle: 3000 cycles to 80%+ capacity
AC Outlet Charging Time: 70 minutes
Solar Panel Charging Time: 3 hours
Pros
Compact size yet packs a large power output suitable for smaller apartments or studios
X-Boost technology powers large appliances up to 1600W
Charges 0 to 100% in 70 minutes
Lots of handy outlets
Cons
Limited capacity for more energy-hungry appliances
What to Look for When Buying Solar Generators For Apartments
Various factors impact what solar generator is suitable for your apartment. Here are some things you need to consider to choose the best solar generator for your needs.
Battery Capacity
A solar generator's battery capacity measured in watt-hours determines how much energy it can store. Knowing the capacity can help you determine which appliances you can run and for how long.
Take the EcoFlow DELTA, for example. With a 1260Wh capacity, it can technically run a 110W television for 11 hours: 1260 watt-hours / 110 watts = 11.45 hours.
However, the 110W for the television is its continuous capacity, i.e., the amount of electricity it needs to run continuously. You also have to factor in the surge capacity since turning on any device will use more electricity than keeping it running.
With the surge capacity included, the EcoFlow DELTA can run a 110W TV for up to 8 hours.
Wattage
When choosing a solar generator, you must consider how much wattage your apartment needs. An average one or two-bedroom apartment typically requires 20-30kWh per day.
To calculate your electricity use, you can check your electric bill or tally the wattage requirements for your home's various essential appliances and devices.
Number of Ports
A portable solar generator's number of ports will determine how many devices it can charge at once. Look for models with many ports available if you plan on charging several devices simultaneously.
Portable generators with USB ports should have at least one or two ports, but some models offer four or even five. Also, don't forget to look for a USB-C port if your devices require it.
When using solar power for apartments, you'll want as many ports and USB connections as possible to facilitate charging many devices at once.
With many EcoFlow solar generators, you can simultaneously power up to 13 devices.
Battery Durability
The quality of your solar generator's battery will also affect its long-term viability.
You can estimate the durability of a solar generator by the number of cycles the battery can withstand. With the EcoFlow DELTA Pro, you get 6500 cycles before it reaches 50% capacity—that means the DELTA Pro will hold up for years of use.
Modes of Charging
A high-quality solar generator should have many charging options. Most solar generators have AC charging options — you can charge them from a standard wall outlet when sunlight is insufficient.
Solar panels are the off-grid charging option. The amount of light exposure and the weather determine how long your generator takes to charge with solar energy.
Finally, some generators include a car adaptor port, ideal for taking your solar generator with you on travels or for extended, city-wide outages when your vehicle might be the only power option.
Solar Panel Placement and Portability
Every apartment is unique in where you can place the panels. For some, hanging a panel in the window can be an option. For others, the balcony, roof, or fire escape may be a viable option.
Solar generators and panels with portability are ideal for apartment use. You can quickly move the generator and panels to the optimal place to capture the most sunlight if necessary.
Recharge Time
Recharge time indicates how long your solar generator battery takes to recharge. AC power via wall outlets tends to be the fastest way to recharge a solar generator.
If the weather is cloudy and you don't have direct sunlight, you may need a few days to charge some generators fully. With EcoFlow, you can expect your solar generator to recharge using solar panels within 4-8 hours.
Remember that sun exposure determines partially determines the efficacy of solar panels. Take this into account when calculating capacity and power requirements. If you plan to use the solar generator for mobile devices, lights, and a TV for several days, ensure the capacity and charge rate will provide the power you need.
Although many models are capable of supplying power while charging, this will increase charging time, and you may be consuming energy faster than your battery can recharge.
Warranties
It's vital to look for generators that have component warranties. In particular, solar panels subject to rigorous conditions must be able to handle inclement weather. The best manufacturers will provide at least two-year warranties.
At EcoFlow, you can receive warranties for as long as 36 months.
Solar Panel Compabitility
If you're buying solar panels for a generator, make sure they're compatible. Some solar panels don't work with all generators. Whether your generator package includes a solar panel or not, knowing what to look for when shopping for a kit or upgrading the system is helpful.
The user's manual should provide information about the type of solar panels you need and the maximum voltage and wattage they will support. It's possible to damage a generator using the wrong solar panel – or simply be unable to recharge.
You should review the solar panel and generator documentation to ensure the power output is not too high for the generator's input capacity.
EcoFlow solar panels offer universal compatibility, ensuring you can pair them with your EcoFlow portable power station or another generator.
EcoFlow Portable Solar Panels
EcoFlow Solar Panels are the best option for apartment tenants. Built from lightweight monocrystalline silicon, these panels maximize energy absorption and help capture as much sunlight as possible. In particular, the Ecoflow 220W Solar Panel is double-sided, meaning you can collect 25% more energy than most other panels.
These panels use an industry-standard solar connector compatible with EcoFlow generators and other manufacturers' products.
FAQs
Here are common questions about solar energy for apartments.
What Are the Common Types of Solar Panels for Apartments?
The most common types of solar panels for apartments are monocrystalline and polycrystalline panels. Each varies in performance, appearance, cost, build quality, and installation. 
Monocrystalline panels are most likely the best option for apartment dwellers. These single crystal panels have the highest conversion efficiency, meaning they can produce more kW per hour of electricity. 
That's because the single silicon crystal gives flexibility and allows electrons to move more freely. Also, it has higher heat resistance, so it's less affected by high temperatures. The downside is that it's more expensive than other panel types. 
Polycrystalline panels have multiple silicon crystals, which reduces efficiency since it gives the electrons less flexibility to move. However, polycrystalline panels tend to be more affordable since the manufacturing process is more straightforward. 
Why Do You Need Solar Panels for Your Apartment?
Renters can receive the same benefits from solar electricity as homeowners. They'll save money on electric bills, reduce your carbon footprint and even make you eligible for tax incentives. 
Solar panels provide a clean and renewable energy source that helps support the Earth's ecosystem by reducing carbon emissions. Solar panels can be hung in windows or placed on balconies for apartments, making these solar systems accessible to individual tenants. Using renewable energy to cut electric bills is especially useful on the higher rate summer days. Furthermore, they are an ideal backup power source to keep your lights during power outages. 
As an apartment dweller, you most likely pay whatever the electricity costs are in your geographic location. For example, certain states like Hawaii, California, Alaska, and Connecticut pay more per kilowatt than most other states. By choosing to go green, you won't have to worry about the electricity rates in your state. 
Conclusion
There are a variety of benefits to using solar generators for your apartment.
By understanding what to look for and the differences each generator offers, you can find the best generator that suits your power consumption needs.
EcoFlow offers the most affordable and robust solutions for using solar power in your apartment. All the products are easy to install and capture maximum sunlight for renewable energy.
EcoFlow's solar generators offer clean energy, fast charging, and maximum efficiency to power up your apartment.Shop our solar generators today!