As more and more people turn to RV travel for their vacations — or as a way of life — the need for reliable, off-grid power sources has never been greater. Portable solar panels are an excellent option for RV owners who want to enjoy the freedom and flexibility of off-grid living while minimizing their environmental impact and energy costs.
There are an endless amount of RV solar panels on the market. We have narrowed down the choices to four panels, each with varying rated power outputs and use cases.
If you're living the RV or van life full time, you may need to explore alternatives to portable solar panels — we've got that covered too.
Read on to find out more!
EcoFlow's Top Portable Solar Panels for RV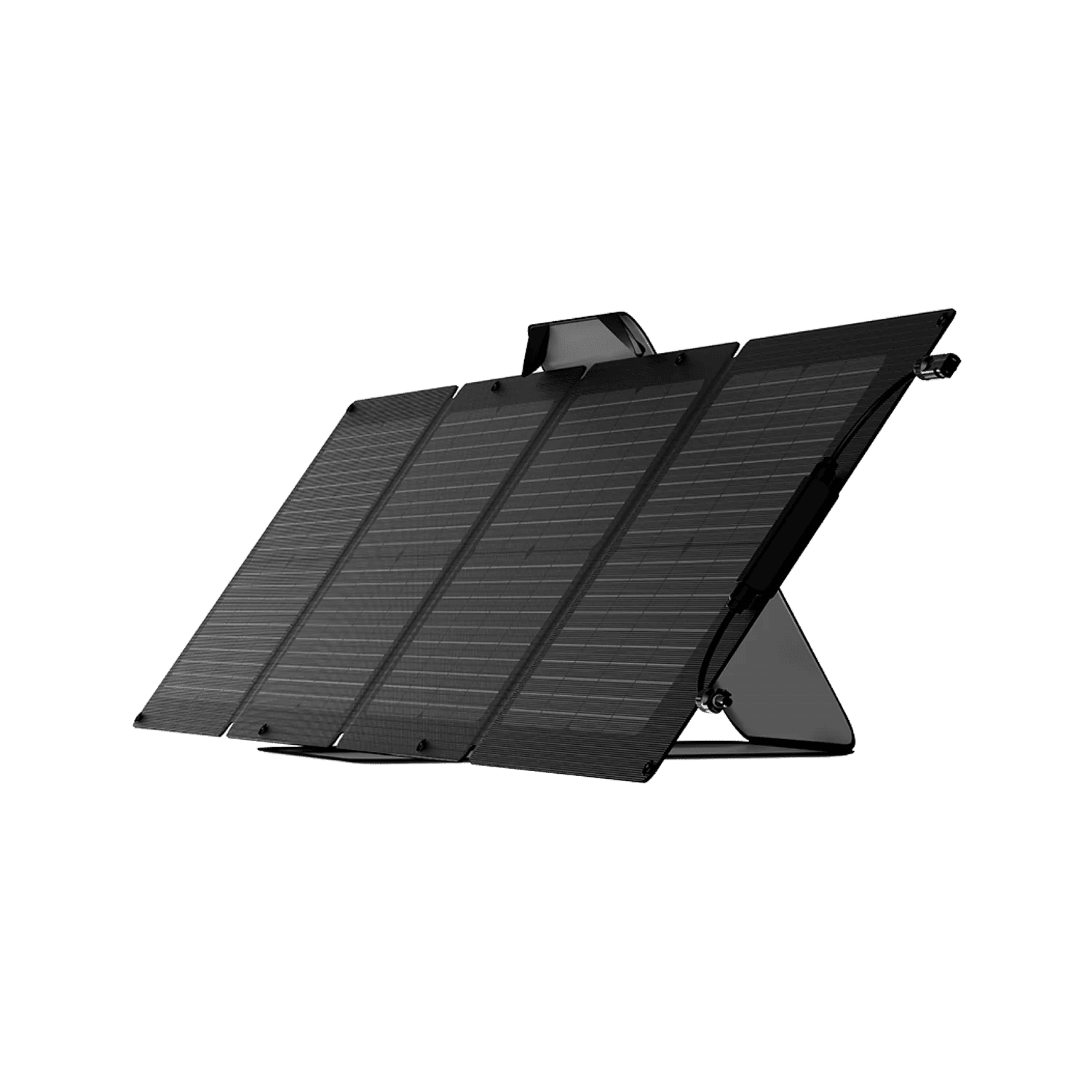 The EcoFlow 110W Portable Solar Panel is the perfect entry point into off-grid solar power. With a rating of 110W, it provides enough power for your weekend trips or daytime adventures.
A 110W panel can provide enough energy to charge phones, power several LED lights, and perform other light tasks. Just don't expect it to power a hair dryer while you're out in the woods!
It's the lightest panel on our list at only 8.8 lbs (4 kg). Folding down to just 2.3 sq. ft. (0.214 M2) and fitting in an included carrying case, you can't beat the portability of this panel.
Like the other portable panels mentioned here, it comes with a kickstand that allows you to adjust the panel's angle. You can quickly position it for the optimal solar panel orientation to follow the sun's trajectory and maximize light exposure.
Specifications
Weight: 8.8 lbs (4.0 kg)
Unfolded Dimensions: 20.2 x 62.5 x 0.8 in (178.5 x 42.0 x 2.5 cm)
Folded Dimensions: 20.2 x 16.5 x 0.8 in (42.0 x 48.0 x 2.5 cm)
Rated Power: 110W (±5W)
Open Circuit Voltage: 21.8V (Vmp 18.4V)
Pros
Lightweight and portable at just 8.8 lbs (4 kg)
Enough power for light use, such as powering smartphones, laptops, and other small devices
Kickstand case allows for optimal orientation and tilt
One of the most affordable portable solar panels on the market
Cons
Low rated power output is insufficient for the demands of larger appliances
The EcoFlow 160W Portable Solar Panel can generate around 50% more power than the previous size. It's great for weekend trips, especially if you travel with family and friends.
Weighing only 11 lbs (5 kg), this 160W portable PV panel is still lightweight and portable. It's incredibly light compared to rigid solar panels with similarly rated power wattage.
This panel should be able to keep up with light usage from multiple people, including laptops, phones, and other small devices. The included carrying case doubles as a kickstand for the unfolded panel. This kickstand allows you to adjust the angle to find the optimal tilt, which maximizes your panel's efficiency.
This 160W panel would pair well with a small portable power station like the RIVER 2 Max. Assuming an average of 4-5 peak sun hours daily, the panel could fully charge a 600-700Wh battery in one day.
Specifications
Weight (Solar Panel Only): Approx. 11.0 lbs (5.0 kg)
Weight (with Kickstand Case): Approx. 15.4 lbs (7.0 kg)
Unfolded Dimensions: 26.8 x 61.8 x 1.0 in (68 x 157 x 2.4 cm)
Folded Dimensions: 26.8 x 16.5 x 1.0 in (68 x 42 x 2.4 cm)
Rated Power: 160W (±5W)
Open Circuit Voltage: 21.8V (Vmp 18.4V)
Pros
50% more rated power output than the 110W model
Charges a 600-700Wh battery in a day
Lightweight at only 11 lbs (5 kg)
Cons
Keeps up with basic tasks but can't support high-wattage appliances for an extended period
The EcoFlow 220W Bifacial Portable Solar Panel uses bifacial technology to capture sunlight from both sides of the panel. This results in up to 25% more energy output than traditional solar panels. It also helps maximize ambient sunlight on cloudy and rainy days.
The additional photovoltaic cells in a bifacial panel make it an excellent portable choice for boondockers and RVers taking extended trips.
Its lightweight, foldable design makes this solar panel easy to transport and set up, making it ideal for on-the-go activities like camping or boating.
The panel's durable materials and weather-resistant IP68-rated design ensure reliable performance in all weather conditions. It includes a kickstand and adjustable straps for versatile and stable mounting. Like EcoFlow's other portable solar panels, you can quickly adjust the tilt to follow the sun as it moves across the horizon.
One of the main benefits of this 220W PV panel is its 23% conversion efficiency. It also captures both direct and reflected light. The bifacial technology ensures it can generate power even in low-light conditions, making it a reliable and efficient all-weather solar panel.
Specifications
Weight (Solar Panel): Approx. 20.9 lbs (9.5 kg)
Dimensions: 32.3 x 72.0 x 1.0 in (82 x 183 x 2.5 cm)
Rated Power: 220W Front Side/155W Rear Side
Open Circuit Voltage: 21.8V (Vmp 18.4V)
Pros
The bifacial design provides 25% more rated power output than comparable single-sided panels
Foldable and lightweight at just 20.9 lbs (9.5 kg)
Features an IP68 waterproof rating for enhanced durability
Cons
Costs a bit more than other panels without a bifacial design
220W output should be sufficient for many applications, but the 400W panel provides almost twice as much power.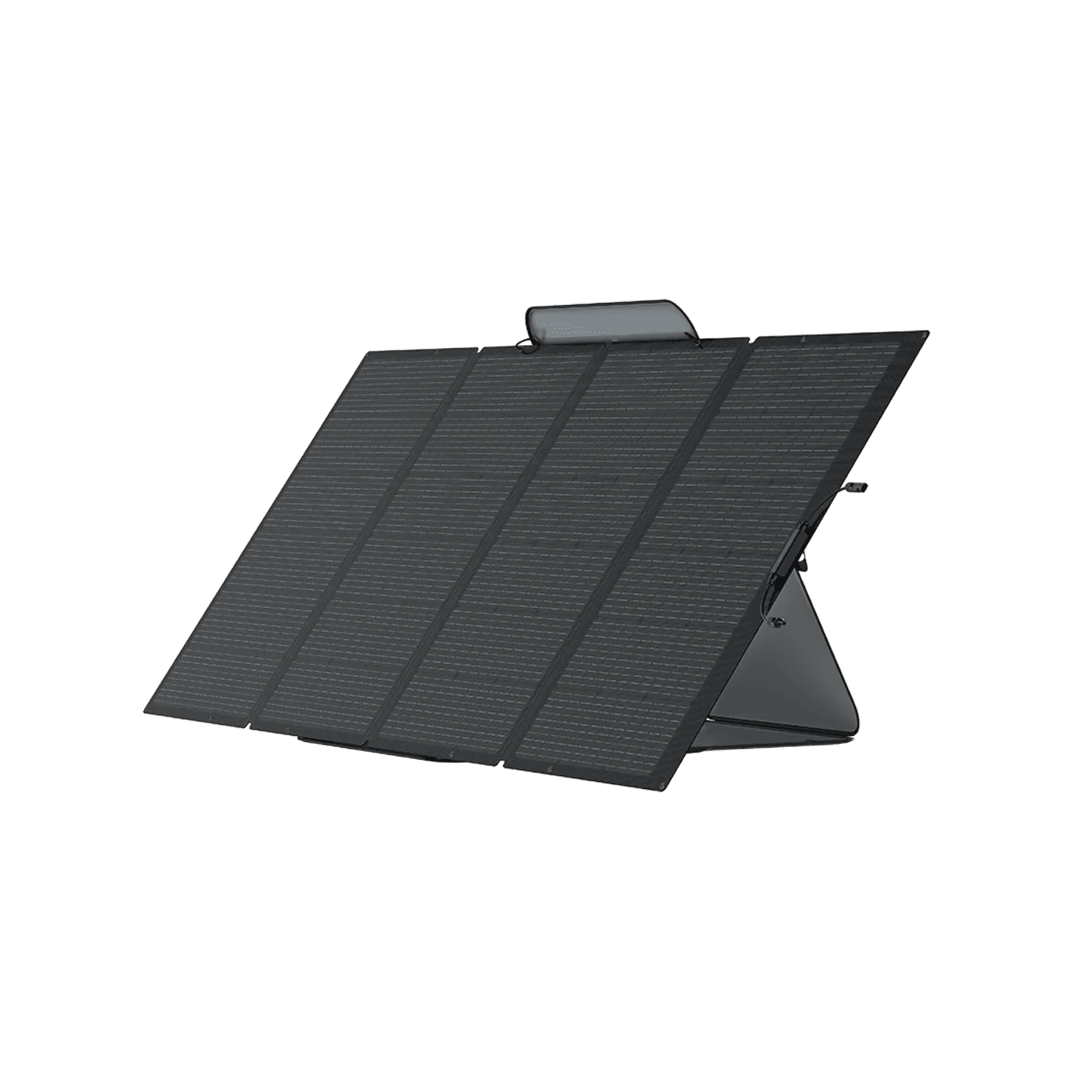 The EcoFlow 400W Portable Solar Panel is the largest panel on our list. However, it remains lightweight and portable for a 400W solar panel. At 35.3 lbs (16 kg) in weight and with the included carrying case, you can quickly move it in and out of an RV.
The high power output of this panel makes it ideal for family trips where everyone wants to charge multiple devices. Additionally, it can provide enough power to keep up with higher-wattage RV appliances.
The 400-watt design keeps things simple — connecting multiple panels with complicated wiring and compatibility considerations is unnecessary. Instead, you can just set up the panel and plug it directly into a portable power station like the DELTA Pro to start gathering clean, renewable solar power.
The DELTA Pro offers 1600W of solar charging capacity. You can chain up to four 400W Portable Solar Panels together, giving you 1600W of rated power.
That's a serious amount of electricity!
This model features the same innovative kickstand case as the other portable solar panels above. You can adjust the panel's angle as needed to maximize efficiency.
Specifications
Weight (Solar Panel Only): Approx. 35.3 lbs (16.0 kg)
Weight (with Kickstand Case): Approx. 41.9 lbs (19.0 kg)
Dimensions: 42.0 x 94.1 x 1.0 in (106.8 x 239.0 x 2.4 cm)
Rated Power: 400W
Open Circuit Voltage: 48V (Vmp 41V)
Pros
Highest output portable solar panel available
Simplicity—rather than wiring multiple smaller panels together, you can just plug and play with this single, larger panel. Or, connect multiple 400W panels to a high-capacity portable power station to achieve true off-grid energy independence.
Cons
Size: With 400W of rated power, this is the largest portable solar panel reviewed here. But the folding case/kickstand makes it easy to transport and set up.
Most expensive panel on the list
Rigid and Flexible Solar Panels for RV Power Kits
When considering solar panels for RV Power Kits, you have two fixed options: rigid or flexible.
Rigid solar panels are best for permanent installation on the roof of an RV or van. You can mount the fixed array with screws or adhesive. Rigid solar arrays are designed for permanent installations, but you can also find portable solar panels (reviewed above) with a similar flat, durable design.
Flexible solar panels, on the other hand, are made of thin-film photovoltaic cells deposited onto a flexible backing material. They're lightweight and easy to mount onto curved surfaces. This makes flexible solar panels ideal for maximizing sunlight capture on RVs and vans with curved roofs and irregular surfaces.
Combining rigid and flexible solar panels maximizes available surface area, and pairing them with EcoFlow's modular Power Kits provides a permanent off-grid power solution for RVs and vans. You can also add portable solar panels to set up wherever you park and a seamlessly compatible Smart Generator Dual Fuel to provide even more off-grid energy security.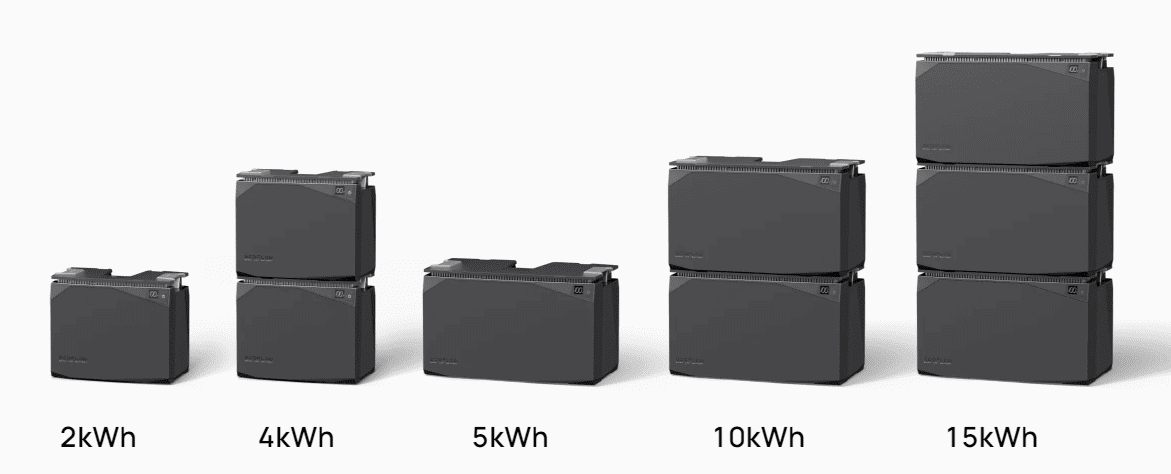 You can customize your Power Kit to meet your unique RV electricity needs by choosing from five LiFePO4 battery options. Check out which option is right for you with this online calculator.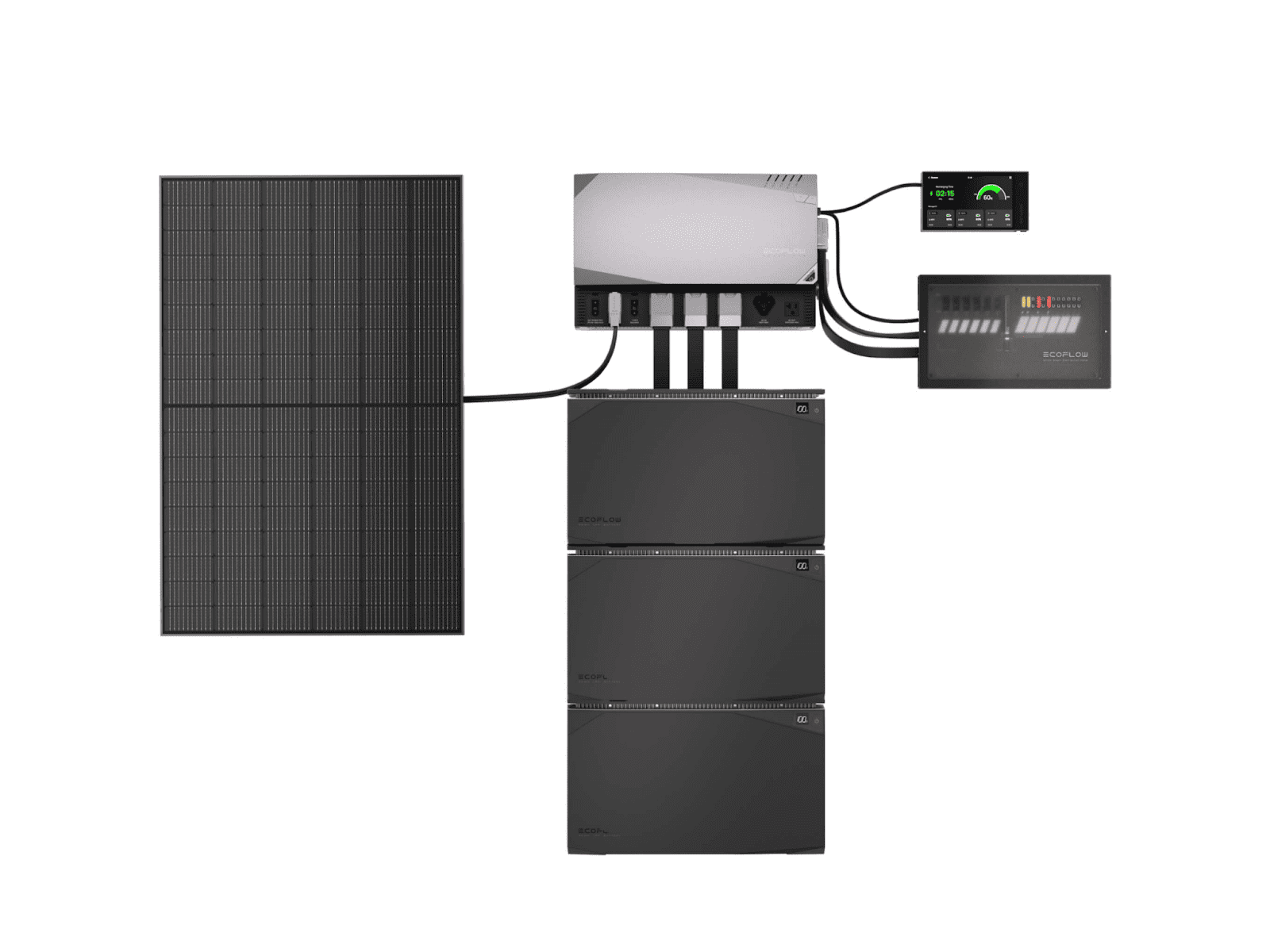 Power Kits include the charge controller, inverter, and up to 15kWh of LiFePO4 solar battery capacity, allowing you to store and use the electricity generated by your solar panels. It's a plug-and-play solution that includes all the balance of system components you need.
Power Kits offer four charging methods:
4,800W of Solar Power Input (Up to 12 x 400W rigid and/or portable solar panels)
1,000W of RV/Van Alternator Input
3,000W of Shore Power Input
1,800W of Smart Generator Dual Fuel Input
Installing rigid and/or flexible solar panels allows you to generate electricity from solar power even while driving. With EcoFlow's modular Power Kits, you can customize the perfect off-grid power solution for your RV.
What To Consider When Buying a Portable Solar Panel for an RV
Power Output
Rated power output is an essential spec to consider when selecting portable solar panels for RV use. Rated power measures the maximum amount of electricity the panel can generate for your RV's off-grid power system.
Many newcomers to solar power make the reasonable assumption that when a solar panel is rated for 400W, it will produce that amount of electricity whenever the sun shines…
The reality is more complicated.
Rated power is determined in a laboratory under Standard Test Conditions. It indicates the maximum amount of electricity a solar panel can produce under ideal circumstances, including:
An optimal operating temperature of 25°C (77°F)
Full solar noon sunshine (irradiance) of 1000 W/m2 (1 kW/m2)
(Basically, the irradiance used for testing is the equivalent of direct sunlight at the brightest time of day, completely free of obstructions like clouds or shade.)
Sea level air mass (AM) of 1.5 (1 sun)
Unsurprisingly, these conditions rarely exist in the real world.
Understanding rated power is crucial to ensuring a solar panel array meets your electricity consumption needs.
400W solar panels will never exceed +/- 400W of electricity generation, but on a very cloudy day or under significant shade, they may generate as little as 40% of their rated power.
EcoFlow's rigid and portable solar panels offer an industry-leading efficiency rating of 23%. For planning purposes, it's safe to assume that EcoFlow's portable solar panels will produce about 75% of their rated power on average under real-world conditions.
So, on average, a 400W solar panel will produce 300W of electricity per hour.
Assuming 4-5 hours of peak sunlight, one 400W portable solar panel will produce about 1.6 to 2.4 kWh of electricity daily.
Portable Power Station for Energy Conversion and Storage
It's important to remember that you can't just purchase solar panels and charge electronics and appliances on your RV. Solar panels generate energy, but you need a portable power station or other balance of system to convert, manage, and store the DC electricity that solar panels gather as AC electricity.
When shopping for an off-grid power solution for your RV, you must consider not only the solar panel array's rated power output but also your system's solar charging and storage capacity.
Consider the RIVER 2 Pro Solar Generator from EcoFlow. The RIVER 2 Pro is a portable power station with a 768Wh storage capacity, 800W of AC electricity output (1600W of starting power with x-boost), and multiple charging options.
The RIVER 2 Pro Solar Generator with 220W Bifacial Portable Solar Panel can power all your personal devices and 80% of home appliances, and it's lightweight and compact to take almost anywhere.
Almost…
At 17.2 lbs (7.8 kg), the RIVER Pro 2 might be a bit hefty to carry in a backpack on long hikes. And the bifacial solar panel adds another 20.9 lbs (9.5 kg). The entire setup weighs less than 40 pounds (18.14 kg), but you may not want to lug it up a mountain.
You also might not need that much power on a backpacking trip.
Luckily you have options. The RIVER 2 Solar Generator offers less electricity output and storage but can still run 99% of consumer electronics like smartphones, laptops, tablets, and more.
At 7.7 lbs (3.5 kg), you really CAN take it anywhere — even on foot.
At the other end of the spectrum, the DELTA Pro Solar Generator and EcoFlow's Power Kits can turn your RV into a home on wheels, with all the comforts (and luxuries) electricity has to offer.
Whether camping in the forest, traveling in an RV, or preparing for a winter blackout, the power station is as crucial as the solar panels in keeping you connected and comfortable.
PV Conversion Efficiency
The efficiency of your solar panels will affect the amount of power they can generate from the available sunlight. Look for solar panels with high conversion efficiency and low degradation rates to ensure that you get the most power possible from your solar panels over time.
At 23% efficiency, EcoFlow solar panels have a significantly higher conversion efficiency than the industry average.
Durability
Durability is a critical factor when selecting portable solar panels for RV use. The PV panels must be durable enough to withstand high winds, extreme temperatures, and exposure to rain and snow. They should also be resistant to scratches, dings, and other physical damage that will inevitably occur during transport or installation.
Choosing durable RV solar panels helps ensure that they last for many years and continue to provide reliable power for your RV. In the long run, better durability can reduce maintenance and replacement costs.
Some features to consider when selecting durable RV solar panels include a sturdy frame, weather-resistant materials, and high-quality construction.
Purchase PV panels specifically designed for outdoor use and tested for durability and performance under a wide range of conditions. Your panels will preferably have an IP68 waterproof rating like the EcoFlow portable solar panels mentioned above.
Size and Weight
For many RV owners, daily electricity consumption will exceed the amount of power that a single solar panel can deliver. If you need multiple PV panels, you may want to move toward a fixed array of rigid and flexible solar panels on your RV's exterior.
Otherwise, you'll be hauling multiple large panels in and out of your RV every time you move to the next campground.
Attaching several fixed panels to your RV's roof allows you to disregard the size, weight, and effort involved in carrying and setting up multiple portable solar panels. By installing several 400W Rigid solar panels on your RV's roof, you can generate power on the go without worrying about storing and setting up your solar panels every time you stop.
On the other hand, if your electricity needs are minimal, a single 160W or 220W bifacial portable solar panel is lightweight, compact — and easy to carry, store, and set up.
Compatibility
When purchasing portable solar panels, be sure that they are compatible with the rest of your system. PV panels typically have different output voltages and connectors. They may only be compatible with specific solar batteries or portable power stations. When possible, purchase your PV panels and balance of system from the same manufacturer to ensure compatibility.
Brand Reputation
Many solar panels have nearly-identical specifications and features, so it can be hard to sift through the duds to find a quality PV panel. Brand reputation is critical when picking a portable solar panel. The manufacturers that constantly provide high-quality products will inevitably receive great reviews and recognition.
Has the brand been featured in high-profile "Best Solar Products" lists? Have you heard from other solar enthusiasts that enjoy the brand's products? Do your research before purchasing a panel from an unknown brand.
Price
While you may want to go big with an extensive solar array, this can be costly. Keep your budget in mind when deciding how much wattage you need from your portable solar panels.
Starting with one panel and adding more later is a safe solution. However, you must account for the solar input capacity of your portable power station or other balance of system. You can't just keep adding solar panels if their power output exceeds what your system can handle.

FAQs
Is It Worth Using Solar Panels for an RV?
Yes, solar panels for an RV are worth it! Using solar panels for RVs can be a cost-effective and environmentally friendly option for powering your mobile lifestyle. The benefits of solar power include independence from traditional energy sources, reduced reliance on fossil fuel generators, and lower energy bills.
How Many Watts Do You Need To Power an RV?
A typical RV uses around 20 kWh of electricity per day. This is just a rough estimate. Your actual electricity output and storage requirements depend on various factors, such as the size of your RV, the number of appliances you plan to use, and your overall electricity consumption needs.
How Many Solar Panels Do You Need for an RV?
The number of solar panels you need to power your RV depends on the vehicle class, total electricity consumption, rated power and efficiency of the PV panels, average peak sun hours, and other factors. Use the EcoFlow Power Kits calculator to estimate how many solar panels (and how much battery capacity) your Class A, Class B, or Class C RV or trailer needs.
Conclusion
Portable solar panels are an excellent investment for RV owners looking for dependable off-grid power. By considering factors such as power output, efficiency, durability, and portability—as well as your specific electricity requirements and budget—you can find the perfect solar panel to meet your needs.
EcoFlow is a premier manufacturer of portable solar panels, solar generators, and other renewable energy products. Countless RVers rely on EcoFlow's off-grid solar solutions to power their mobile lifestyles. Check out EcoFlow's portable solar panels for RVs, camping, and van life today.