Extreme weather events and natural disasters like wildfires are becoming increasingly common — both in the US and worldwide.
Coupled with aging grid infrastructure and electricity demand that often exceeds supply, blackouts and extended power outages are happening more frequently — often with deadly consequences.
If you're concerned about your family's energy security in the face of these growing challenges, investing in an emergency home generator just makes sense.
But should you go for a traditional fossil fuel generator?
Or is it time to switch to clean, renewable solar power and generate some (or all) your electricity off-grid, even when there's not an emergency?
Read on to find out!
EcoFlow's Top Emergency Generators for Home
EcoFlow's RIVER 2 series solar generators offer the ultimate in portable power.
At only 7.7 lbs (3.5kg), the RIVER 2 solar generator will easily fit in your backpack for off-grid camping trips — yet it offers enough AC output to run 99% of consumer electronics. It's an excellent choice for recreational use, but you'll need more juice in a blackout.
The RIVER 2 Pro solar generator is the perfect entry-level home generator for emergency use. Thanks to proprietary X-Boost technology, RIVER 2 Pro can power 80% of home appliances.
RIVER 2 Pro offers four charging methods and recharges lightning-fast — from 0-100% in just 70 minutes with AC (household) electricity. That's 5x faster than the competition.
But solar charging is where RIVER 2 Pro truly shines. Depending on how much peak sunlight your house receives, you can charge from 0-100% in as little as 4.5 hours using the bundled 220W Bifacial Solar Panel.
Unlike most photovoltaic panels, the unique bifacial design features monocrystalline silicon solar cells on both sides. 220W of rated power on the front and 155W on the back. By capturing up to 25% more ambient sunlight than traditional panels, you can recharge RIVER 2 Pro even quicker. An industry-leading 23% efficiency rating means you can fully maximize available sunlight.
RIVER 2 Pro also features an automatic switchover speed of less than 30ms. Any appliance plugged into the unit will receive backup power virtually instantaneously in a blackout.
Portable Power Station Specifications
Storage Capacity: 768 Wh
AC Output: 800W (Surge 1600W)
Solar Input/Charging: 220W (Max)
Cycle Life: 3000 cycles to 80%+ Capacity
Dimensions: 270 x 260 x 226 mm (10.6 x 10.2 x 8.9 in)
Weight: 7.8kg (17.2 lbs)
App: Yes
Solar Panel Specifications
Rated Power: 220W Front Side/155W Rear Side
Efficiency: 23%
Cell Type: Monocrystalline
Construction: Bifacial
Waterproof Rating: IP68
Dimensions: 82 × 183 × 2.5 cm (32.3 × 72.0 × 1.0 in)
Net Weight: 9.5kg (20.9lbs)
Pros
Affordable backup power for short outages
Fast AC and solar charging
Unique bifacial solar panel design maximizes solar energy capture
Compact and lightweight
Ten years of regular use — 6x more than the industry average
Cons
Insufficient AC output to power multiple high-wattage appliances simultaneously
No expandable storage capacity
DELTA 2 Max is the latest addition to EcoFlow's flagship DELTA Series, and it's a vast improvement to its predecessor, the original DELTA Max, in every way.
Instead of dated nickel-cadmium (Ni-Cad) battery chemistry, DELTA 2 Max offers the latest lithium iron phosphate (LiFePO4/LFP) technology.
LiFePO4 batteries are an advanced subset of the traditional lithium-ion (Li-ion) batteries found in everything from smartphones to EVs. EcoFlow is a pioneer in bringing cutting-edge LFP battery technology to home backup and generator consumers.
All of the solar generators featured in this article are powered by LFP batteries.
Unlike traditional rechargeable batteries like lead acid and Ni-Cad, LFP batteries require no maintenance, offer faster recharge times, and MUCH longer lifespans.
Lead acid and Ni-Cad batteries degrade with time and frequency of use, typically offering a lifespan of 500-800 cycles (discharge/recharges).
Compare that to the 3,000 cycles offered by EcoFlow's LFP batteries without any noticeable decrease in performance. That's ten years of daily use!
Keep in mind that your solar generator will continue to function after 3,000 cycles — but its storage capacity will diminish, reaching 50% capacity over 6,500 cycles.
Here's a brief summary of LiFeP04's advantages over lead acid, Ni-Cad, and traditional lithium-ion batteries.
Greater Depth of Discharge (Usable Storage Capacity)
Wider Operating and Charging Temperature Range
Longer Lifespan
Cobalt-Free: Traditional Li-ion batteries rely on cobalt and nickel to function, both of which are difficult to dispose of or recycle. Mining both metals comes at a high environmental and humanitarian cost — particularly with cobalt.
70% of the world's cobalt is produced in the Democratic Republic of Congo. It's mined and processed under shockingly inhumane labor conditions — often by children as young as seven.
Even though LiFePO4 batteries are technically a subset of Li-ion, they don't require cobalt or nickel to function, making them a more sustainable choice.
Superior LFP battery chemistry is just one factor that makes DELTA 2 Max an ideal choice for home backup. With 2400W of AC output (Surge 4800W), DELTA 2 Max can actually run up to 3400W of appliances simultaneously thanks to X-Boost.
DELTA 2 Max is also highly expandable to meet your needs. Out of the box, it has a 2048Wh storage capacity. Add Smart Extra Batteries, and you can triple that to 6kWh.
But thanks to DELTA 2 Max's world's fastest recharging speeds, you may not need all that additional capacity. Combine AC and solar panels to recharge from 0-80% in just 43 minutes. With 1000W of solar input alone, you can recharge in as little as 2.3 hours of peak sunlight.
Portable Power Station Specifications
Storage Capacity: 2048 Wh (Expandable to 6kWh)
AC Output: 2400W (Surge 4800W)
Solar Input/Charging: 1,000W (Max)
Cycle Life: 3000 cycles to 80%+ Capacity
Dimensions: 497 × 242 × 305 mm (19.6 × 9.5 × 12 in)
Weight: 23kg (50 lbs)
App: Yes
Solar Panel Specifications
Rated Power: 400W
Efficiency: 22.6%
Cell Type: Monocrystalline
Construction: Portable
Waterproof Rating: IP68
Dimensions: 105.8 x 36.5 x 2.5cm (42 x 93 x 1 in)
Net Weight: 16kg (35 lbs)
Pros
World's fastest recharge times
99% MPPT efficiency optimizes solar power generation
Ten years of daily use
Highly expandable capacity
Whisper quiet 30 dB recharging
Cons
1000W of solar input capacity may be insufficient for fully off-grid applications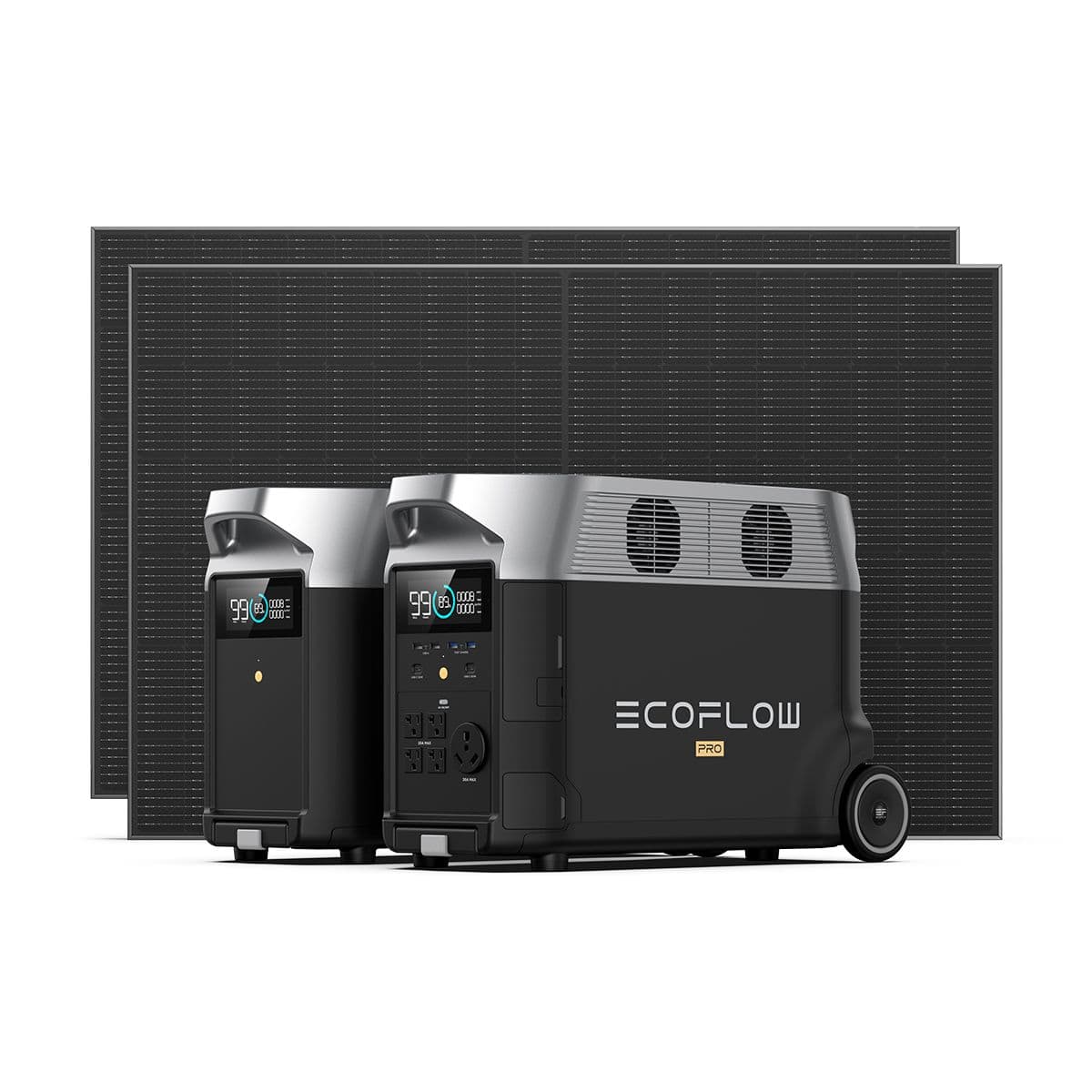 If you're primarily shopping for emergency home backup power, DELTA 2 Max is likely sufficient for your needs.
But thanks to vastly improved solar technology, decreased costs, and generous federal, state, and local tax incentives, solar isn't just for backup power anymore.
EcoFlow's Whole Home Generator solutions don't just reduce your dependence on aging infrastructure — they can eliminate it altogether.
Until recently, off-grid energy independence was a far less cost-effective alternative to on-grid power. Burning fossil fuels like gasoline, natural gas, and diesel is much more expensive than purchasing electricity from the utility grid.
Thanks to solar-first pioneers like EcoFlow, generating clean, renewable energy is more accessible than ever.
EcoFlow's Whole Home Generator solutions utilize the DELTA Pro. With up to 3200W of solar input (8 x 400W rigid solar panels), you can produce enough electricity to power your entire home. Depending on your home's construction, you can also opt for flexible or portable solar panels to build out your PV panel array.
With DELTA Pro and integrated Whole Home Generator solutions, you can go beyond emergency backup and truly achieve off-grid energy security.
Portable Power Station Specifications
Storage Capacity: 3.6kWh (Expandable to 25kWh)
AC Output:
1 x DELTA Pro: 3600W (Surge 7200W)
2 x DELTA Pro (with Double Voltage Hub): 7200W (Surge 14,400W), 240V
Solar Input:
1 x DELTA Pro: 1600W Max
2 x DELTA Pro: 3200W Max
Cycle Life: 3,500 cycles to 80% capacity, 6,500 cycles to 50% capacity
Battery Type: LFP (LiFePO4)
Dimensions: 63.5 × 28.4 × 42cm (25 × 11.2 × 16.4 in)
Weight: 45kg (99 lbs)
App: Yes
Solar Panel Specifications
Rated Power: 2 x 400W Rigid Panels = 800W (Total Rated Power)
Efficiency: 23%
Cell Type: Monocrystalline
Construction: Rigid
Waterproof Rating: IP68
Dimensions: 172.2 × 113.4 × 3.5 cm (67.8 × 44.6 × 1.38 1 in)
Net Weight: 16kg (35 lbs)
Pros
Achieve true energy independence
Eligibility for generous government, including the ITC (Federal Solar Tax Credit)
Eliminate reliance on aging infrastructure and protect against extreme weather events
Save on (or eliminate) electricity bills
Expandable for your family's unique needs
10+ years of regular use
Cons
Substantial upfront investment if you're ineligible for tax credits or financing
Transitioning to residential solar power is crucial for the US to meet its net-zero goals and remain a leader in the global battle against catastrophic climate change.
For the first time, recent improvements in solar panel and battery storage technology have made personal energy independence a reality for homeowners across the US.
However, like all currently viable renewable energy sources — such as wind and hydropower — solar is intermittent by nature.
You can't produce electricity from solar panels at night. On heavily overcast days, your solar panels' rated power output will be significantly reduced.
In the unlikely event that your PV panel array and DELTA Max 2 or Whole Home Generator can't produce sufficient electricity to meet your family's needs, it's always good to have a backup plan.
EcoFlow's Smart Generator (Dual Fuel) is an inverter generator that runs on propane (LPG) and/or unleaded gasoline.
Why does a solar-first innovator like EcoFlow offer a fossil fuel burning generator?
Smart Generator (Dual Fuel) isn't just any old gas or diesel-guzzling portable generator.
Offering 20kWh of electricity with a standard canister of LPG, the Smart Generator can operate as a standalone inverter generator — but it shines brightest when you integrate it with DELTA 2 Max, DELTA Pro, or Power Kits.
When solar or battery backup power isn't enough, the Smart Generator can recharge DELTA 2 Max from 0-100% in just 1.8 hours. DELTA Pro takes 2.7 hours due to its larger capacity. Thanks to X-Stream charging tech and direct DC-to-DC, you'll achieve 40% more efficiency — meaning you'll burn 40% less fuel and produce fewer emissions than comparable inverter generators from other manufacturers.
Smart Generator automatically switches on when your DELTA 2 Max or DELTA Pro's batteries discharge to a level that you determine. You can control and monitor your Smart Generator from anywhere with an internet connection with the EcoFlow smartphone app.
Unlike traditional fossil fuel generators, EcoFlow built the Smart Generator with safety in mind. A carbon monoxide detector, fuel alert, engine oil alert, temperature protection, and overload avoidance are all built-in and easy to monitor from the app or the LED display.
With four starting methods, you'll never have to struggle with a ripcord to get emergency power backup when you need it the most.
EcoFlow is committed to sustainability, so how does a fossil fuel burning generator fit in?
Smart Generator (Dual Fuel) is primarily intended as a last line of defense if your solar generator or portable power station can't provide sufficient electricity. Smart Generator does come with a 1.05-gallon gasoline tank for additional flexibility, but we highly recommend you use LPG.
Here's why…
Propane is the cleanest burning fossil fuel. According to the University of Wisconsin: "[Burning LPG] releases negligible amounts of emissions… It leaves no ash and produces practically no sulfur oxides, particulate matter, or mercury emissions." The DOE classifies LPG as "a well-established clean-burning alternative fuel… that's produced domestically."
LPG comes in portable canisters that are easy and safe to store — especially compared to gasoline
Unlike gasoline — which can go bad in anywhere from one to six months depending on how it's stored — propane has no expiration date. Depending on your location and the size of the canisters or tank you use, you may need to have it certified or replaced after 10-15 years.
A gallon of gasoline provides 5.4kWh of electricity. A standard propane canister produces 20kWh of power — or 12.5 hours of runtime on LPG alone.
The bottom line is no fossil fuel powered generator will be as environmentally friendly as solar.
But the Smart Generator (Dual Fuel) provides a comparatively clean solution that provides additional energy security in an emergency.
Generator Specifications
AC Output (Propane): 1600W (Peak Value 1700W)
AC Output (Gasoline): 1800W (Peak Value 1900W)
Type: Inverter Generator (Dual Fuel)
Dimensions: 597 × 300 × 475mm (23.5 × 11.8 × 18.7 in)
Weight: 30.5kg (67.2 lbs)
Engine Specifications
Fuel Type: Unleaded Gasoline/Propane (LPG)
Fuel Tank Capacity (Gasoline): 4.0 L (1.05 gal)
Noise Level (at 7m distance): 56-67 dB (full load)
Pros
Seamless integration with DELTA 2 Max, DELTA Pro, and Power Kits
20kWh of electricity with a standard LPG canister
Recharges DELTA 2 Max in 1.8 hours and DELTA Pro in 2.7
Last line of defense when solar power production is insufficient
Cleanest burning fossil fuel
Cons
Non-renewable energy source
Limited surge power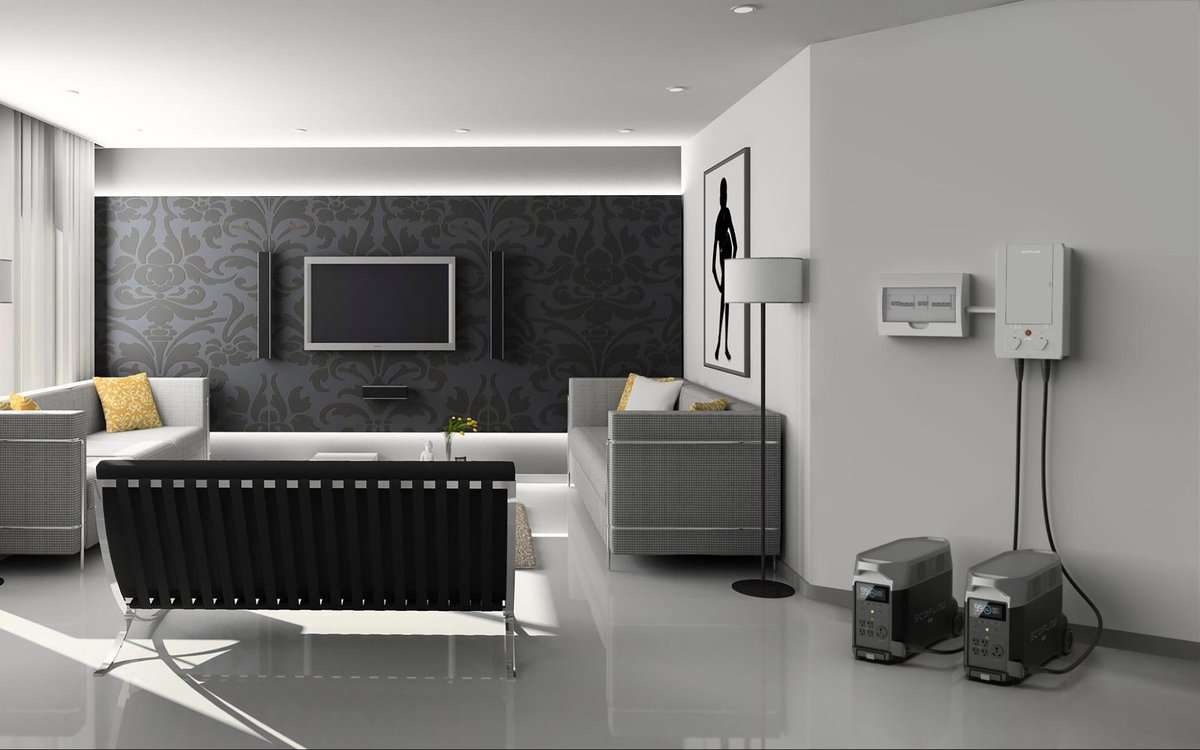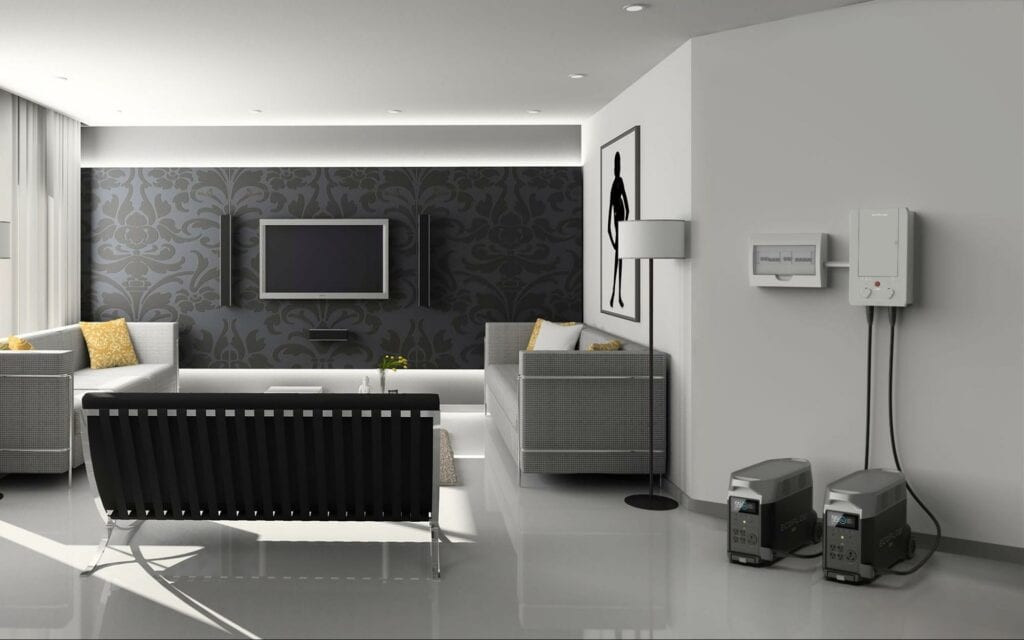 What To Look For in an Emergency Home Generator
As with any significant purchase, it pays to do your homework.
EcoFlow is an established innovator that's won multiple design and industry awards for its solar generators, PV panels, and portable power stations. With extended warranties and industry-leading performance, durability, and longevity, you can rest assured that purchasing an emergency home generator from EcoFlow is a wise investment.
Aside from manufacturing quality, what other factors must you consider when selecting a home generator?
Let's take a look below.
AC Output
One of the most common mistakes people make when shopping for an emergency home generator is calculating how much electricity they actually use.
No one wants to spend more money than they have to on AC output that exceeds their needs…
But the alternative is worse. Finding out you don't have enough electricity to run your essential appliances and devices during a blackout or other emergency is dangerous — potentially even life-threatening.
You can get a rough estimate of how much electricity you consume a month by averaging 12 months of your utility bills. Consumption is measured in watt-hours (Wh) and kilowatt hours (kWh). This can be a useful exercise to get a ballpark figure of how much money you could save by generating your own electricity. Still, it's insufficient to determine how much AC output you need.
To complicate matters further, if you've always relied on electricity from the utility grid, you may not know that many high-wattage essential appliances — like refrigerators, freezers, and washing machines — require significantly more power to turn on than to operate.
Most appliances list operating wattage on the manufacturer's label. But the short burst of power required to turn the appliance on can be double or triple the running wattage.
That's why, when you're shopping for any kind of emergency home generator, understanding the difference between starting and running watts is essential.
When you're using on-grid power, starting watts rarely matter. The utility can typically provide as much surge power as any appliance requires.
Many generators cannot. For example, most traditional fossil fuel generators can only provide around 10% more starting watts than running watts — many can't even do that.
On the other hand, EcoFlow's solar generators offer at least double the starting watts thanks to proprietary X-Boost technology.
For example, DELTA Pro provides 3.6kW of continuous power but can deliver 7.2kW of surge power. Having double the starting watts makes a massive difference to what appliances you can turn on and run off-grid.
When researching which emergency home generator is right for you, carefully calculate the total starting and running wattage of all the appliances you want to operate simultaneously. You should purchase a generator that exceeds those requirements by a minimum of 10% to give yourself some breathing room.
Check out this detailed guide to calculating your home's AC output and electricity consumption needs.
For a quick reference, here are the average starting and running wattages of many appliances you may find in your home.
Starting and Running Watts of Typical Household Appliances 
| | | |
| --- | --- | --- |
| Appliance | Rated (Running) Watts | Starting Watts |
| Dishwasher | 1300 | 1800 |
| Washing Machine | 1200 | 2300 |
| Refrigerator/Freezer | 700 | 2200 |
| Light Bulb | 60-75 | 0 |
| Microwave | 600-1000 | 0 |
| TV | 500 | 0 |
| Toaster | 900 | 0 |
| Vacuum | 1440 | 2500 |
| Coffee Maker | 1000 | 0 |
| Blender | 300 | 800 |
| Clothing Iron | 1500 | 0 |
| Dryer | 5400 | 7000 |
| Toaster Oven | 1200 | 0 |
| Curling Iron | 1500 | 0 |
| Space Heater | 2000 | 0 |
| Laptop | 50-300 | 0 |
| 20" Box Fan | 200 | 350 |
Storage Capacity
Storage capacity — measured in watt-hours (Wh) or kilowatt-hours (kWh) — is another vital consideration for home backup battery systems and off-grid solar generators.
How much electricity you can generate using solar power depends on numerous factors, including:

Number of solar panels
Rated power of solar panels
PV panel efficiency
Positioning and angle of installation
Solar charging input capacity of your generator or other balance of system
All of the above are within your control. However, many factors that affect solar electricity production are not. Here are some of the most impactful:

Even in the sunniest locations — like Phoenix, AZ — solar power is intermittent. Solar panels require sunlight for the photovoltaic effect to produce electricity. Your panels will produce less electricity on overcast days — and none at night.
The intermittency of solar power is the primary reason why battery chemistry and storage capacity are so vital for off-grid emergency generators.
Simply put, you must have sufficient electricity storage to run your household when your consumption exceeds production.
As with AC output above, calculate what appliances and devices you want to run — and for how long.
That's the best way to determine what size solar generator and battery you need.
Intermittency is another reason why having an efficient propane generator for additional energy security can be so valuable.
If you opt for a traditional fossil fuel burning home generator with sufficient AC output, it should keep running until you run out of fuel. In extreme weather events and natural disasters, gasoline, diesel, and propane can be hard to come by. Natural gas lines can be damaged.
With solar, you can generate more power any time the sun shines.
Charging Options
Having multiple charging options for your solar generator gives you additional flexibility. It's easy to keep your portable power station charged up with AC power — as long as the grid's up and running.
All of EcoFlow's solar generators offer at least charging options:
Solar panels
AC (Household) electricity
DC (Car Adapter)
USB-C
DELTA 2 Max and DELTA Pro offer even more ways to charge, including Smart Generator (Dual Fuel).
With DELTA Pro, you can even power up at EV charging stations!
Lifespan
Fossil fuel generators rely on internal combustion to produce electricity. Consequently, there are many moving parts, and they require routine maintenance to operate efficiently.
Solar generators have virtually no moving parts and are maintenance-free. If you opt for a solar energy system that uses a portable power station or other solar batteries, battery chemistry will likely be the biggest determiner of your generator's longevity.
Lead acid and nickel-cadmium batteries degrade with time and have short cycle life.
Lithium-ion batteries diminish in performance with use — time has little impact. Shop for a battery with a long cycle life.
Lithium iron phosphate batteries — like those found in EcoFlow's solar generators — offer the longest cycle life in the residential solar power and home battery backup industry.
Return on Investment
Given the topic of this article, your primary concern in shopping for a generator is likely to be energy security in the face of aging grid infrastructure, increasingly common extreme weather events, and the growing frequency and length of power outages in the US…
But that doesn't mean purchasing a solar generator isn't a smart move financially. Over the long term, the return on investment from generating your own electricity can pay off handsomely.
With ever more generous government incentives for switching to solar — and affordable financing options — the upfront cost of investing in residential photovoltaic systems has never been lower.
And, after your solar payback period is complete, all the money you save on electricity bills stays in your bank account — not the utility company's.
Money saved is money earned.
Sustainability
The tide is increasingly turning to solar, but, for now, most emergency home generators do NOT produce sustainable power.
Traditional gas and diesel generators still outnumber renewable residential power solutions.
By choosing a solar-powered emergency home generator, you'll significantly reduce your carbon footprint and make electricity production greener and more sustainable.
And you won't be the only one.
Share of Cumulative Power Capacity by Technology, 2010-2027
(Source: IEA)
According to the International Energy Agency, "Solar PV's installed power capacity is poised to surpass that of coal by 2027, becoming the world's largest (electricity source)."
In the US, residential solar power installations grew by 40% in 2022 over 2021. As seen in the graph above, that trend is expected to significantly accelerate in the near future.
Consumption of Primary Fossil Fuel Energy in the United States From 1990 to 2022 by Sector
(in trillion British Thermal Units)
Shifting electricity production from fossil fuels like coal and petroleum to renewable sources like wind and solar is crucial for arresting human-made climate change.
In 2022, electricity generation was second only to transportation as the largest fossil fuel consumer by sector. US electricity production required 21,577 trillion BTUs, and transportation required 25,910 trillion BTUs.
The transition to residential solar power must accelerate for the US to meet its net-zero goals and remain a leader in the global battle against climate change.
By investing in a solar generator, you can not only back up your home in an emergency but also reduce how much electricity you consume using nonrenewable resources like fossil fuels.
Switching some or all of your electricity consumption to clean, renewable benefits both your bank account — and the future of our planet.
Frequently Asked Questions
How Big of a Generator Do I Need for Home Emergency?
There is no one-size-fits-all answer to how big a generator you need for home emergency backup. The right size generator for you depends primarily on how much electricity your household consumes — and how many of your appliances and household systems, like heating and air conditioning, you need to run in a blackout or other emergency.
What Is the Best Generator for Home Emergency Use?
The best generator for home emergency use allows you to operate your essential appliances and devices during even an extended power outage. Aside from the environmental benefits of a whole home solar generator, it enables you to produce electricity off-grid even when it's operational, reducing your carbon footprint and utility bills. Fossil fuel generators are too expensive to run in non-emergency situations if on-grid power is an option.
Final Thoughts
With energy insecurity increasing rapidly due to extreme weather events and aging grid infrastructure, investing in a reliable emergency home generator has never been more crucial.
There's also never been a better time to switch to solar power for your home. An EcoFlow solar generator can provide emergency power in a blackout and reduce (or even eliminate) your reliance on the grid.
Check out EcoFlow's whole home generators and other off-grid electricity solutions today!