Whether you're spending a weekend camping, living a van life, going on a fishing expedition, or taking a cross-country freight drive, a portable dual-zone refrigerator is a handy must.
In this blog post, we'll explore four of the most popular ways to use a portable refrigerator, so you can make the most fun and use out of your investment.
A Car Refrigerator for Camping & Road Trips
If you're mapping out a two- or three-day camping trip for family bonding or a multi-day road trip from Seattle to Banff, a 12V car refrigerator is what you need. And a big plus if it's got a dual-zone feature.
Recipes Made Possible by a Camping Refrigerator
Traveling with a portable refrigerator freezer brings limitless cooking possibilities to the table. And what's a better way to show your love to your friends and families than to keep them fed in the middle of nowhere? With a mini fridge, you can make these amazing energy-boosting recipes come true.
1-Day Camping Meal Plan
For breakfast, sufficient hydration and energy can equip you for a full day ahead. Veggies, cheese, and a perfect sunny-side-up fried egg. Plus a Greek Yogurt smoothie to sweep away the last bit of drowsiness.
Beef + cheese + tomato sandwiches are perfect for a mid-day refuel. They're easy to make with healthy ingredients to freshen you up for some hiking in the afternoon.
BBQ dinner is a glamping dream made possible by a fridge freezer. Kebabs, steak, shrimp, and sausages with some sweet peppers and pineapples……That's the magic of BBQ. Just skewer them up and grill them till they smoke. With light pepper and salt, and some chili, it's a trouble-free feast.
And if you're camping or road-tripping with your kids, make sure you pack snacks. With a dual-zone refrigerator that fits in your car, every passenger has access to popsicles, sodas, ice creams, and chip dipping sauce along the journey. So you have what you need to soothe the little sweets-craving monsters, and your own appetite as well.
What Makes a Portable Refrigerator Ideal for Camping?
Have you decided on your camping spots for the upcoming summer? At an opening in an emerald forest, by a lucid pond, or still waiting to see where your adventures take you? People's expectations of camping sites vary. But if you need full strength no matter where you go, you will find a refrigerator capable of all terrains to be a fruitful pre-condition.
It's arduous to find an electric hookup when you're heading towards a destination that you see for the first time on Google Map. Some camping grounds provide electrical services and some don't. If you're diving into the wilderness, the answer is negative. Solar charging can make a great difference in stranded situations where you can't afford your stocks going rotten, but electricity is nowhere to be found.
Another thing to keep in mind is that outdoor explorations expose even the most experienced of us to the risks of injuries. So remember to bring along ice when you're camping. It's better to have it and not need it than to need it and not have it.
Our recently launched EcoFlow GLACIER gives you all of the above. It's a 120W compressor dual-zone refrigerator integrated with an ice maker.
EcoFlow GLACIER
40-hour wire-free cooling with 298Wh Plug-in Battery
18 ice cubes in 12 minutes
40 quart = 60 × 330ml drinks
How to charge: AC, DC (12V/14V), solar panels
And it sports a luggage design with detachable wheels and lever, 40-hour wire-free cooling with its Plug-in Battery, and can be charged with solar panels.
Pack it and hit the road!
A Boat Refrigerator for Fishing
In fishing, two things need storing: live baits and fresh catch. This means a portable refrigerator freezer is a perfect companion for anglers.
How to Store Live Baits?
Having live baits gives you an edge in getting catches better in quality and quantity so keeping your baits alive is usually rule No.1 for a successful fishing expedition.
Refrigerating living baits like lugworms, ragworms, and peeler crabs will help them stay alive for a longer period of time, which is ideal when you're offshore for a few days.
How to Store Just-Caught Fish?
With those lively baits, you go all out in the fishing game. And woohoo! A 20 lb rainbow trout giant! Now is the do-or-die moment. How do you store your fresh catch to lock in the great taste?
If you're a long way from home, planning to share your joy (and boast about your unparalleled fishing skills) with your loved one (and your neighbors and fellow anglers), freezing the fish brings you the desired result. Deep-frozen fish last longer. According to Food Safety and Inspection Service (FSIS) in the U.S. Department of Agriculture, freezing food to 0°F inactivates any microbes present in food. That means the bacteria a fish may hold are halted from populating and contaminating the rest of its flesh. And if the fresh catch is frozen at the moment when it's caught, it's frozen at peak quality, so its flesh is firmer and with better taste after thawing. FISI suggested storing all foods at 0°F or lower to retain vitamin content, color, flavor, and texture.
Refrigerating the fish and covering the fish with ice are also common when it comes to short-term storage. However, they might not work as well as freezing. It all depends on how long you intend to keep your fresh catch in its prime state.
What Makes a Suitable Fisher Refrigerator?
Live baits and fresh fish require distinctive storage temperatures. Baits survive in refrigeration while freezing just-caught fish guarantees a better texture and taste. Storing the two things together might give rise to cross-contamination. So what can we do?
Answer: half fish + half bait = a fridge freezer
EcoFlow GLACIER
Cooling capability: 50°F (10°C) to -13°F (-25°C)
40-hour wire-free cooling with 298Wh Plug-in Battery
40 quart = 60 × 330ml drinks
How to charge: AC, DC (12V/14V), solar panels
EcoFlow GLACIER is equipped with a removable divider separating the refrigerator into two zones and each section can deep freeze or refrigerate independently. Whether you have a whole pack of live fish or baits, or want some mix-and-match, this dual-zone fridge can preserve them separately at just the right temperatures.
An RV Refrigerator for Van Life
The nomadic lifestyle is becoming more popular these days. With real estate prices soaring around the globe and the lingering impact of the pandemic, many people are moving into vans rather than apartments or houses.
However, food storage might be challenging in van life as some trailers don't come with a full-size fridge. Or when you're getting out there in the wilderness, you can't carry that large, fixtured RV fridge with you. And a lot of the food we see every day should be kept in refrigeration at all times to maintain the finest flavor and nutrients. Luckily, a portable fridge freezer can help you with this.
Examples of Food that Should Always Be Kept in a Refrigerator
Organic sauce without preservatives
All kinds of syrup once they're open: maple syrup, chocolate syrup, and more
Avocados
Butter
Milk and its substitutes
Jam
Cheese
Home Comfort in Van Life
When talking about van life, people assume that there must be a decrease in quality of life. While the space inside a rig is limited, van lifers make the whole world their oyster. No matter if you're boondocking, or just chilling out in a hammock, an off-grid refrigerator assures your creature comfort.
In foodies' terms, it means that icy Margaritas, chilled cola, and ice creams—the perfect movie night combo—are not just for cubical homes but for your home on wheels, too.
What Does Van Life Demand from a Fridge?
While some human beings are reshaping themselves for RV living, sometimes they forget to pick out the refrigerator formed for this unique lifestyle.
One thing to consider is the type of opening. For RVers, top-opening refrigerators are always the go-to option as the door locks better. So on bumpy rides, they are less prone to flinging open. The stackable design in top-loading refrigerators, with proper organization, prevents food from sliding around and crashing into each other. Long story short, it lowers the risk of goods damage.
And don't forget to plan out a space for the refrigerator before you make the decision! Can't remember how many times I've heard my dad complaining about how he spent a fortune on a gorgeous 3-way 12-volt RV refrigerator and found it a total misfit for his beloved Optimus Prime. (It turns out the naming of his rig tricked that fridge support guy pretty bad.)
My point is: a compact portable refrigerator is always a safe start.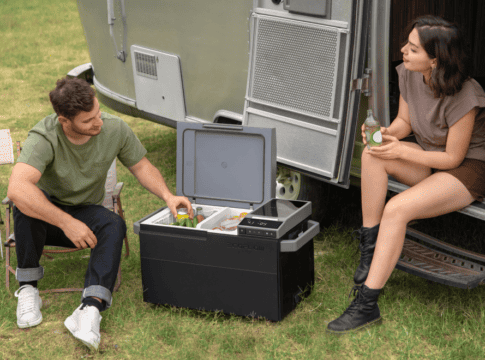 Take a look at our EcoFlow GLACIER, a 40-quart fridge freezer.
It fits nicely in many RVs and is splendid for both indoor and outdoor use. You can use it as the main camper refrigerator if you have a high standard for food freshness. Or it can serve as a spare when you need some extra space for greens, protein, or snacks. Plus, it wheels with you from your van to all RV-inaccessible places.
EcoFlow GLACIER
Cooling capability: 50°F (10°C) to -13°F (-25°C)
40-hour wire-free cooling with 298Wh Plug-in Battery
18 ice cubes in 12 minutes
How to charge: AC, DC (12V/14V), solar panels
In just 12 minutes, you'll have 18 bullet-shaped ice cubes. Time for some gin and tonic and a 90s classic. Jurassic Park maybe? What do you say?
A Truck Fridge for Long Hauls
Hours and hours of drives from this side of the country to the other, running solo, 24/7 on guard with little entertainment……Hydration and nutrients are essential for staying in good shape in this intense lifestyle. Plus, a day for a truck driver is usually on a tight schedule. Hence, ready-to-eat wholesome meals are the practical choice to keep up with your daily agenda and a healthy way of living.
Ready-to-Eat, Healthy Meals with a Truck Fridge
Quick Healthy Breakfast
Yogurt and oatmeal bowls with a smoothie to start the day with full strength and a fresh mind. Our GLACIER has ice ready for any energy smoothie pleasing your taste buds.
Lunch and Supper
Sandwiches and wraps: If you're grabbing them at rest stops, keep them refrigerated as a whole. These also take very little effort and time to make yourself. With some greens and deli in the truck refrigerator and slices of bread, you can have a nutrient-balanced quick meal whenever you stop for a break.
Salads: Greens, fruit, nuts, chicken breasts, plus the dressing to your taste. Breezy and healthy. You can prepare a 2-day amount of salad and keep it in your refrigerator. For whenever you're on a detox diet or just need some siding to a burger. Just be sure to keep the dressing separately refrigerated, until you're ready to eat.
Pre-made meals: Looking for something heartier? You can pre-make meals and have them stored in your freezer. Frozen burritos, lasagna, and meatloaf are all simple to reheat and provide the nutrients and energy you need.
More Options to Keep You Hydrated and Alert
A portable refrigerator freezer that doubles as an ice maker has a lot to offer when it comes to long-distance trips. Refreshments, fresh fruit, energy drinks, and iced soda are interesting additions to dull long hauls.
And throwing in some science here. According to the research conducted by the Transport Research Laboratory and GlaxoSmithKline, Nutritional Healthcare R&D in England, even a small volume of an energy drink can have a lasting positive impact on sleepiness, hand-eye coordination, lane keeping, and speed choice.
A serious suggestion from a recreational and a scientific standpoint:
Take an icy gulp of an energy drink when you feel like it!
What Makes a Refrigerator Just Right for Trucking?
First thing first, it's got to be 12V and 24V, AC and DC compatible, so it goes with all different types of outlets in various kinds of trucks. The dual-zone feature is also a big plus, as such, you can keep up with a tight schedule without having to restock every single day. It can't be too large to fit in the spare space in a truck. If it somehow supplies ice, that's like turning an 18-wheeler into Waikiki Beach in Hawaii.
Yes, as dreamy as it may sound, this can be your reality. EcoFlow GLACIER gives you all of the above and has more to offer.
EcoFlow GLACIER
776 mm × 385 mm × 445 mm
18 ice cubes in 12 minutes
40 quart = 60 × 330ml drinks
Cooling capability: 50°F (10°C) to -13°F (-25°C)
What Makes a Portable Refrigerator Right for Your Intended Use?
Car refrigerators
for camping & road trips
Boat
refrigerators for fishing
RV
refrigerators for van life
Truck fridges for long-distance drives
12V/24V
✓
✓
✓
✓
AC/DC
✓
✓
✓
✓
Dual-zone
✓
✓
✓
✓
Long runtime without electric hookup
✓
✓
✓
✓
Fit in compact space
✓
✓
✓
Detachable wheels for both indoor and outdoor use
✓
✓
✓
✓
Better top-opening OR front-opening
Top-opening
Top-opening
Top-opening
Top-opening
Ice cubes
✓
✓
✓
AN ABSOLUTE YES!
Conclusion
Whether you're looking to have a versatile refrigerator around in van life, offshore fishing, long-distance truck driving, or a camping trip, EcoFlow GLACIER is a great choice. It comes with a 40-quart storage space and a 120W compressor. Not to mention, it triples as a fridge, freezer, and ice maker, which is the world's first! And all the customizable features and add-ons set it ready for your specific needs.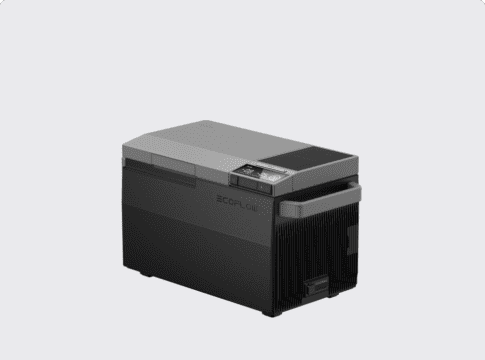 EcoFlow GLACIER
Your perfect companion for RV living, camping, truck driving, and fishing!