Year on year, our responsibility to look after the environment grows. In 2020, the University of Michigan reported that 78% of US energy consumption came from fossil fuels. A staggering figure when affordable, eco-efficient technology is being created every day.
But how can a home generator help reduce this figure? It's no secret that home generators have been around for decades. However, thanks to technological advances, there's been a significant rise in affordable generators powered by renewable energy sources. Making a slight change in how we power our homes could make a significant positive impact on our planet in the long term.
This guide will discuss the premise of home generators and their benefits — and introduce the idea of clean, green alternatives for home generators.
What Is a Home Generator?
A home generator is a device that produces electricity from a variety of sources. Home generators are powered by fossil fuels or renewable sources like solar energy. Typically, home generators are used for home backup. But thanks to swift technological advancements, many are now portable and double up for outdoor use too.
Home Backup benefits:
Protect your home during power outages
Keep your family safe and comfortable in emergencies
Generate your own clean, green energy using solar power
Outdoor benefits:
Perfect for off-the-grid living
Can power RVs
Useful on campsites for lighting and portable appliances
Charge and power devices on the move using solar power
What Types of Home Generators Are Available on the Market Today?
There are several different types of home backup generators out there. Traditionally, standby power generators have been the most common. Standby generators use natural gas or propane and are expensive to run. This type of generator is usually permanently installed outside your house. Their primary use is to kick in when a blackout hits.
In recent years, microgrid systems have become more popular. Microgrid systems use a number of small renewable energy sources, such as solar panels and wind turbines. They can power your home or be connected to the grid to provide backup power. You can learn more about microgrid systems here.
Another type of home generator growing in popularity is a portable solar generator. These are arguably the best generators for home power outages.
Why?
Simply put, you can easily move them, and they pack enough power to keep your home running for days.
Traditionally, portable generators are powered by gasoline or diesel. However, battery-powered generators using renewable energy sources are starting to change the game.
Clean, Green Home Generators and Their Benefits
As we look for ways to reduce our carbon footprint, home backup generators powered by renewable energy sources are becoming more popular. Battery-powered solar generators offer many benefits. One main attraction is that they allow you to generate your power sustainably. Additionally, home generators can provide backup power when a blackout strikes or as an alternative to mains power.
The Four Clean, Green Home Generator Options You Didn't Know You Needed
DELTA Pro: The Best Green Backup Generator For a Home Power Outage
For the ultimate home backup system, DELTA Pro is the best generator for home power outages. With a sizeable 3600Wh capacity and output, it can power the whole house. If a blackout hits, you can be confident you'll have power for hours on end. Plus, you can connect up to three 400W solar panels and utilize the sun's rays for unlimited power.
It packs a 3600W expandable capacity & output
Use the expandable ecosystem and add up to 2 more DELTA Pro units with extra batteries too
Get up to 1600W solar input and receive a 100% recharge in 2.8 – 5.6 hours
Up to 13 ports and outlets per DELTA Pro
DELTA Max: A Sustainable Backup Power Generator For Your Home
If you're looking for a backup generator or just something to power appliances sustainably, DELTA Max is ideal. It can power 99% of home appliances. It's a great tool if you're looking to shave some dollars off your electricity bill.
Be covered for emergencies with a massive 2400W output
Expandable capacity up to 6kWh with smart extra batteries
Get up to 800W max solar charging speeds with two 400W solar panels
Up to 13 ports and outlets
Lightweight at 48lbs
DELTA: A Portable Power Generator For a variety of Homes
Whether you're in a house or living in an apartment, DELTA provides both humble abodes with an excellent, green source of backup power.
Up to 13 ports & outlets
Go from 0-100% battery with three 160W solar panels in 3.5 – 7 hours
Whopping 1280Wh capacity & 1800W output
Lightweight at 30.9lbs
Fast charge from AC level 2 EV stations
DELTA Mini: A Portable Electric Generator Alternative for Smaller Living Spaces
For smaller living spaces or life on the road, DELTA mini is the most portable option in the DELTA family. This pint-sized powerhouse can keep your devices and appliances up and running for hours. Thanks to its capacity, output, and solar input size, it's great to take on campsites or power your RV.
The lightest DELTA at 23.6lbs
With 882Wh capacity & 1400W output, you can still power the bigger stuff
Reach 100% battery with two 160W solar panels in 4 – 8 hours
Charge up to 12 devices simultaneously
Control and monitor power consumption with the EcoFlow app
Interested in a more in-depth comparison of the DELTA series? Find that here.
Final Thoughts
Thanks to technological advancements, green, clean portable generators are starting to change the backup power supply game. It's evident that being able to create an unlimited but sustainable power supply is beginning to take precedence over using traditional generators. Plus, battery-powered power stations can be used for home backup and outdoor use. By making the change to a home generator powered by renewable energy sources, we work towards creating a healthier planet. If you want to take a deeper dive into battery-powered generators, you can check out the EcoFlow DELTA Series comparison here.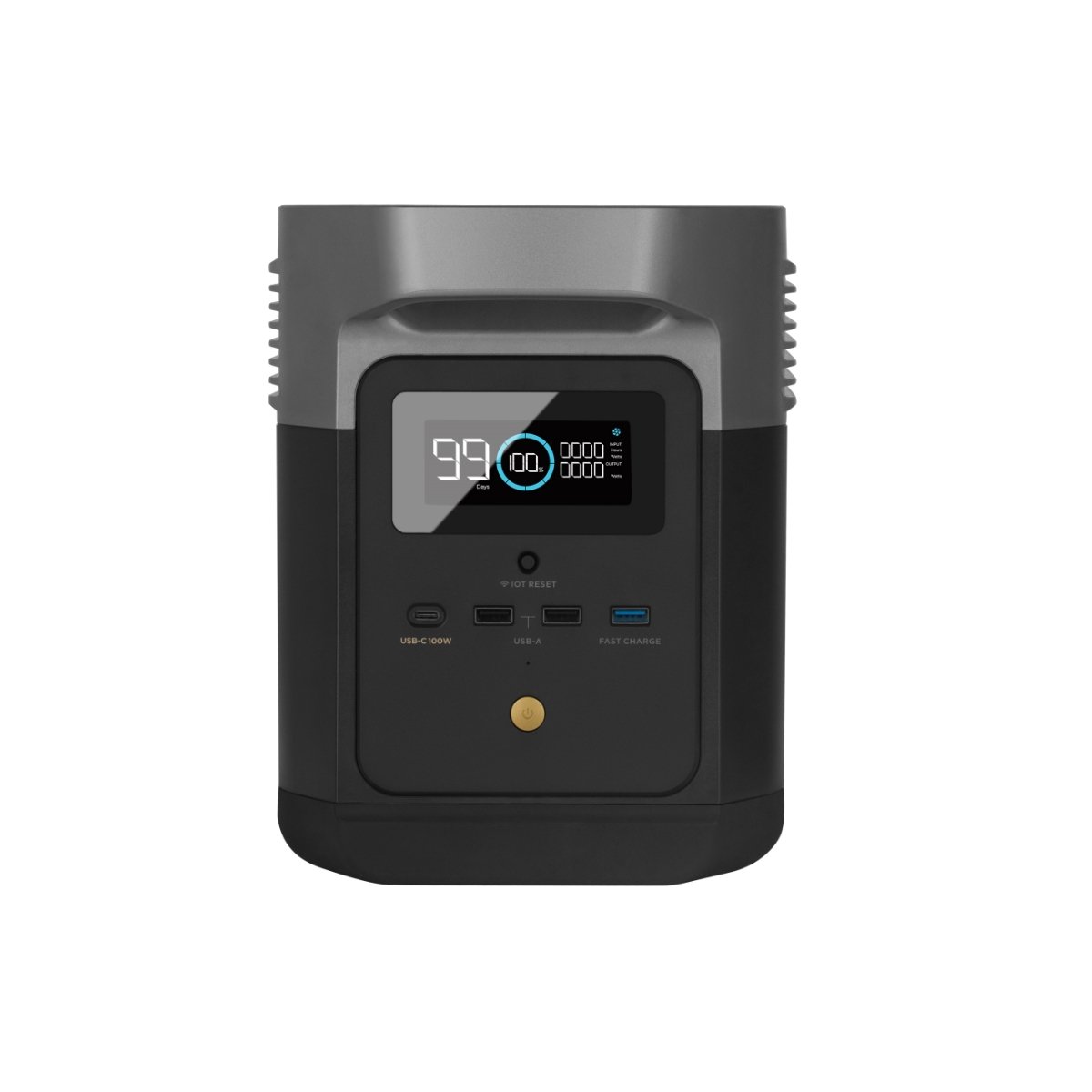 DELTA mini
Capacity
882Wh
Phone (11W)
62 Charges
Laptop 60W
12 Charges
Mini Fridge
12 Hours
Blender (500W)
1.5 Hours
Coffee Machine (1000W)
0.7 Hours
Air Fryer (1500W)
0.5 Hours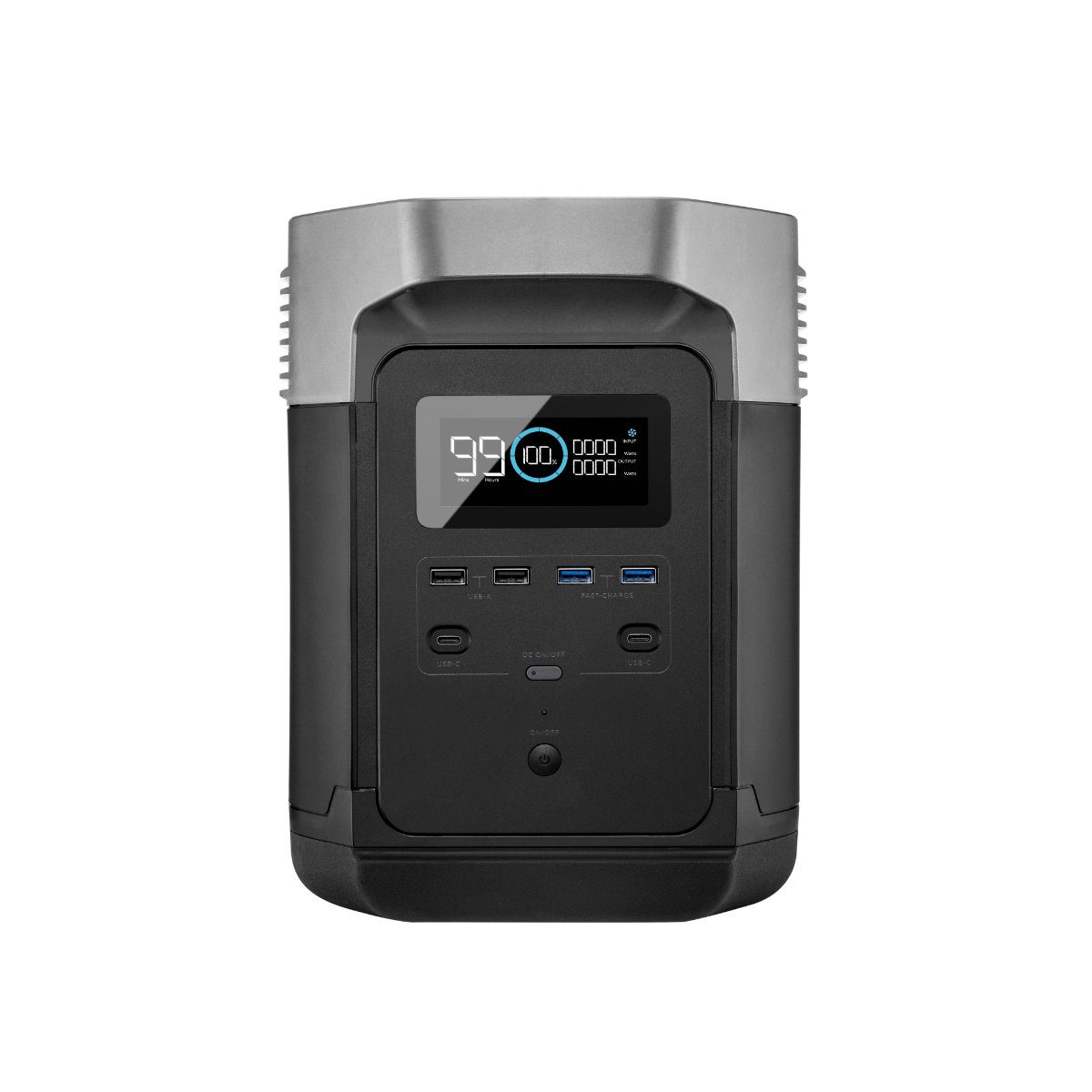 DELTA
Capacity 1260Wh
Phone (11W)
104 Charges
Laptop 60W
19 Charges
Mini Fridge
19 Hours
Blender (500W)
2.1 Hours
Coffee Machine (1000W)
1.1 Hours
Air Fryer (1500W)
0.7 Hours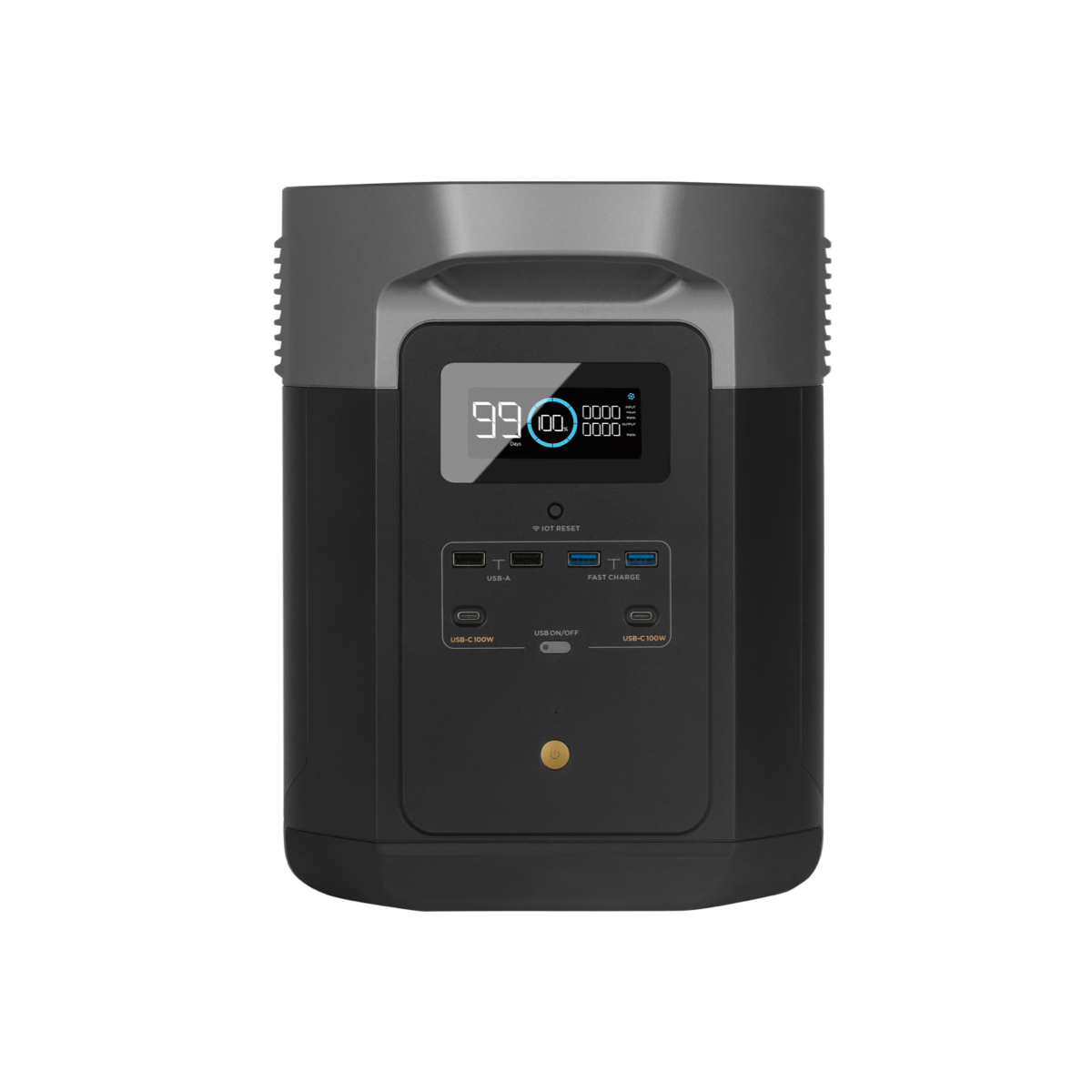 DELTA Max
Capacity 2016Wh
Phone (11W)
175 Charges
Laptop 60W
32 Charges
Mini Fridge
33 Hours
Blender (500W)
3.5 Hours
Coffee Machine (1000W)
1.9 Hours
Air Fryer (1500W)
1.2 Hours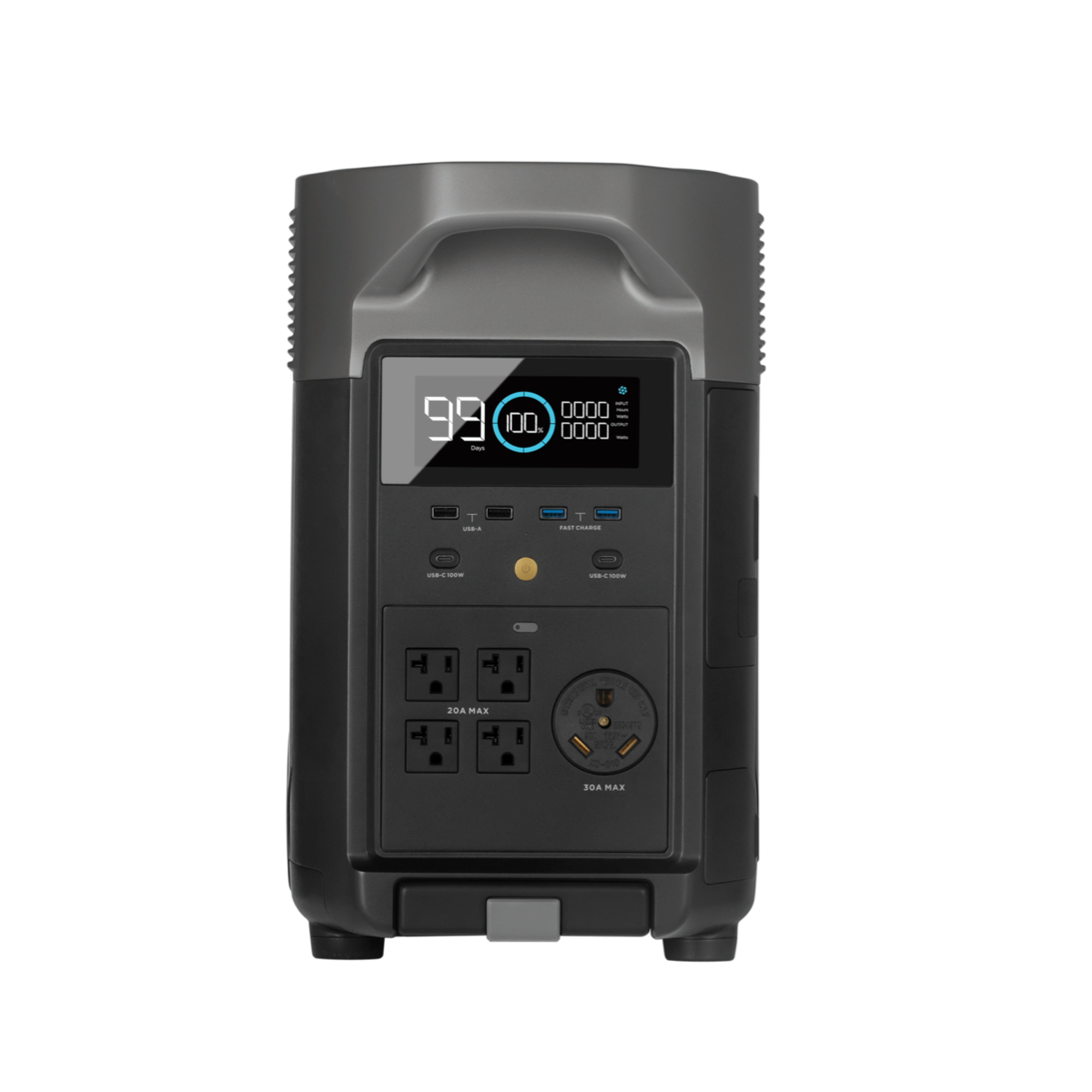 DELTA Pro
Capacity 3600Wh
Phone (11W)
313 Charges
Laptop 60W
57 Charges
Mini Fridge
57 Hours
Blender (500W)
6.5 Hours
Coffee Machine (1000W)
3.3 Hours
Air Fryer (1500W)
2.2 Hours