While there are plenty of campsites with electrical hookups, many people enjoy the experience of going off-grid and fending for themselves. Although camping means getting back to nature for some, others set up camp to work remotely or relax with the convenience of creature comforts.
No matter where or how you like to camp, read on to learn how beneficial a portable power station could be on your next outdoor adventure.
Choosing the Best Solar Powered Generator for Camping
River 2
Capacity: 256Wh
Net weight: 7.7 lbs (3.5 kg)
Dimension: 9.6 x 8.5 x 5.7 in (245 x 214 x 142 mm)
AC Output Ports: 2
Cycle life: 3000+
Solar Input: 110W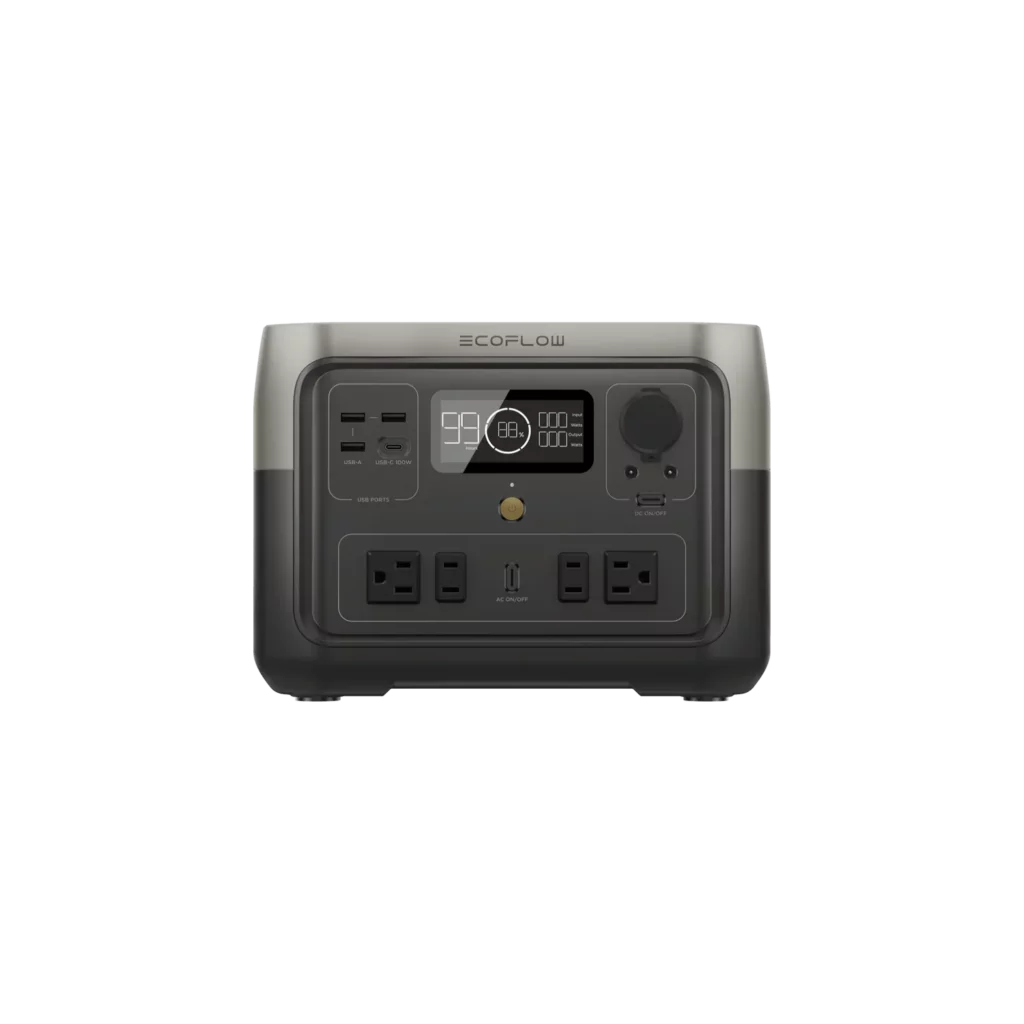 RIVER 2 Max
Capacity: 512Wh
Net weight: 13.4 lbs (6.1 kg)
Dimension: 10.6 x 10.2 x 7.7 in (270 x 260 x 196mm)
AC Output Ports: 4
Cycle life: 3000+
Solar Input: 220W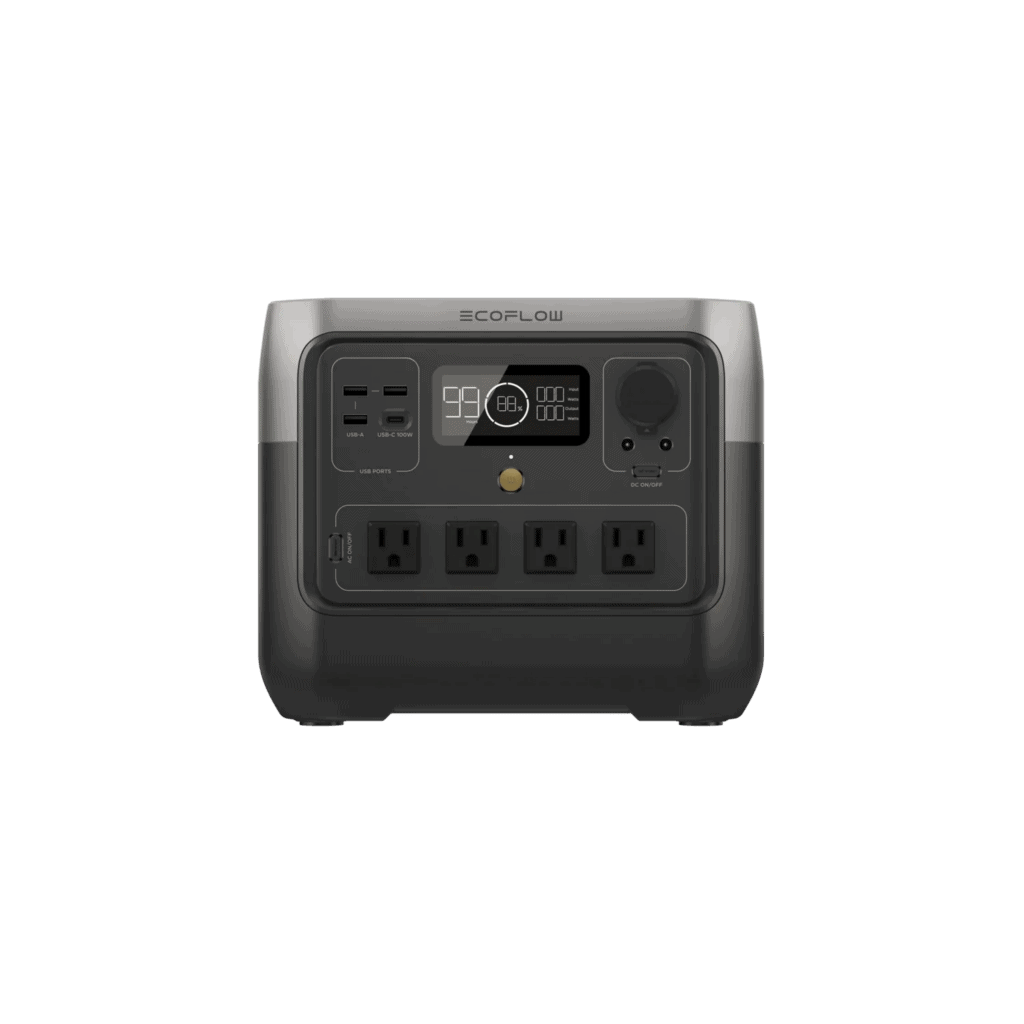 RIVER 2 Pro
Capacity: 768Wh
Net weight: 17.2 lbs (7.8 kg)
Dimension: 10.6 x 10.2 x 8.9 in (270 x 260 x 226 mm)
AC Output Ports: 4
Cycle life: 3000+
Solar Input: 220W
Benefits of Camping with Solar Generators
If you're still on the fence about purchasing a solar generator for camping, then keep reading to learn why they're the best portable power source.
Quiet & Odorless
Solar-powered generators are completely silent and produce no emissions so that you can enjoy the peace and quiet of your surroundings without any obnoxious smells.
Eco-friendly
One of the most appealing features of a solar generator is that it creates clean energy. It lends itself perfectly to camping in natural surroundings, where burning gas to cook or power lights harms the global and local environment.
Safe
Since portable power stations don't use fossil fuel to run they're a safe option, especially if you're camping in the woods. Unlike gas generators, you can safely use them inside a tent or RV to power lights and appliances.
Long-lasting
Solar-powered generators have a lifespan of 25-35 years, depending on the quality and brand. While they may appear expensive at first, they can be considered an investment in the long run.
Ease-of-Use
A portable solar generator includes all the technology needed to recharge and power your home appliances. Simply plug in your solar panels, connect to an EV charging station or the grid to charge the unit, then connect your devices when you're ready to power up.
Portability
The best portable power stations hold all the essential components that you need for solar power. So unlike kits used to wire a home or RV, it's easy to take with you anywhere. Pair with travel-friendly solar panels that fold up when they're not in use.
Multiple Ways to Charge
It may be called a solar generator, but some portable power stations can also charge using different sources. While solar panels are the most eco-friendly way to recharge, you can also charge from the grid when the weather isn't ideal. Many of EcoFlow's units can recharge to 100% in less than 2 hours. If you get caught short, you can also top off the battery while you're in the car using your 12v charging port. Since this is the slowest charging option, it should only really be used as a last resort.
Charging using an electric vehicle (EV) charging station is still a fairly unique charging option, but it's extremely handy since over 43,000 public stations are in the United States alone.
Versatility
Even if you're considering purchasing a portable solar generator for camping, tit can be used in other ways, too. Take it with you in the car off outdoor activities, use it in the shed to power tools, or in any situation where you might need backup power.
How to Charge Your Portable Solar Generator While Camping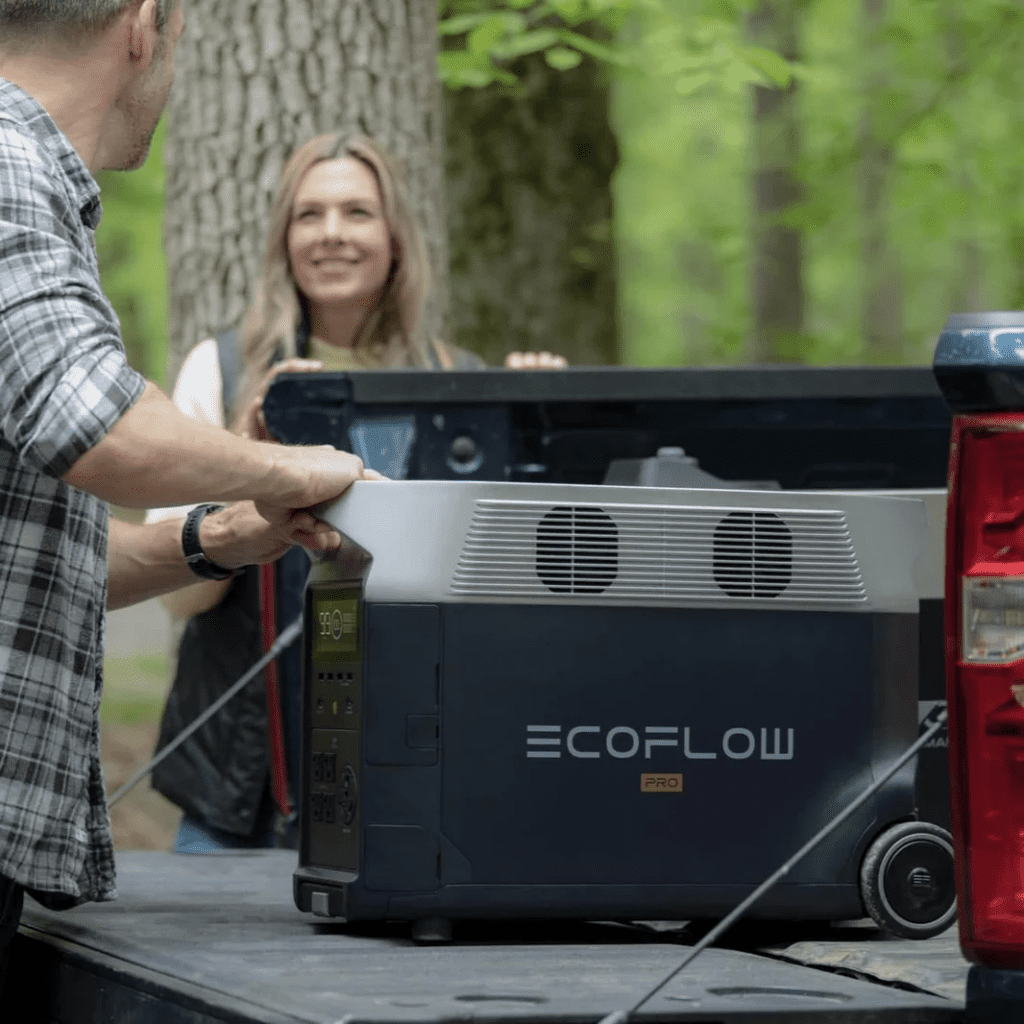 You don't want to run out of power while you're off the grid, which is why there's more than one way to juice up your portable power station.
Solar Panels
Portable solar panels are the ideal way to top up your generator when you're off-grid. They're convenient to store and transport, as they fold away when you're not using them. Solar panels typically require an solar panel connector that plugs into the generator to begin charging.
AC Wall Outlet
Solar generators allow you to plug into the wallet socket at home and recharge. This is by far the fastest charging method and is perfect if you decide to take off last minute, as EcoFlow portable solar batteries have the fastest charging technology in the world.
12V Car Charging
Car charging is the slowest option, but using your 12V socket can give your solar generator a boost when you're on the go.
EV Charging Stations
This is a relatively new addition to portable solar generators, and currently, only EcoFlow's DELTA Pro has this function. With tens of thousands of available stations located around the USA, and 150 thousand in Europe, DELTA Pro can recharge using an EV charger in less than 2 hours.
Extra Batteries
Extra Batteries plug in and charge the main battery unit and are available for DELTA Max, and DELTA Pro.
You can see our full range of Extra Batteries here.
What to Look for in a Solar-Powered Generator for Camping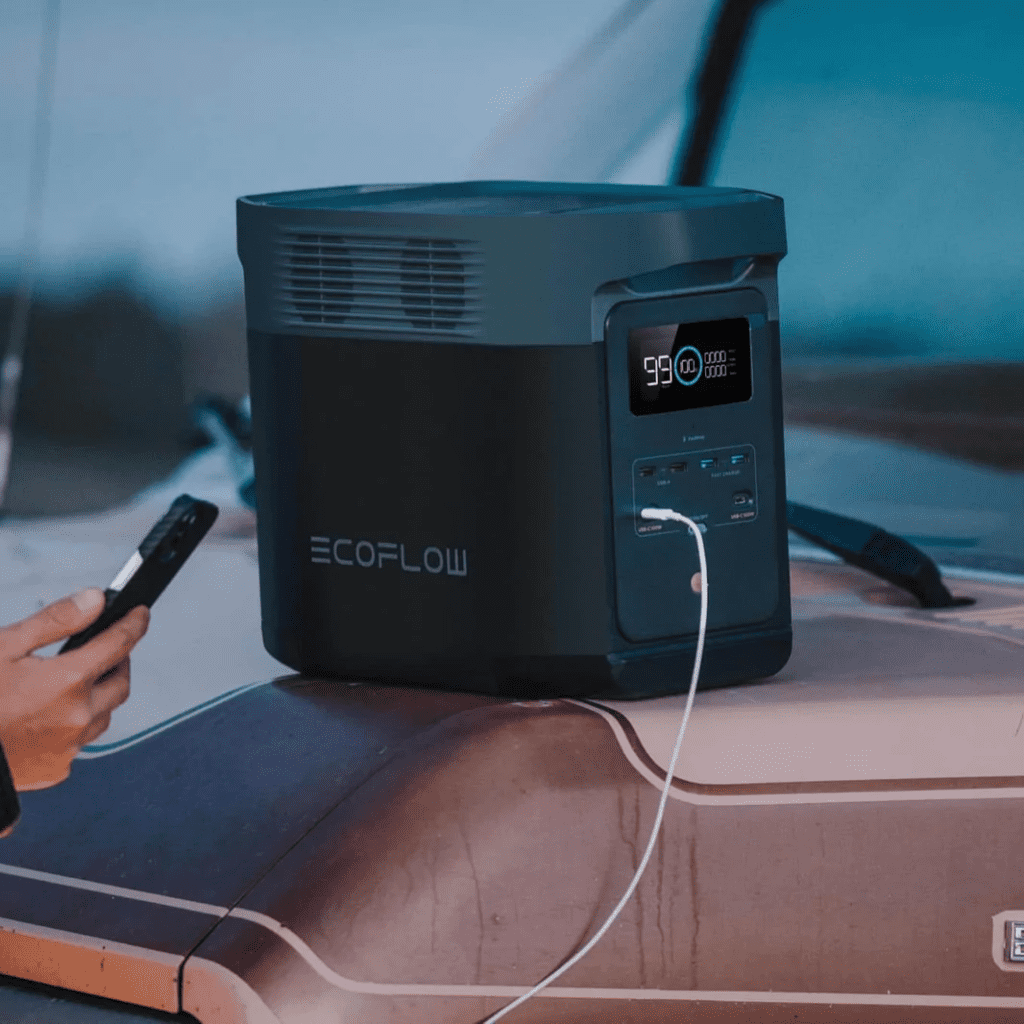 Charging Outlets
Camping has changed considerably over the years, and you no longer have to rely on a pack of cards and a guitar for entertainment (but you can, and that's awesome). Now, you can take tech with you wherever you go, just make sure to factor in how many outlets you'll need for all your gear.
If you're only planning to charge a laptop, mobile, and drone, then you might only need a handful of ports. If you're powering all the family's gear and high-wattage appliances, you'll need something larger.
You'll have plenty of outlets with any of EcoFlow's solar generators that have up to 15 outlets, ranging from USB-C to multiple 600W pure sine wave outlets.
Portability
Weight and size are essential factors to consider when you're camping. You have a finite amount of storage space in your car or RV, and once you've packed your basic camping equipment, there's not a whole lot of room for extras. You also need to be realistic about the size and weight of a portable power station, especially if you want enough watt-hours to illuminate Yellowstone.
Charging Rates & Time
Charging rates are usually affected by the size of the battery itself. So the larger the generator, the longer it will take to charge. Typical solar generators can recharge up to 80% using a wall outlet from 2-12 hours. EcoFlow's portable power stations have the fastest recharge speeds in the industry, so even our biggest units charge in under 2 hours. Yep, that fast. Using solar to recharge a solar generator depends on how much input it allows, the solar panel's efficiency rating, and wattage. A 12V car charger takes a while to recharge but works fine if a solar generator needs a quick power boost.
Capacity
The capacity of a solar battery you choose for camping depends on a combination of factors, including the kind of appliances you want to power and how many. For example, if you plan to run a 60W mini fridge for approximately six hours, you'll need a solar battery with a capacity of at least 360Wh.
Surge
When they first kick in, some appliances, especially those with an electric motor, such as a refrigerator, have a surge of power that is much higher than their typical wattage. A fridge that may only need around 800W will have an additional power surge of 1200W when the compressor starts. This means that if you're planning to power a fridge, you'll need a solar generator with a surge rating of at least 2000W.
What is the Best Solar Generator for Camping?
Depending on how long you're camping for and the types of devices you're powering, we've got a range of portable solar power stations that can fit your needs.
For a simple overnight camping trip, a small power station with a capacity of around 256Wh, like EcoFlow's RIVER 2, is enough. You can easily charge your phones and laptops, run small camping lamps, as well as boil a low-wattage camping kettle for coffee in the morning. Even if you run out of power, you can top up RIVER 2 using up to 110W solar input.
Weekend Trips
200-300Wh could be enough to keep you powered over the weekend, and even if you run low you can top up with solar panels. EcoFlow's RIVER 2 can recharge using solar panels, AC outlets, or car. RIVER 2 can power most electric appliances, including weekend must-haves such as a mini-fridge and stereo.
Dry Camping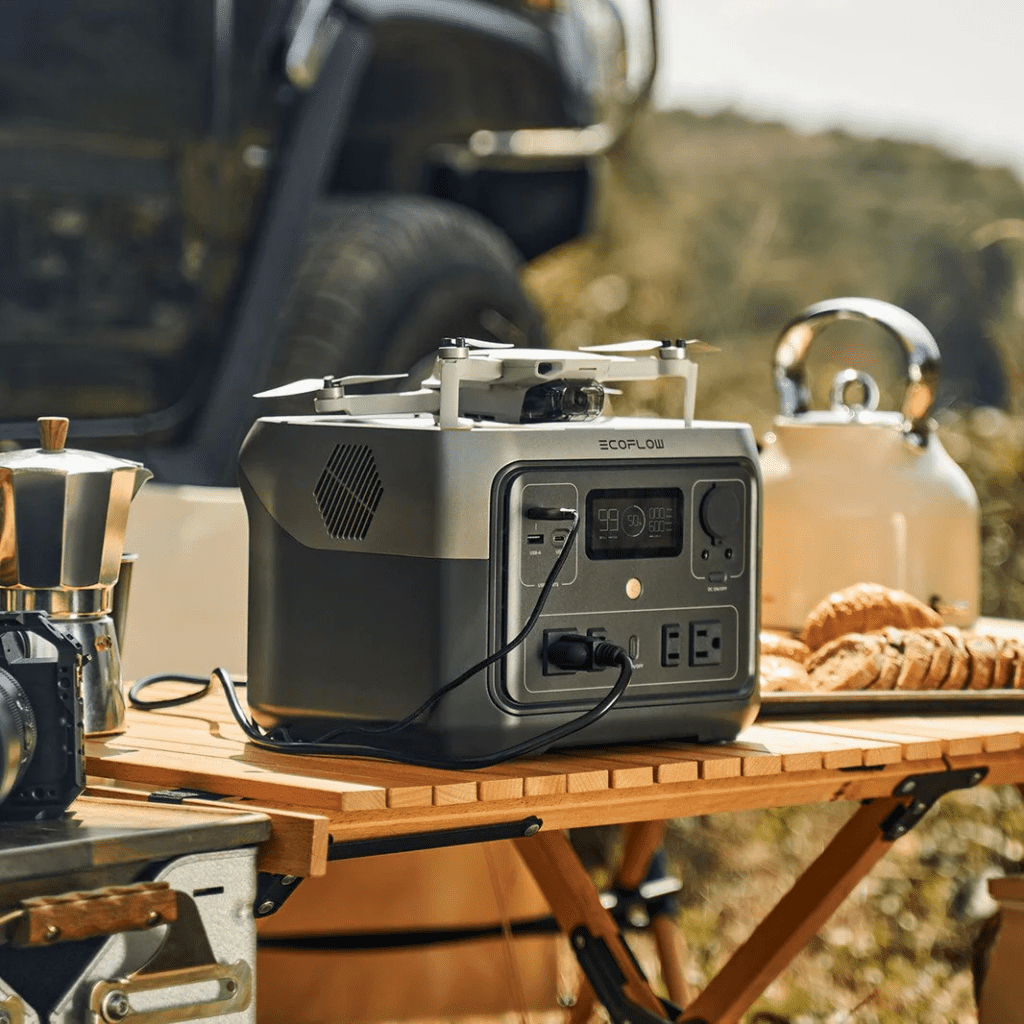 For dry camping, you might require a larger capacity solar battery if you're unable to recharge using solar during daylight hours. With a portable power station, such as RIVER 2 Max, you'll have capacity up to 512Wh or up to 1000W using X-Boost.
Road Trips & Overlanding
If you're planning on traveling long distances in your RV or jeep, then a solar power station that balances portability, capacity, and ability to charge high-wattage appliances is essential. If you're frequently off-grid, choose a larger-capacity battery, such as a RIVER 2 Pro with capacity of 768Wh. With an output of 1600W using X-Boost, you can power a hairdryer, small travel washing machine, and more.
Whether you regularly head out for a weekend camping trip or boondock in your van, solar generators are the way to go. With large, expandable capacities, multiple charging methods, and power for all your appliances, check out our range of portable power stations for camping here.