Air conditioning can be a real puzzler. The very term AC has connotations of bulky, heavy units, a hose that needs a window open for ventilation, mounting, drilling… the list goes on. Throw in your need for portability, and it can get even more tricky. Finding a portable air conditioning unit with all the specs you need can be a real challenge.

But here's the thing. EcoFlow challenges expectations with its exciting debut Wave portable air conditioner. It's carefully crafted and considered for those that require efficiency and ease. The Wave is a testament to EcoFlow's expertise in battery technology.
Find out more about the Wave's top features and overview below and wave goodbye to the heat.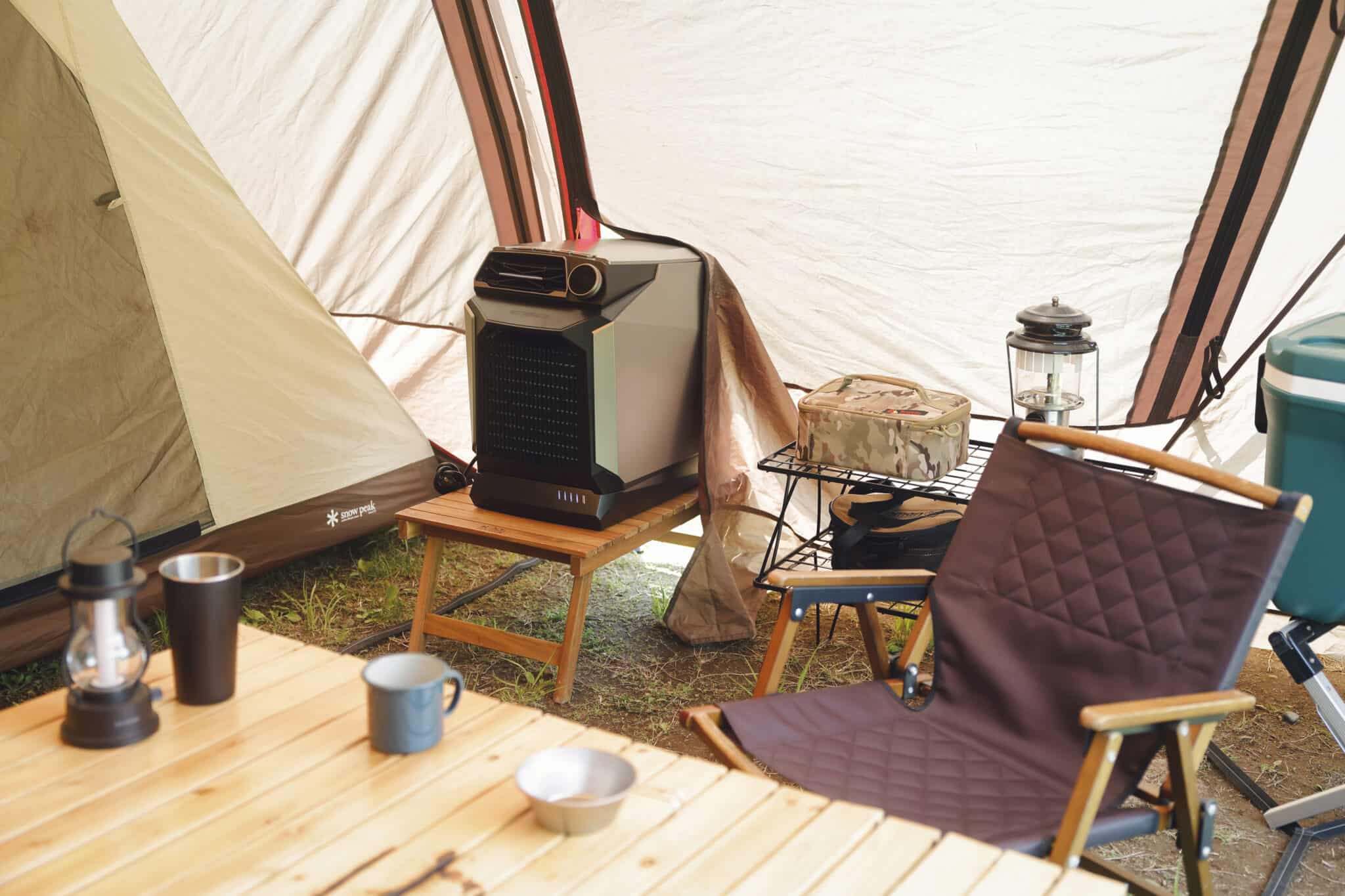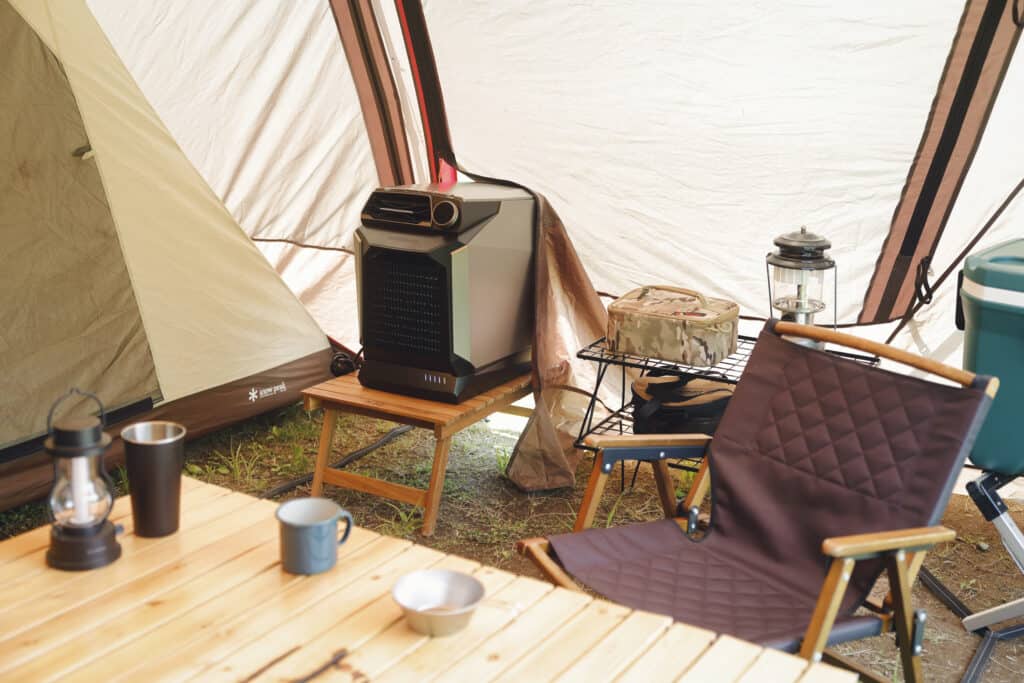 Why you Need a Portable Air Conditioning Unit
Let's face it, we have all had those balmy evenings or clammy mornings zipped up in a tent or sitting in an RV sweating buckets and feeling overwhelmed and sluggish.
For instance, when the air outside is stagnant, the bugs are desperate to fly into your domain uninvited, or the sun is beating down on your transportable home and transforming it into a portable greenhouse, it can be a real struggle to feel proactive and productive indoors.
Battery-powered fans can burn out quickly, and there are only so many batteries you can pack before you give up and lay defeated in the baking heat.
Ecoflow Has a Solution
EcoFlow has designed a portable AC solution that's a breeze – literally.
There's nothing better than rewarding yourself with some peace of mind by taking your home comforts with you off-grid. Now that can include packing a portable air con with you. Worrying about bulky units that guzzle up your energy and take up way too much real estate in your space is a now thing of the past.
What's more, when you're not traveling, you can also use the EcoFlow Wave as a portable room air conditioner in your home to cool down a small to medium-sized room without worrying about racking up your electricity bills.
Rapid Cooling Capacity
There's no need to sweat it waiting for your space to cool down. The Wave portable AC unit has a 4,000BTU (British Thermal Unit) cooling capacity, which is the gold standard in the industry. Especially for an AC this small.
To enumerate, it chills 86ft² (8m²) square feet of space from 84℉ to 75℉ (30℃ to 24℃) in just a speedy 8 minutes.
If you want to direct a blast of cool air, you also can attach tubing to the unit. Ideal for venting cold air into your tent or RV through an opening.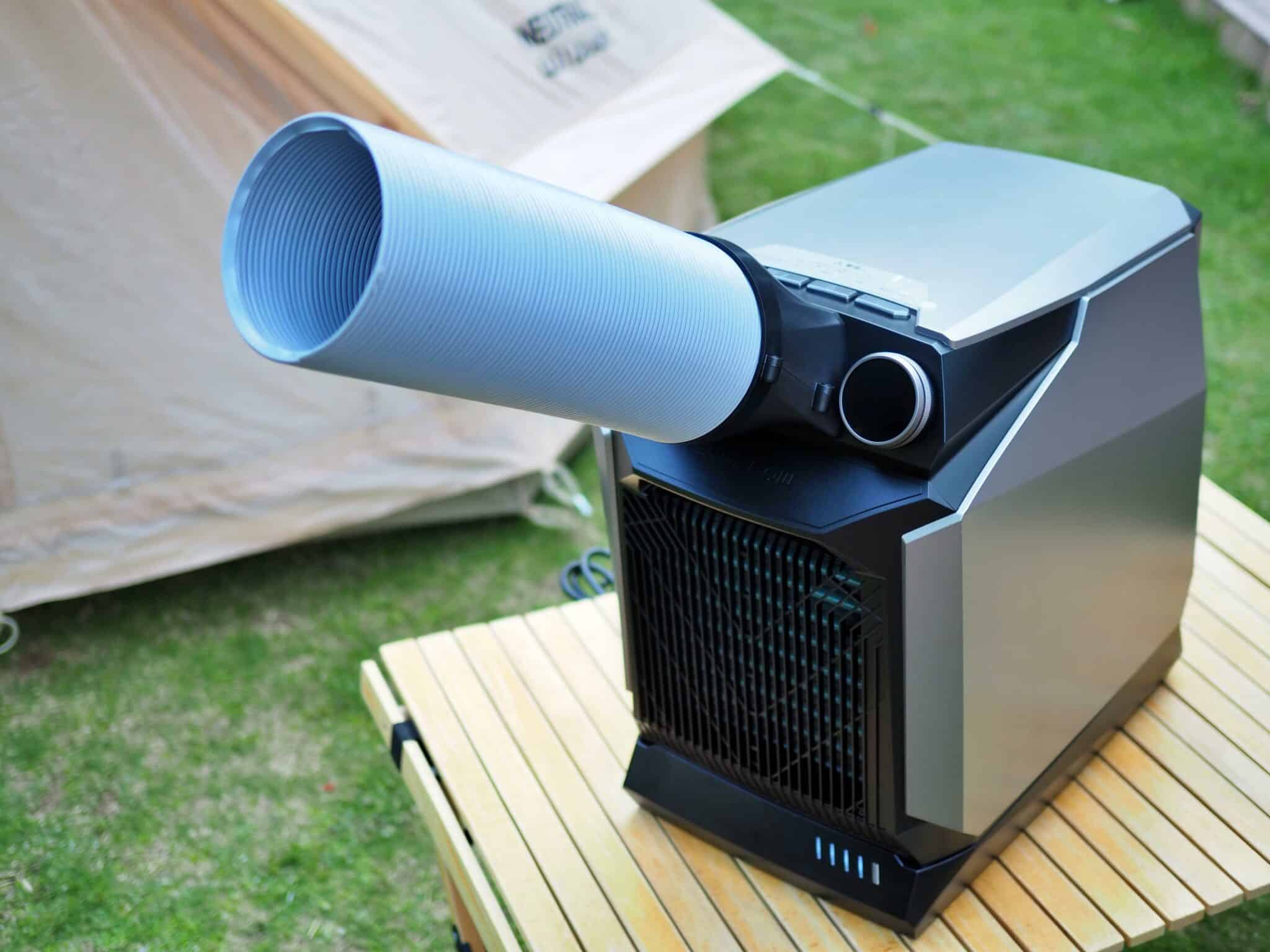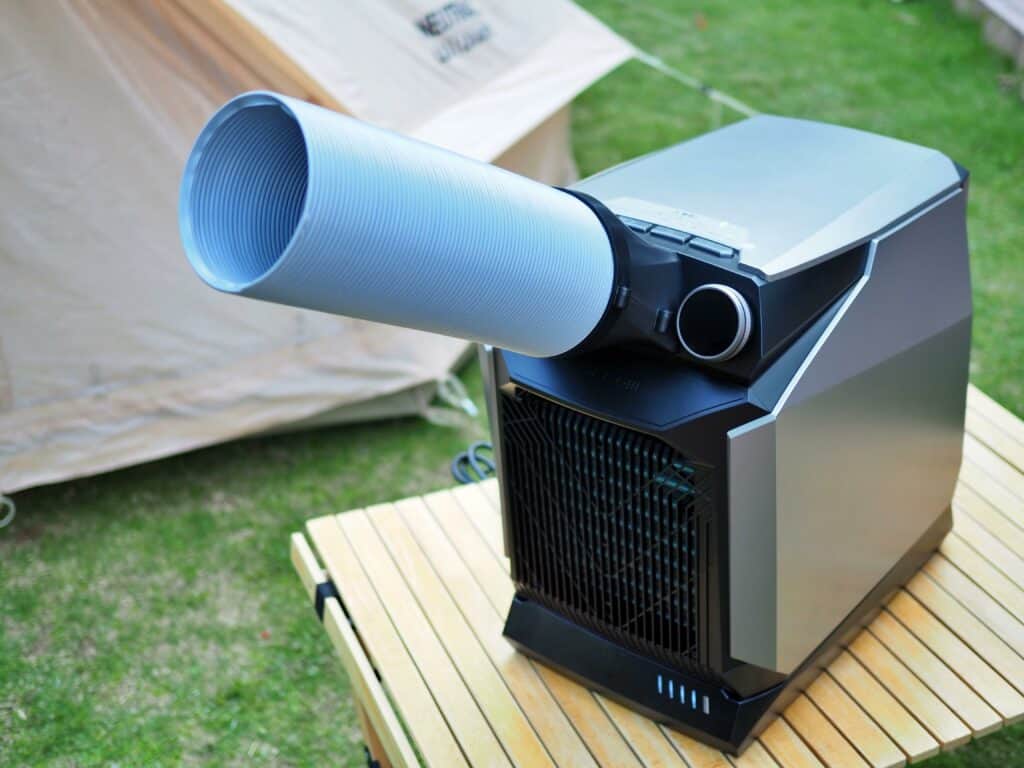 Multiple Ways to Charge
To start, it's good to point out that the Wave is powered by a 1008Wh add-on battery. With this, you can enjoy 3-8 hours of cooling, depending on which settings you choose.
There are multiple options to charge the Wave. If you find yourself in the mountains or desert, you can be well assured that you won't be left stranded with a unit that's run out of juice with no way to charge.
Take a look at the options which you can use to charge the EcoFlow Wave below:
Wall Outlet
In a bit of a hurry? Plug into a standard wall outlet for a 600W charge in just 2 hours.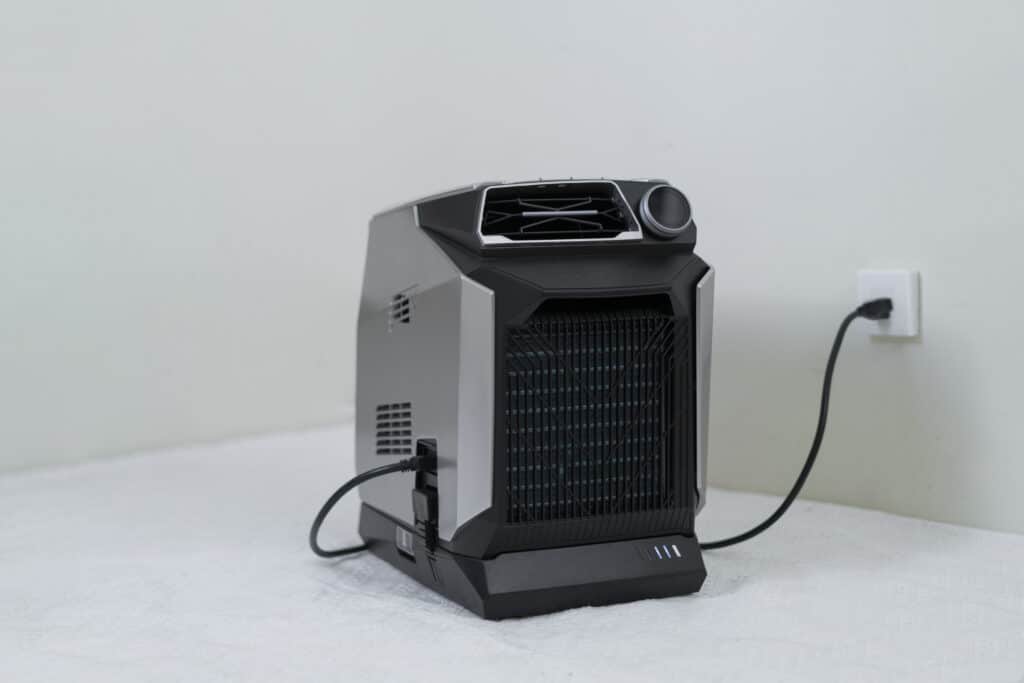 Car Charging
Out in the sticks? Plug into your car outlet for a 200W charge from flat to full in five hours.
Charge or Run It Using an EcoFlow Portable Power Station
Pair with an EcoFlow DELTA Max or DELTA Pro – or the compatible batteries – to get a mighty 6 to 12 hours of runtime. EcoFlow portable power stations offer a 28% more efficient rate than other competing portable battery generators on the market due to no conversion losses. If you need to charge up, you can plug it into your power station to charge the add-on battery. Otherwise, you can still recharge the EcoFlow Wave using any portable power station with a 600W input.
Not sure what a portable power station is? Learn more here.
Sustainable Solar Charging
The Wave can be charged via sunlight wherever you are. Whether you're in the wilderness or in your backyard or balcony, use up to 200W of solar panels to eco-consciously charge the Wave to full capacity in just 5 hours.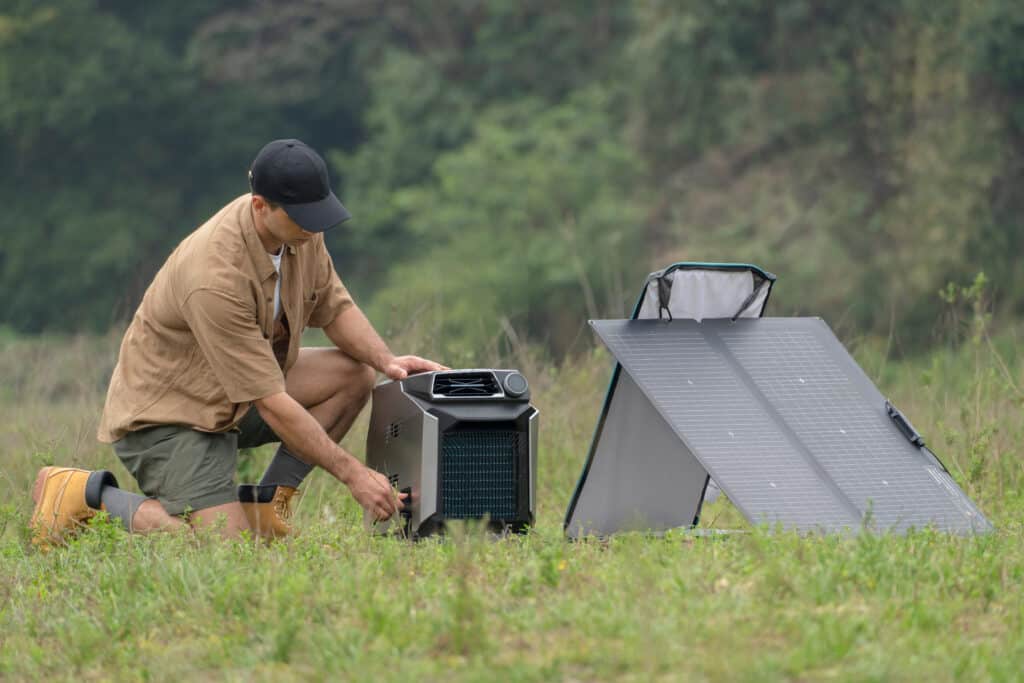 Light But No Lightweight
With built-in carry handles and a weight of 38.6 lb (17.5KG), which is about the same weight as four domesticated cats, the EcoFlow Wave is a small portable air conditioner that's easy enough to transport and carry around.
Running at 4000BTU, it's undoubtedly the most powerful air conditioner of its size.
Compared to other portable air conditioners with this cooling power, the Wave is one of the lightest on the market. According to data from Appliance Analysts, portable AC units typically vary between 53Ibs to 77Ibs (between 5000BTU-14,000BTU).
No Water Pooling Up
Unlike traditional air conditioners, there's no more doggy bowl of excess water to set down every time you use your new EcoFlow Wave air con as long as the humidity is below 70%. Even then, you can link up a drainage tube.
Ultimately, you can use the Wave portable air conditioner without window access.
The Wave stands out because it evaporates excess water thanks to its clever built-in heating tube. Your room, RV, or tent will keep dry after hours of cooling, so there's no compromise. No manual drainage – less hassle.
A Breeze to Use
What makes the Wave simple to use is the intuitive dial controls that increase or decrease cooling or alter runtimes. You can also switch between two dial options by pressing the mode button.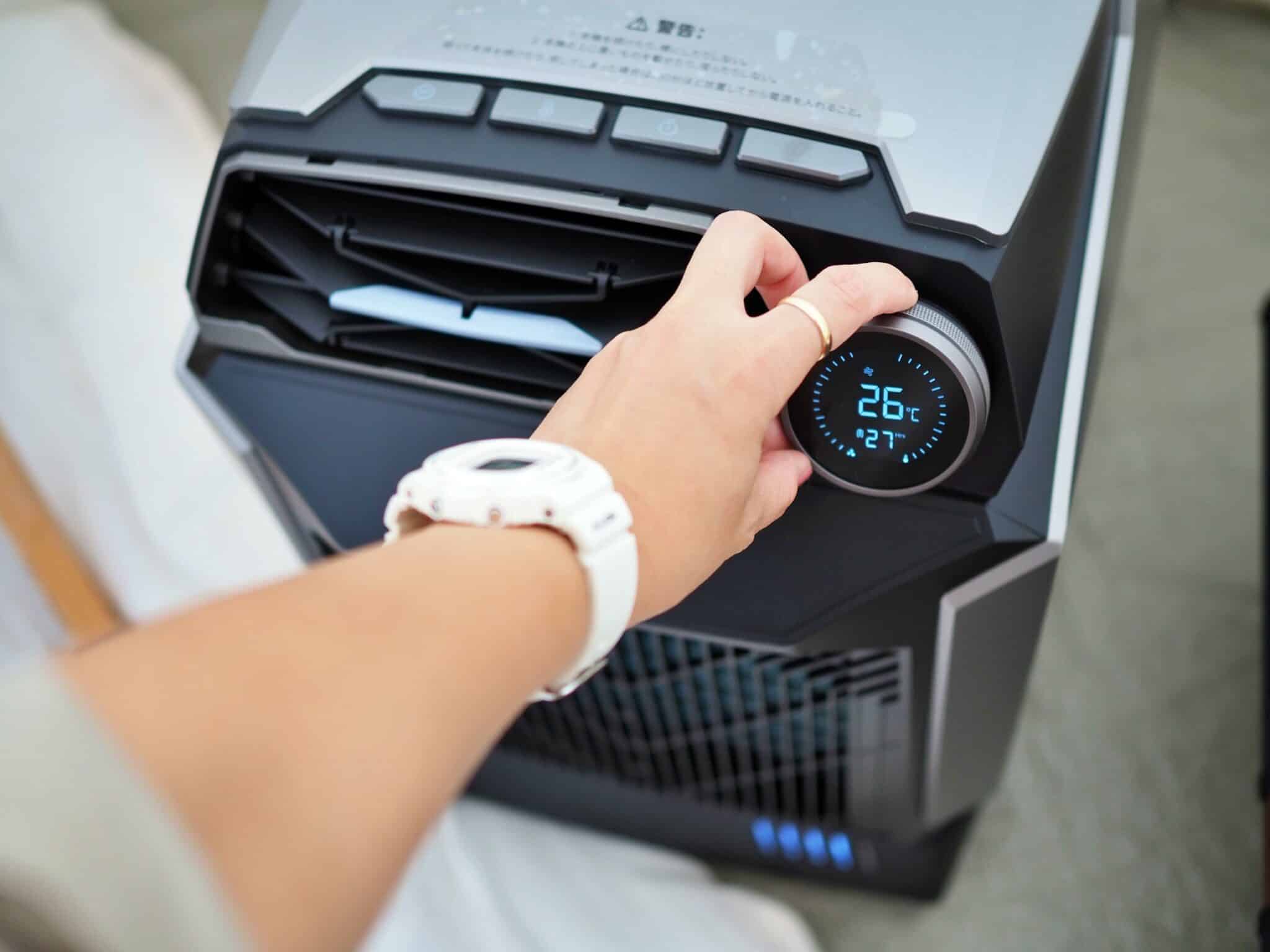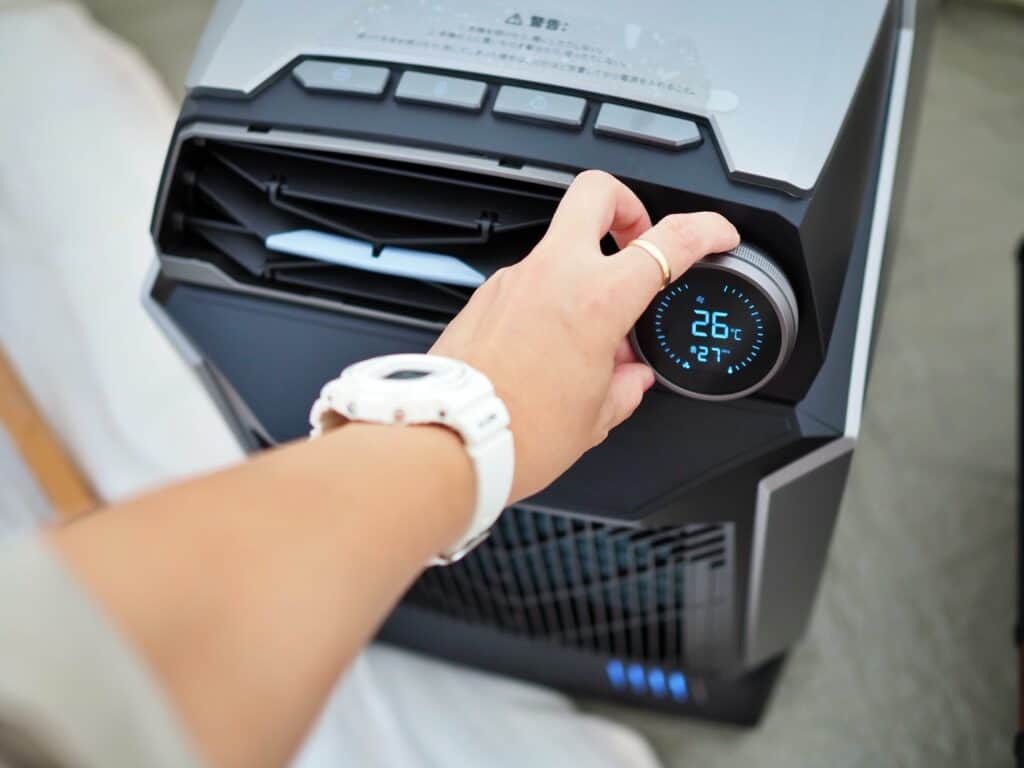 Customize from the Palm of Your Hand
In addition to using the dial controls from the unit, you can save your legs and control the Wave from a distance. It can be customized and controlled from a distance using the EcoFlow app from your phone via Bluetooth or WiFi.
There are many features to customize the Wave. Notably, Eco Mode is a great app feature that lets you enjoy up to 8 hours of crisp, cool air. You can decide between low, medium, or high settings for a truly customizable experience.
Meanwhile, it will switch between cooling and fan modes to extend and maintain your room's perfectly cool temperature.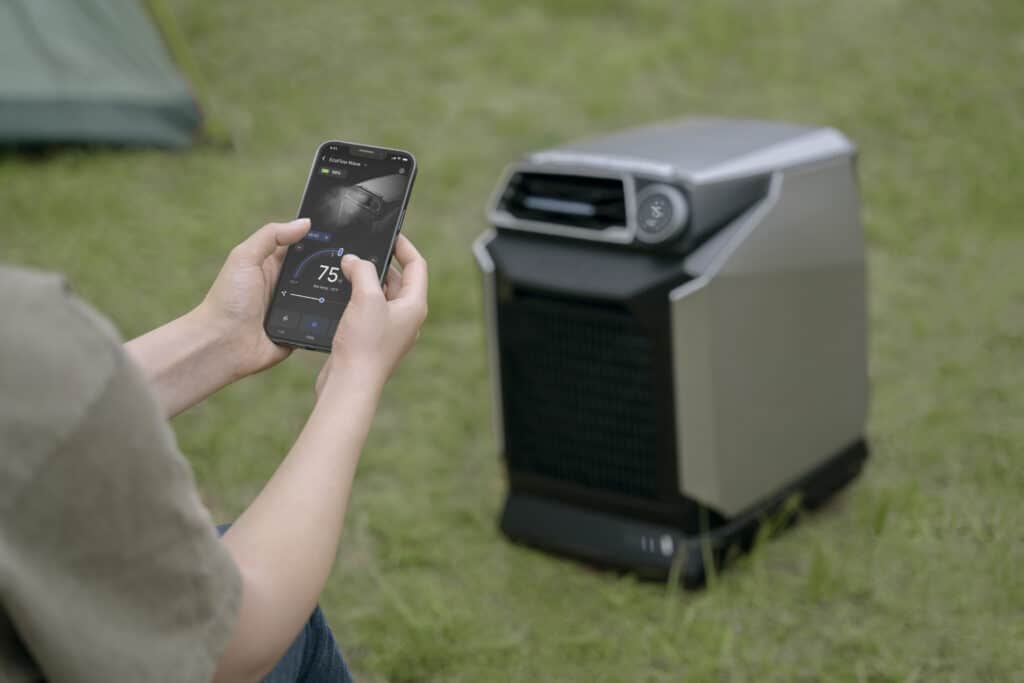 Interested in learning more? Get more info about Wave here.
Conclusion
Portable air conditioners that are heavy-duty, awkward to carry, and take a lot of effort to maintain are now a thing of the past. Thanks to the EcoFlow Wave, you can harness efficient, compact, and portable cool air wherever your next adventure will take you.