Looking to buy a solar generator for your home? Look no further than this handy guide. We know how tough it can be to hunt for the best product – shoppers fatigue is a real thing. So we've made it easier for you to find the best solar generator for your home.
In this article, we'll discuss the top features to look out for in a solar generator as well as give you the run-down of our best solar powered generators for home use.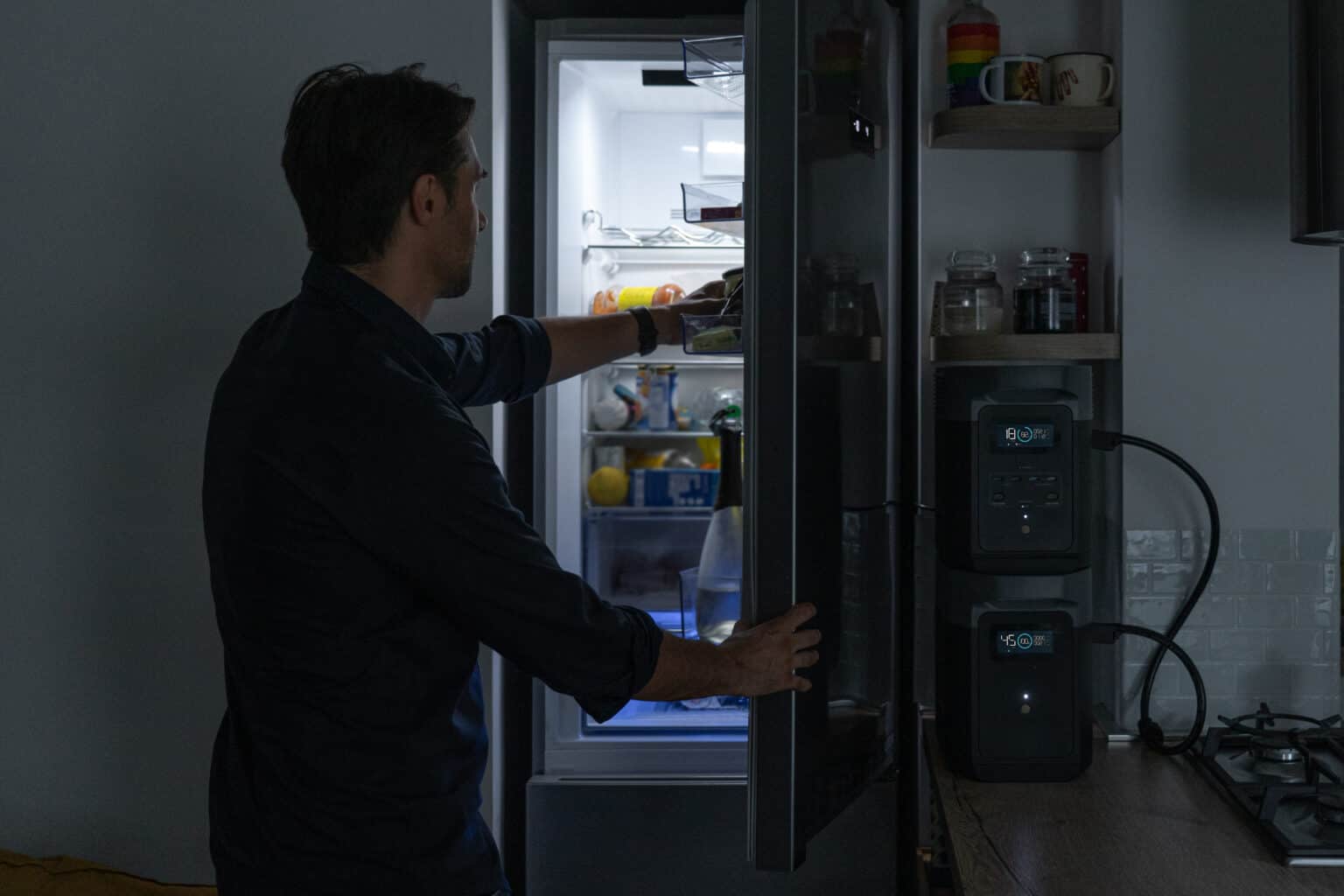 What Do You Need Your Solar Generator For?
With so many different sizes, watts, and capacities on the market today, solar generators for houses have never been more versatile. Gone are the days of clunky, loud, gas-grazing standby generators of yesteryear. Let's take a look at some of the applications that people use their solar generators for:
Solar Generator for General Home Use
Make the most of your free collected solar energy throughout the day and power up your appliances.
Solar helps you to cut your electricity bills, keeps you partly or fully independent of the main grid, and reduces your carbon footprint.
Solar Generator for Home Backup Emergencies
In the event of a blackout, a solar generator with the correct capacity for your daily usage will be your blessing. For maximum usage, it's best to have a power outage plan to gauge the appliances you'll need to charge up the most.
Read more about why and how to stay prepared during a power outage
Top Features of Solar Generators to Consider Before You Buy
Listed below are the top specs to look out for in a solar power generator for home use to better arm you with more buying power.
Feature 1: Capacity
Solar generators come in all different capacities and you'll want one that is just enough for your home energy usage. For instance, use a small solar generator like a DELTA mini (1400W) + 160W solar panel and charge up smaller devices like iPads, phones, laptops, drones and cameras if you're a freelance photographer or hobbyist that frequently needs to charge their devices.
Or, if you're a family of 4-5 with piles of clothing to wash and dry throughout the week and are super worried about your soaring energy bills, use a large solar generator like a DELTA Pro + 400W solar panel for a massive 3.5kWh capacity to help lighten the load.
Choosing a capacity that's right for your home ensures that you're either not wasting time spent charging your device for watts you don't need, or conversely, are not running out of power to charge larger appliances.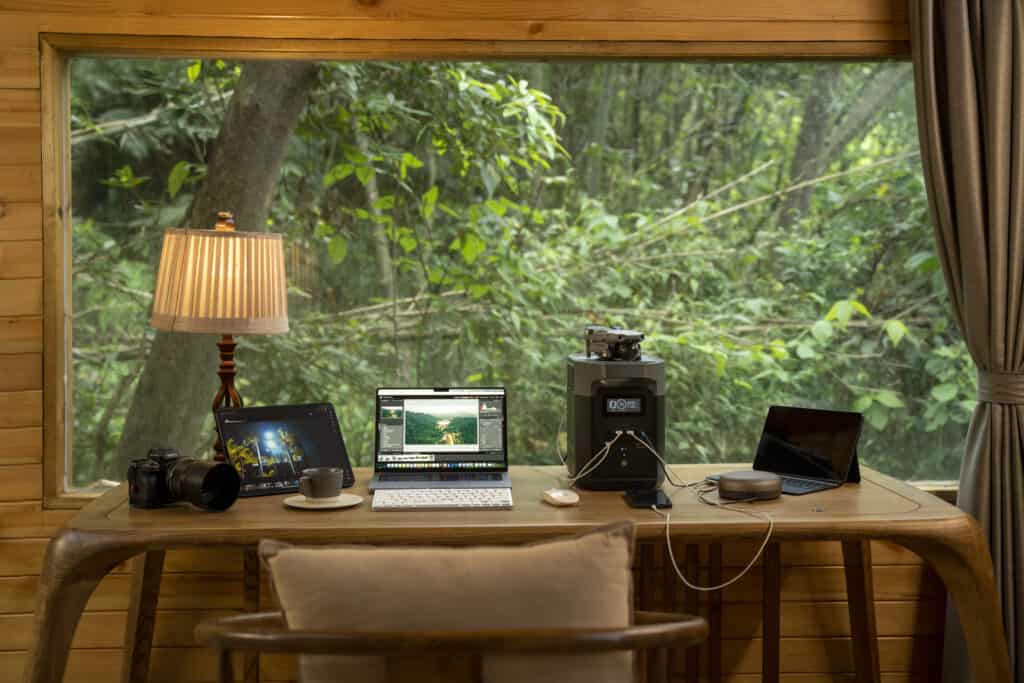 Feature 2: Output
Output determines how much power a battery generator for a home uses. It's important to know what output each of your appliances uses and the total power they eat when used simultaneously. Most appliances use AC electricity.
For instance, DELTA 2 has a huge 1800W AC output, meaning it can power over 90% of household appliances. What's more, DELTA 2 can prevent overloading with built-in X-Boost Technology for devices of up to 2200W.
Feature 3: Size
Different sizes impact portability, storage, and capacity. Ask yourself these questions:
Do I have a small/large home?
Are there frequent blackouts in my area?
Does large capacity matter or does portability matter more?
Do I only require small devices to be charged?
Do I have large appliances that I/my family need to use during a blackout?
If portability is important to you, your household is small and you only need small devices like lights, a microwave, and phones charged during a power outage, a solar generator such as a DELTA 2 or River 2 Pro would be ideal for you
If, on the other hand, you have a large household, portability isn't an issue and you need heavy-duty appliances like a fridge, air-con, or heater to be powered up for extended periods, then a DELTA Pro that can be wheeled wherever needed would be your saving grace.
Feature 4: Cycle life
Our EcoFlow solar generators use either NCM or LFP batteries chemistry. LFP is common for EcoFlows batteries and lasts up to 6 times longer than NCM. For example, the fine-tuned DELTA 2 has an LFP battery that will last 10 years of regular use. With NCM, batteries still last a long time, for instance, DELTA Max has an NCM battery with an estimated 800 cycles of full charge and discharge. Yet that doesn't mean your solar generator will stop working, it simply means that it will charge to 80% capacity from when they were brand new. The benefit of NCM over LFP is weight. It's lighter, making it a good choice if you favor portability.
Feature 5: Solar Input
Solar input determines how many solar panels you can use to charge your battery generator. To give some examples, DELTA 2 takes up to 500W solar charge. Whereas a DELTA Max takes 800W and DELTA Pro up to 1600W.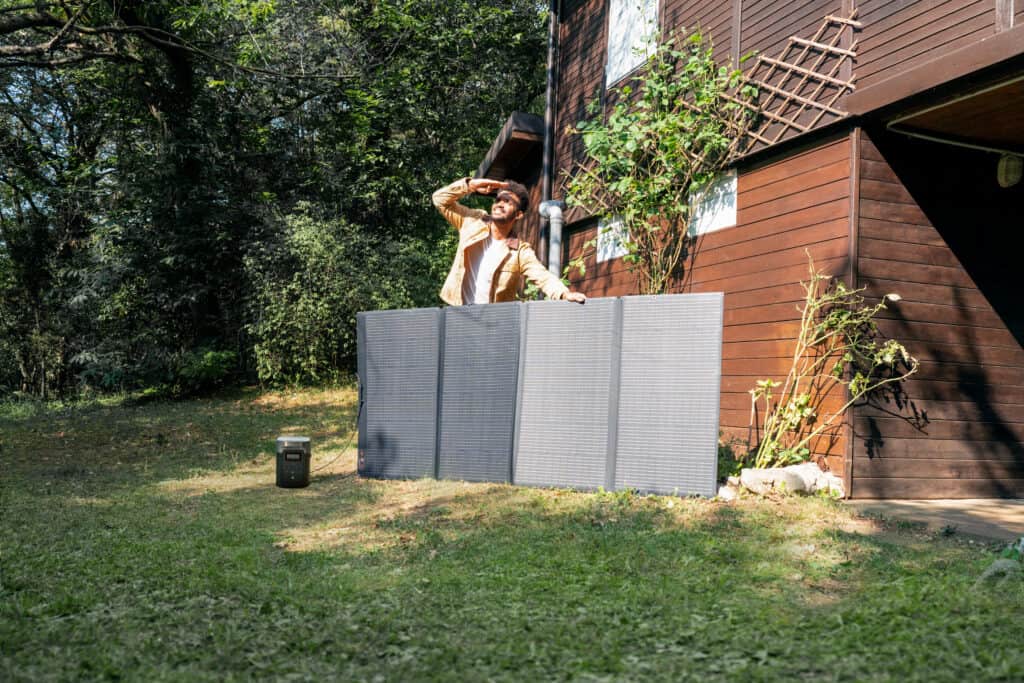 Feature 6: Bonus Benefits
The EcoFlow Ecosystem has multiple components that allow for expandable capacities, integration with other products such as the Power kits, the WAVE Portable AC unit, a suite of solar panels, smart algorithm control, and many more products to come in the future. All alongside the EcoFlow app for monitor, control and more.

One fantastic solar generator add-on is the EcoFlow Smart Generator (Dual Fuel). You have the option to use fuel or gas to fully cover you in the event of an extreme blackout. The Smart Generator automatically charges your solar generator (either DELTA Max or DELTA Pro) when power levels drop. When compared to other brands, EcoFlow Smart Generator uses lower fuel emissions.
Learn more here about why you need a Smart Generator (Duel Fuel) for home backup
Round-Up of the Best Solar Generators for Home Use
Listed below are some of our best solar generators for home backup and for general home use.
DELTA 2 + 220W Portable Solar Panel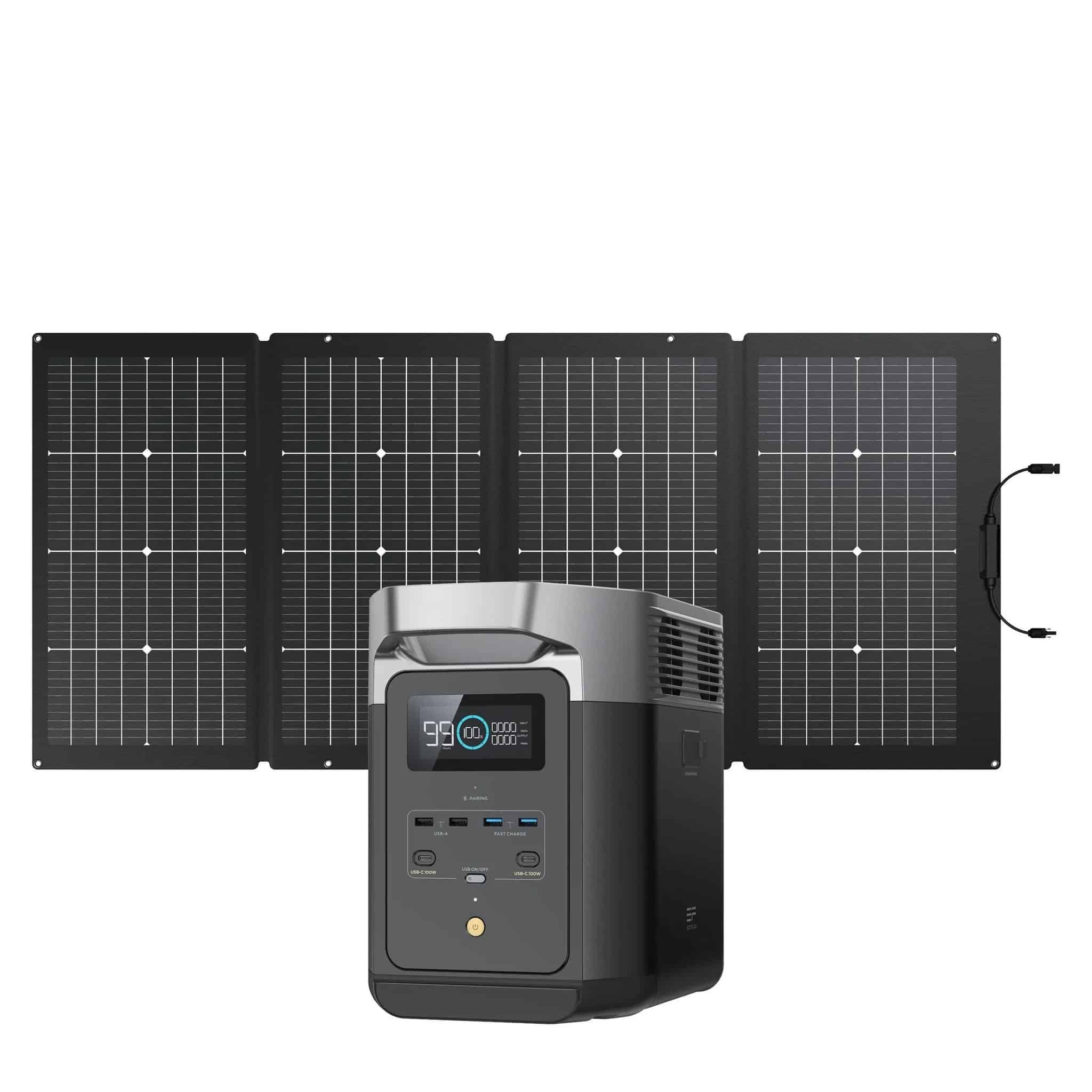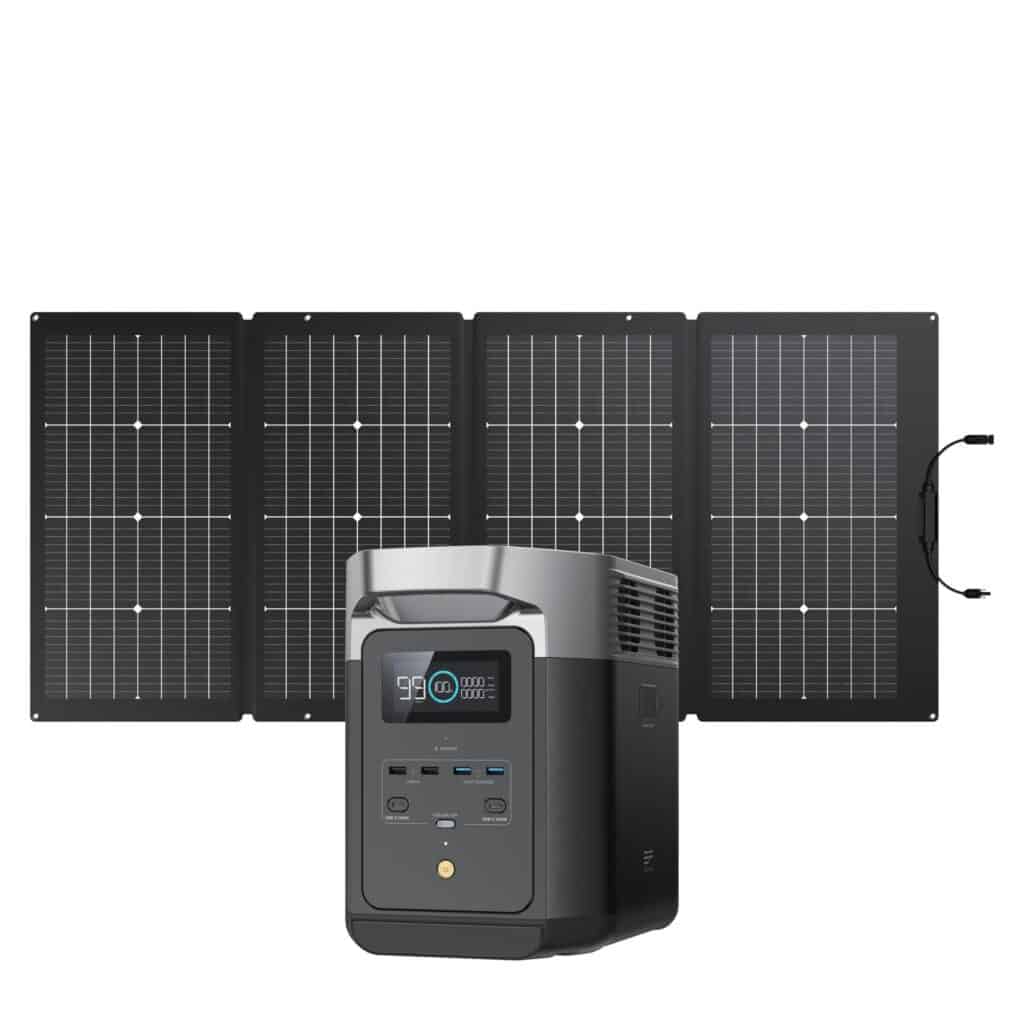 The DELTA 2 + 220W solar panel bundle is a superb solar generator for home use for those that want efficiency without breaking the bank. It's the go-to all-rounder.
It's an ideal solar power generator for home use and home backup. And it's portable enough to take with you off the grid.
Connect up to 500W solar panels to collect ready-to-use renewable energy from the sun. Expand your capacity to 2048Wh with an add-on DELTA 2 Extra Battery, or to 3040Wh with the DELTA Max Battery.
DELTA 2 lets you take control of your power, the smart way. Control via the EcoFlow app to get a clear oversight of your electricity usage.
DELTA 2 is a fantastic option for those that like portability that packs a punch. It's simple to use and mighty powerful and can power up even heavy-duty appliances. Charge up phones, iPads, a lamp, and even a TV and microwave.
Specs
Capacity:1024Wh
Life Cycles: 3000+ Cycles
Output: 1800W (Surge 2700W)
AC Input: 1200W Max
Solar Input: 500W
Battery Type: LFP (LiFePO4 battery)
Weight: 27 lbs (12 kg)
DELTA Max + 400W Portable Solar Panel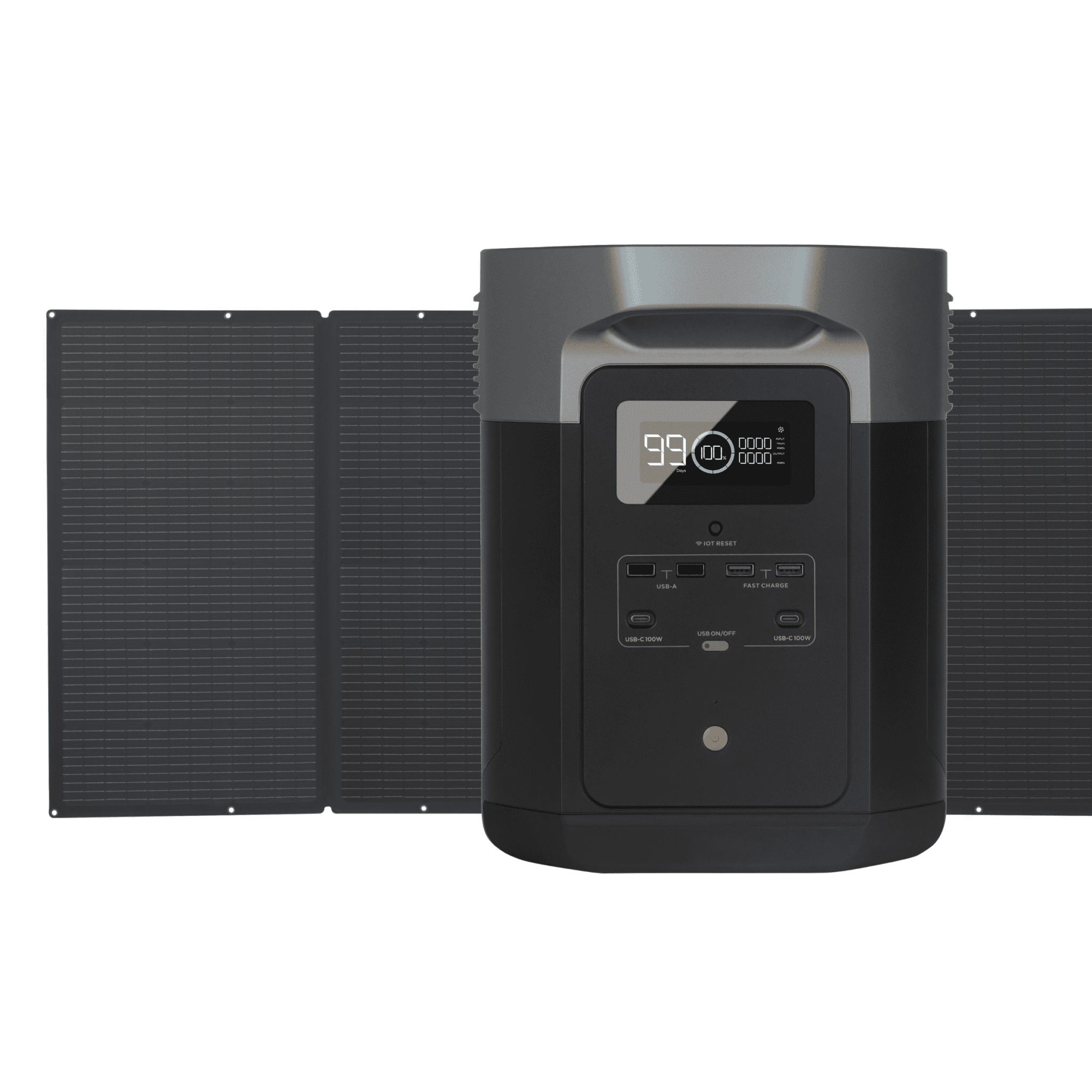 Next size up from DELTA 2 is DELTA Max + 400W portable solar panel. It's almost twice the capacity at a remarkable 2kWh, which can be expanded up to 6kWh with DELTA Max Smart Extra Batteries. This means you can power a refrigerator, lights, TV, and fan for hours. Essential for blackout backup.
Link up to 2 400W EcoFlow solar panels to get 800W solar charging. FYI: what puts DELTA Max and other EcoFlow solar generators above other branded solar generators on the market is that they have a built-in smart MPPT algorithm which automatically detects the solar voltage and current in real-time for simple efficiency.
In addition, for smarter control, DELTA Max can be controlled via the EcoFlow app from afar via Bluetooth or WiFi.
Charge up hungry appliances such as a fridge, air fryer, or washing machine, or charge multiple smaller devices such as a phone, camera, or laptop.
DELTA Max can support heavy-duty appliances of up to 3400W with X-Boost technology. Consequently, this makes it the bigger option when compared to DELTA 2.
Specs
Capacity: 2016Wh (Expandable to 6kWh)
Life Cycles: 800 cycles to 80% capacity
Output: 2400W Total (Surge 5000W)
AC Input: 1800W Max
Solar Input: 800W
Battery Type: NCM
Weight: 48 lbs (21.7kg)
DELTA Pro + 400W Solar Panel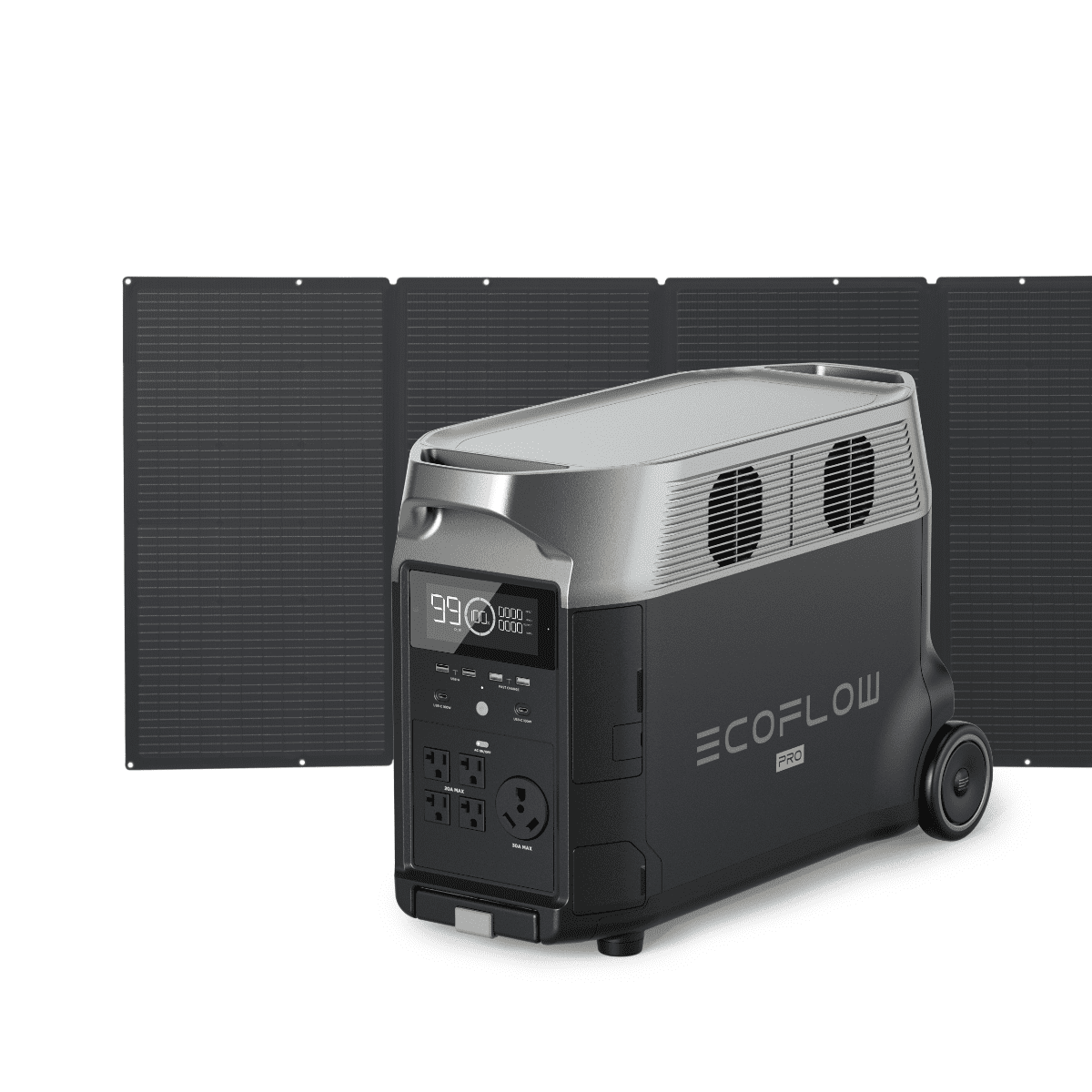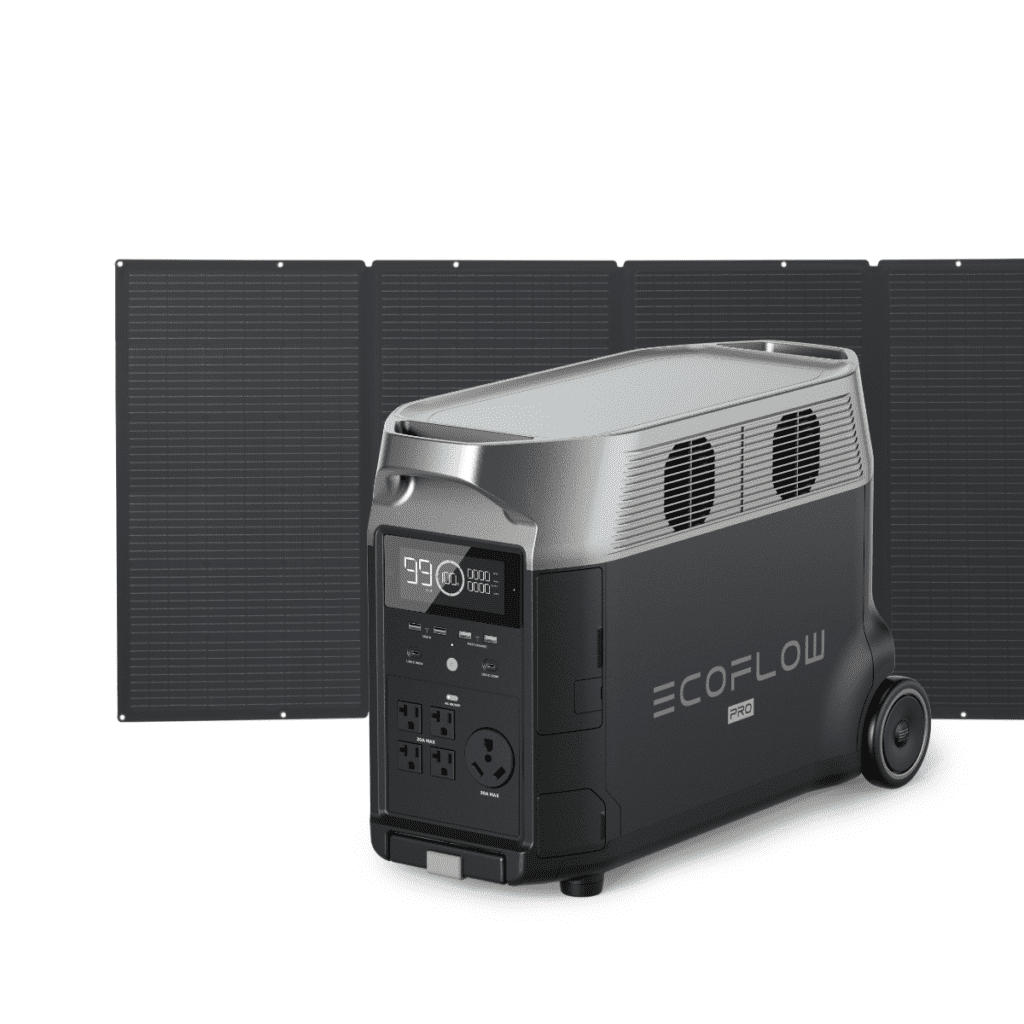 DELTA Pro remains a strong choice for households that need serious home backup. Our award-winning DELTA Pro + 400W solar panel is one of our best solar generators for home backup. It has the biggest capacity in the range at 3.5kWh which can be expanded to an impressive 25kWh with DELTA Pro Extra Battery.
DELTA Pro is also one of our most adaptable battery generators. Hook up to the Smart Home Panel, Extra Batteries, Smart Generator (Duel Fuel), and more.
DELTA Pro supports up to 1600W of solar panels for a heavy-duty solar solution that powers up even the thirstiest of appliances such as a dryer, air con, hairdryer, and much more.
Specs
Capacity:3600Wh
Life Cycles: 6,500 cycles to 50% capacity, 3,500 cycles to 80% capacity
Output: 3600W (Surge 2700W)
AC Input: 1800W Max
Solar Input: 1600W
Battery Type: LFP
Weight: 99lbs (45kg)
Want to learn more? Must read: A Deep Dive into Buying a Solar Generator for Your House
To Sum Up
Now you have a better idea about what a solar generator is, what it can be used for, and which options may be best for you.
It's a good idea to plan your daily power usage, figure out which appliances drain the most energy, and see which ones you'll want to power up using a solar generator. After all, there's nothing better than having a system that can help slash your energy bills, cover you during a blackout, and lower your carbon footprint at the same time.