Deciding on the right solar generator for your home requires you to consider a number of different factors, including capacity, cycle life, size, and more. It's easy to get overwhelmed at first and not know how to choose the right option – but we're here to help.
Harnessing solar energy in your home comes with a wide range of benefits, but choosing the right solar generator for your needs is essential to make the most of your investment.
In this guide, we'll cover the top solar generators for homes as well as some factors you should keep in mind when choosing which one is right for you. By keeping these in mind, you can pinpoint and find exactly what you're looking for in your solar generator.
Let's dive in!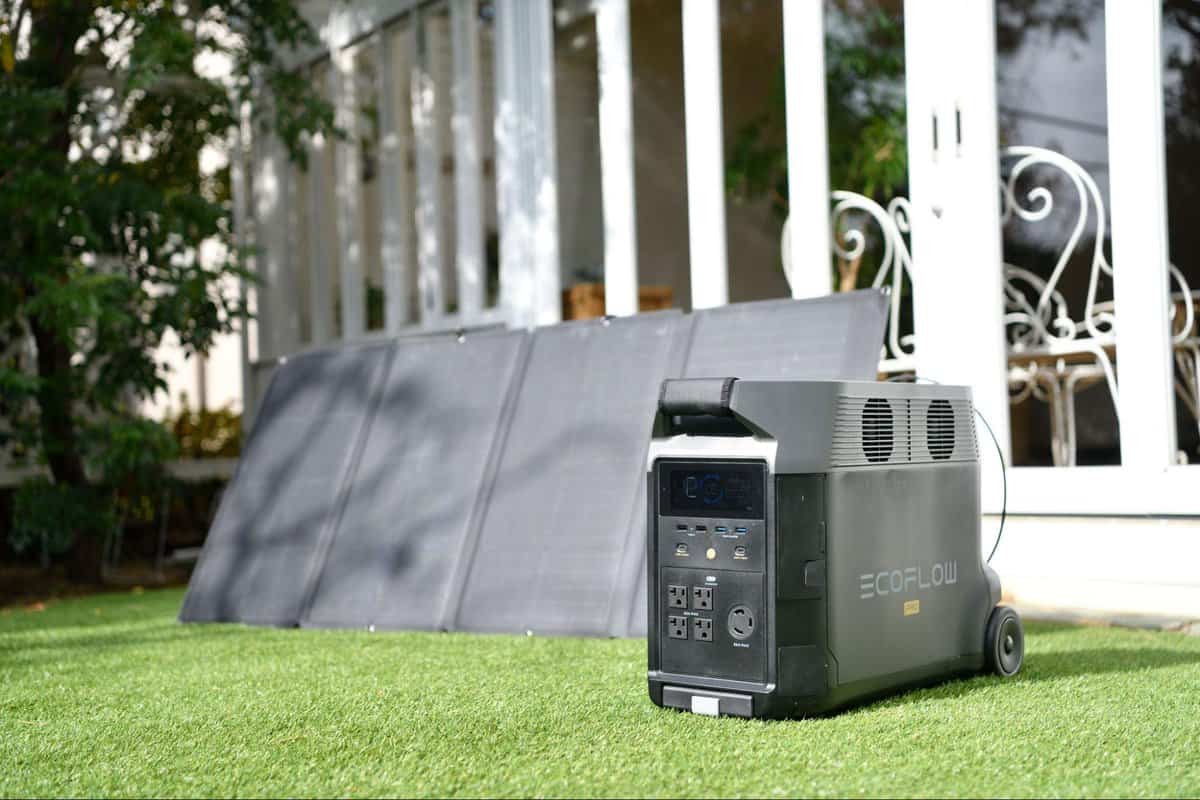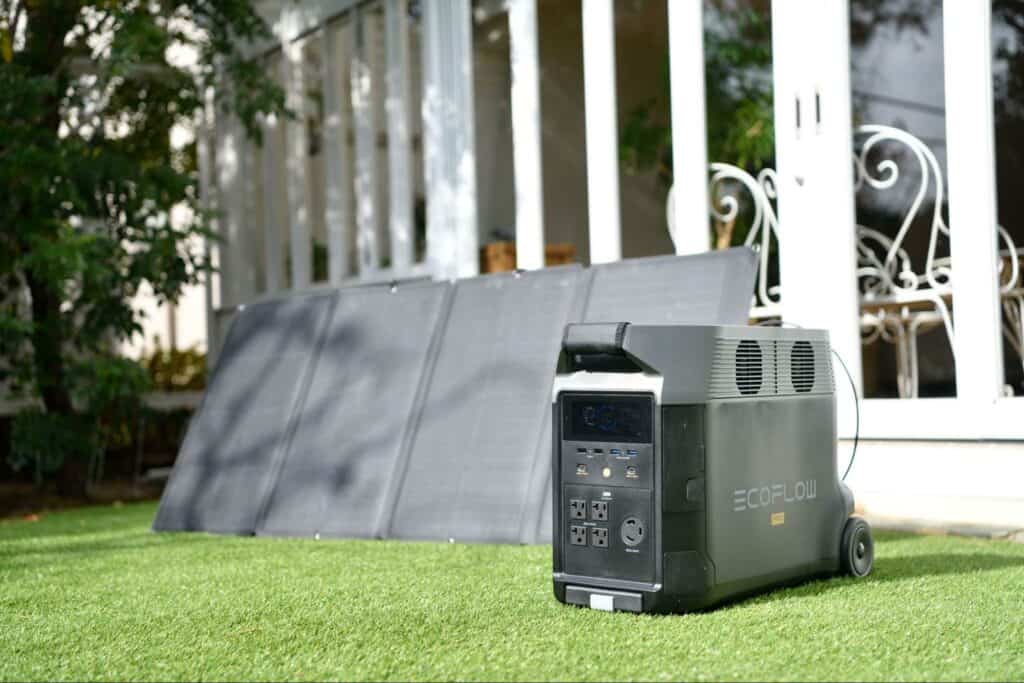 EcoFlow's Top Solar Generators for Homes in 2023
Best Entry-Level Solution: DELTA 2 + 220W Solar Panel
Best Short-Term Solution for Essential Appliances: DELTA 2 Max + 220W Solar Panel
Best Expandable Whole House Generator Solution: Whole Home Generator
If you're just getting started in the world of sustainable energy, then the DELTA 2 + 220W Solar Panel is an excellent place to start. You can enjoy the benefits of solar energy without the higher price tag that comes with more robust options.
This solar generator gives you access to renewable electricity when and wherever you need it. You can expand its storage capacity with the DELTA 2 Smart Extra Battery or the DELTA 2 Max Smart Extra Battery. Expandability makes this generator a great entry-level option to provide power during an emergency or to serve as a partial home backup.
Not only that, you can also have control over your power usage at your fingertips thanks to the smart remote control with the EcoFlow app.
Specifications
Portable Power Station Specifications
Storage Capacity: 1024 Wh (Expandable to 3kWh)
AC Output: 1800W total (Surge 2700W)
Solar Input/Charging: 500W max
Cycle Life: 3000 cycles to 80%+ Capacity
Dimensions: 400 x 211 x 281 mm (15.7 x 8.3 x 11 in)
Weight: 12kg (27 lbs)
App: Yes
Solar Panel Specifications
Rated Power: 220W Front Side/155W Rear Side
Efficiency: 22-23%
Cell Type: Monocrystalline
Construction: Portable (Bifacial)
Dimension: 82 x 183 x 2.5cm (32.3 x 72 x 1 in)
Net Weight: 9.5kg (20.9 lbs)
Pros
Expandable capacity
Weighs less than other options
Works as a partial home backup
Cons
Insufficient AC Output to run multiple high-wattage appliances simultaneously.
If you want to keep your essential appliances running during a blackout, this is the ideal solar generator for you. The EcoFlow DELTA 2 Max Solar Generator includes the DELTA 2 Max Portable Power Station and options for one or two 400W Portable Solar Panels.
Thanks to X-Boost, you can run 99% of appliances with the DELTA 2 Max. Compared to similar portable power stations, DELTA 2 Max can power more devices and prevent overheating and overloading, giving you peace of mind while keeping your essential appliances running.
You can also control your home's power with ease thanks to the ability to use the smart remote control through the EcoFlow app.
Portable Power Station Specifications
Storage Capacity: 2048 Wh (Expandable to 6kWh)
AC Output: 2400W (Surge 4800W)
Solar Input/Charging: 1,000W (Max)
Cycle Life: 3000 cycles to 80%+ Capacity
Dimensions: 497 × 242 × 305 mm (19.6 × 9.5 × 12 in)
Weight: 23kg (50 lbs)
App: Yes
Solar Panel Specifications
Rated Power: 400W
Efficiency: 23%
Cell Type: Monocrystalline
Construction: Portable
Dimensions: 105.8 x 36.5 x 2.5cm (42 x 93 x 1 in)
Net Weight: 16kg (35 lbs)
Pros
Powers essential appliances
Fast recharging
Maximizes solar generation
Cons
Not a long-term off-grid power solution for a whole home
Best Expandable Whole House Generator Solution: Whole Home Generator
If you want the ultimate in energy independence, then the Whole Home Generator is for you. Expandable and robust, you can tailor your whole home generator based on your unique needs. Consider factors like what you want to power and for how long, and create a solution that gives you power independence.
In addition to providing essential backup power during a grid failure, whole home generators can substantially lower your electricity bills (or eliminate them!) and protect you from fluctuating electricity costs – all while being more environmentally friendly and reducing your carbon footprint.
Specifications
Storage Capacity: 3.6kWh – 25kWh
Cycle Life: 3,500 cycles to 80% capacity, 6,500 cycles to 50% capacity
AC Output:
1 x DELTA Pro: 3600W (Surge 7200W)
2 x DELTA Pro: 7200W (Surge 14,400W)
Solar Input:
1 x DELTA Pro: 1600W Max
2 x DELTA Pro: 3200W Max
Battery Type: LFP (LiFePO4)
Pros
Can provide energy independence
Several options to suit your needs
Can substantially lower electricity bills
Provides emergency backup power
Cons
More costly than other options
What Do You Need Your Solar Generator For?
With so many different sizes, watts, and capacities on the market today, solar generators for houses have never been more versatile. Gone are the days of clunky, loud, gas-grazing standby generators of yesteryear. Let's take a look at some of the applications that people use their solar generators for:
Solar Generator for General Home Use
Make the most of your free collected solar energy throughout the day and power up your appliances.
Solar helps you to cut your electricity bills, keeps you partly or fully independent of the main grid, and reduces your carbon footprint.
Solar Generator for Home Backup Emergencies
In the event of a blackout, a solar generator with the correct capacity for your daily usage will be your blessing. For maximum usage, it's best to have a power outage plan to gauge the appliances you'll need to charge up the most.
Read more about why and how to stay prepared during a power outage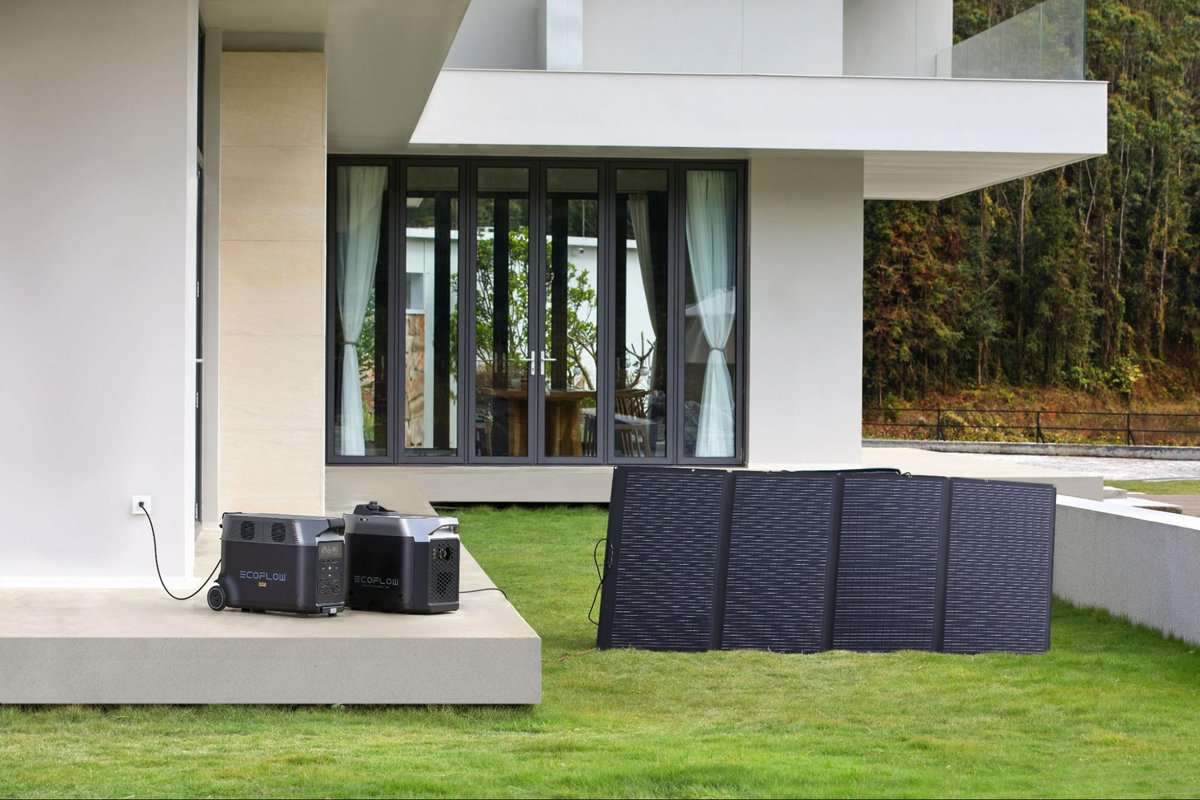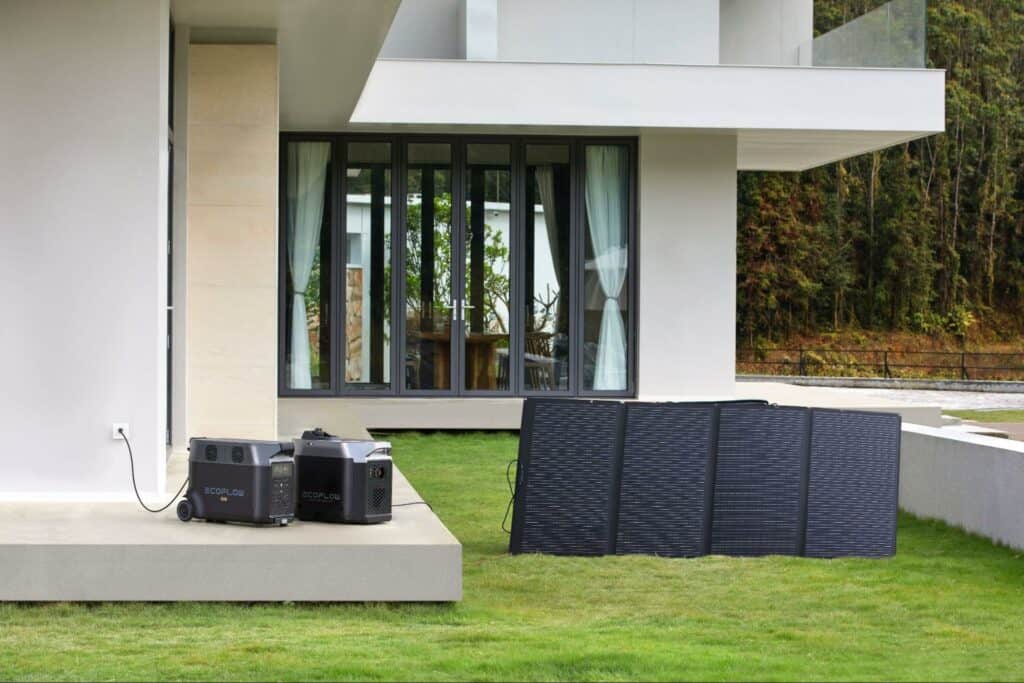 What To Look for When Choosing a Solar Generator for Your Home
Listed below are the top specs to look out for in a solar power generator for home use to better arm you with more buying power.
Capacity
Solar generators come in all different capacities, and you'll want one that is just enough for your home energy usage. For instance, use a small solar generator like a DELTA mini (1400W) + 160W solar panel and charge up smaller devices like iPads, phones, laptops, drones, and cameras if you're a freelance photographer or hobbyist who frequently needs to charge their devices.

Or, if you're a family of 4-5 with piles of clothing to wash and dry throughout the week and are super worried about your soaring energy bills, use a large solar generator like a DELTA Pro + 400W solar panel for a massive 3.5kWh capacity to help lighten the load.
Choosing a capacity that's right for your home ensures that you're either not wasting time charging your device for watts you don't need or, conversely, are not running out of power to charge larger appliances.
Output
Output determines how much power a battery generator for a home uses. It's important to know what output each of your appliances uses and the total power they eat when used simultaneously. Most appliances use AC electricity.
For instance, DELTA 2 has a huge 1800W AC output, meaning it can power over 90% of household appliances. What's more, DELTA 2 can prevent overloading with built-in X-Boost Technology for devices of up to 2200W.
Size
Different sizes impact portability, storage, and capacity. Ask yourself these questions:
Do I have a small/large home?
Are there frequent blackouts in my area?
Does large capacity matter, or does portability matter more?
Do I only require small devices to be charged?
Do I have large appliances that I/my family need to use during a blackout?
If portability is important to you, your household is small and you only need small devices like lights, a microwave, and phones charged during a power outage, a solar generator such as a DELTA 2 or River 2 Pro would be ideal for you
If, on the other hand, you have a large household, portability isn't an issue, and you need heavy-duty appliances like a fridge, air-con, or heater to be powered up for extended periods, then a DELTA Pro that can be wheeled wherever needed would be your saving grace.
Cycle life
Our EcoFlow solar generators use either NCM or LFP (LiFePO4) battery chemistry. LFP is common for EcoFlow's batteries and lasts up to 6 times longer than NCM.
For example, the fine-tuned DELTA 2 has an LFP battery that will last 10 years of regular use.
With NCM, batteries still last a long time. For instance, DELTA Max has an NCM battery with an estimated 800 cycles of full charge and discharge.
Yet that doesn't mean your solar generator will stop working. It simply means that it will charge to 80% capacity from when they were brand new. The benefit of NCM over LFP is weight. It's lighter, making it a good choice if you favor portability.
Solar Input/Charging
Solar input determines how many solar panels you can use to charge your battery generator. To give some examples, DELTA 2 takes up to 500W solar charge. Whereas a DELTA Max takes 800W and DELTA Pro up to 1600W.
Bonus Benefits
The EcoFlow Ecosystem has multiple components that allow for expandable capacities, integration with other products such as the Power kits, the WAVE Portable AC unit, a suite of solar panels, smart algorithm control, and many more products to come in the future. All alongside the EcoFlow app for monitoring, control, and more.
The EcoFlow Smart Generator (Dual Fuel) is a fantastic solar generator add-on. You have the option to use fuel or gas to fully cover you in the event of an extreme blackout. The Smart Generator automatically charges your solar generator (either DELTA Max or DELTA Pro) when power levels drop. When compared to other brands, EcoFlow Smart Generator uses lower fuel emissions.
Learn more here about why you need a Smart Generator (Duel Fuel) for home backup
Frequently Asked Questions
What Is the Best Solar Generator to Purchase for a Home?
The best solar generator for your home depends on how much electricity you want to consume — and for how long. Whole home generators are an excellent option to reduce your carbon footprint, provide energy independence, and save money on (or eliminate) your electricity bills.
Final Thoughts
The choice of what solar generator is right for your home can be a difficult one to make. There are many factors to consider, including storage capacity, AC output, electricity production potential, cycle life, and more.
Which solar generator is right for you depends on your unique circumstances, but by considering the factors we've discussed in this article and asking yourself what you are looking for in your power solution, you can find the perfect fit and upgrade your home's power solution today.
Once you know what you're looking for in your generator, make sure you opt for a reputable brand you can trust. At EcoFlow, we offer a wide range of solar generators to suit your needs, allowing you to select the perfect fit and enjoy a solar generator you can rely on for years to come. Browse EcoFlow's selection of solar generators today to find the right one for you!