Overlanding is becoming increasingly popular as more people are waking up to the joy of an off-grid adventure where the journey is the goal — not the destination. But you can't do overland comfortably without a reliable power source.
A portable power station (PPS) supplies critical power for an off-grid (and off-road) experience. Significant technological advancements have allowed manufacturers to give you greater power storage capacity while making the devices smaller and more lightweight. You can pay less for a PPS with greater capacity, more outlets, and faster charging now than ever before.
Here are the best portable power stations for overlanding in 2022 and how to determine the best choice for you.
5 Best Portable Power Stations For Overlanding Reviewed
The right portable power station enables complete energy independence for overland travel. But power needs vary.
We've highlighted the best PPS options to save you hours of research. Whether you're driving a full-size RV or just need enough power supply to keep your GPS and smartphone charged, there's a portable power station for overlanding option for you below.
1. EcoFlow DELTA Pro
EcoFlow's flagship DELTA Pro is the best choice for overlanders in RVs, campers, and vans who want to go entirely off-grid for the whole trip.
With a 3600Wh capacity that expands to 25kWh, it has enough energy to run an entire home on wheels. It has five outlets, including USB-A, USB-C, DC, AC, and car power, ensuring you can charge any appliance or device. A 12V/24V car charging input lets you recharge it using your vehicle adaptor, or when paired with solar panels, you can go entirely off-grid by generating your own solar energy.
At 99 pounds (45KG), it's not the most lightweight option, but it's easy to haul in a vehicle and even comes with wheels for moving it by hand.
The DELTA Pro is the solution for overlanders seeking to leave paved roads and highways behind in their pursuit of natural wonders. You can visit every one of the over 400 national parks scattered across the US and rely on your DELTA Pro to keep you charged throughout your travels.
2. EcoFlow DELTA Max
The DELTA Max is a solid choice for overlanding in a standard-sized vehicle, small vans, campers, or even semi-truck cabins. With 2016 Wh of capacity, it can power a coffee machine, mini-fridge, TV, and more. Who said overlanding had to mean compromising on your home comforts?
If you need more power, the DELTA Max can pack in a whopping 6kWh with smart extra batteries. At only 48 pounds (22kg), it's a compact solution with extensive power. It also integrates seamlessly with the Ecoflow Smart Generator (Dual Fuel) to give you even more energy security on the road.
You can charge the DELTA Max via a traditional 12V wall outlet or by plugging it into a car outlet. But the best way to charge it up off-grid is using solar panels. Whether you already have solar panels or want to upgrade to the 400W EcoFlow portable solar panels, you can supercharge the DELTA Max, even if you're planning to overland in not particularly sunny areas. The 400W panels are adept at picking up sunlight even in overcast conditions and can render up to 800W solar charging speeds. 
The DELTA Max can charge up to 80% in just over an hour when plugged into a wall outlet, and if you combine AC with the smart generator, you can get up to 2600W. It's an excellent choice when it comes to sheer power capacity and charging speeds.
3. EcoFlow DELTA 2
The DELTA 2 is a slight step down in sheer power capacity from the DELTA Max. But what it lacks in capacity, it makes up for in several other ways.
With 1024 Wh capacity and 1800W AC output, you can power virtually all appliances, from fridges to toasters and food processors, even portable heat and AC.
This portable power station can charge and run 15 devices simultaneously. Its recharge speeds are so quick that it hardly matters if you drain the thing throughout the night to run your lights, speakers, and more.
The DELTA 2 is also more compact than its predecessors in the DELTA family, weighing only 27 pounds (12kg). It takes portable power to the next level.
This machine lasts six times longer than many competitors, thanks to the LiFePO4 battery. Lithium batteries are the preferred battery type for virtually all new portable power stations. These marvels of engineering have outstanding performance, whether brand-new or recycled. And with a five-year warranty, you can be confident this is one PPS built to last.
4. EcoFlow River 2 Pro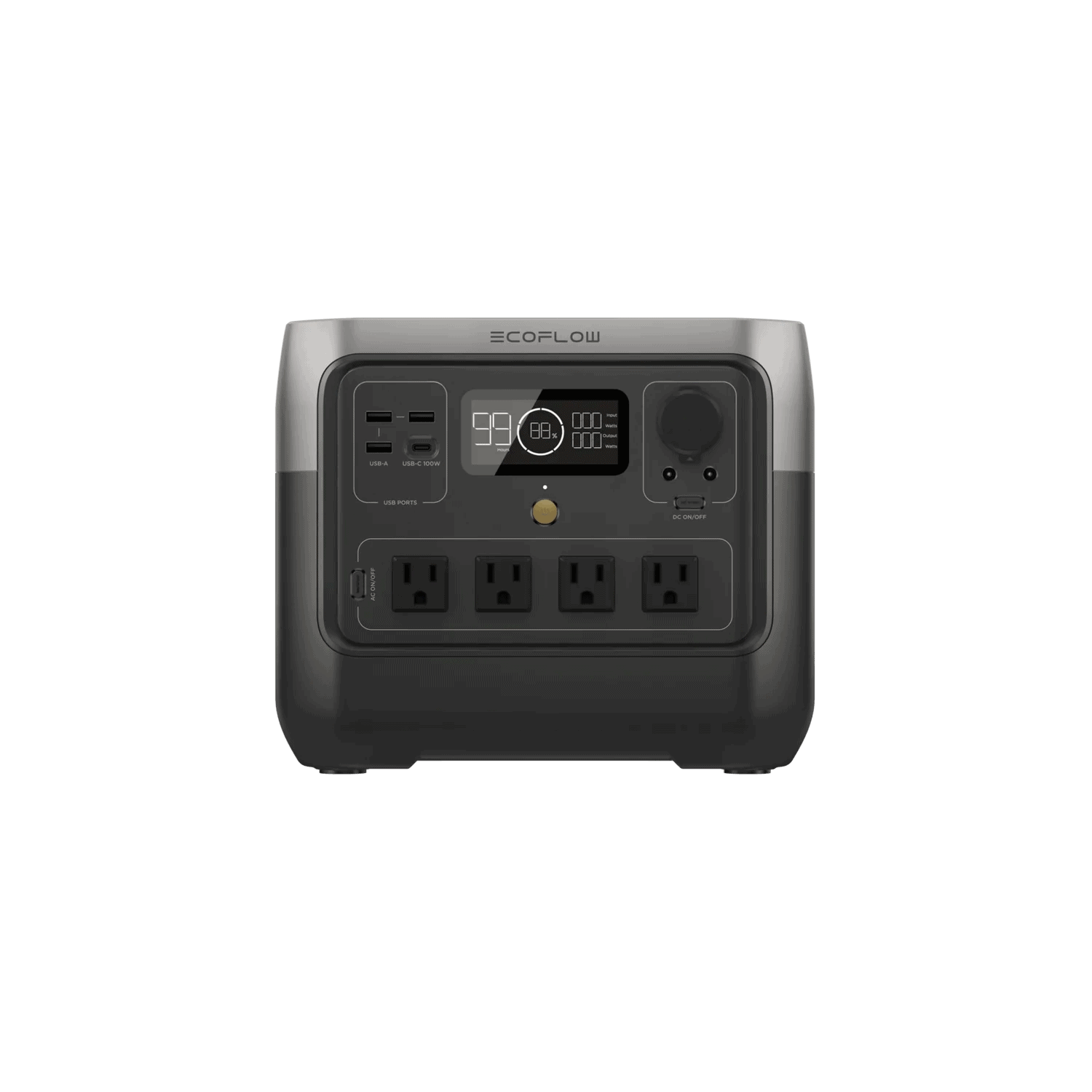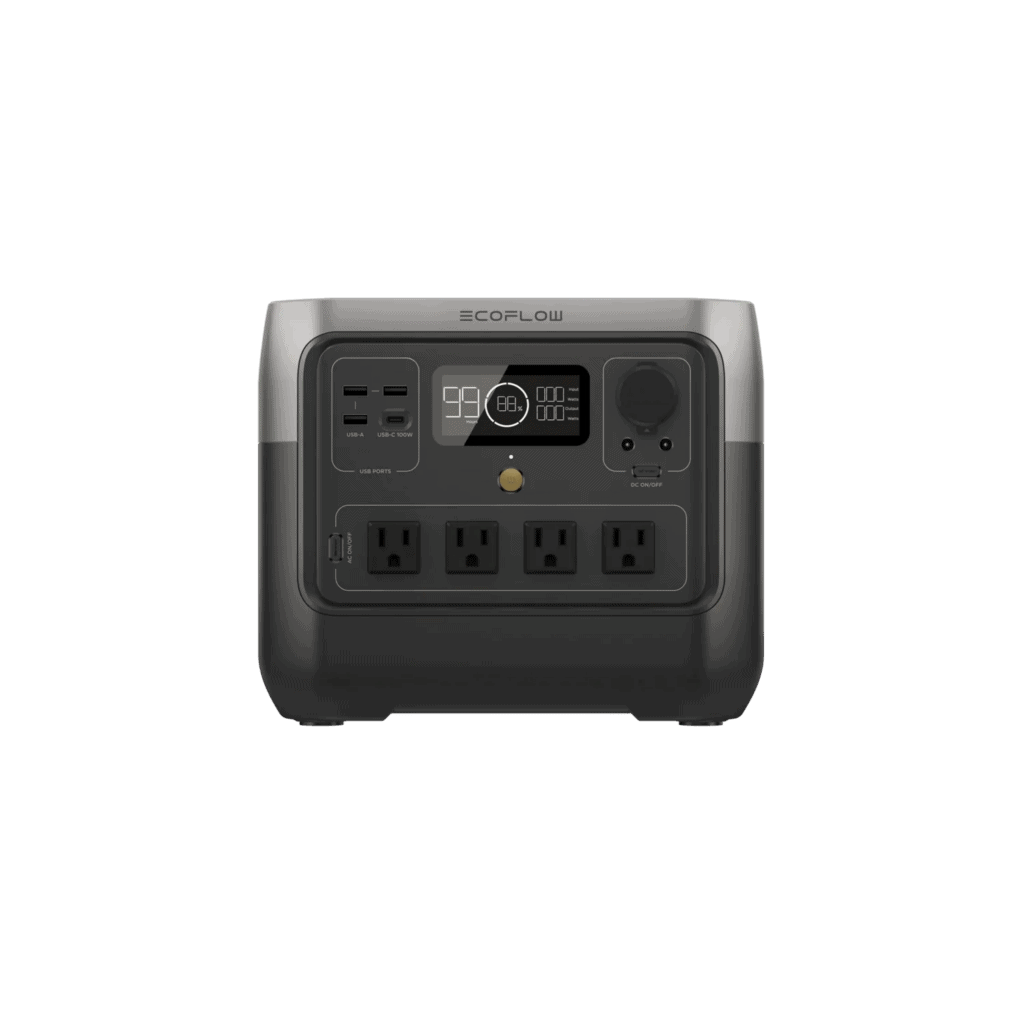 The River 2 series offers impressive power in a more compact build. If your overland adventures don't require a power supply for larger vehicles but just enough to keep personal electronic devices for a family of four charged, the River 2 Pro is the answer.
The EcoFlow River 2 Pro delivers exceptional power in a more compact and affordable package. It weighs only 17.2 lbs (7.68g), but with a 768Wh capacity and four 800W AC outlets, it can power ten devices simultaneously.
The River 2 Pro is your pick if you do a lot of cooking while camping and need a reliable power source. You can power lights, a CPAP machine, and most projectors for movie nights under the stars. You can even power small portable heat systems on chilly nights for a great, all-around, affordable solution.
5. EcoFlow River 2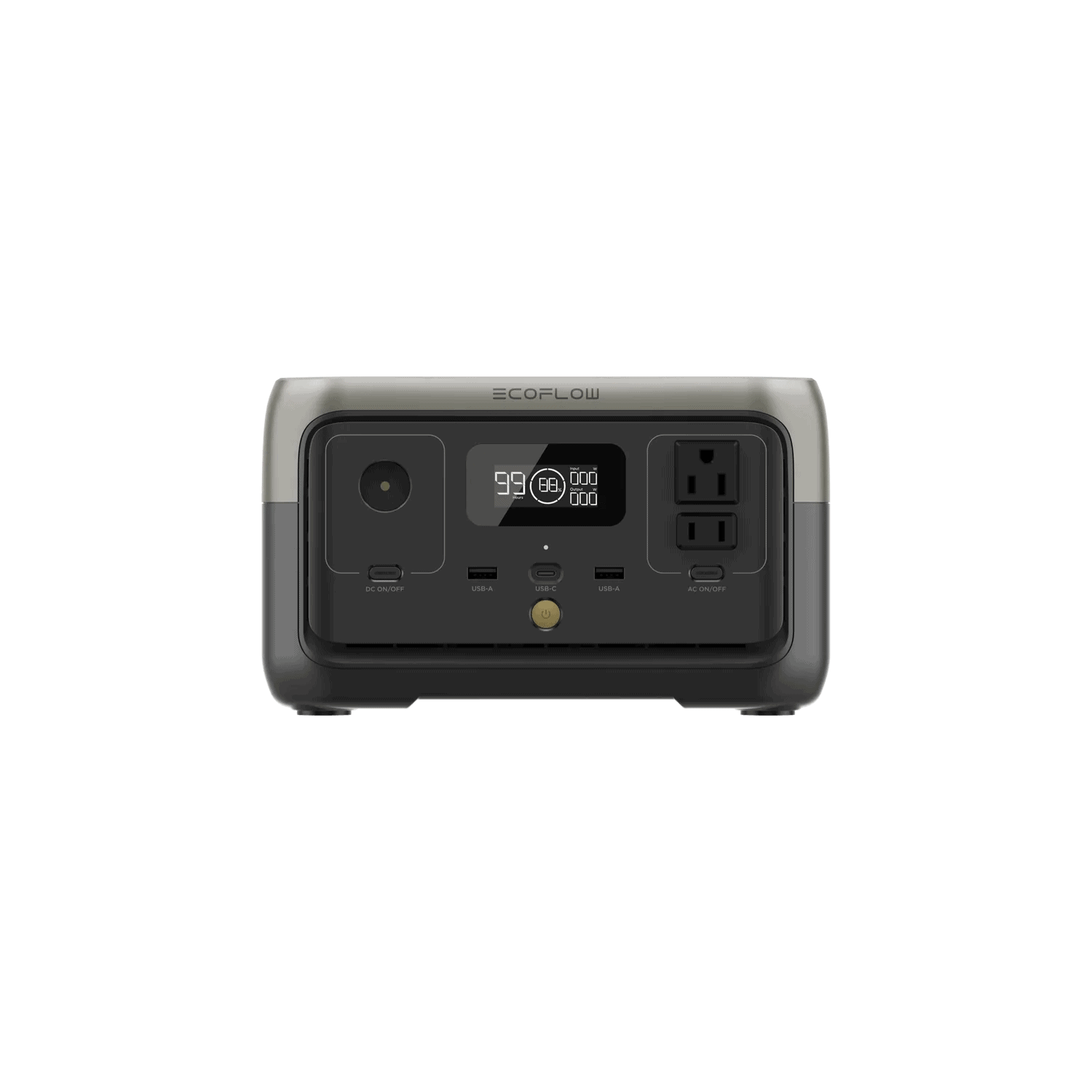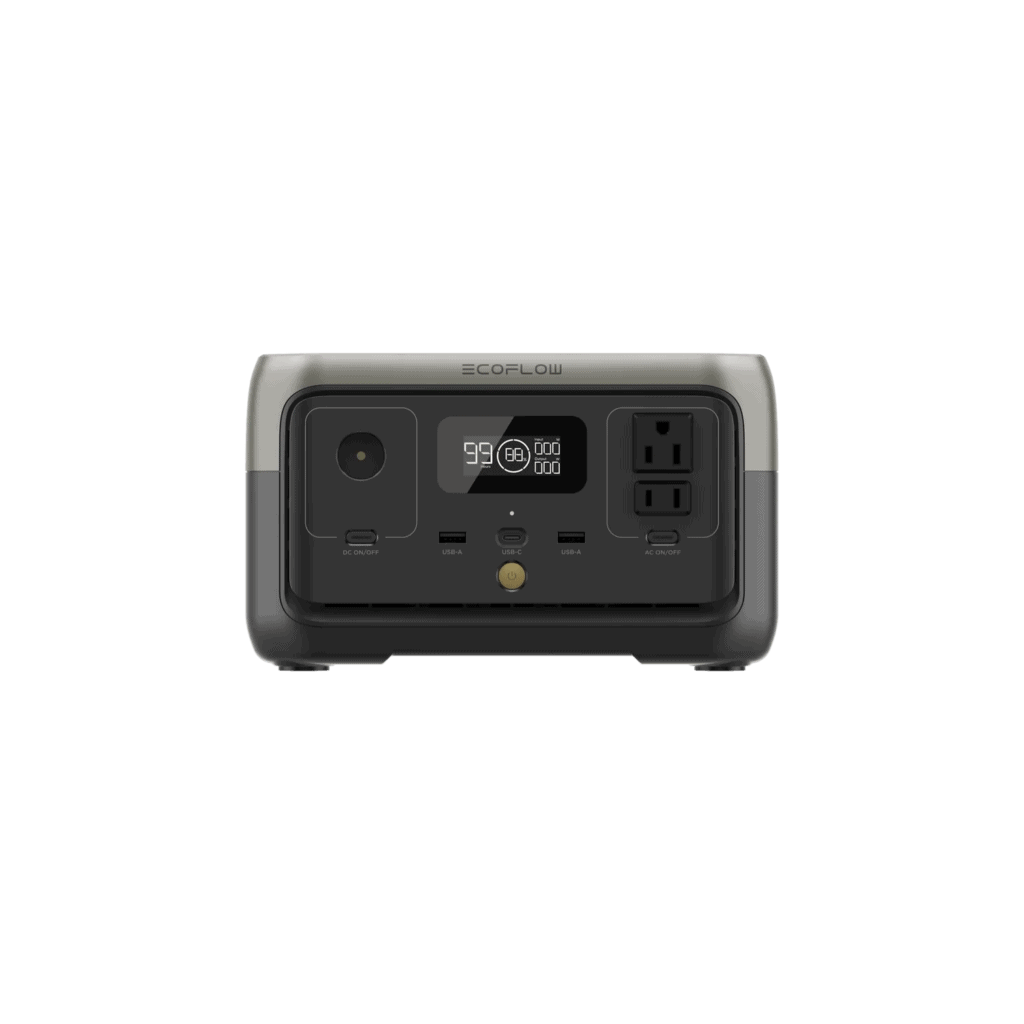 The River 2 is a great little portable power station if you want to switch between overlanding and home use. It can run up to 99% of your consumer electronics. Take it into X-Boost mode to power appliances with an output of 600W.
At 7.7 pounds (3.5kg), you can easily carry it with one hand.
The River 2 provides essential home backup for your personal devices with a virtually uninterruptible 30ms switch-over mode, and it charges in under an hour using AC power.
Outside, with no electrical grid to fall back on, you can power your River 2 up with the sun's rays. Charge 0-100% in about 3 hours by connecting it to 200W solar panels (sold separately).
EcoFlow's state-of-the-art Battery Management System (BMS) monitors the voltage, current, and temperature of the River 2 —never worry about overloading or short-circuiting with this technology in place.
What to Look for When Buying a Portable Power Station for Overlanding
Picking the right portable power station requires more than looking at the price tag. Explore the factors you should consider when shopping around.
Battery Capacity
The battery capacity is one of the most critical factors because it determines how much power you can store off-grid.
Add up the watt-hours of all the appliances and devices you plan to use while overlanding, including the run-time for each. The PPS should have sufficient capacity to supply continuous power for whatever appliances you require.
Besides the continuous power, you also want to leave room for surge power, which is how much energy an appliance or device uses at start-up. All EcoFlow portable power stations come with additional surge power for getting your devices up and running.
Find the suitable battery capacity by calculating your energy consumption.
Number of Outlets
These devices can range from a four-outlet to a 20-outlet capacity. If you're overlanding alone and only need to power two devices, you'd be well off with something small.
But most people overland with friends and family, meaning you'll need to do energy-demanding things like cook food, heat your living and sleeping spaces at night, and charge multiple small appliances. Make sure the PPS you select has USB-C, USB-A, and 12V three-prong ports so you can charge any device or appliance.
Recharge Time
Your PPS's size and power rating more or less determine its recharge time. Most of the products on this list can completely charge in an hour when plugged into AC power. That's ideal for a trip schedule where you don't stop in any one place for very long.
If you plan to camp for several days while overlanding, it might be worth buying portable solar panels alongside your power station. You can set up your solar panels to charge continuously, ensuring a constant power supply.
Weight and Portability
The difference between 10 and 20 pounds means carrying your PPS in one hand vs. lugging it around with two hands. That's something to consider if you're loading and unloading your car every morning and evening. Ask yourself before buying: How portable is this portable power station?
Power Your Life
Finding the right PPS for your overlanding plans comes down to your specific needs. The options reviewed here allow you to meet all your needs, whether overlanding on a solo adventure or roughing it with a group of off-grid adventurers.
Check out EcoFlow and find the portable power station for overlanding that's right for you.