Sometimes, in the heat of summer or cold of winter, your car's built-in air conditioning and heating aren't enough.
But that doesn't mean you need to invest in a new vehicle to stay cool.
Thanks to innovations in portable air conditioning, you can keep warmer in winter and colder in summer — all with one compact solution.
Here's everything you need to know about portable A/C and heating for vehicles — and what you need to consider to find the perfect one for you.
Which Portable AC Should You Buy for Your Car?
There are many reasons you could want a portable air conditioner for your car. While it may be painfully obvious that you need additional heating or cooling capacity for your vehicle, making an informed purchase decision poses more of a challenge.
Here, we'll help you narrow down your options to find the best choice.
WAVE 2 Portable Air Conditioner
You can't beat the convenience, power, and versatility that come with EcoFlow's WAVE 2 Portable Air Conditioner.
Maybe you're looking for a unit to keep your vehicle cool during the hot summer months. But the WAVE 2 takes things a step further by also offering heating capabilities to keep you warm on cold winter nights.
A greener way to maintain comfortable temperatures, this device offers four ways to charge – including solar. Looking for an AC to keep you comfortable all night long?
The WAVE 2 provides up to 8 hours of heating or cooling when paired with an add-on battery and can run as quietly as 44 dB on Sleep Mode. It won't keep your passengers up with noisy operations while they try to get some rest — just don't sleep when you're driving!
You can also bundle the WAVE 2 with the DELTA 2 Max portable power station for even longer run times and faster charging.
Specifications
AC Input: 100/240V, 50/60Hz, 820W Max
Car Charging Input: 96W/192W (12/24V, 8A Max)
Net Weight: Approximately 14.5 kg (32.0 lbs)
Dimensions: 518 × 297 × 336 mm (20.4 × 11.7 × 13.2 in)
Noise Level: 44-56 dB
Cooling Capacity: 1500W/5100BTU
Heating Capacity: 1800W / 6100BTU
Solar Charging Input: 11-60V, 13A, 400W Max
Add-on Battery Power: 700W Max
Pros
Offers both heating and cooling capabilities
Can provide comfort all night long
Runs at a quiet 44 dB in Sleep Mode
Extremely compact, lightweight design
Supports solar charging. You can charge anywhere there's sunlight
Cons 
While no drainage is needed in cooling mode with humidity under 70%, it's still required for heating mode.
Why Choose the WAVE 2 Over Other Portable Air Conditioners? 
What's so great about the WAVE 2? Well, a lot.
Let's delve into the details below:
Heating and Cooling Capabilities
For ultimate versatility, the EcoFlow WAVE 2 boasts both heating and cooling capabilities, restoring your environment to comfortable temperatures quickly and easily.
4 Ways to Charge
As if that's not enough versatility, the WAVE 2 offers four different methods to power it up. You can use AC, solar, power stations, or – you guessed it – your car to charge the WAVE 2.
Installation-Free
Who wants the hassle of installation? Fortunately, none is necessary with EcoFlow's WAVE 2. You can easily fit it just about anywhere, including your car.
As long as you're using cooling mode and the humidity is below 70%, no drainage is needed either.
Extremely Portable
This unit boasts a portable design, and with a net weight of 32 lbs (14.5 kg), you can easily bring it with you just about anywhere you want cooling or heating power.
Take comfort wherever you go thanks to WAVE 2's ultra-portable design and versatility.
What to Look for When Choosing the Best Portable AC for Your Car 
When comparing different portable AC options, finding a unit that ticks all your boxes can sometimes be challenging. Consider what's important to you and prioritize those to help guide your decision-making process.
Below, we'll cover a few factors you can look at when comparing portable air conditioners.
Cooling Power
How much cooling power does the unit offer? Comparing the BTUs of different units can help determine how much cooling power they have. The WAVE 2 offers 5100 BTUs of cooling power and 6100 BTUs of heating.
Versatility
Where do you plan on taking your portable air conditioner, and what do you plan to use It for?
Besides using it in your car, do you also want to take it camping or have it cool down hot rooms in your home during the summer?
If you're looking to keep the unit in one place, installation versatility might not be a significant factor for you. But if you want to use your portable air conditioner for multiple purposes, convenient installation is essential to consider.
Is the unit you're considering able to set up in minutes?
Is it easy to move between spaces and get it up and running again once you've transported it?
WAVE 2 ticks both boxes.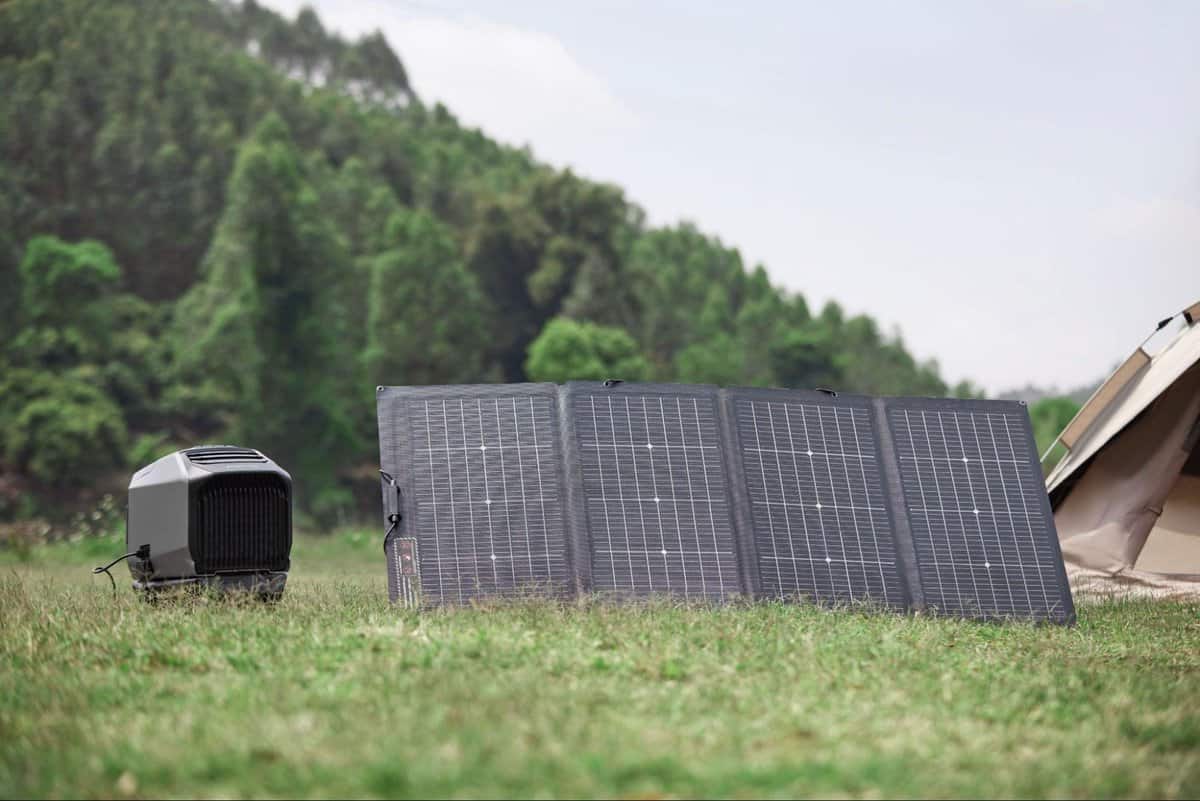 Available Charging Methods
What charging methods will you have available when you use your air conditioner?
While AC charging capabilities are great, will they be an option for you on the road?
If DC car charging capabilities better meet your needs, ensure the portable air conditioner you're considering provides it.
If you'd also like to use a portable AC for camping, a unit that supports charging with portable solar panels might be more your speed.
Ease of Installation
Installation can be frustrating, especially if you want to be able to use your portable air conditioner for multiple units by moving it from one space to another. If you don't want to fuss with installation, opt for an AC that offers easy or no installation.
(Source: Hearing Health Foundation)
Noise Level
Do you plan on using your unit overnight or near other people who might be disturbed by its noise?
Consider a unit with a Sleep Mode option that runs quietly.
For example, the WAVE 2 can run as quietly as 44 dB in Sleep Mode.
Budget
Cost is always an essential factor to consider as well. Obviously, some portable AC units will come at a higher price than others. You need to balance what you're looking to spend with the available features and quality that the device offers.
Frequently Asked Questions
Can You Use a Portable Air Conditioner in a Car? 
Portable air conditioners are a great option to use in a car, RV, van, or truck to keep things comfortable when the temperatures begin to drop or climb. Make sure that any installation and charging is possible in your vehicle, or opt for a compact unit that doesn't require installation. 
Can I Run a Portable AC Continuously in My Car? 
Whether or not you can run a portable AC in your vehicle continuously depends on several factors. The primary considerations are battery life (if any) and charging methods. Look for an AC unit with several charging options like DC and solar — so you have an off-grid option that won't drain your car battery when you're not moving. 
Can I Use a Portable Car AC While Driving?
There's no reason not to use a portable car air conditioner while driving as long as it's safely installed, has sufficient battery storage capacity and charging options, and is securely positioned so it doesn't pose a hazard while driving.
Final Thoughts
As you can see, there's a lot to consider when it comes to finding your ideal portable air conditioner for use in your car. By keeping these factors in mind, you'll be able to find the perfect portable air conditioner for your needs.
Looking for the ideal portable AC for your vehicle?
Check out EcoFlow's WAVE 2 today!