The last few years have seen a notable increase in electrical blackouts across the U.S. These power outages have a knock-on effect that doesn't just leave people without power, but can also affect access to water, disrupt communication lines and transportation links as well as supply chains that affect the economy. A report made in 2021 by the American Society of Civil Engineers states that 92% of all electrical interruptions were down to three main issues: antiquated power facilities, extreme weather, and vandalism, but there are many other reasons for power cuts, too. Read on to learn more about the most common causes of power outages and how these problems affect our access to power.
1. Severe Weather
In 2020, the U.S. saw record-breaking power outages, primarily due to extreme weather. A tropical storm knocked out power for over 2 million homes on the East Coast, while in Oklahoma, an ice storm took out the electricity of 300,000 people. One of the costliest Derechos (a series of fast-moving thunderstorms) in recorded history hit Ohio, causing so much damage their nuclear power plant was retired early. An estimated 1.4 million outages are said to have occurred across Iowa, Illinois, Indiana, and several other states.
Winter storms, such as those that ravaged Texas in early 2021, are now one of the biggest causes of outages. An analysis of what became known as the Texas Freeze suggests that even efficient power grids are often unprepared for winter weather. In Texas's case, several factors caused such a disaster, including their ERCOT grid design that makes importing electricity problematic and its reliance on natural gas for power.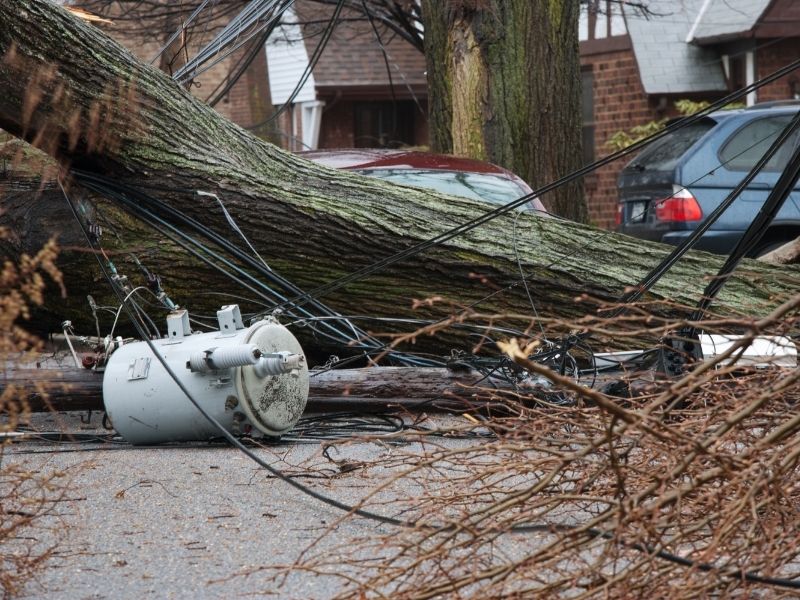 2. Natural Disasters
Natural disasters such as hurricanes, earthquakes, wildfires, and mudslides can cause catastrophic damage, resulting in widespread and long-lasting electrical blackouts. In recent years, wildfires have unfortunately become a recurring reason for planned power outages, especially in the western states of the U.S. While high winds usually fuel wildfires, they often start with faulty wiring or downed power lines.
As the global temperature continues to rise, flooding will continue to occur worldwide, in coastal regions and inland too. While floods easily damage distribution towers and substations, it's a major disadvantage to ungrounding power and communication wires, as overflowing utility holes make cables inaccessible, slowing down repairs.
Droughts are one of the least dramatic natural disasters but one of the most affecting and expensive, after hurricanes. Drought limits water needed to cool power stations while also requiring increased power for water pumping and treating plants.
3. Human Error
Downed power lines most often occur during vehicular collisions with power poles or substations, but destruction also happens during routine maintenance by workers using ladders too close to the cables.
If you find a downed line, always assume it's still live. Stay at least 30 feet away from it, and call 911 or your local emergency services number.
4. Vandalism
While smaller acts of vandalism may occur frequently, major power grid attacks are rare and are a constant concern for the U.S. government. In 2013 a substation in Metcalf, California, was attacked by professional gunmen intent on disrupting the local communication and power lines. Although operators could reroute the power, the damage caused still cost more than $15 million.
5. Equipment Failure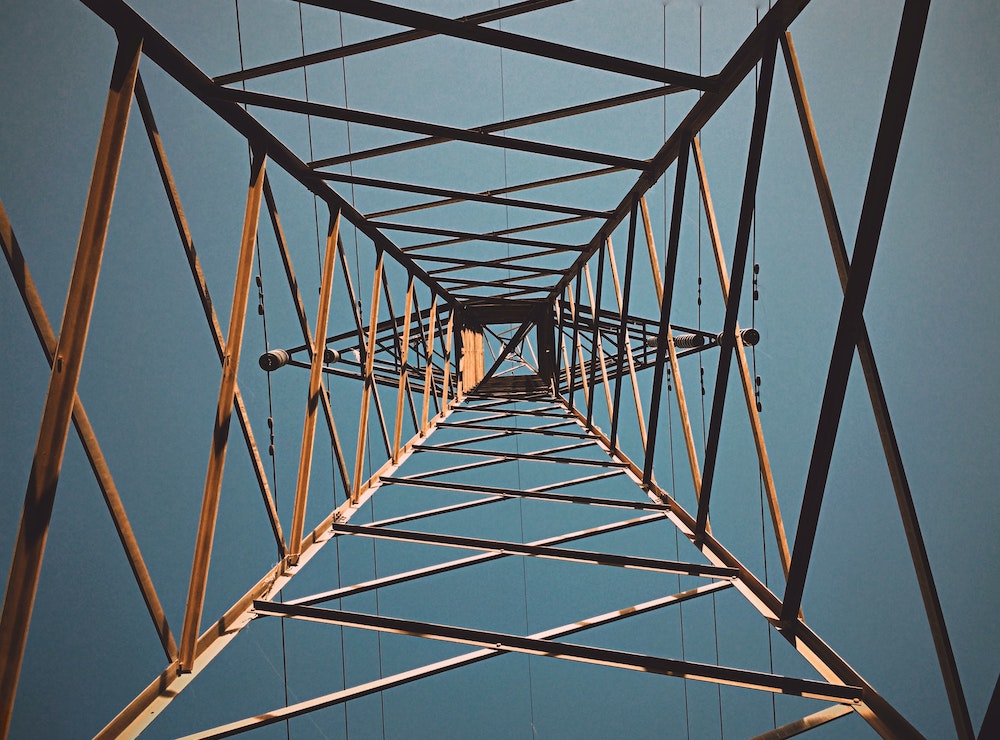 With most of the U.S. power grid surpassing its 50-year lifespan, it's hardly surprising that aging equipment is one of the most common reasons for power outages. Much of the grid can't manage the energy demands and extreme weather of the 21st Century. Some larger power companies plan outages during storms or when there's extreme heat, knowing that their facilities are unable to cope.
6. Fallen Trees
Although usually a result of extreme weather, electrical blackouts caused by fallen trees and broken branches are one of the most common causes of power outages. Heavy winds can easily uproot trees that fall onto power lines or knock down transmission poles.
7. Squirrels
These furry rodents nibble through pretty much anything to grind down their ever-growing teeth. Their gnashing sometimes includes electrical equipment, but they frequently get caught (sorry, animal-lovers) amongst equipment after following an appealing-looking nut causing power outages. Power lines and poles become an extension of their natural habitat, so scaling a utility pole to access a roof easily is just the same as climbing a tree.
8. High Energy Demand
When there's a demand for more power, utility companies cut the electricity in some neighborhoods to avoid a full-blown power outage. This kind of outage is known as a rolling blackout or rotating outage since the electricity is often cut in one area before 'rolling' onto another district.
9. Planned Outages
A planned outage is a deliberate, pre-arranged power outage made by the utility company to repair and maintain. For the most part, planned outages are a slight inconvenience, but in the western U.S. and Australia, wildfires and bushfires are a significant cause of planned power outages. To reduce fires and to avoid damaging already aging utilities, major power companies cut services for days and sometimes weeks at a time.
10. Excavation Digging
Undergrounding, the placing of power lines under the ground, is by no means prevalent in the U.S. Some American cities, such as San Antonio, TX and Colorado Springs, CO, have started to embrace undergrounding and the advantages that come with it.
However, since underground cables are often only a few inches beneath the surface, something as simple as planting flowers can damage power lines or worse, still, cause electrocution.
Before starting a big digging project, call 811 to ensure you won't disturb any buried service lines.
11. Space Weather
While it's less likely to cause long-term problems today, small solar storms have been known to cause blackouts in the past. A particle storm cut power for around 6 million people in the Canadian city of Quebec in March 1989. The overheating of transformer cores caused homes and businesses to lose electricity for 9 hours.
12. Cyber Attacks
A cyber attack is one of the less likely reasons for a power outage, but according to experts, it could happen. As financially motivated hackers become more knowledgeable, their ability to hack the U.S power grid becomes more likely.
Prepare for Power Outages
While many of these blackout causes are out of our control, that doesn't mean we can't take control of our own power. Since electrical outages come in many shapes and sizes, can arrive at any time, and are likely to increase in the future, preparing in advance is the one way we might soften the blow when they do occur.
Luckily, with the DELTA portable power station series, you can conveniently store energy so it's ready whenever you need it. Prepare for a short electrical outage with a DELTA, or go for full home backup with the DELTA Pro battery ecosystem. Run all your essentials, from your router to your fridge, and keep your laptops and mobiles charged so that you're always able to get the latest news or keep in touch with family. Unlike gas generators, they're completely silent and safe to use inside, so you can comfortably ride out a storm, planned blackouts, or an unexpected outage.
DELTA series portable batteries can recharge in a variety of different ways including through solar power. After the power returns, recharge using an AC outlet or at an EV charging station.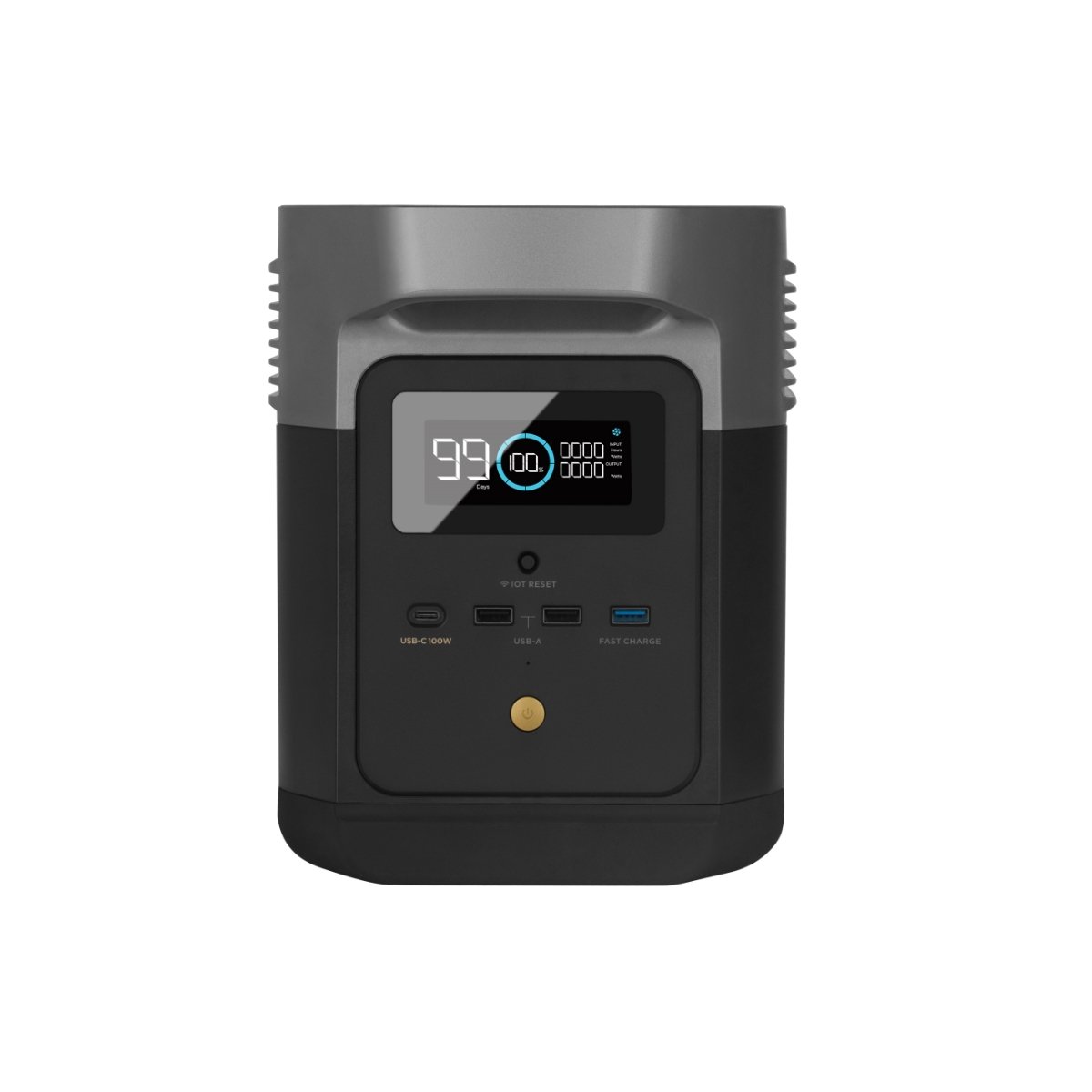 DELTA mini
Capacity
882Wh
Phone (11W)
62 Charges
Laptop 60W
12 Charges
Mini Fridge
12 Hours
Blender (500W)
1.5 Hours
Coffee Machine (1000W)
0.7 Hours
Air Fryer (1500W)
0.5 Hours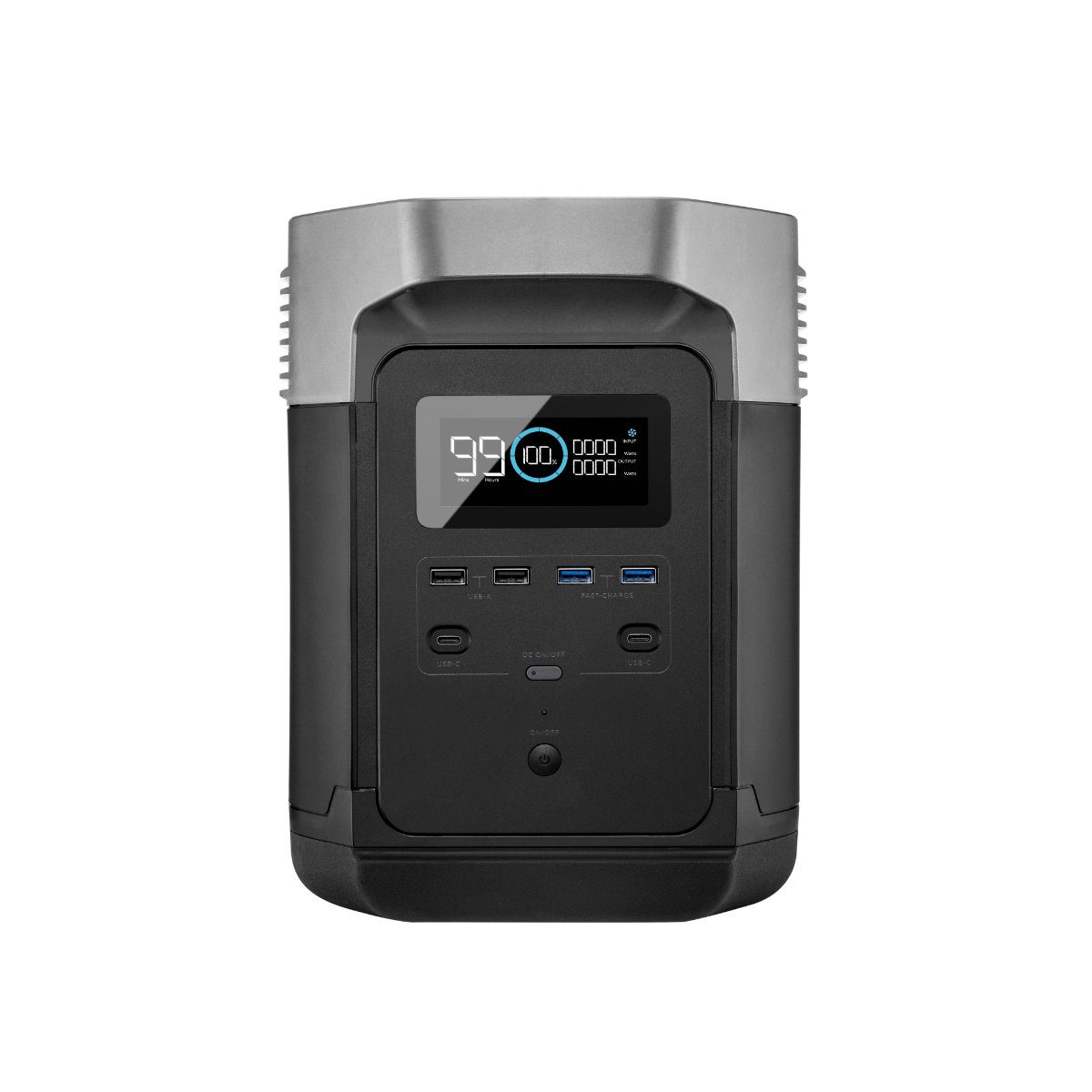 DELTA
Capacity 1260Wh
Phone (11W)
104 Charges
Laptop 60W
19 Charges
Mini Fridge
19 Hours
Blender (500W)
2.1 Hours
Coffee Machine (1000W)
1.1 Hours
Air Fryer (1500W)
0.7 Hours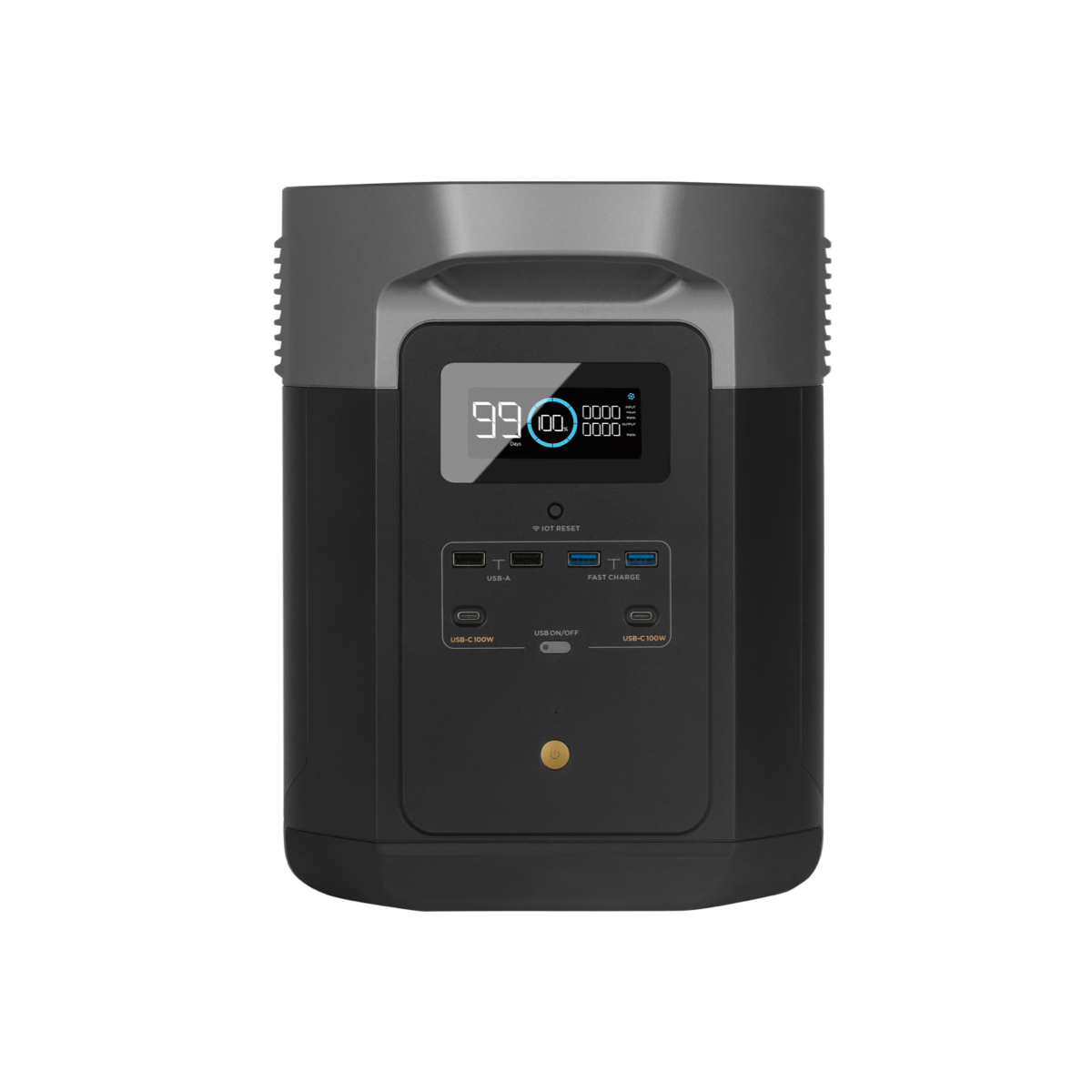 DELTA Max
Capacity 2016Wh
Phone (11W)
175 Charges
Laptop 60W
32 Charges
Mini Fridge
33 Hours
Blender (500W)
3.5 Hours
Coffee Machine (1000W)
1.9 Hours
Air Fryer (1500W)
1.2 Hours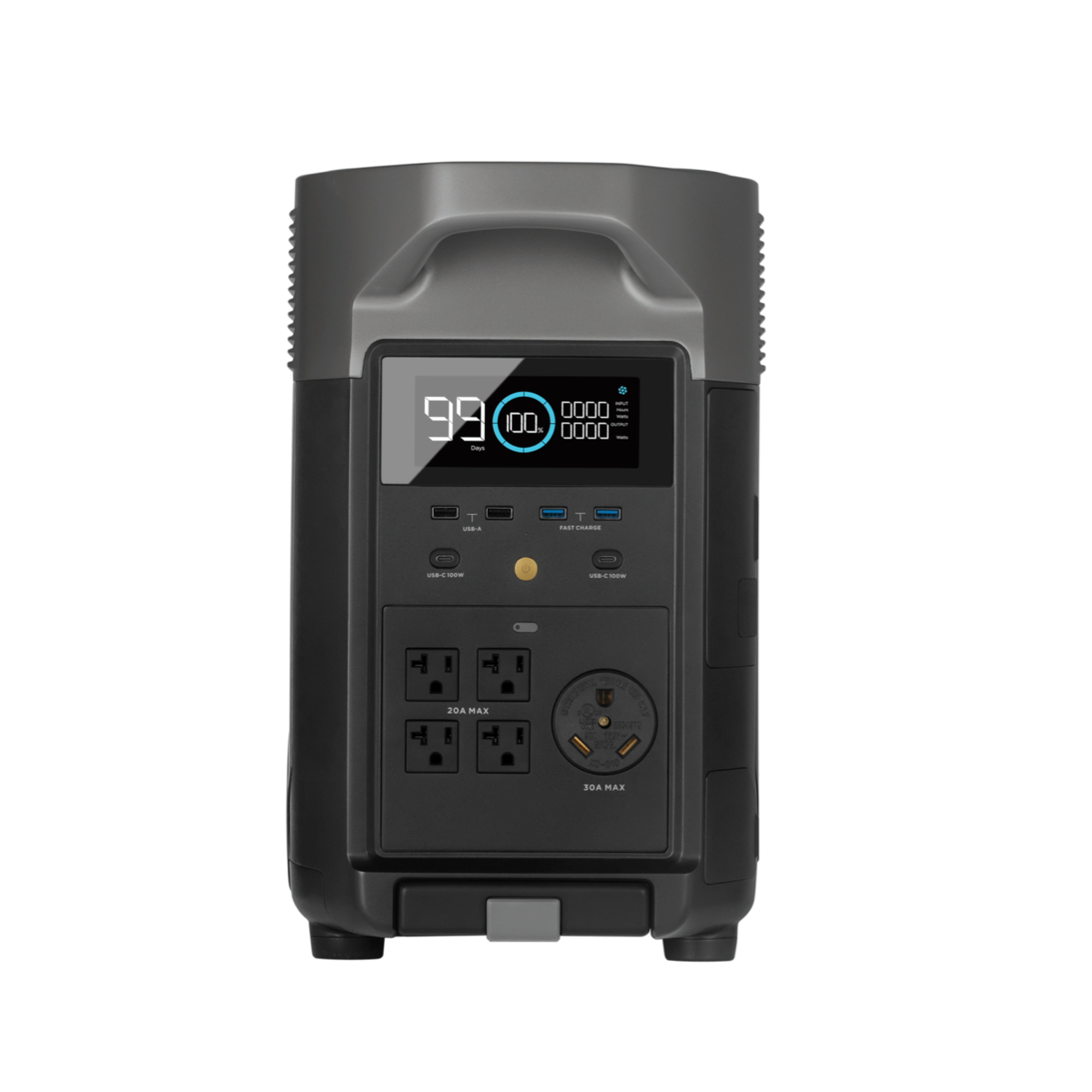 DELTA Pro
Capacity 3600Wh
Phone (11W)
313 Charges
Laptop 60W
57 Charges
Mini Fridge
57 Hours
Blender (500W)
6.5 Hours
Coffee Machine (1000W)
3.3 Hours
Air Fryer (1500W)
2.2 Hours
Learn more about the DELTA Series and find the one that best fits your needs.