What is primitive camping, anyway?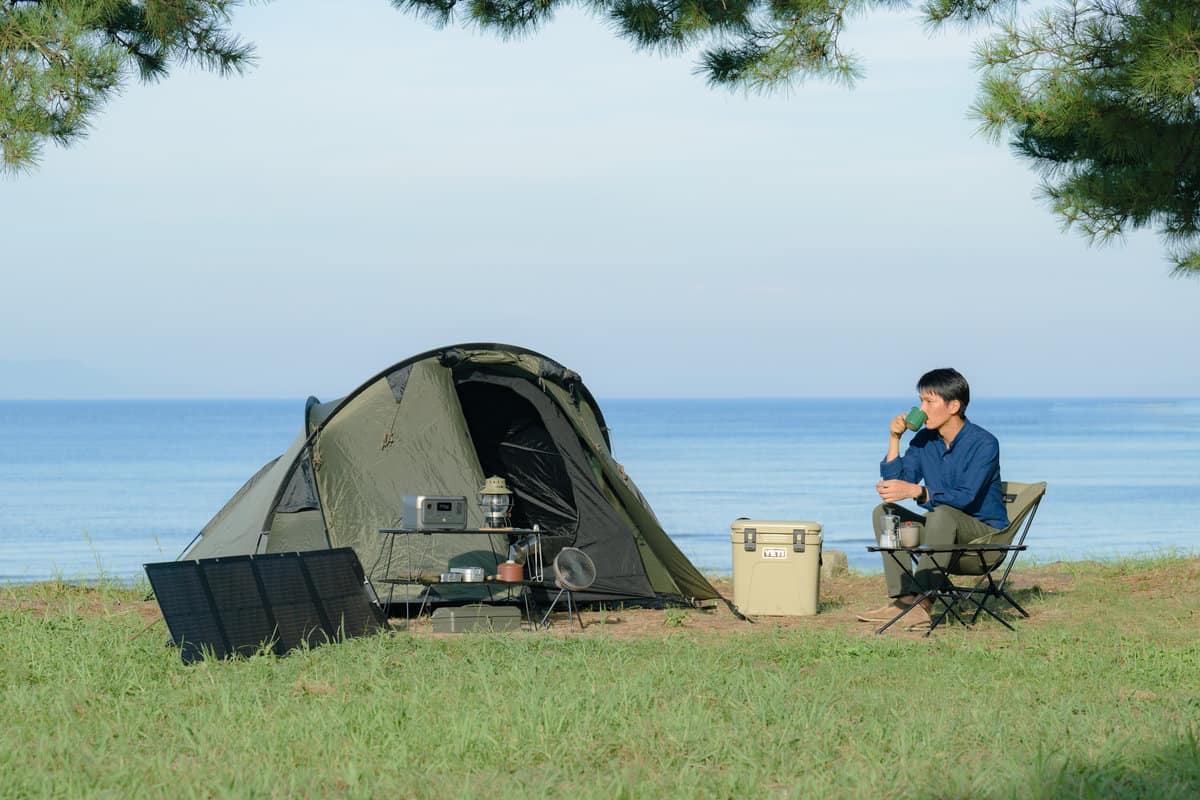 It's basically camping without any of the modern amenities or facilities. Here's what it involves:
No bathrooms, running water, RV sites or designated campgrounds.
You go way off-grid into remote spots.
You bring your own temporary shelter like a tent or hammock.
You only bring the bare minimum supplies you need.
So it's back-to-basics camping where you pack in simple gear to survive and sleep comfortably. You can get away from technology, other people, and society out at primitive sites.
With primitive camping, you can hike way out into the wilderness, away from roads and cell service. You can really immerse yourself in nature without distractions and relax away from daily stresses. It helps you appreciate simple pleasures as you focus on just the basics.
Benefits of Disconnecting Through Primitive Camping
Escape from technology overload
When you're way out in the wilderness with no electrical hookups, WiFi, or cell service, you can totally unplug from your devices, email, social media, and all that tech.
Peace and solitude in nature
Primitive sites are isolated and quiet. You can get privacy, seclusion, harmony, and escape from noise, crowds, and the rush of normal life.
Build outdoor skills and resilience
You'll learn key survival and problem-solving abilities like picking remote spots, building campfires, setting up tents, and dealing with emergencies on your own.
Challenges First-Timers Should Expect
Discomfort without restrooms/showers
For people used to campgrounds with amenities, not having bathrooms, running water, and stuff will take some adjusting.
Concerns about wildlife encounters
Being way out there means more risks of running into bears, mountain lions, snakes, spiders, and other dangerous animals.
Lack of primitive camping knowledge
If you've never camped outside of actual campgrounds, the skills for primitive camping have a steep learning curve.
Step 1: Pick a Remote Primitive Camping Location
Choosing the right location is one of the most important parts of planning a primitive camping trip. Here are some tips on finding a remote spot to camp primitively:
The first thing to research is where dispersed camping is permitted. National forests and BLM (Bureau of Land Management) lands are a good bet, as they often allow free primitive camping outside of developed campgrounds. State forests and some national/state parks also have designated backcountry or wilderness zones perfect for getting away from crowds.
When researching locations, look at forest service and park maps to scope potential areas. Sometimes primitive sites are marked, other times you'll need to look for zones or districts labeled as "dispersed camping allowed." If dispersed camping is allowed in the area, you can camp anywhere off trail unless otherwise posted.
Consider how far the location is from where you live – farther and more remote is better for true solitude. But also factor in road accessibility as you'll need to be able to drive to a trailhead or parking area. The terrain and elevation will determine what type of vehicle is needed and how far you'll need to hike in.
Learn about any restrictions on campfires, cutting trees, group size limits, camping length limits, etc. Plus research what kind of wildlife you could encounter and go prepared. Think about proximity to water sources, climate, and seasonal hazards too.
If possible, scout the area on a trip prior to really examine potential spots. Look at topographic maps noting landscape features, water sources, and landmarks to orient yourself. Apps like OnX Offroad can also be helpful for discovering remote camping locations.
Overall, finding the optimal primitive camping area takes some map research, gear prep, trip planning, and often scouting. But the payoff of pristine backcountry allows you to get away from it all. Just be sure to tread lightly and follow Leave No Trace principles when dispersed camping.
Step 2: Gear Up with Camping Basics and EcoFlow Power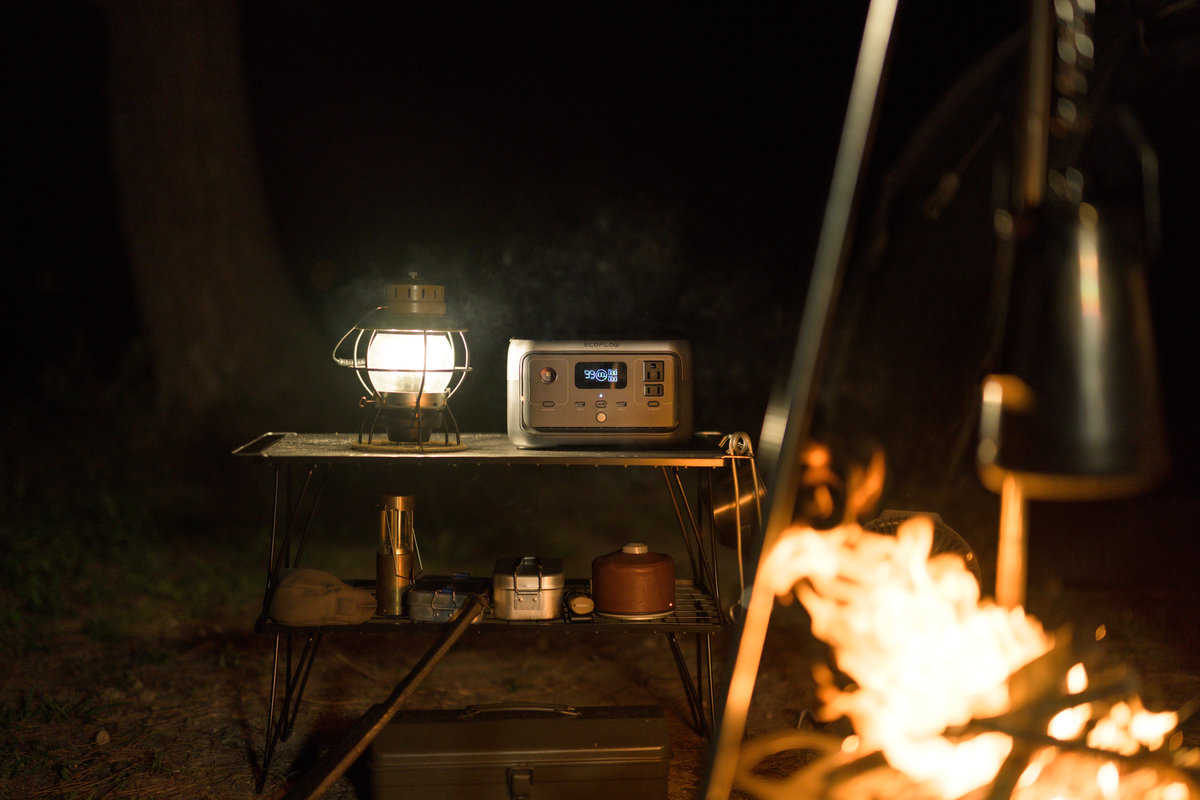 When primitive camping, you'll need to be fully self-reliant and prepared with the right gear. Packing correctly can make or break your experience, so here are some essentials:
A basic 3-season tent is ideal for most primitive camping. Look for durable, waterproof models designed for backpacking that are lightweight but sturdy. Freestanding dome tents are easy to pitch on uneven ground. Or try a simple tarp shelter rigged between trees.
Choose a sleeping bag with a temperature rating suitable for the climate and time of year. Synthetic or down bags both work, just watch condensation in down. Bring a foam or inflatable sleeping pad for insulating from the cold ground.
A basic kit with bandages, gauze, disinfectant, pain meds, treatments for rashes, stomach issues, and insect bites is essential. Also pack emergency blanket, whistle, gloves, and any personal medications.
Headlamps allow for hands-free lighting at night. Flashlights and lanterns provide ambient lighting. Remember to bring the EcoFlow RIVER 2 Max Portable Power Station to charge the lighting system additionally.
A good knife and multi-tool are indispensable for primitive camping, as is a hatchet for processing firewood. Pack a folding saw to harvest dead branches too. A coil of rope assists with setting up tarps and hanging bear bags.
Choose a compact backpacking stove that runs on canister fuel. Simple mess kits or metal pots work for boiling water and one-pot meals. Make sure to pack cutlery, plates, mugs, and a water bottle/bladder.
Bring topographic maps of the area and a compass for navigating without cell service. Learn how to read terrain and use landmarks to orient yourself on trails.
Pack non-perishable camping foods like ramen, oats, jerky, and trail mix. A water filter or treatment tablets are vital for water collected from natural sources.
Bring layers and utilize synthetic fabrics or wool that insulate even when wet. Have rain jackets, warm hats and gloves, durable hiking boots, and changes of socks.
This portable lithium battery pack allows you to charge phones, lights, GPS, and other electronics off-grid. It has 300 watt AC outlets, USB ports, LED flashlight, and 512Wh capacity.
The EcoFlow RIVER 2 Max is perfect for primitive camping because you can recharge it via solar panels, car outlet, or AC at home before your trip. This gives you power autonomy out in the woods away from electrical infrastructure.
With the camping essentials like shelter, bedding, first aid, tools, lighting, and the EcoFlow power station for device charging covered, you'll be set for your first primitive trip!
Step 3: Choose Your Campsite Carefully
When you get to your primitive camping spot, take some time to scout the area and pick your campsite wisely. Good sites have:
Flat, dry ground – Find a nice level clearing to pitch your tent where water won't pool if it rains. Soft duff, pine needles or sand works best.
Fresh water source nearby – Camp near a lake, stream or river so you have water for drinking, fishing, bathing. Just be sure to filter and treat it first.
Privacy – Pick a secluded spot a bit off trail where people probably won't be passing by your camp much.
Noise buffer – Trees, ridges, hills or whatever can help block unwanted sounds from roads, trails, etc.
Take time to check out the landscape and pick the perfect private, safe, scenic basecamp spot.
Step 4: Set Up a Safe, Functional Camp
Once you've found a great site, time to set up camp:
Allow proper tent spacing – Give yourself and others enough personal space and walking room. Follow leave no trace rules for camp size.
Designate cooking/sleeping areas – Keep your sleeping tents separate from kitchen, fire pit, latrine spots for safety, function and cleanliness.
Dig fire pit and latrine away from water – Dig holes for fires surrounded by rocks/dirt and latrines at least 200 feet from freshwater.
Taking time to build a safe, organized camp makes living out there way easier. Do it right.
Step 5: Enjoy Your Camping Adventure!
Once camp's set up, fun time! Pass time at your secluded camp:
Cooking yummy campfire meals like tin foil dinners or grilled fish
Using EcoFlow to light up tents and paths and charge phones when needed
Stargazing at the awesome night skies free of light pollution
Hiking, fishing, foraging, exploring the wilderness
Playing cards, telling stories, reading, writing, playing guitar
Chatting by the fire with your crew about life's simple joys
Savor the peace, beautiful scenery, and simple off-grid living of primitive camping. Follow these tips for an amazing first trip!