When a power blackout hits, what do you do? Go about your daily routine as usual? Of course not.
Power outages force us to be proactive. There's no telling when the power will come back on, so we have to make intelligent choices. This includes opening the refrigerator ONLY when needed to keep your food from spoiling.
Another wise decision is to keep your personal electronic devices charged. You don't have power for an undetermined amount of time, so you should keep your devices alive for as long as possible by only using them for emergencies.
The best way to tackle a power blackout is to prepare for one. Outages all across the United States happen with increasing frequency, regardless of where you live. Homeowners need to be well-equipped for emergency power outages.
One of the best ways to do so is to invest in a high-end solar generator. These helpful devices keep necessary appliances running and reduce panic when the lights go out.
Which solar generator should you invest in, and how do you choose?
Here are the 4 top picks for power blackouts in 2022, followed by tips to guide your decision.
4 Best Solar Generators for Power Blackouts
The EcoFlow DELTA collection was designed specifically with home backup and off-grid living solutions in mind. With reliability at the forefront of its design, you can expect powerful generators to keep your home running when the power goes out.
Which one is best for your home? The right choice depends on several factors, like running watts, watt-hours, recharge time, and battery life. We'll go into depth on these later in this article.
We've vetted each of the following generators with the above in mind to help you narrow down the shopping decision. Here are our four best solar generators for power blackouts.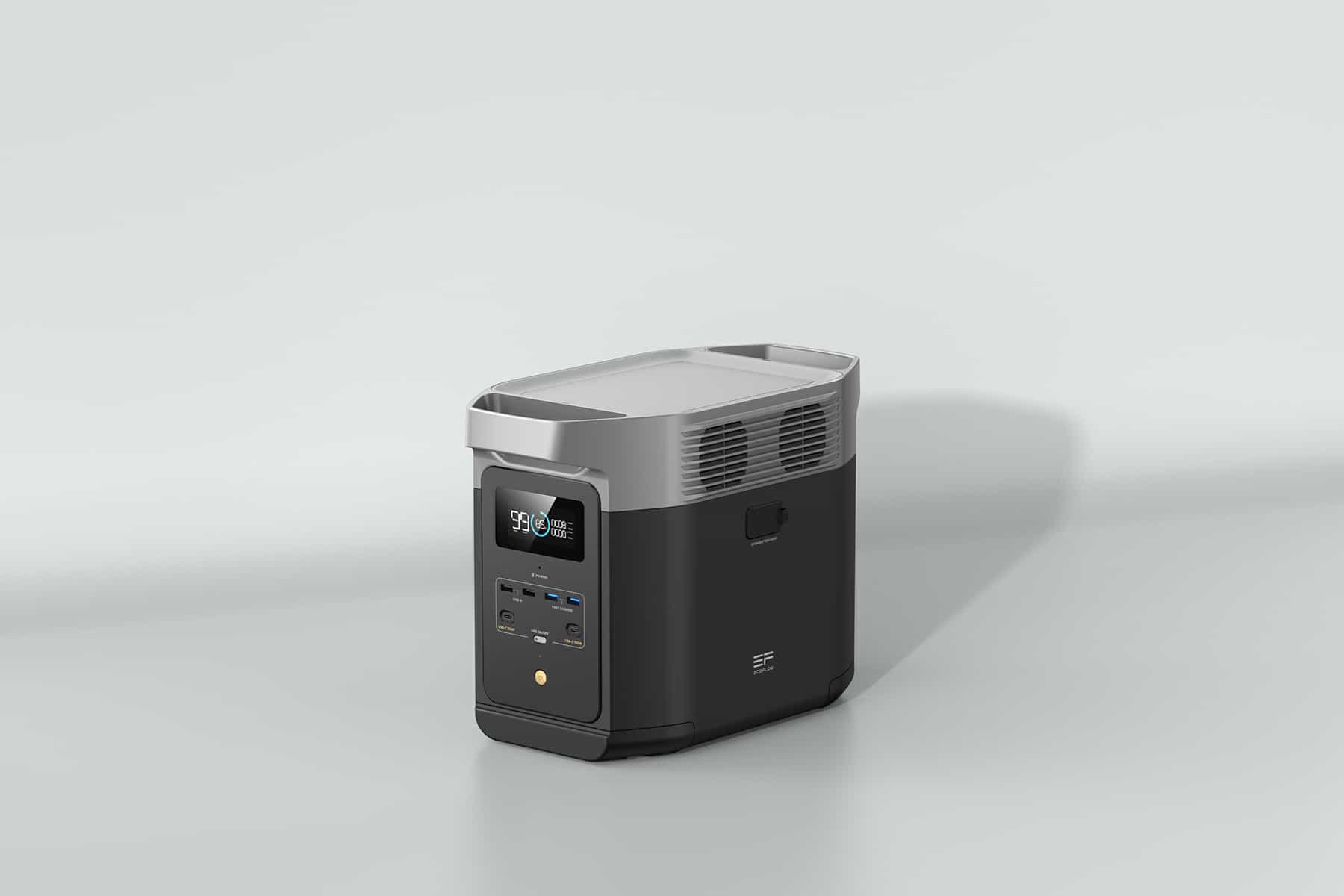 The DELTA 2 is the smallest and lightest solar generator on this list — but it's not lightweight. It is the entry-level portable power station on this list. But with a 220W Bifacial Solar Panel included and a maximum solar input of 500W, the DELTA 2 packs a punch. You can also buy a solar generator bundle that includes 2 x 220W Bifacial Portable Solar Panels to instantly double your electricity generation capacity.
Its 1800W AC Output (running watts) plus 2700W of surge power (starting watts) using X-Boost mean you can run up to 90% of home appliances. X-Boost also uses smart power management to enable you to run up to 2200W of appliances simultaneously by supplying devices with less than their maximum load (but enough to keep them running).
Another thing that makes DELTA 2 an ideal entry-level home backup generator is its expandability. You can add a DELTA 2 Extra Smart Battery to double electricity storage capacity to 2048Wh or a DELTA 2 Max Extra Smart Battery to store up to 3072Wh (3 kWh) of home backup power.
Thanks to its LiFePO4 battery chemistry, DELTA 2 also offers exceptionally fast charge times and cycle life. DELTA 2 utilizes X-Stream charging technology and can recharge from 0-80% in 50 minutes — making it effortless to keep it fully charged before an outage.
For extended blackouts, the DELTA 2 can charge in 3-6 hours using either 2 x 220W Bifacial Solar Panels or one 400W portable or rigid solar panel. Solar charge times are always impacted by various factors, including hours of peak sunlight, temperature, and the orientation of the PV Panels.
Make the most of your solar generator by connecting your DELTA 2 to the EcoFlow app. Here, you'll be able to monitor and control how many watts each appliance is pulling and how much power you have left until it's time for a recharge, among other helpful information.
Specifications
Size: 15.7 x 8.3 x 11 in (400 x 211 x 281 mm)
Weight: 27 lbs (12 kg)
Capacity: 1024 Wh
Solar Panel Charging Time (0-100%): 3 to 6 hours
Wall Outlet Charging Time (0-100%): 80 minutes
Pros
Lightweight and compact. Easy to move around
Runs multiple devices at once
Fast 50-minute charging time using AC electricity (0-80%)
3-6 hour solar charge time
3,000 cycles (full charge/discharge) before any noticeable dip in performance
Tempered glass, heat-resistant solar panels
Cons
Insufficient AC output to run multiple high-wattage appliances/HVAC systems simultaneously
The DELTA Max is a top contender for those who need serious power. A single unit packs a 2,016 Wh capacity, equivalent to powering a 120W refrigerator for 14 hours or a 110W TV for 15 hours.
Need more power? The DELTA Max offers the option to expand the capacity up to 6,000 Wh with two extra smart batteries. Coupled with the expandable backup power, DELTA Max users will also be able to power 99% of their home devices…
How's that for a power outage solution?
One of the most robust solar generators offered by EcoFlow, you can't go wrong with the DELTA Max. To charge, you can either harness the power of the sun and recharge using the solar panels or connect the generator to a wall outlet to recharge once the power comes back on. Either option offers fast-charging times thanks to the X-Stream charging technology.
Specifications
Size: 19.6×9.5×12 inches (49.7×24.2×30.5 cm)
Weight: 48 lbs (22 kg)
Capacity: 2016 Wh
Solar Panel Charging Time: 3.2 – 6.3 hours
Wall Outlet Charging Time: 1.8 hours
Pros
Expandable power
Fast dual charging
Powers 99% of home devices
Can be used indoors or outdoors
Cons
Relatively heavy; harder to move for some homeowners
Ni-cad battery chemistry means the DELTA Max lasts for only 800 cycles before performance diminishes — less than ⅓ of the other DELTA solar generators in this list
Start enjoying the benefits offered by the DELTA Max today!
The newest model in EcoFlow's award-winning DELTA series is the DELTA 2 Max. DELTA 2 Max represents a significant upgrade on the DELTA Max model reviewed above. Not least of which is its improved LFP battery chemistry which extends DELTA 2 Max's cycle life over 3x its predecessor — expect 3000 cycles (full discharge/recharge) before any noticeable dip in performance (reduced storage capacity to 80%).
The combination of LiFeP04 battery cells with X-Boost also turbocharges recharge times. When plugged into a standard AC wall outlet, the DELTA 2 Max recharges from 0-80% in just 70 minutes. For the first time, you can combine solar and AC charging and achieve a 0-80% recharge in only 43 minutes!
DELTA 2 Max also offers an increased solar input capacity of up to 1000W, meaning you can connect up to 2 EcoFlow 400W Portable Solar Panels or four sets of 220W Bifacial Solar Panels.
Depending on environmental conditions, you can fully recharge DELTA 2 Max using the maximum solar input capacity of 1000W in about 2.3 hours, thanks partly to 99% MPPTcharge controller efficiency.
Right out of the box, DELTA 2 Max can power 99% of high-wattage home appliances. With an AC output of 2400W (running watts) and 4800W of starting watts using X-Boost, you can also run up to 3400W of appliances simultaneously, thanks to smart power management.
Not only can DELTA 2 Max power almost anything, but it can also do it for a LONG time. See the image above for a list of common household appliances and how long you can run them between charges.
And that's just out of the box. The DELTA 2 Max is expandable from a baseline of 2kWh up to 6kWh by adding two DELTA 2 Max Smart Extra Batteries. That's sufficient to keep your essential appliances for days during a blackout — and that's without generating additional off-grid electricity using solar panels.
Aside from our flagship DELTA Pro solar generator, the DELTA 2 Max is the best home backup solar generator EcoFlow has ever released. Depending on your family's essential electricity consumption needs, it could be your best choice.
*Based on a combined solar and AC input of 2400W
Specifications
Size: 19.6×9.5×12 inches (49.7×24.2×30.5 cm)
Weight: 50 lbs (22.6 kg)
Capacity: 2048 Wh
Solar Panel Charging Time: 2.3 hours
Wall Outlet Charging Time: 0-80% in 70 minutes
Combined Solar and AC Charging (2,400W): 0-80% in 43 minutes
Pros
Expandable storage (up to 6kWh)
Industry-leading recharge speeds
3,000 cycles before diminishing in performance mean 10 years + of reliable home back power (under ordinary regular use)
Powers 99% of home devices
Portability — 30% lighter than similar power stations on the market
Cons
AC output may be insufficient for the most electricity-hungry homes
Requires a Transfer Switch to integrate with your home wiring
The final and most powerful solar generator on this list is the DELTA Pro.
The DELTA Pro is a one-of-a-kind power station ready to take action when the lights go out. It has a capacity of 3600 Wh, equivalent to running a 1000W coffee maker for 3.3 hours, a 110W TV for 27 hours, or a 500W washer for 6.5 hours.
If this isn't enough, you could expand this capacity to 25,000 Wh, which is enough juice to keep your appliances running for days after a power outage.
With so much power, many homeowners choose to integrate the DELTA Pro with their home circuits. The DELTA Pro will kick in within seconds when the power goes out. It's so quick that you won't even know there was a power outage with this powerful device.
Additionally, DELTA Pro is the foundation of EcoFlow's Whole Home Battery Backup and Whole Home Generator solutions.
Specifications
Size: 25×11.2×16.4 inches (63.5×28.4x42cm)
Weight: 99 lbs (45 kg)
Capacity: 3600 Wh
Solar Panel Charging Time: 2.8 – 5.6 hours
Wall Outlet Charging Time: 1.8 hours
Pros
Expandable capacity up to 25k
Long battery life cycle
Can be integrated with home circuits
Has wheels for easy transport
Cons
What are you waiting for? Order the DELTA Pro today!
About the EcoFlow Smart Home Panel
We mentioned that homeowners can integrate the DELTA Pro with home circuits. This is possible thanks to the EcoFlow DELTA Pro ecosystem, which integrates up to two DELTA Pro generators with ten home circuits. Users will receive uninterrupted power during power outage emergencies, smart energy management, and lower energy bills.
To use, you'll need to pair the EcoFlow Smart Home Panel with the DELTA Pro solar generator. Then, when the lights go out, the generator will switch on in seconds. To be exact, 20 milliseconds! It's so fast that you won't even know a power outage has hit.
How it works is that this smart system immediately senses when a blackout strikes and then reroutes its energy to the DELTA Pro generator(s). When the power is restored, it will connect back to home utility lines before turning itself off to conserve energy. Many homeowners use this to lower energy bills and deploy the DELTA Pro ecosystem as a robust backup for power outages.
The EcoFlow DELTA Pro ecosystem is packed with power and stores this energy day and night. Not only will this lower your home's energy bill, but it will also reduce your reliance on the grid. The nice thing about EcoFlow solar generators is you can use them while they harness the power of the sun and recharge simultaneously.
Then, using the EcoFlow app, you can monitor the system, update preferences, receive a breakdown of your energy habits, and much more.
How to Choose a Suitable Solar Generator for Power Blackouts
With so many great picks, you're probably wondering which solar generator is right for you. You need to ensure you get a solar generator that offers the power you need.
Here are the criteria you need to consider before making a final decision.
Running Watts
Running watts, also known as rated watts, indicates the electricity the solar generator is capable of producing continuously. Think about the number of appliances you'll need to power when an outage occurs. What's the wattage requirement for each of these appliances? Add this up and ensure the solar generator's running wattage is greater than this.
Watt-Hours
Next up is watt-hours (Wh), which measures the generator's capacity. The watt-hours help ensure the power station can power the necessary appliances for the desired length of time.
For example, the DELTA 2 has a solar battery storage capacity of 1024 Wh. The capacity is equivalent to powering a 120W refrigerator for 7-14 hours. The DELTA Pro, on the other hand, has a capacity of 3600 Wh, which can power a 120W refrigerator for 24 hours.
Watt-hours or kilowatt-hours tell you how much continuous power the solar generator can provide for 60 minutes with a full battery charge. It will also help you estimate the amount of energy the power station can deliver before it needs a recharge. For example, a 1024 Wh generator like the DELTA 2 can power a 10-watt light for around 82 hours (DC) or 31 (AC) before the battery is exhausted.
Recharge Time
When it's time to recharge the battery, how long will it take until power is restored? The recharge time gives users an idea of how long the solar generator will take to reach a full charge. The nice thing about EcoFlow solar generators is you can pair them with the EcoFlow app to monitor energy levels. It will let you know how much battery life is left until a recharge is needed.
Regarding recharging times, you need a power station that will charge quickly through solar panels or wall outlets. Keep in mind that cloudy weather will impact the charging speed when it comes to solar charging. Direct sunlight is best for the most rapid results.
Battery Type
There are two main types of battery types that solar generators use: lead-acid or lithium-ion (Li-ion).
Lead batteries are usually less expensive, but Li-ion batteries typically last longer. They also tend to be lighter — a top priority for portable applications.
EcoFlow's current range of solar generators (except the DELTA Max) uses LiFePO4 batteries, a newer subset of lithium-ion batteries, which offer the following benefits:
Safe-to-use
Lightweight
Offers constant power
Charges quickly
Temperature tolerant
Final Verdict: Which Solar Generator Is Best?
EcoFlow has an impressive collection of solar generators designed specifically for power outages. We take pride in our innovative designs that offer users a clean, renewable way to stay up and running when the grid goes down.
All the solar generators on this list are reliable, high-quality choices. Which one is right for you depends on your power consumption needs, what you're trying to power, and for how long. This guide will help you narrow down the selection process and find the best fit for you. Whether you need something for emergencies or a solar power solution to help lower your home's energy bills, there's a generator that's right for you. Shop our collection today!