With blackouts on the rise across the globe, power security is a rising concern for families. With that in mind, we've created the EcoFlow Smart Generator (Dual Fuel). It's a last-stand backup solution to keep your appliances powered and your DELTA Max/Pro or Power Kits charged. In the post, we'll show why you might need a Duel Fuel generator and why EcoFlow's option is a game-changer if you're looking for total power security.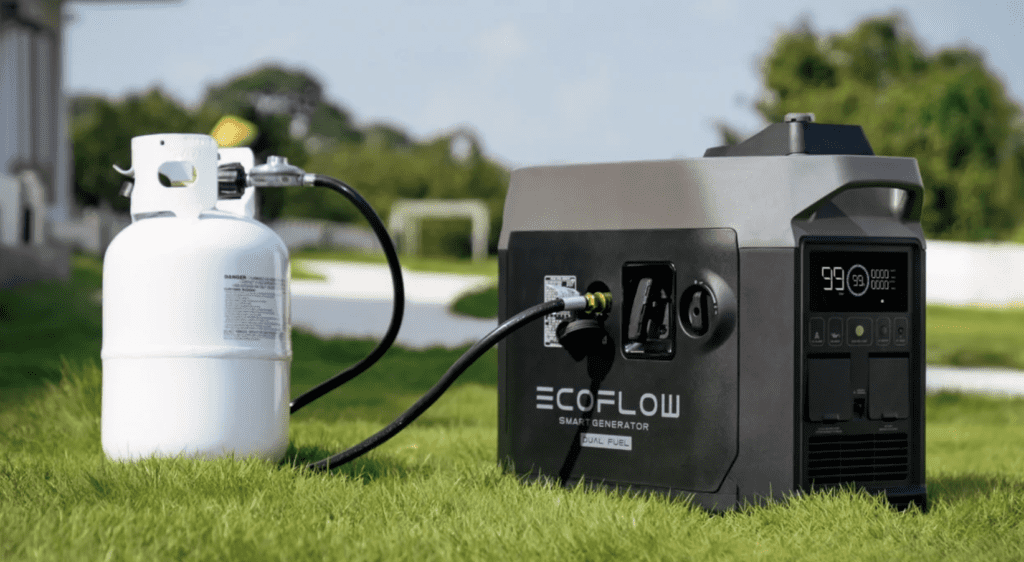 Why is EcoFlow Making a Backup Generator for Home?
While our range of portable power stations offers a clean source of backup energy, a reliable source of indoor power, and a way to take green energy outdoors, there are times when additional security is crucial. When disaster strikes, such as extended blackouts and severe storms, a last-stand power supply in the form of a home generator can keep you safe. That's why we're offering the Smart Generator. Not only does it integrate with your green EcoFlow ecosystem, but it's also smarter, less wasteful, and easier to use than other backups.
Why Go for a Dual Fuel Home Backup Generator Over the Alternatives?
To bridge the power gap in the event of an emergency, it's advisable to have as many energy options as possible. There may be times when you can't use your portable solar panels in a storm or when you find petrol is inaccessible during a blackout. Propane (often called LPG in some countries) gives you one extra option that's well suited for emergencies.
Propane Generators vs Petrol Generators – Which Fuel Source is Better for Home Backup?
While it's good to have options, propane has several huge advantages over petrol as a home backup power supply.
It's more efficient & it's cleaner – Using a propane tank allows you to use less fuel to produce the same amount of power. Not only does that mean you save on fuel, but it also means you're producing fewer carbon emissions when compared to petrol. With the EcoFlow Smart Generator, you'll make 10% less CO emissions per kWh, without creating micro-particles.
It's easier to store – Propane is a stable fuel that won't degrade over time like petrol can. Your Smart Generator will always be ready to use when you need it. That means fewer costs and more convenience for you.
It's a versatile fuel source – Propane backup generators are typically quieter than petrol generators, so they won't disturb your peace and quiet. Your propane tank can also be used for other purposes, such as stoves, so you'll always have a backup plan in case of an emergency.
That being said, it can be helpful to have access to both fuel sources to not put all your eggs in one basket in case of an extended emergency.
What Makes It the Best Backup Generator for Home?
The EcoFlow Smart Generator (Dual Fuel) was designed from the ground up to be better than other home backup generators on all fronts. Whether that's the clear LCD screen, the intuitive app controls and monitoring, or the four start methods. We've taken a look at each step of product interaction and improved on what's currently available. Here's a quick look at the benefits:
It's far more efficient – When paired with your EcoFlow DELTA Pro/Max or Power Kits, you'll save up to 40% on fuel. This is down to two factors that other backup generators can't do. The first is EcoFlow's ecosystem allowing for direct DC-DC charging giving you 10% more efficiency. The second is EcoFlow's X-Stream charging technology in our portable power stations, delivering the other 30% in additional efficiency.
It makes propane easy to use – Propane tanks can be cumbersome. We've made the experience much easier with a built-in pressure regulator, plug-and-play design, and an auto-switch to switch modes without you needing to do a thing.
Four ways to start – While other fossil fuel generators for home offer a manual start with a pulley, ours allows for an instant electric start, app start, or even an auto-start. To set up auto-start, you can choose a predetermined battery level for your EcoFlow DELTA Pro/Max to drop to before the generator kicks in, charging you up, then shutting down once done.
With those four methods, you can rest assured knowing there's both convenience and practicality.
It's easy to maintain – We've built the generator with a generously sized side-access door. This allows you to swap out oil easily and access any parts you might need to. That's a lot less hassle than other generators.
We've put safety first – It keeps you in the know with a carbon monoxide detector, fuel alert, engine oil alert, temperature protection, overload avoidance, and a whole lot more. All are clearly visible with indicators on the unit, and all (excluding the fuel alert) can trigger an auto-shutdown to keep you and your batteries safe.
Where can I buy the EcoFlow Smart Generator (Dual Fuel)?
While this post delivers an overview of the EcoFlow Smart Generator (Dual Fuel), you can head over to the EcoFlow store to learn more and buy one today to prepare your home for emergencies. Want to prepare for the next power outage?