Camping is a whole lot comfier than it used to be. Today, you can take home comforts with you. All you need is a portable power station and a solar panel. In this blog post, we'll dive into some things you need to know when shopping for a portable solar panel for camping, how you can use them, and then round it off with some solar panel recommendations.
Why should I use a solar panel for camping?
Comfort
With 97% of campers now taking tech with them on trips, comfort has become something you don't need to sacrifice while out in the sticks. Think coffee machines, hot plates, or even projectors to watch a movie. Just charge up your portable power station via a camping solar panel and you can power it all.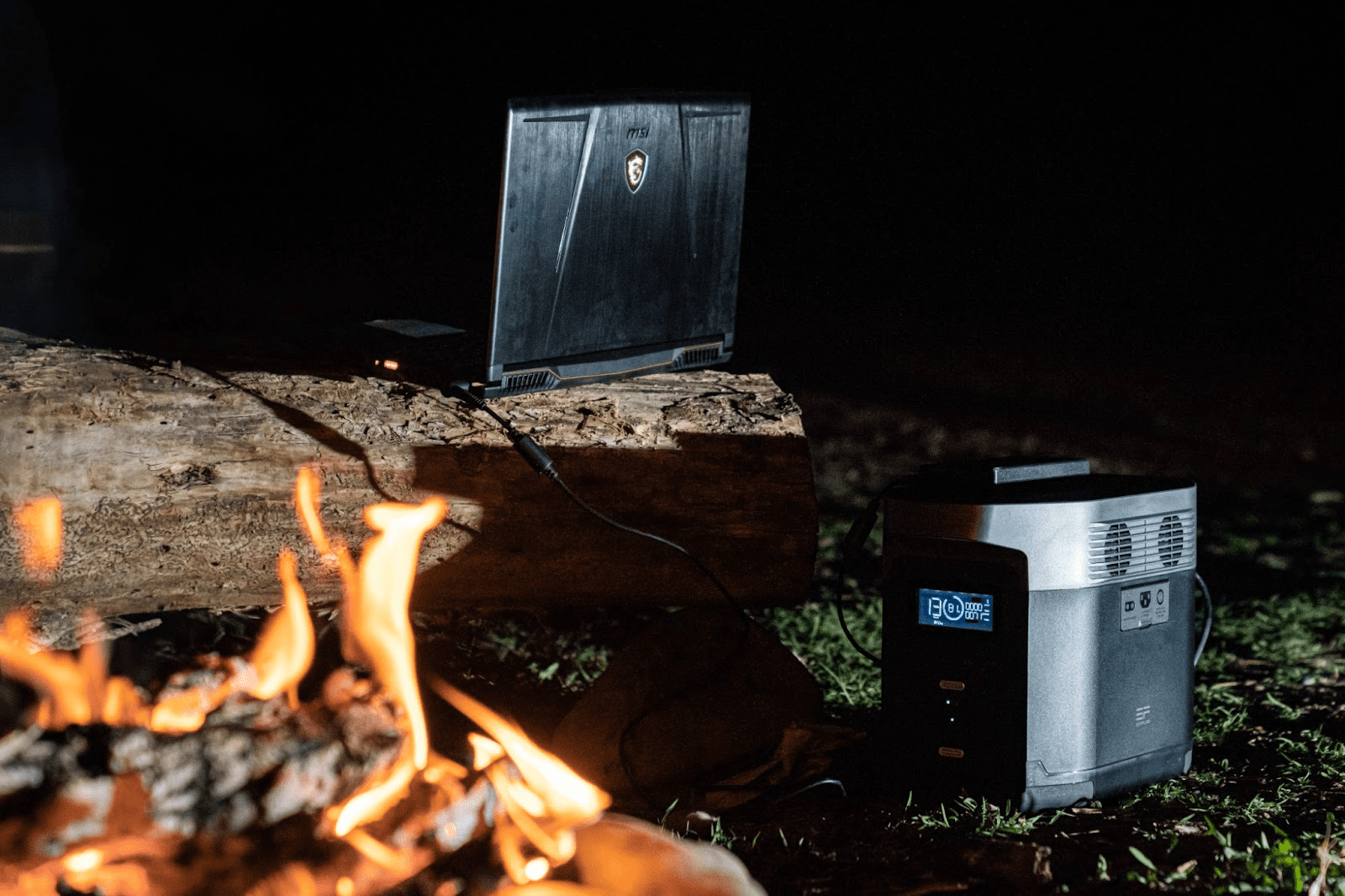 Renewable and quiet
In the past, petrol generators have been a go-to for campsite power. They're loud, dirty, and require maintenance. A portable power station plus a solar panel is the polar opposite. Clean, quiet, and easy to use.
Safety
If you're going out in the wild, it's always best to have an emergency power source for your phone and essential electronics. A small portable power station such as an EcoFlow River 2 series and a 60W solar panel is enough to keep you powered anywhere.
The three most important features to look for.
Water/dust proofing
Since you'll be outdoors, picking up a portable solar panel that can handle a bit of rain, dirt, and dust is a good idea. If you choose a fragile, rigid solar panel, you might risk damaging the cells and reducing the panel's efficiency, or worse. All EcoFlow camping solar panels are IP67 water and dust-resistant and foldable, so they're ideal as camping solar panels.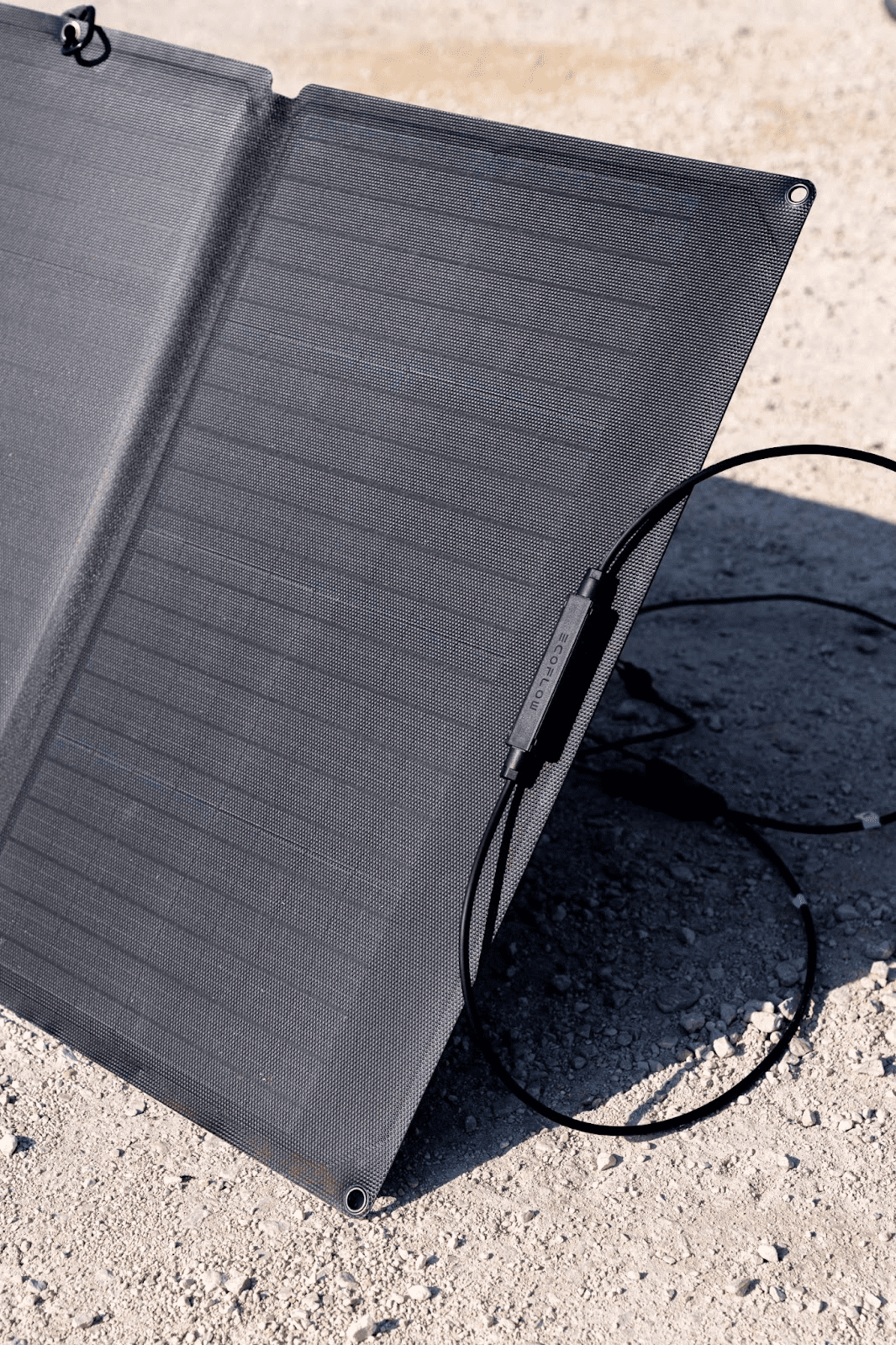 Portability & easy setup
The one thing you always lack when heading camping is packing space. Cumbersome rigid panels are a chore to carry and set up once you get to your campsite. It's best to go for a foldable solar panel that's lightweight and easy to set up. The most portable of EcoFlow's models is the 60W and 110W panels. They fold up neatly into a small carry bag a little larger than a briefcase. That being said, all EcoFlow solar panels are foldable into similar carry bags.
Compatibility
Ensure the panel you pick is compatible with your battery/portable power station. Most portable power stations use an solar charging port to link to solar panels. All of EcoFlow's models follow this standard too.
Efficiency
So let's say you've got all the above features ticked off. It's portable, compatible, and rugged. However, if you choose a cheaper polycrystalline panel, you will be sacrificing efficiency. EcoFlow's solar panels are monocrystalline, drawing a whopping 21-22% efficiency. This makes sure you're getting the most out of the sun to charge your power station as fast as possible.
How to set up your solar panels for camping
Step 1: Set up your panels
First off, you'll need to set up your panels. If you've just got one panel, you can plug it into your portable power station via your solar charge cable solar panel connector. If you've got more than one panel, you can chain them together to increase the amount of solar power you're generating. Chaining in series is the easiest way, providing you have an MPPT controller. With an EcoFlow portable power station, you don't need to worry about this as they all have built-in MPPT controllers to maximise efficiency.

To set up your panels in series, plug the male connector into the female connector of your second panel. Then take the loose ends from each panel and link them to your solar charge cable, plug that into your EcoFlow portable power station, and you're set. Here's how it's done.
Step 2: Angle directly towards the sun
To ensure you're getting the most solar energy, ensure the solar cells get full sunlight coverage. Any shadows or obstructions will decrease the efficiency. EcoFlow solar panels make this easy since the carry case doubles as a stand, allowing you to prop the panel up at just the right degree.
The Verdict: Which are the best solar panels for camping?
The quick answer is… it depends. How long is your trip? How big is your portable power station? Is portability an important factor for you? You'll want to consider these when choosing a solar panel for camping. Still, as a rule of thumb, smaller solar panels are great for portability and short trips, with the larger models being great for a serious multi-day camp setup. Here's a summary of EcoFlow's portable solar panels:
Most Portable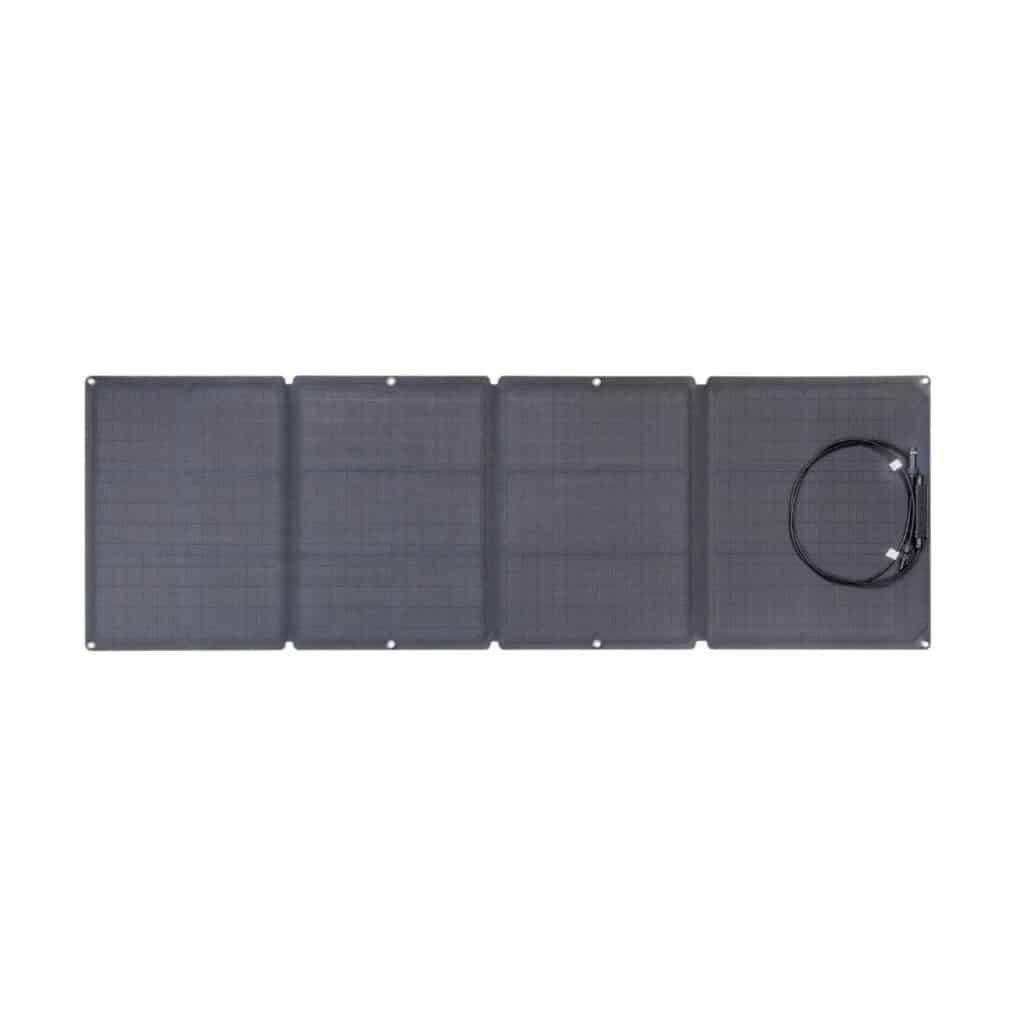 110W
Foldable
Waterproof
5.9kg*
110W Input
Incl. Carry Case
Mid-Range
160W
Foldable
Waterproof
6.9kg*
160W Input
Incl. Carry Case
Mid-Range
220W
Bifacial
Waterproof
9.5kg*
220W Input
Incl. Carry Case
Highest Input
400W
Foldable
Waterproof
16kg*
400W Input
Incl. Carry Case